Skip to main content

You may notice some changes to your bill over the coming months
We're increasing our monthly package prices from 1 October. We understand that increasing prices is never welcome news but it means we can keep investing in your services.
Better entertainment, better network, better service
No one likes seeing their bills going up, but we want to be transparent and explain some of the ways that the changes we're making aim to improve your experience with us.
Broadband usage on our network has increased by 40% this past year, with around 60% of total traffic being generated by streaming services. Business rates on broadband networks have gone up, meaning we need to invest heavily in order to run and continue to expand our network infrastructure.
We've invested heavily in our network this year to be able to continue to provide you with the services you love. This has included providing speed increases for many customers as well as launching our VIVID 350 package – which, with an average speed of 362Mbps, is the fastest widely-available broadband package on the market. On top of this, we've also accelerated the rollout of our latest V6 TV box and Hub 3.0 to more customers, in order to enhance the enjoyment of our broadband and TV services.
And that's just the start! We're really excited about the ways we're improving our services, from offering more awesome entertainment, adding incredible new channels and creating innovative upgrades to make your life easier. We can confidently say that we believe there has never been a better time to be a Virgin Media customer.
---
Got a question about your bill?
We know getting your head around your bills can be a bit confusing. If you've got any questions about your bill, you can see a breakdown of what you're being charged for and all your payment details in My Bills. There're loads of useful hints, tips and videos to check out as well.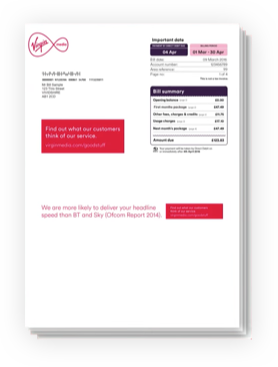 Here's what makes us so awesome…
Broadband usage: Average usage: Based on sum of average usage per customer (derived from total traffic on network divided by total broadband customers), year on year growth rate as at Dec 2017.
Broadband reliability: Source - Ofcom Tracker 2018: 51% of Virgin Media customers surveyed said they were 'very satisfied' with broadband service reliability versus Sky (44%), BT (44%) and Talk Talk (32%).
My Virgin Media app: Available on Android 5.0 or later, and iOS9.0 or later. WiFi/3G/4G connection required. My Virgin Media account required.
Inclusive servicing/repairs: Excludes misuse/mistreatment and accidental damage. Equipment remains property of Virgin Media.