Skip to main content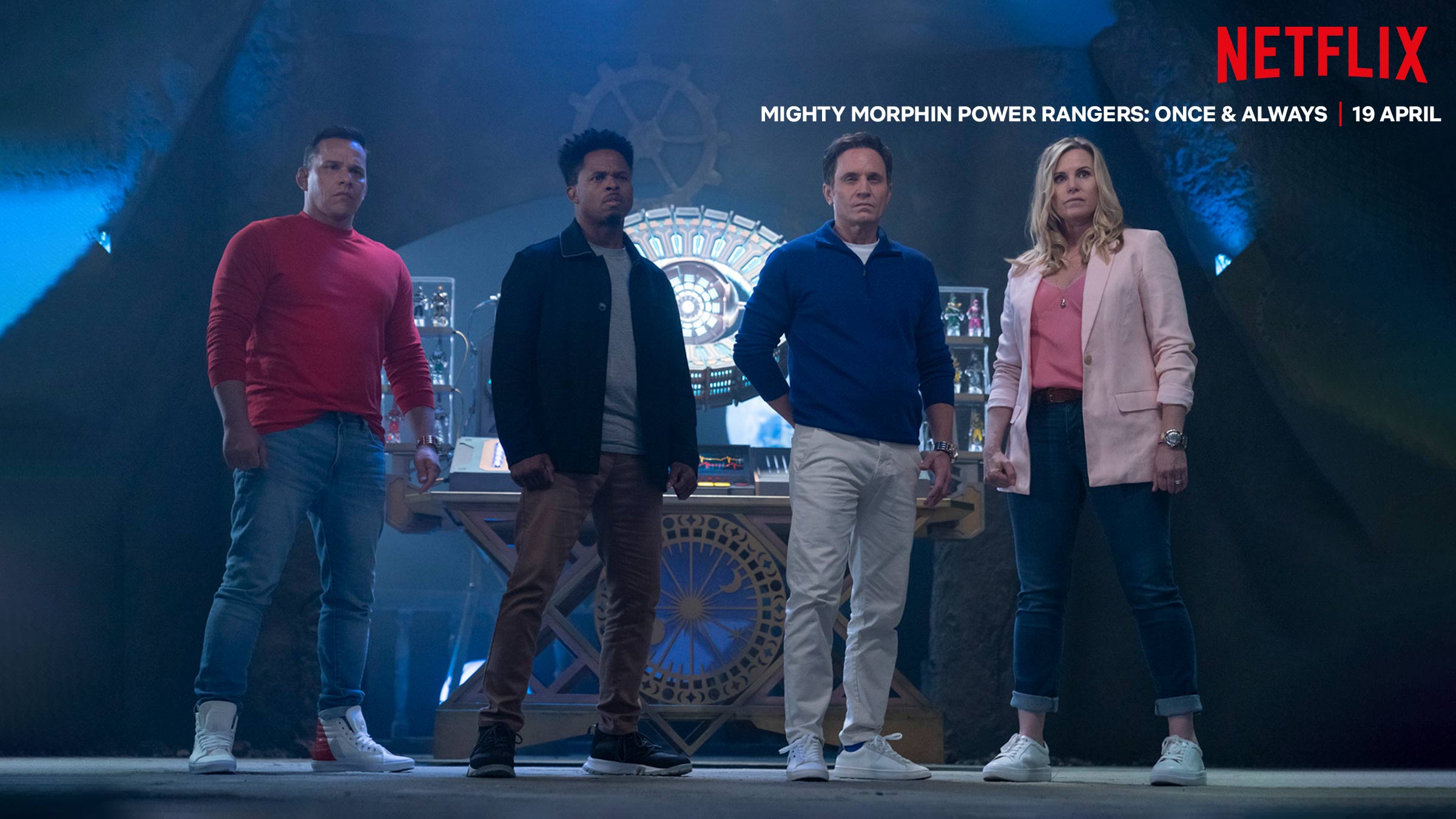 Everyone's favourite interplanetary protectors return in Mighty Morphin Power Rangers: Once & Always – a super special celebrating 30 years of the colourful franchise
By Jon Billinge, Senior Staff Writer
Picture the scene: it's 1993, Jurassic Park had just been released, the Spice Girls were about to enter the national consciousness and Saturday mornings were wholly devoted to watching spandex-clad superheroes fighting the forces of evil.
For more than 30 years, the plucky Power Rangers have been entertaining children and nostalgic adults alike with a dizzying blend of martial arts and high-camp high-jinks. And now, Netflix has brought the band back together for an anniversary special like no other.
Mighty Morphin Power Rangers: Once & Always sees the return of several original cast members, including David Yost, who played the original Blue Ranger, and Catherine Sunderland, who played the Pink Ranger in season 3.
In an interview with Entertainment Weekly, the production team behind the reboot had this to say: "The new adventure sees the Rangers come face to face with a familiar threat from the past. In the midst of a global crisis, they are called on once again to be the heroes the world needs. Inspired by the legendary mantra from the franchise "Once a Ranger, Always a Ranger", Once & Always reminds everyone when you become a Ranger, you are always a part of the Ranger family and always welcome."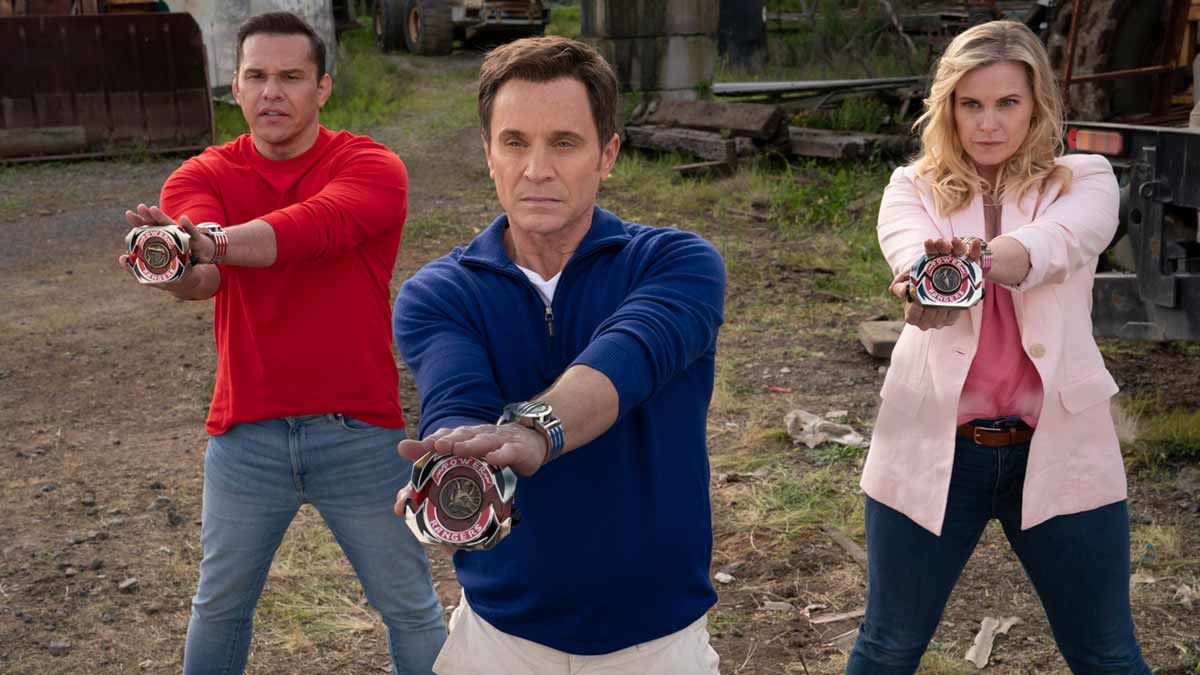 You done wiping those happy tears away? Good, because there's evil to fight! Grab your Power Rangers merch from out of the loft and get ready to support your heroes when Once & Always airs on Netflix on Wednesday 19 April.
Before the film lands, take a trip down memory lane as we round up 5 things Power Rangers does better than anything else!
1. Heinous henchmen!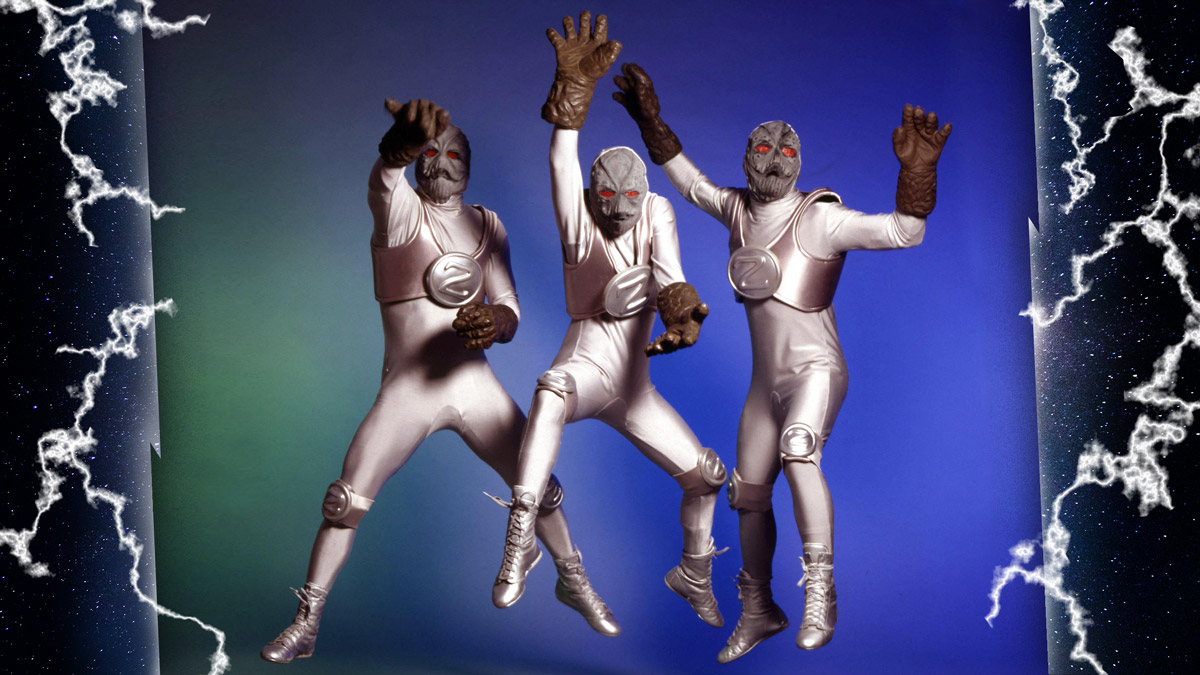 Ever since the Putty Patrollers (pictured) crawled out of Rita Repulsa's intergalactic dumpster prison (a real thing), the bar for wildly gesticulating – and woefully inept – henchmen has continually been raised across the many Power Rangers series.
Special shout-outs go to the fish-headed Piranhatrons from Turbo: A Power Rangers Movie, the hilariously named Spikeballs from Power Rangers Dino Charge and Power Rangers Lost Galaxy's Swabbies, whose powers included jaunty stabbing and exclaiming "Ahoy" and "Arr" ad nauseam.
2. Dino-MIGHT!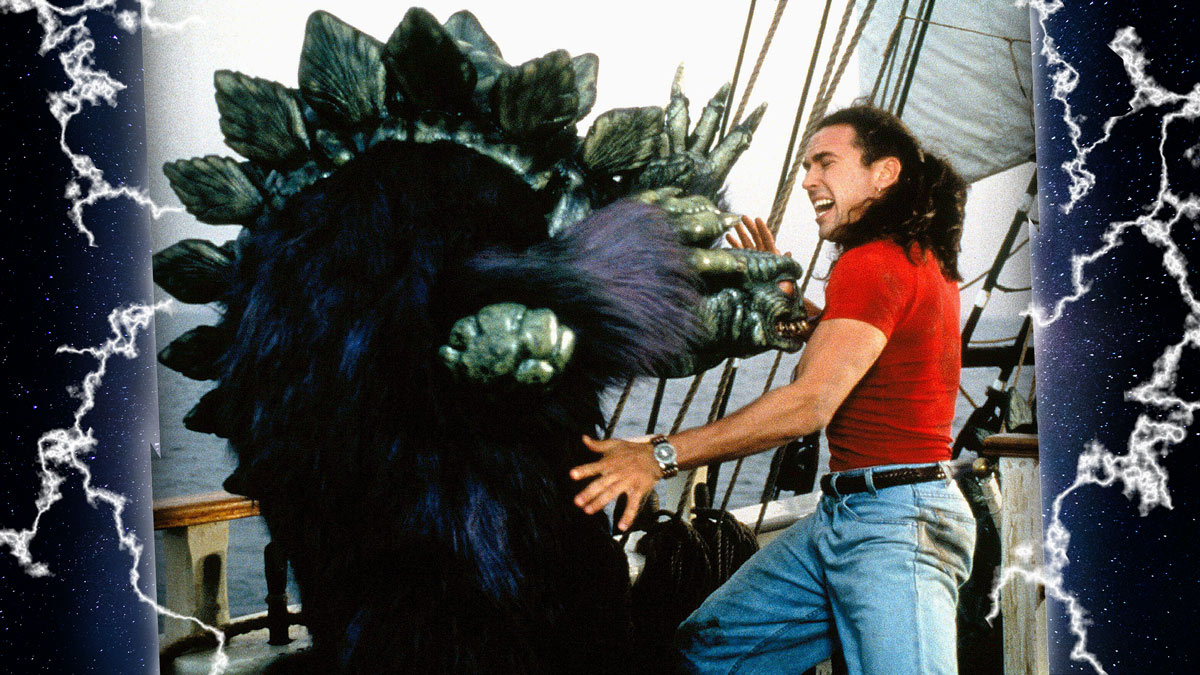 More than perhaps any other show, Power Rangers has pushed the study of paleontology to the fore. That is, when the study is entirely fictional, and centred mostly on powers granted to superhero teens that enable them to pilot giant mecha reptiles.
Would-be series historians would also be wise to note that the relationship isn't all rosy, with the heroes at times forced to fight all manner of scaled beasties. Chief among these prehistoric punch-ups? It has to be the time OG Green Ranger Tommy roundhouse-kicked a T-Rex in the FACE.
3. Wacky weapons!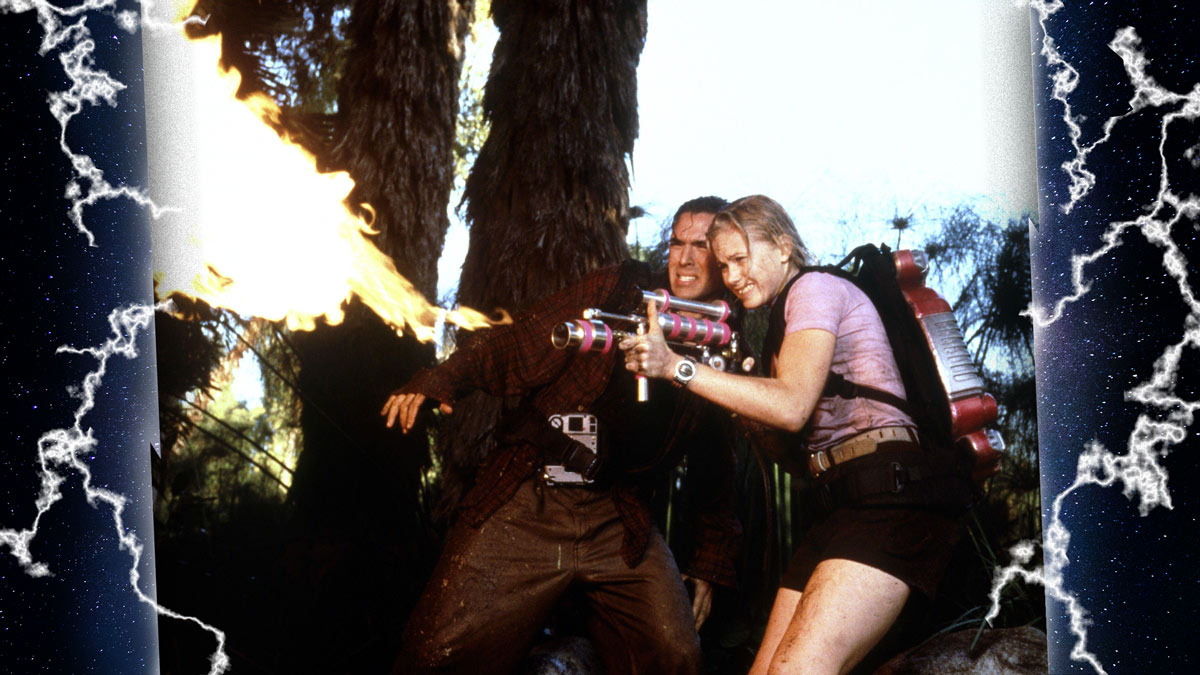 As you might have gathered, the Power Rangers don't do subtle. After all, it takes a certain kind of person to pull of saving the world, cracking wise and excelling in your studies.
And the bombast extends to the Rangers' extravagant weaponry. The original series had the Power Sword, Power Bow, Power Lance, Power Daggers and Power Axe, which combined to form the Power Blaster. A toy version of this natty blaster was on every child's Christmas wishlist, to the chagrin of parents everywhere.
Special mention must also go to the Super Megaforce Rangers' Super Mega Cannon, as garish and unwieldly as it is hard to say.
4. Supervillains that slay!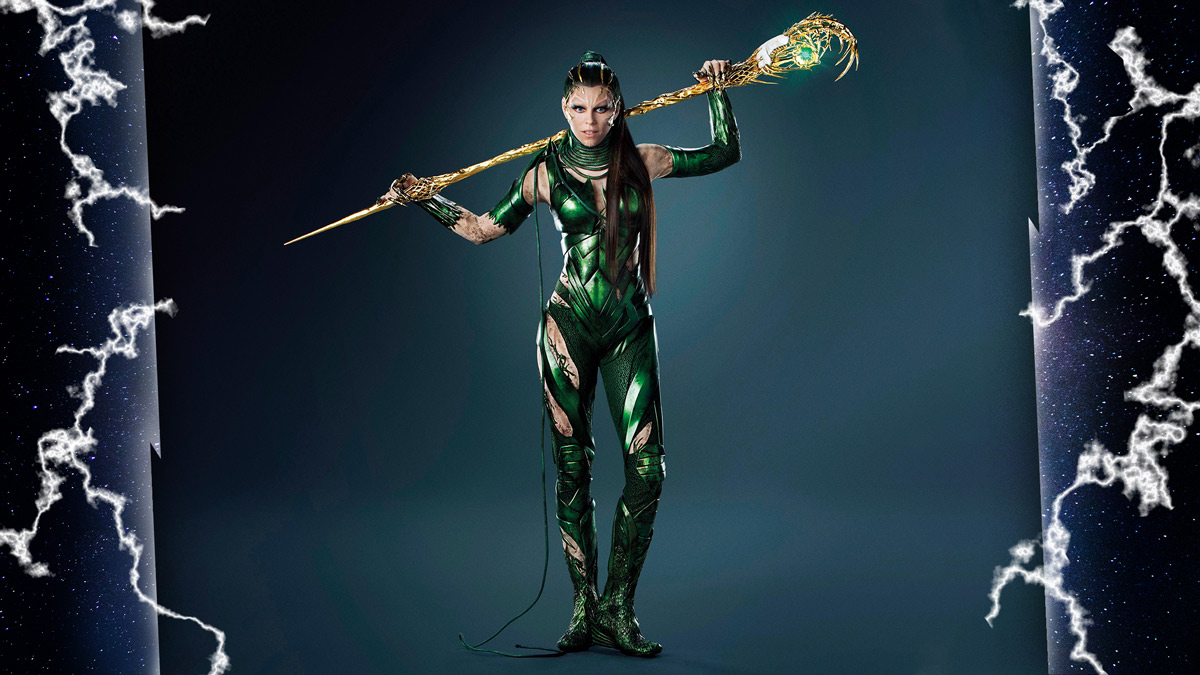 You wouldn't think it, but pure evil is a spectrum, at least in Power Rangers. In what other show could a horrific space entity with needle-like teeth and exposed musculature strike fear into our hearts one season, and be happily married in an absolute fever dream wedding sequence the next? (Congrats Lord Zedd and Rita Repulsa.)
Whether fighting anthropomorphic Ancient Egyptian deities, scaling 300ft mecha robots or slapping about a diplodocus, the Power Rangers have always had their hands full dealing with the insane itineraries of the universe's most wanted.
5. Choreography for days!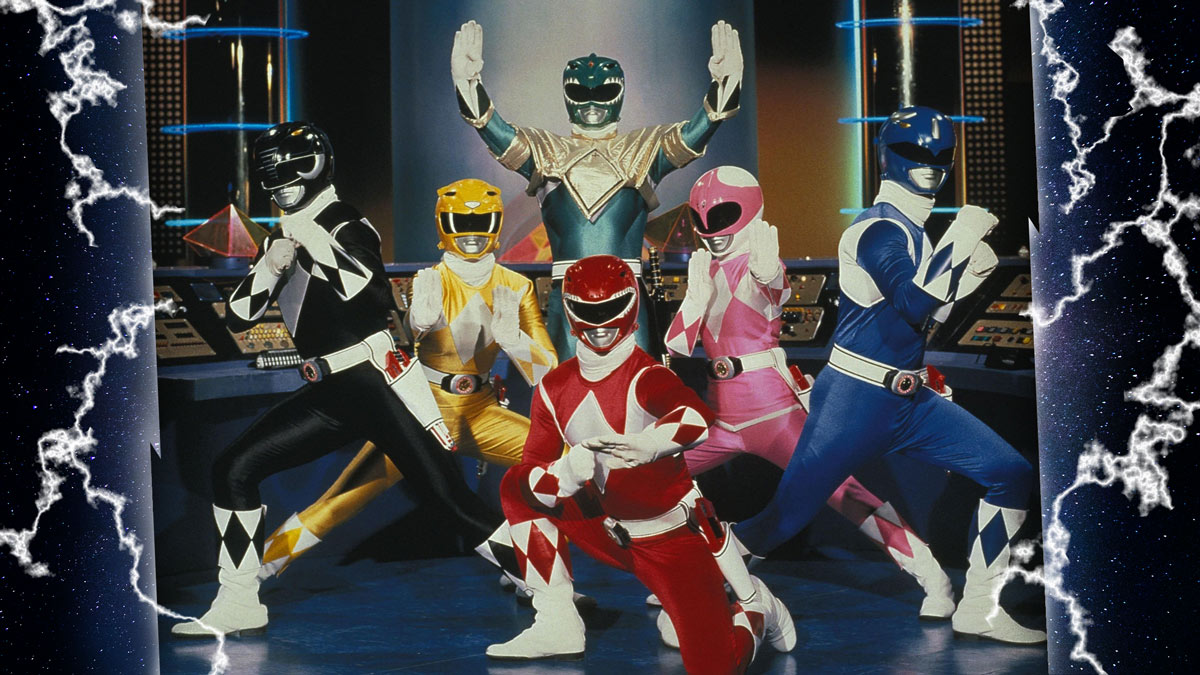 Do you know how difficult it is to be part of the Earth's elite martial arts/dance squad? Everyone knows that in order to fully charge up and prepare for a fight, you just have to flap your arms about and tap a toe or two. It's the rules. Combine this with regular practice, solo and group performances, and it's a little bit more than pas de bourrée-ing and hoping for the best, sweetie.
Just check out the absolute moveset on our heroes below. Strictly wishes!
When is Mighty Morphin Power Rangers: Once & Always on TV?
You can find Mighty Morphin Power Rangers: Once & Always in Apps & Games > Netflix from Wednesday 19 April. Seasons 1-3 of Mighty Morphin Power Rangers are also available
How to watch Netflix with Virgin TV
If you have a Virgin TV 360 box or Stream from Virgin Media, there are four ways to navigate to the Netflix app:
1. Use your voice
A. Just press and hold the voice button and say "Netflix" to open the app.
2. Via the app section
A. Press Home.
B. Go to the right and select Apps.
C. Select Netflix in the Apps screen.
3. Via channel 204 if you're a Virgin TV 360 customer
A. Tuning to this channel automatically launches Netflix.
4. Navigating down to the Netflix icon in the homepage if you are a Stream customer
To search for Netflix content on your Virgin TV 360 and Stream from Virgin Media, select the Search icon from any full screen menu. Enter your Search term using the on-screen keyboard. Press back and then right to highlight the "All" filter. Press OK and select Netflix. You can now view and select from the Netflix results for your search term.
To access Netflix if you have a TiVo® box or Virgin TV V6 box, powered by TiVo®:
Press home on your remote
Select Apps & Games
Select All Apps
Select Netflix
Our Biggest TV, Biggest TV Volt and Ultimate Volt bundles already include Netflix in Full HD. You can also add Netflix to any other bundle that includes broadband and TV – just hit Customise your package to add it.
Already have a Netflix subscription? You can transfer your billing over to Virgin Media to keep everything together in one bill without changing your Netflix account! Learn more here.
TV channels: Channels, content and features available depend on your chosen package. Channel line-ups and content are subject to change at any time and to regional variations.
HD: HD TV set, V HD Box, TiVo box or Virgin TV V6 connected with HDMI cables required for HD channels. Number of inclusive HD channels depends on package.
Netflix: Netflix subscription required at extra cost.
The fastest WiFi guarantee of any major provider, at no extra cost with Gig1 Fibre Broadband and our Volt packages only.
WiFi Guarantee with WiFi Max: Available to Virgin Media residential broadband customers on M50 broadband or faster provided you are not taking services in any of our 2022/2023 network expansion areas. Excludes Essential broadband customers. Existing Intelligent WiFi Plus customers will be individually informed when they are moved to WiFi Max. £8 a month add-on or at no extra cost for Ultimate Oomph, Gig1 and Volt customers. WiFi Max is only available to order once your Virgin Media broadband service has been activated. If you don't get download speeds of at least 20Mbps in every room, if needed we'll provide up to 3 WiFi Pods. If that still doesn't do the trick we'll give you a one-off credit of £100 off your next bill. Guarantee and eligibility for pods does not cover broadband faults or network outages. Pods subject to stock availability, require self-installation via QuickStart and can be delivered via Click & Collect or optional home delivery (£5 delivery charge may apply). Improved WiFi performance compared to use without pods. Home environment, device limitations, number of users and time of day may affect WiFi performance. User speed varies and depends on Pod/Hub location, as well as broadband package choice. Equipment remains property of Virgin Media. Exclusions and further terms apply. Fastest WiFi guarantee of any major provider:Compared to major UK ISPs. Terms of guarantee vary by provider. To verify, see www.virginmedia.com/legal/wifi