Skip to main content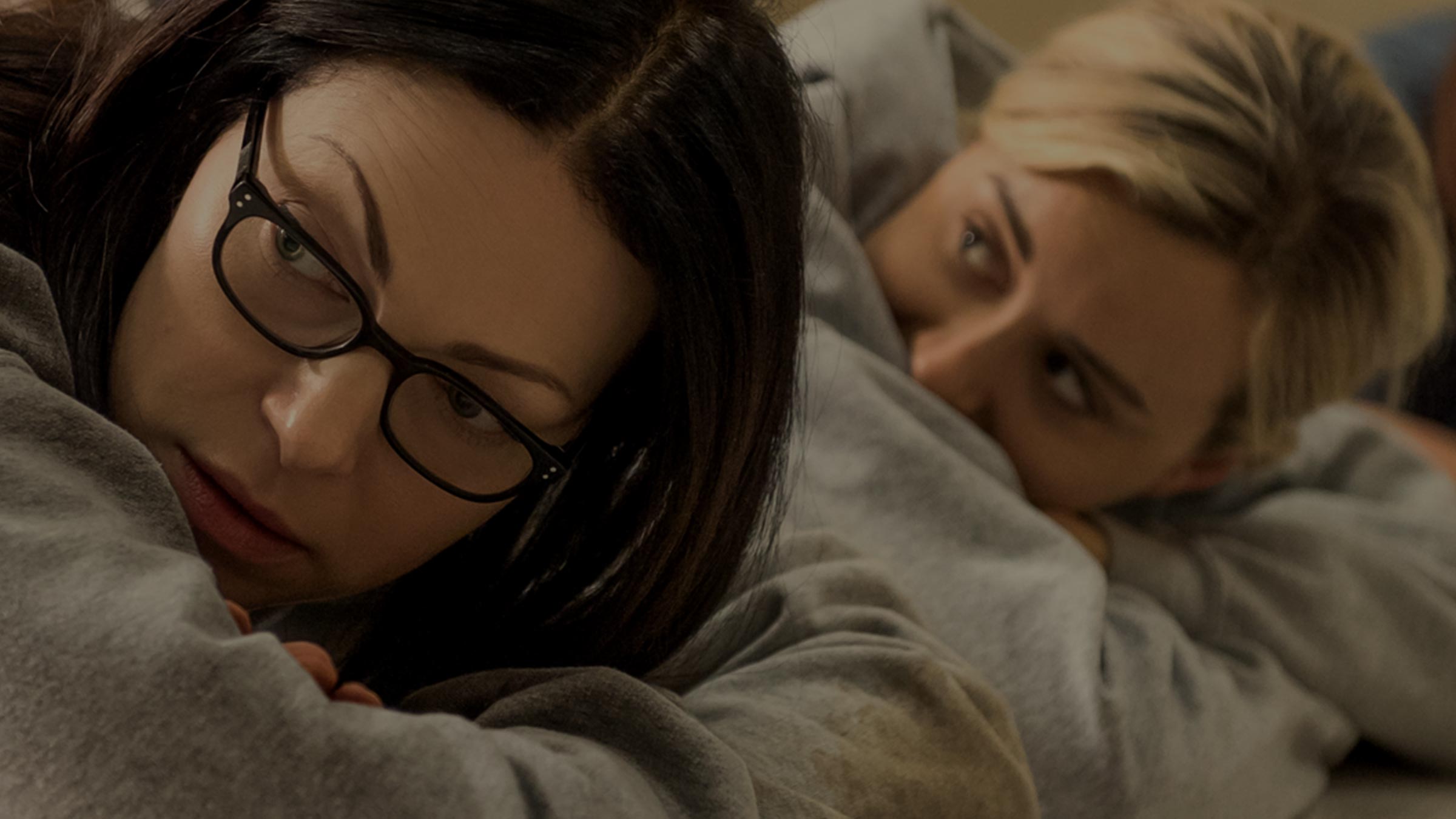 It's the stereotype-smashing, prison-based drama that's Bad Girls meets Desperate Housewives. And there are a whole five seasons for you to smash through on Netflix with Virgin TV
Find Orange Is The New Black seasons 1-5 on Netflix now
It certainly is a hard knock life for these ladies. Across five seasons we've got to know the inmates at Litchfield Penitentiary – the highs, lows, the arguments and the physical blows. Season 5 picks up with Daya (Dascha Polanco) left holding a gun, and the inmates going guerilla. Differences are set aside as they unite on a mission for justice.
If you're guilty of falling behind, then you're in luck as we've put together the perfect Litchfield refresher course. Proceed with caution if you are new to the show – we've snuck in a few spoilers...


A is for arch-enemies
Bumping into an ex in the supermarket is toe-curling enough, but having to live in the same prison as an arch-enemy is a lot more to contend with. Think Piper (Taylor Schilling) getting reacquainted with the woman who caused her to end up behind bars – Vause (Laura Prepon) in season 1, not to mention the Red (Kate Mulgrew) and Vee (Lorraine Toussaint) fisticuffs in season 2. Awkward.

B is for books
Friends has Central Perk, Cheers has Cheers… and Litchfield has the library. Literary references are a hugely important part of the show. Fifty Shades Of Grey, Gone Girl, Harry Potter, Moby-Dick, Freshman Year & Other Unnatural Disasters, The Glass Castle, Ulysses, Eat Pray Love, The Fault In Our Stars, The Help and Night Shift are just a smattering of the books that pop up throughout.

C is for chicken
It's the urban myth that's ruffled plenty of feathers in Litchfield. According to legend, there are no chickens in the surrounding area – apart from one that escaped when the rest were being slaughtered. Few have actually witnessed it, but many have tried to hunt it down.

D is for Director of Human Activities
Aka Joe Caputo (Nick Sandow). What actually is a Director of Human Activities, we hear you cry? While the prisoners are battling each other, Caputo is at odds with MCC, a private company that acquires the prison and attempts to run it as a business.

E is for Edward Pizzahands
You've got to get creative with your entertainment in prison.

F is for flashbacks
There's nothing a wig, fringe or a bandana can't do to rewind the years – it's the beauty industry's best-kept secret. Our favourite flashback has to be Sophia (Laverne Cox) prior to her gender transition. Cox's real-life twin brother, M Lamar, portrays the pre-transition Sophia.

G is for guards
This motley crew look like they met at a bus stop. They are in fact charged with keeping the women safe – and by safe we mean impregnating them, making them eat dead rodents and generally power tripping all over them.

H is for Healy
Through the ups and downs of all the seasons, there has been one constant we can rely on – poor, tragic Healy (Michael Harney). The mail-order bride, the desperate attempts to find approval from literally anyone – we urge you to #prayforhealy.

I is for inner circles
In prison, it's not what you know but who you know. To make it in Litchfield, you need a clique to back you up. The key tribes are: Spanish Harlem, Red's Family, Black Girls, The Suburbs, Golden Girls, White Power Group and the short-lived Norma-worshippers. Don't call them, they'll call you.

J is for Jenji Kohan
Kohan is the nine-time Emmy Award-nominated writer and producer of the show, which she adapted from Piper Kerman's memoir Orange Is The New Black: My Year In A Women's Prison.

K is for kitchen
Food equals power in prison. That's the key piece of territory you need to gain if you want authority. Red and Mendoza (Selenis Leyva) go sieve-to-sieve to stake their claim.

L is for lake
It's not all doom and gloom inside Litchfield. The great escape to the lake at the end of season 3 was a delightful and refreshing end to a testing series.

M is for moustache
There is some superb facial fuzz in the show. From the broom-like bristles of George "Pornstache" Mendez (Pablo Schreiber), to Caputo's trademark handlebar and Blanca's Frida Khalo vibe, it's a hair-raising show in more ways than one.

N is for Nativity
Mute Norma (Annie Golden) bursting into song, after Crazy Eyes (Uzo Aduba) gets cold feet, has to be one of the all-time most memorable Orange Is The New Black moments to date.

O is for old friends
Many of the actors in the show have crossed paths in previous lives – Taylor Schilling played Kate Mulgrew's daughter in American medical drama Mercy (Nick Sandow also appears in an episode), Jason Biggs (Piper's finacé) and Natasha Lyonne are both American Pie alumni, and Lauren Lapkus (Officer Fisher) and Laura Prepon starred in comedy Are You There, Chelsea? together.

P is for Piper
As in the real one. Piper Kerman's memoir, chronicling her experiences in minimum-security federal prison FCI Danbury, inspired the series. Kerman has been reborn as Chapman, and while she admits the show takes "tremendous liberties", Kerman was convicted of money laundering and drug trafficking after getting caught up in a lesbian relationship with a drug dealer.

Q is for quotes
The show is positively overflowing with witty one-liners. From Morello on fidelity ("You don't go Jessica Simpson when you got Rihanna"), and Red on people ("Ugh, people"), you'll want to get them stitched on a tea towel.

R is for Regina Spektor
Spektor is the Russian-born American artist you hear on the opening credits, singing "You've Got Time". All the faces in the opening credits are of real prisoners, including the real Piper.

S is for SHU
If you ever mistakenly think prison life looks like a bit of a laugh on the show, remember the SHU. This is the place that the inmates are placed in solitary confinement for bad behaviour, and is where some of the show's most disturbing scenes take place.

T is for Taystee
Taystee (Danielle Brooks) is our spirit animal. The Harry Potter fanatic and surrogate mother figure doesn't shy away from a rap battle, and sure knows how to bust a move.

U is for underwear
Season 3 sees Piper try to do an Alan Sugar, as she builds a business empire from scratch. Her trade... selling used pants. What could possibly go wrong?

V is for Vause
Is she the good guy? Is she the bad guy? How does she keep those eyebrows so perfectly shaped in prison? The jury's still out.

W is for weeping
Keep your eyes peeled for the weeping woman – in every scene where Piper's on the phone, it's always the same woman crying inconsolably behind her – played by Tamara Torres.

X is for x-rated
It doesn't shy away from the steamy, with the ladies displaying admirable resourcefulness in finding places to get busy. From going old school in the showers, to a time machine made out of cardboard and tin foil, they know all the nooks and crannies.

Y is for Yoga Jones
Fascinating fact alert: Constance Schulman, the actress who plays the Zen yogi, was the voice of Patti Mayonnaise on 90s cartoon Doug.

Z is for zzzzz
Never watched it? Say goodbye to zzzzzs, as you're about to lose a lot of sleep binge-watching. Try and stop yourself ploughing through the whole thing in one go. Go on. We dare you.
Find Orange Is The New Black seasons 1-5 on Netflix now
Netflix: Netflix streaming membership required. If you're new to Netflix, you'll need to register and accept Netflix's terms and conditions of use. Existing Netflix customers can access the service through their TiVo box.