Skip to main content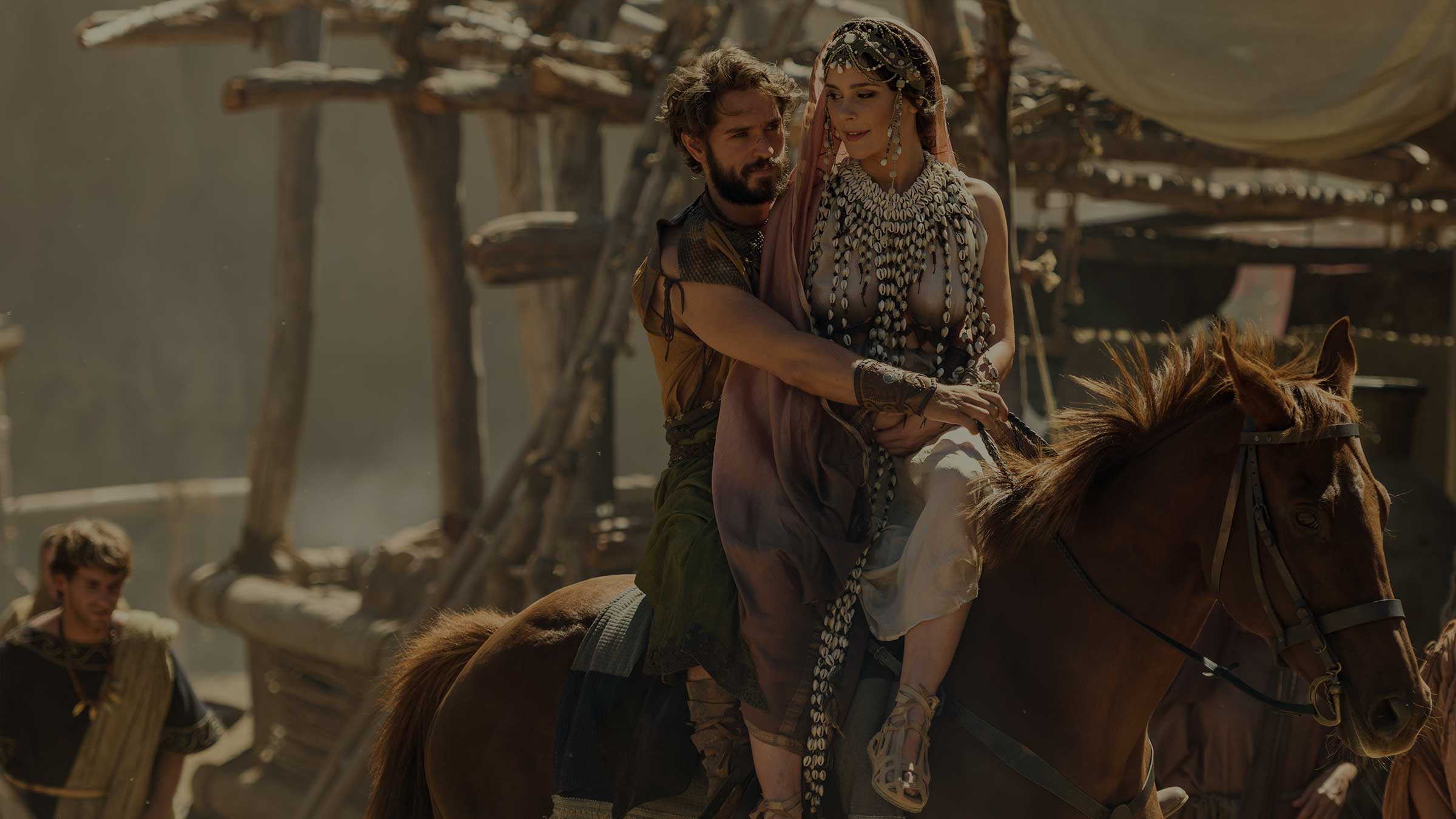 The writer of The Night Manager brings an entirely different take (and a phenomenal cast) to the story of the fall of Troy
Troy: Fall Of A City, Saturdays from 17 February, 9.10pm, BBC One/HD (CH 101/108). Also available for 30 days in Catch Up > Channels > BBC iPlayer
Is there any writer acclaimed playwright David Farr can't adapt? Shakespeare, Kakfa, John Le Carre, Philip K Dick – and now Homer, the legendary Ancient Greek writer behind the Iliad and the Odyssey. Farr has teamed up with the BBC and Netflix to bring us an epic retelling of an equally epic tale. Across eight episodes, follow the infamous story of Paris and Helen, the two lovers who ignited a war between Greece and Troy and brought the latter to its knees. Only this time, it's not as you know it…

This big-budget, star-studded drama is going to make your Saturday nights more majestic than a ten-foot peacock dipped in diamonds (and it doesn't get more majestic than that). To find out more, we spoke to Farr, executive producer Derek Wax and the stars of the show. Laid out before you here, in suitably epic fashion, are ten excellent reasons to tune in.
1. It's told from a different side
Farr's visceral retelling takes us inside the walls of Troy and we see the drama unfold from the perspective of the Trojan royal family. "Because Homer is Greek," Farr tells us, "the Greek side of the story has been explored more than the Trojan side. It's always been told from the victor's point of view. I thought it would be interesting to reverse that, spend more time inside the walls and explore the journey of those characters."
"We also wanted to make it un-Hollywood," Wax adds. "There are many ways the Greek myths have been dramatised. There's the Sunday teatime Jason And The Argonauts version, the 300 version. We wanted to make our story as vivid and compelling as possible, not like a cartoon superhero show. We've given it a rawness and immediacy to make it feel real and visceral with complex characters.
And does it deliver? Well, if you tuned into the first episode on Saturday, you'll already know that Wax isn't just waxing lyrical.
2. Helen is more than just "The Face That Launched A Thousand Ships"
Troy: Fall Of A City takes us back to the beginning, delving into the origin stories of Helen and Paris, played by Humans' Bella Dayne and The Fosters' Louis Hunter (pictured at the top). When we meet Helen in the first episode, she's a depressed mother in an unhappy marriage who loses herself in opium and late-night soirees. "Of course, her beauty is iconic but there's so much more to be mined there," Wax insists. "Her sophistication, her dignity… she's not someone to be pushed around."
"The more I read about her," says Dayne, "the more I realised her story has mostly been told by men. What's more, it's been told with a stance of 'Oh, the unfaithful woman! Shame on her!' Researching how she grew up, about her everyday life, how she and other women were treated at the time – that has a huge impact on a person. From a male's perspective, it's been told that she just left the marriage out of lust. That's completely wrong and I think it's beautiful we can finally tell a story from a true psychological perspective."
Tom Weston-Jones as Hector and Louis Hunter as his brother Paris
3. Paris is more than just a handsome face, too
"He's often portrayed as this insipid, idiot, pretty boy who causes the whole thing and you don't see him much," says Farr. "But his true origin story is really interesting and never told. He's brought up a peasant and doesn't know the truth of his birth – his royal identity ­– until he grows up. When he realises it, he's not fully comfortable and has a peasant recklessness, an itch to destroy the thing he's become. This is what makes him do such a reckless thing – to seduce a married woman."
Louis Hunter, who is a star in the making as Paris, is quick to interject – the pair are also very much in love, of course. "Paris feels imprisoned in this new way of living and he sees that in Helen. He wants to rescue her from that imprisonment."
4. The rest of the cast might just surprise you
If all you've ever known is Brad Pitt as Achilles or Sir Laurence Olivier as Zeus, the who's who on this production – packed full of British TV favourites – will make you smash the nearest gladiatorial gong with glee. Take a breath… King Priam is played by David Threlfall (yes, Frank from Shameless) and Queen Hecuba is played by Frances O'Connor (The Missing). Joining them is Tom Weston-Jones (Dickensian) as Hector, Chloe Pirrie (The Crown) as Andromache and Aimee-Ffion Edwards (Peaky Blinders) as Cassandra. Then there's Johnny Harris (This Is England) as Agamemnon, David Gyasi (Interstellar) as Achilles, Joseph Mawle (Game Of Thrones) as Odysseus and Hakeem Kae-Kazim (Black Sails) as Zeus. Still holding your breath? We know, it's an awesome cast list, right? And that's not even the half of it!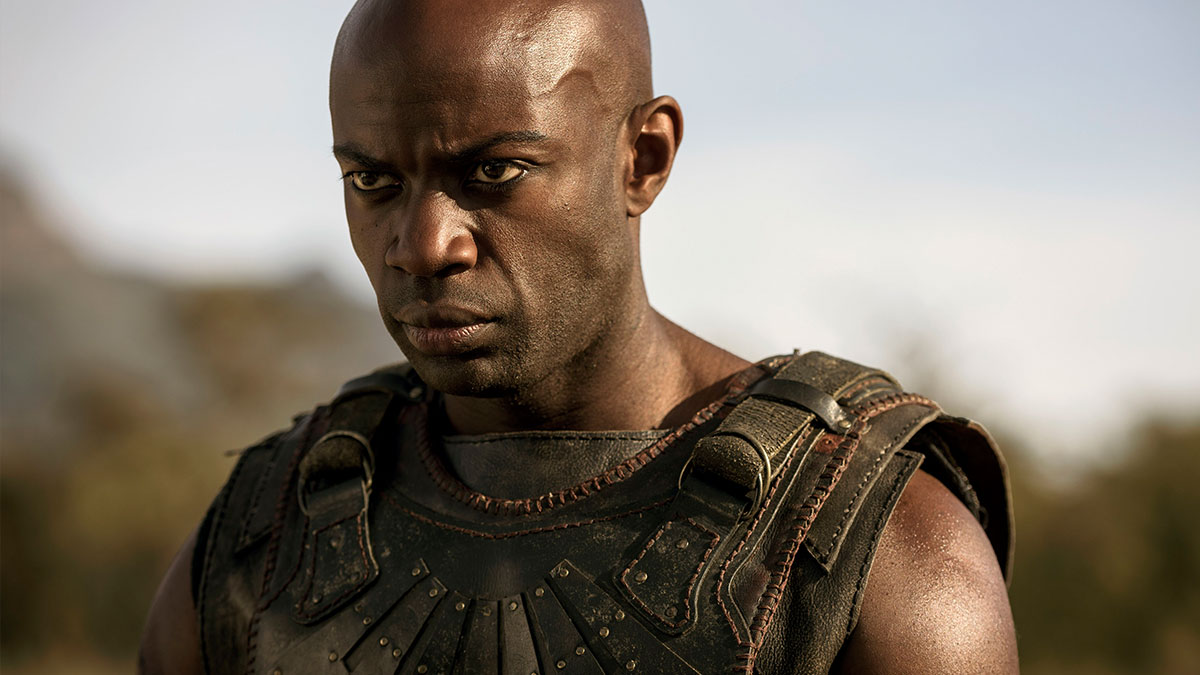 David Gyasi as Achilles
5. It feels current
Ancient Greece? Really? Well, not only does the series get to grips with such universal themes as human existence and identity but, as Aimee-Ffion Edwards rightly puts it, "War is war, it doesn't matter when it is."
"The stark truth of every war since the beginning of time," adds David Gyasi, "is that you have two sides who both believe they're right, lots of people die and lose a lot. It's sobering and depressing at the same time."
On a lighter note, though, there's more gender equality than you might expect. "Priam and Hecuba rule with complete equality," says Chloe Pirrie. "Andromache and her husband Hector also have a very equal relationship. That's very different from the world Helen is coming from."
6. The Greeks and Trojans weren't so divided off-camera
"Only in volleyball", Hunter tells us. "And even then, we had crossovers, with some Greeks going onto the Trojan side…"
Jonas Armstrong (Ripper Street), who plays King Menelaus of Sparta, compares his on-set experience to a famous TV family. "We all lived together. I was living above Louis, David was next door to Louis, Tom was above me, then there was Joseph and Johnny. There were nights we'd stick our heads out the windows and Louis would be at the bottom, in his garden, and we all just talked constantly. It was like The Waltons!"
How else did the cast pass the time on the Cape Town set? Sunbathing? Seeing the sights? "We played Cards Against Humanity," Dayne tells us. "And David Threlfall killed it. It's his favourite."
"He'll win the World Championships in that game one day," adds Hunter.
7. This show wasn't made to be binge-watched
We all love a Box Set marathon, but there's a lot to be said for enjoying tucking into a new episode week by week. And that's exactly how Farr wrote Troy: Fall Of A City. "I learned that from The Night Manager," he says. "I wrote them both episodically because it gives you that moment where the page turns. I love that moment. In TV terms, you'd call that a cliffhanger but it doesn't have to be. It's just the nature of the story taking a beat, and sometimes we do something quite bold."
8. But you can still watch it how you want
Although each episode will arrive first on the BBC every Saturday, the whole thing will then land on Netflix worldwide, and arrive on Netflix UK next year. So if you did want to lose yourself in a full eight-hour epic, each to their own…
9. Expect a solid ending
These days, a standalone series can be a hard thing to come by. TV shows tend to leave the door open, with series finales that don't feel very final, in the hope of a second series being commissioned. There may be cliffhangers, grey areas and lots of unanswered questions. It's not necessarily a bad thing, but sometimes you just want that satisfying feeling you get when you close a book.
And if that's what you're after, Farr is your man! "We didn't want an ending that left people going, 'Oh…' Derek and I wanted a strong ending and for the series to be a complete thing in itself, just like the Iliad."
10. But never say never...
What if we're greedy and just want more? Is there potential? "There's a very strong aftermath to this story," Farr admits. "For example, the return of Agamemnon is one of the greatest dramatic stories of all time. So, yes, if this is successful, there's potential…"
HD: HD TV required to view HD channels. Number of inclusive HD channels depends on package.
Interviews: Any opinions expressed in interviews are those of the interview subject and not those of Virgin Media.
Image credits: Wild Mercury Productions – Photographer: Graham Bartholomew