Skip to main content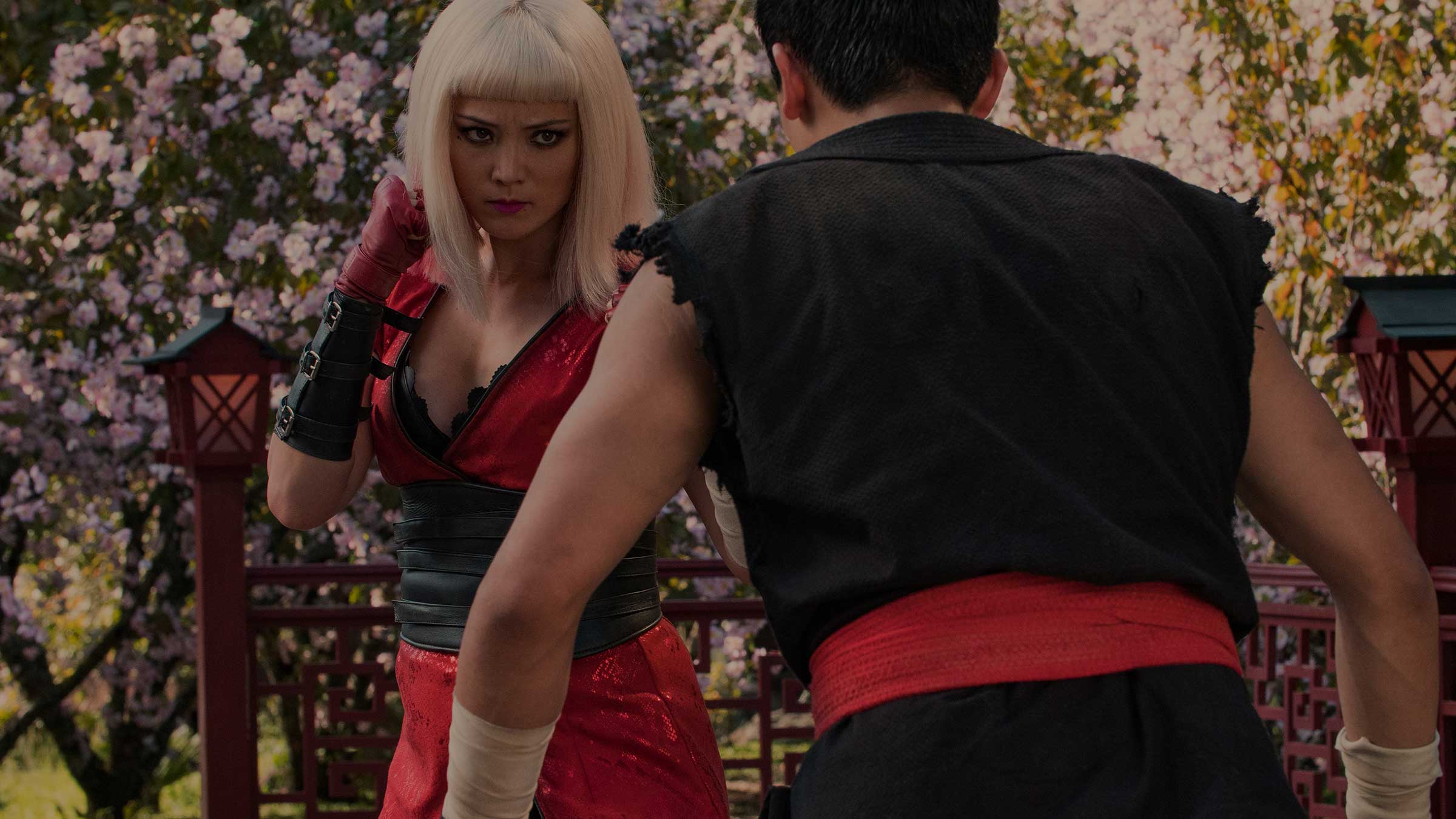 Missing Black Mirror already? Us too. Fortunately, with loads of other stellar shows on Netflix, you'll find the strength to move on in no time
Find them on Netflix
As soon as the hotly anticipated fifth series of Black Mirror dropped on Netflix, we devoured all three episodes faster than you can say "Bandersnatch". Charlie Brooker and fellow showrunner Annabel Jones have gone for quality over quantity this time around, but then, we'd argue that all of the episodes in every season have made for top-tier telly. Still, we have to respect the creative process, even if it does mean fewer hours spent in Black Mirror's dark, irresistible world.
The latest series gave us hyper-realistic (and erotic) virtual reality, the perils of app addiction and a performance from Miley Cyrus that prompted fellow pop star Halsey to Tweet: "Existential crisis: Engage". Call us gluttons for punishment, but we want more!
Luckily, there are plenty of shows on Netflix with similarly futuristic storylines, dystopian societies and musings on technology that are as fascinating as they are horrifying. Check out our list of what to watch and whip that watchlist into shape. And you never know, by the time you've finished, there might even be a new series of Black Mirror waiting for you.

1. Maniac

Emma Stone and Jonah Hill star as Annie Landsberg and Owen Milgrim, who agree to participate in a pharmaceutical trial. The pills they take are designed to repair the mind, with no complications or side effects. Obviously, it ends well…
2. Love, Death & Robots
This collection of short animated stories is a sensory overload, in a good way. Oscar-nominated director David Fincher executive produces this stunning series that proves nothing in life is certain but death, taxes and… robots. Oh, and it's just been renewed for season 2.
3. Travelers
The titular travellers at the heart of this story send their consciousness back in time; transferring it into people who are seconds away from death in a bid to save humanity from a catastrophic future. It's the butterfly effect in full effect. Eric McCormack (Will & Grace) stars as Traveler 3468, the leader of a team of fellow travellers.
4. 3%
In the future, the majority of the population lives in poverty in the Inland, while an elite few live in a utopian paradise called the Offshore. Every year in São Paulo, Brazil, 20-year-olds are given the chance to make it to the promised land, but only 3% of those who take part ever succeed. This Portuguese-language series (adapted from a YouTube short) is The Hunger Games meets Black Mirror.
5. Star Trek: Discovery

A big Vulcan salute to this stunning crowd-pleaser that's sure to delight fans new and old alike. It begins a decade before Captain Kirk's five-year mission, which was the focus of the 1960s show, and a century before the events of Star Trek: Enterprise. Discover new, exciting worlds with the crew aboard the USS Discovery.
6. Orphan Black
The characters in Black Mirror episode "Be Right Back" dabbled in human cloning, with disastrous results. Orphan Black brings clones into their own as con artist Sarah Manning (Tatiana Maslany, Stronger) finds out she's a clone, with many "sister" clones around the world. Maslany deftly transforms into a variety of characters in this scintillating sci-fi thriller.
7. Dark Net
If you're terrified by the tech in Black Mirror, prepare to be scared by the very real technology explored in Dark Net. This documentary series delves into revenge porn, online cults, cybersleuthing, the alt-right movement and social media trolls. The cold, hard truth is so eye-opening, you'll be running back to Black Mirror for some respite.
8. Dead Set
Can't get enough of Charlie Brooker? Check out his five-episode 2008 series Dead Set, inspired by the 1978 classic horror flick Dawn Of The Dead. When a zombie apocalypse hits Britain, no one is spared, save for the contestants and production crew inside the Big Brother house. But when eviction night rolls around, all bets are off. Former Big Brother presenter Davina McCall plays herself, both dead and alive.
9. Osmosis
If you liked the Black Mirror series 4 episode "Hang the DJ", where couples are matched through a dating programme with a catch, French series Osmosis will be right up your street. In the not-too-distant future in Paris, two siblings invent an implant that brings would-be soulmates together, but like any nascent technology, it's not an exact science…
10. Residue

After an explosion on New Year's Eve in a future England, the government builds a quarantine zone, but exactly what those outside the zone are being protected from is unclear. Game Of Thrones' Natalia Tena and Iwan Rheon star as photojournalist Jennifer and her government-employed boyfriend Jonas. Director Alex Garcia Lopez also worked on Misfits and Utopia, so you know you're in safe hands with this three-part miniseries.
11. Stranger Things
This list just wouldn't be complete without Stranger Things. With the much-anticipated season 3 just around the corner, there's no better time to enter the Upside Down. Highlights include some banging 80s tunes, the horrifying Demogorgon, some serious #SquadGoals and the immaculate quiff of Steve Harrington (Joe Keery, Molly's Game).
12. Mindhunter
Take a deep dive into the criminals mind through the investigations of FBI agents Holden Ford (Jonathan Groff, Glee) and Bill Tench (Holt McCallany, Fight Club) as they profile a series of serial killers. It's a quality show that turns the detective trope on its head with fleshed-out characters based on real-life good guys – and bad guys.
13. Dark
This German series (make sure you watch with German audio and English subtitles) is basically like a grown-up Stranger Things. It's also the first German original series produced for Netflix, and with black holes, time travel and multiple child murders driving the plot, Deutschland's Dark knocks it out of the sci-fi park.
14. The Sinner
Making "whydunnit" a genre in itself, anthology series The Sinner is so good it'll have you staying up way past your bedtime, sleeping through your morning alarm and arriving late for work. Yes, that good. Genius, in fact. (Just be prepared to explain "whydunnit" to your boss.)
15. Glitch

Set in the fictional town of Yoorana, this Australian series is not your typical zombie horror. When seven people return from the dead (minus the traditional craving for brains), police officer James Hayes (Patrick Brammall) gets on the case. But then his wife, who died two years previously, shows up – and she's after his heart…

16. Mars
How will the first manned mission to the Red Planet play out? This ambitious six-part series – co-produced by Hollywood heavyweights Ron Howard and Brian Grazer – aims to answer that question. Blending nail-biting drama, out-of-this-world visuals and documentary footage, Mars offers a tantalising glimpse of the future that'll have sci-fi aficionados hooked.
17. Colony
Mysterious forces occupy a near-future Los Angeles, and as much as the Bowman family try to stick together, their world is torn apart when their middle child gets separated from them. Will (Josh Holloway, Lost) and Katie (Sarah Wayne Callies, Prison Break) are desperate to find him, but it's going to take some dark dealings to get him back.
18. Inside No. 9
Steve Pemberton nabbed the BAFTA for Male Performance in a Comedy Programme for Inside No. 9 (which he co-wrote with Reece Shearsmith) at this year's awards ceremony. While this anthology series is a comedy, it's a decidedly dark one, with each spooky story taking place in a place with the number nine on it. We've chosen not to put this entry at number nine on our list. But not because we're superstitious or anything…
19. Limitless
This series is based on the film of the same name starring Bradley Cooper, in which a pill exists that unlocks the full brain potential of its user. While his character, Eddie Morra, makes an appearance, the focus here is on Brian Finch (Jake McDorman, American Sniper), a struggling musician who becomes the FBI's secret weapon.
20. Easy

Easy, created by Joe Swanberg, is mumblecore – a genre defined by naturalistic acting and dialogue (which is often improvised) – at its finest. This anthology series takes the occurrences and small details that make up everyday life and imbues them with drama, as a series of couples navigate love, relationships and hardships in Chicago. Watch out for a slew of recognisable faces too, including Zazie Beetz (Deadpool 2) and Dave Franco (Now You See Me).


How to watch Netflix with Virgin TV
If you have a TiVo® box or Virgin TV V6 box, powered by TiVo®:
Press home on your remote
Select Apps & Games
Select All Apps
Select Netflix
If you're already a Netflix subscriber, you can also access the app through Search & Discover or by pressing Red on channel 204. Just sign in with your existing login and start watching. And you'll only have to log in the first time you use it.
If you're new to Netflix, then you'll need to subscribe to use the app. The easiest way to do this is by going to netflix.com/virginmedia. You can also subscribe using the Netflix app in Apps & Games.
Netflix: Netflix subscription required at extra cost.