Skip to main content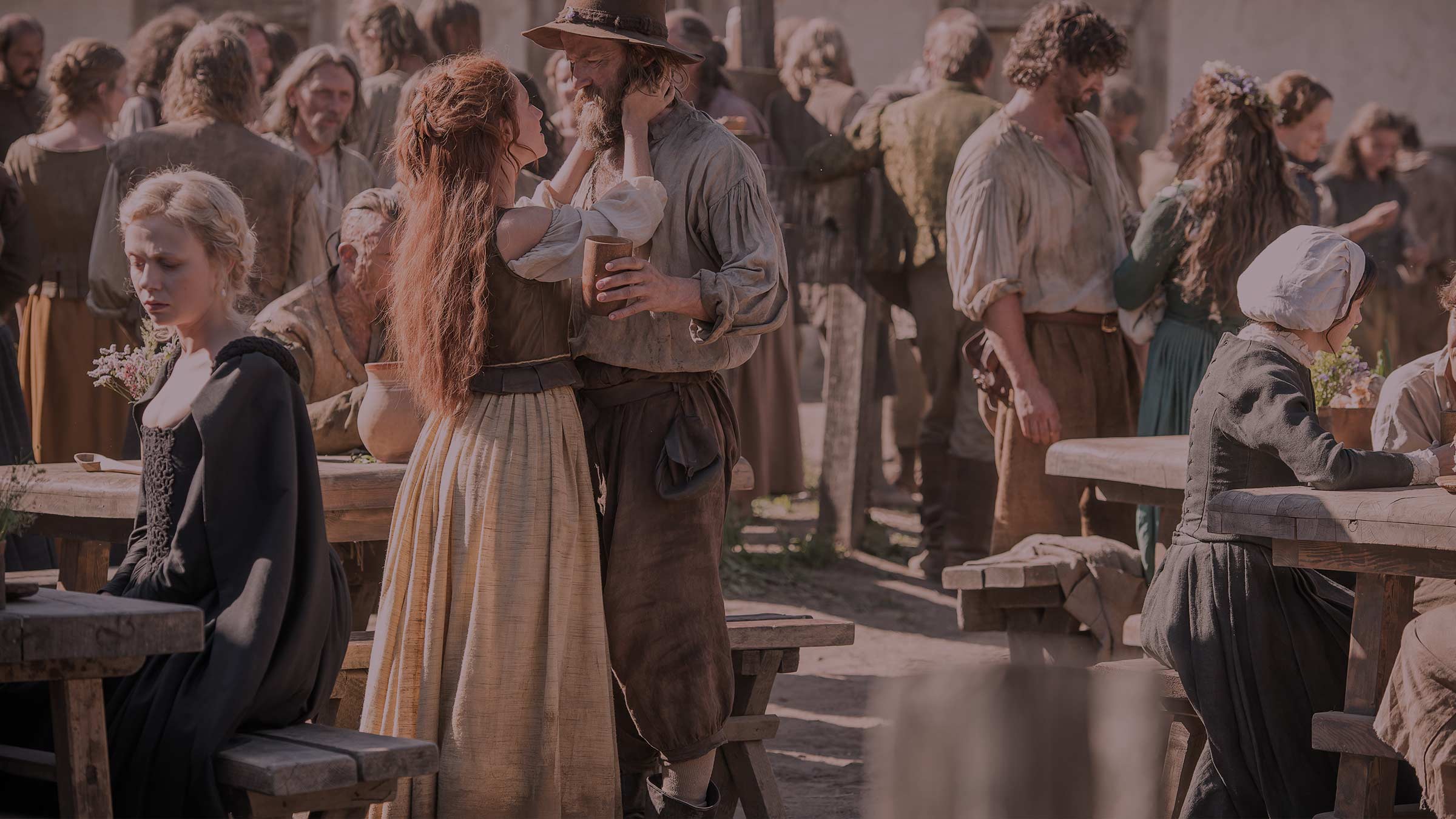 Join us as we venture back to 1619, for a second instalment of Sky One's enthralling historical drama
Jamestown, Fridays from 9 February, 9pm, Sky One/HD (CH 109/110). Also available for 30 days in Catch Up > Channels > Sky One
If Downton Abbey mixed with Roots sounds up your alley, then Jamestown is your calling. It focuses on three women – Jocelyn Woodbryg (Naomi Battrick, Waterloo Road), Alice Kett (Sophie Rundle, Peaky Blinders) and Verity Bridges (Niamh Walsh, Holby City) – who have left everything they know behind to join the first English settlers in America as brides for sale. Where? A place called Jamestown, Virginia...
What they find is not quite the land of hopes and dreams that they'd been promised. A harsh climate, troubled and lonely men and tensions with Native Americans all come into play. It's a tough life for these ladies, but it sure makes for fantastic drama! That said, these women aren't about to let themselves be walked over. "If you go anywhere in the world where women are oppressed, women still find ways to have power and control," Niamh Walsh told us when we visited the Jamestown set last September.
Here are nine secrets we found from our visit (and we didn't even have to hide in any bushes!)

1. This Jamestown is actually in Budapest
Although the real Jamestown was in Virginia, that definitely wasn't the airport we flew into! As luck would have it, the settler colony was replicated a bit closer to home, about an hour outside of Budapest in the Hungarian countryside. And when we say replicated, we mean replicated – with microscopic attention to detail.

"It's like going into a time machine," Matt Stokoe (Misfits), who plays blacksmith James Read, tells us. And he's not exaggerating; all the houses and props you see on TV are real – there are no green screens or studio shoots. They even grow their own tobacco.

"You feel like you're in Disneyland," says Patsy Ferran, who plays Jocelyn's earnest maid, Mercy. "It certainly makes your job easier."

"It's made to spec," adds Ben Starr, who plays Dr Christopher Priestley. "If it's cold, it's freezing. If it's warm, it's a sauna."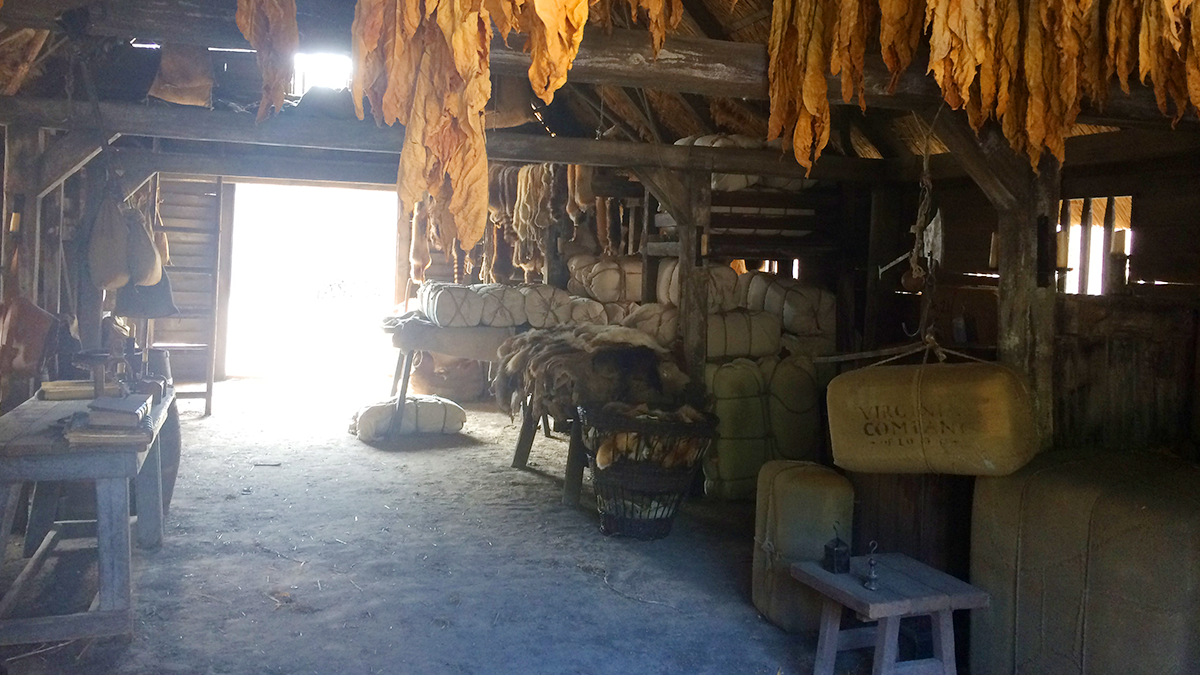 Tobacco drying in one of the purpose-built sets outside Budapest
2. But the cast are spared having to go the whole 17th century hog
Don't expect them to be living off the land any time soon, with the likes of delicious quesadilla, Hungarian goulash and full English breakfasts coming out of the catering van at all hours of the day. "Whatever the opposite of a method actor is, that's me," says Stokoe.
3. The stars get up to all sorts when the cameras stop rolling
"It's a summer camp for actors," says Walsh. From coffee bars and quiet dinners to proper nights out and weekend trips to Vienna – this ensemble cast are super close off-screen. "It really is one of the peachiest jobs," says Rundle. "It's like university, and now we're back for second year. These guys have become some of my best mates."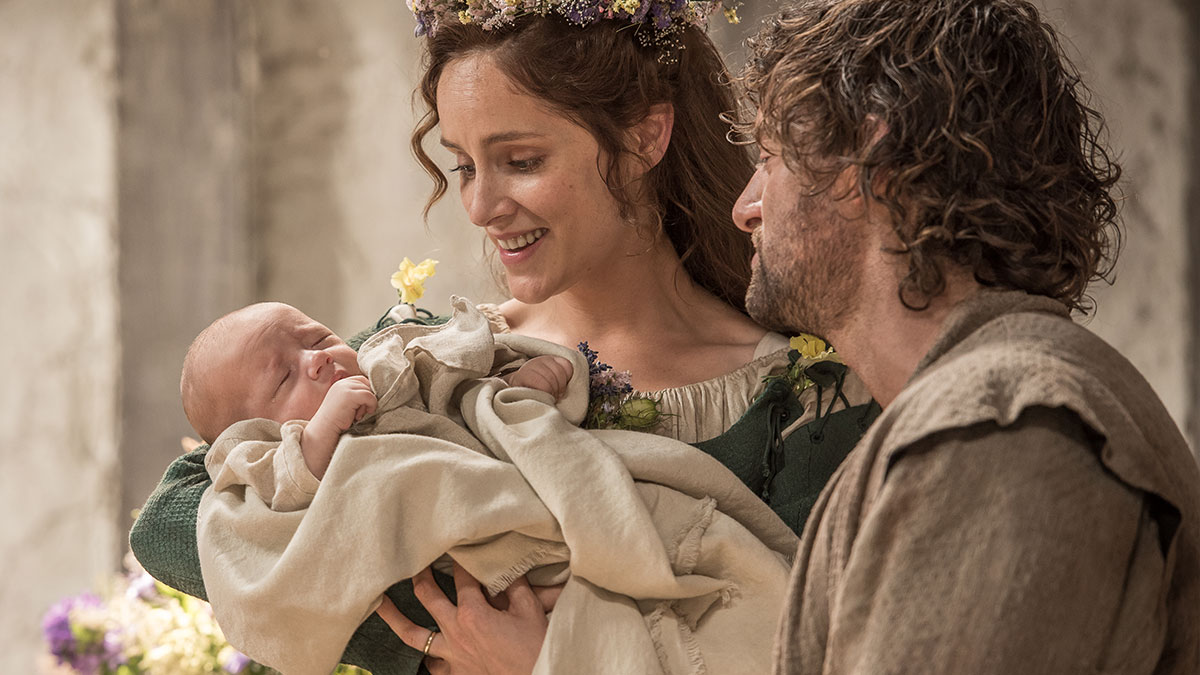 Sophie Rundle in character as Alice Kett with on-screen love Stuart Martin
4. They pay full respect to the history
While the characters as seen on screen didn't exist, Jamestown really was the first English settlement in the Americas. Close attention to detail has been paid to making it as historically accurate as possible – particularly with the portrayals of the Native Americans and the Angolan slaves.

Walsh tells us: "Every step of the way, Carnival [the production company that makes Jamestown] has been rigid about doing the historical stuff right. They haven't just hired a bunch of Spanish actors who look vaguely like first generation Americans."

But it wasn't without its challenges. For Abiola Ogunbiyi, who plays one of the Angolan slaves, Maria, finding enough source material to bring her character to life was a bit of a struggle. "There was a lot less information on African civilisation before slavery, compared to what there is on slavery."
5. Jamestown has made Jason Flemyng fall in love with acting again
"I hope it runs forever!" gushes the Lock, Stock And Two Smoking Barrels star, who plays Jamestown's governor, Sir George Yeardley. "I've spent 30 years making films that no one wants to see, saying nine lines a week on film sets and always being the one slightly out of focus behind Brad Pitt. That's killed me a bit. Jamestown has definitely whetted my appetite for acting again." Hooray!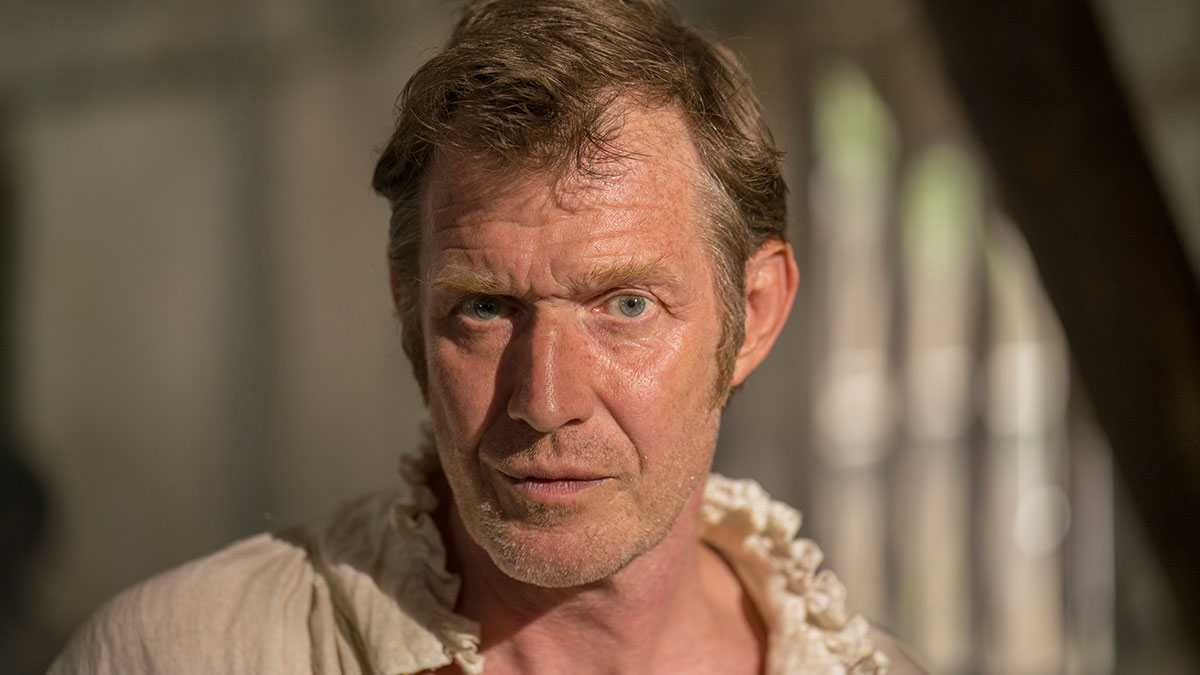 Jason Flemyng works on his best Blue Steel
6. Things are about to get tougher still…
While series 1 wasn't exactly all smiles and rainbows – rape, murder, torture, being burned alive – series 2 is set to get even more disturbing. With the arrival of the first slaves from Angola, tensions growing with the Native Americans and worsening divisions within the Jamestown community, this is worlds away from a delicate period drama. "Period dramas tend to neaten things up. Women become either lovely and corseted, or a one-note, bad female character. This makes them more complex," says Walsh.

"I call it Deadwood Abbey," Stokoe jokes. "We're taking people who like period dramas, giving them a violent shake, and then sitting them back on the sofa."
7. Max Beesley learned a new language
The Hotel Babylon actor plays Henry Sharrow – one of the first settlers to lay claim to land in Virginia. He has lots of scenes with the Native Americans, for which he had to master the challenging Algonquin language. "It's not been spoken for 150 years. It was a nightmare to learn – an hour a day for a month just to learn two scenes."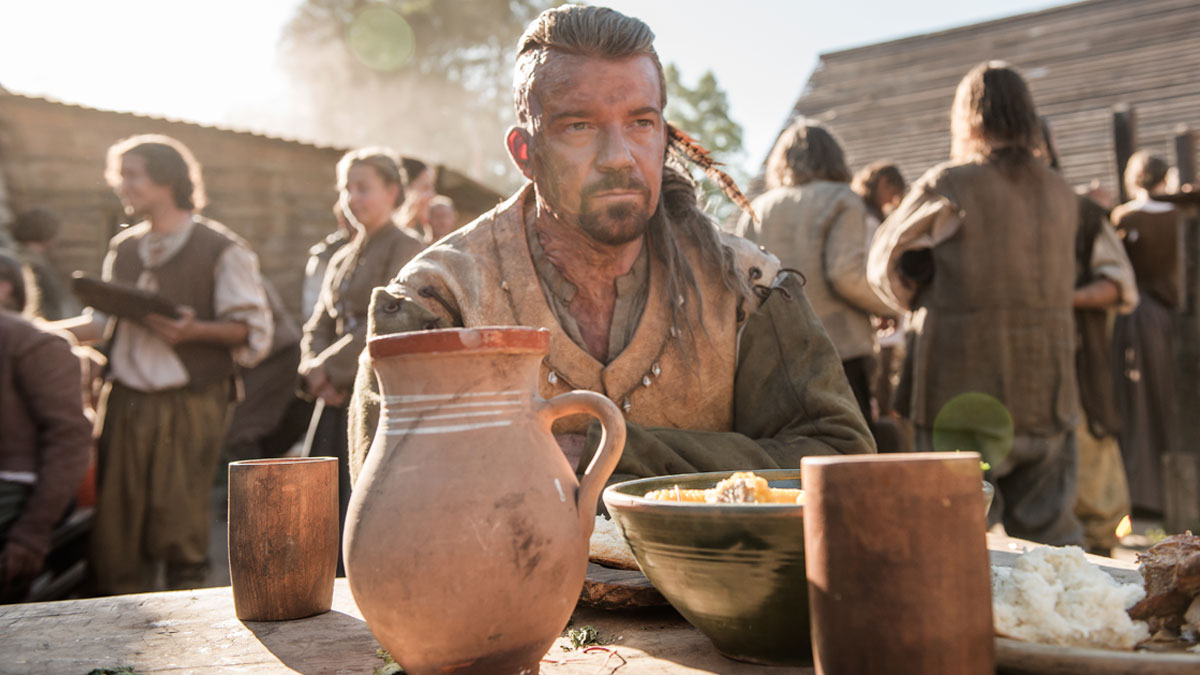 Max Beesley as Henry Sharrow
8. There are some new romances on the horizon
James the blacksmith gets into a new relationship, but Stokoe reveals "it causes a whole heap of new trouble".

And Jamestown is about to get its first same-sex romantic storyline. Burn Gorman (Torchwood) gives us the gossip on his power-hungry character, Nicholas Farlow: "He falls for someone. He is intoxicated by this beautiful young man who is intelligent and fascinating. And it's reciprocated." But something tells us they aren't going to live happily ever after…
9. Expect some extreme personality shifts
For Flemyng, it's a chance to play the bad guy. "He was like the Jeremy Corbyn of Jamestown, trying to be fair and decent, last year. This series, he's just full Trump. He's a monster. I don't know what happened. Ask Donald. He's horrible."

And there is a surprise spiritual awakening on the cards, courtesy of the town drunk. Dean Lennox Kelly (Shameless), who plays the tavern owner Meredith Rutter, tell us: "The bible is my companion – for a whole episode."

We'll believe it when we see it!
Channels, content and features available depend on your chosen package.
TV channels: Channel line-ups are subject to change and regional variations. TV packs currently exclude some teletext services.
Sky entertainment Catch Up TV content is available for up to 30 days after broadcast.
HD: HD TV required to view HD channels. Number of inclusive HD channels depends on package.
Sky On Demand included with TV M+/Mix TV and above. Content available to view depends on TV package.
Interviews: Any opinions expressed in interviews are those of the interview subject and not those of Virgin Media.
Image Credits: Jamestown additional on-set images © Mona Tabbara