Skip to main content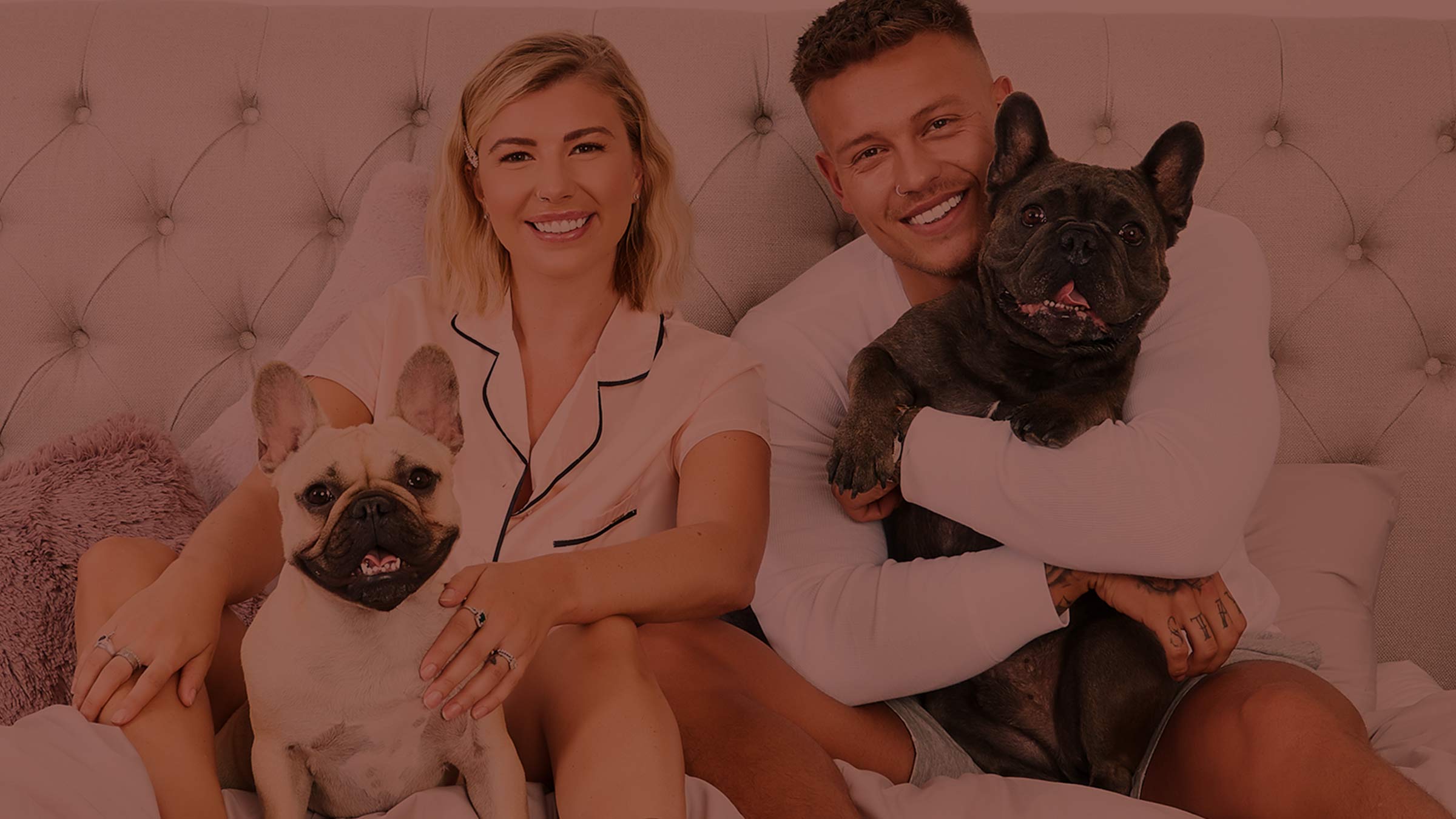 The OG Love Island power couple are letting us into their lives once more, but this time it's on their terms
Olivia & Alex: Happily Ever After?, Friday 27 September, 9pm, TLC/HD (CH 167/168). Also available for 7 days in Catch Up > Channels > TLC
It's official: Alex Bowen and Olivia Bowen Buckland have proved the infamous Love Island lie detector test wrong. In series 2, Alex was asked, "Are your feelings real towards Olivia?" and "Do you see a future with Olivia?" He answered yes to both, but the machine had other ideas. Three years later, the reality TV runners-up are married and have their own show.
"That lie detector was not OK, was it?" Olivia says, laughing at the distant memory. "We have a business, we've got two dogs, we have a mortgage. We're married!" Alex laughs too, and quite right. The future for the first couple from Love Island to tie the knot looks bright – and that's no lie.
Get ready to see them doing everything in the new series, from yoga and meditation to hoovering and seeing a psychic. But it's more than that, because at its heart, Happily Ever After is simply a show about a genuinely happy couple who count success after Love Island as a "bonus" on top of the most important thing they found: love.
The adorable pair finish each other's sentences, say things at the exact same time and are really just, well, so darn cute. "People overcomplicate the whole thing of relationships and being in the public eye. If you're happy with that person, then there's nothing else that's got to go into it," Alex says. "If you want to be with that person, you'll make it work either way."
These guys are a true Love Island success story (sorry Amber and Greg – sad face!), so who better to act as agony aunt and uncle to help solve the imagined relationship dilemmas of TV's most memorable couples? Read on to discover their sage advice, and some interesting ideas for future plotlines…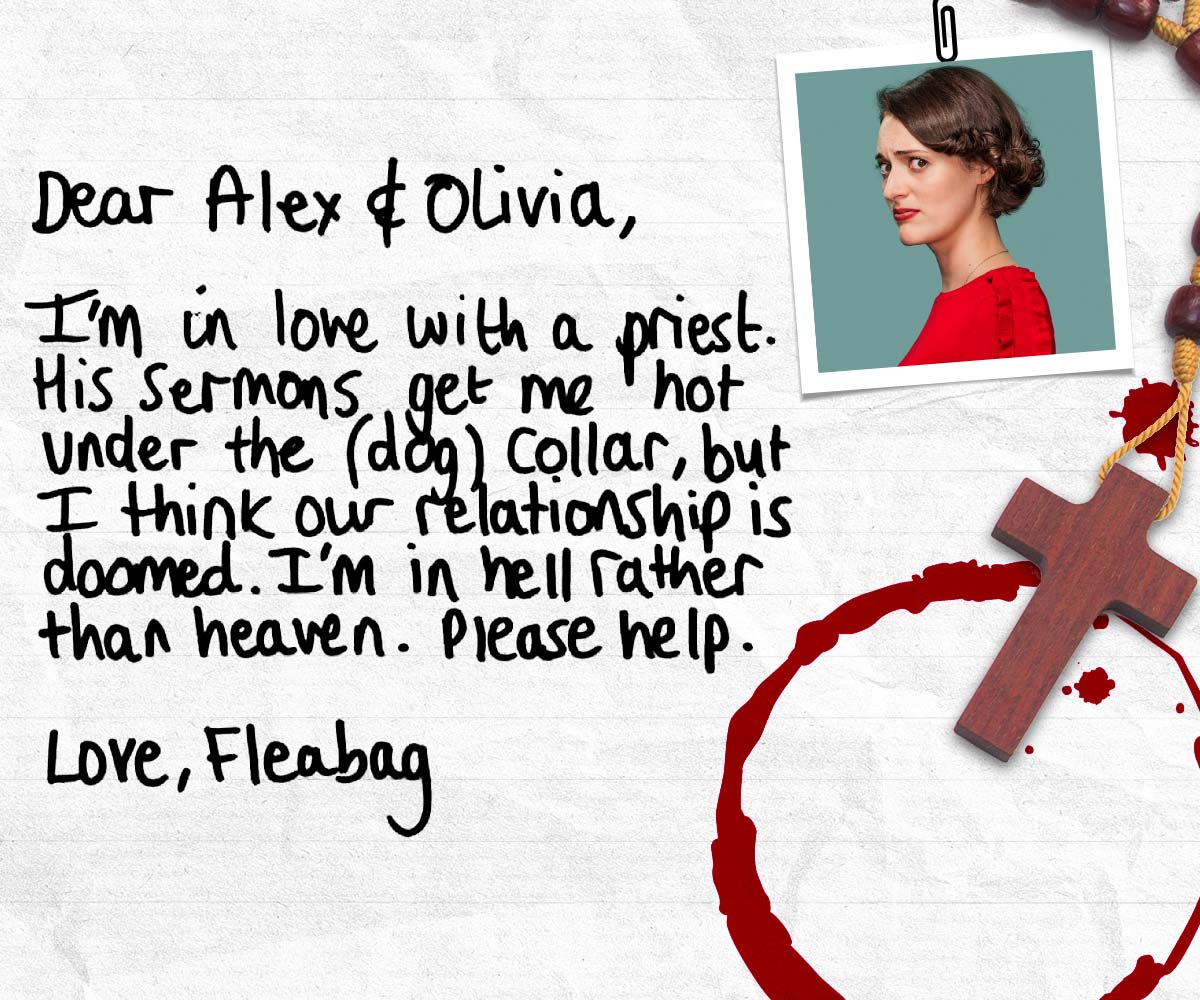 Dear Alex and Olivia,

I'm in love with a priest. His sermons get me hot under the (dog) collar, but I think our relationship is doomed. I'm in hell rather than heaven. Please help.

Love, Fleabag
Olivia: Go for it hun, why not? Priests can have relations with a normal person, or are they not allowed?

Alex: They can't.

Olivia: See, I'm not religious, so I don't know that. Love conquers all, so he's gonna just have to stop being a priest if he loves her that much. Can you do that? Can you stop being a priest?

Alex: You can, but maybe it's not just all about the sex and they just want to be together on an emotional level.

Olivia: They can be friends.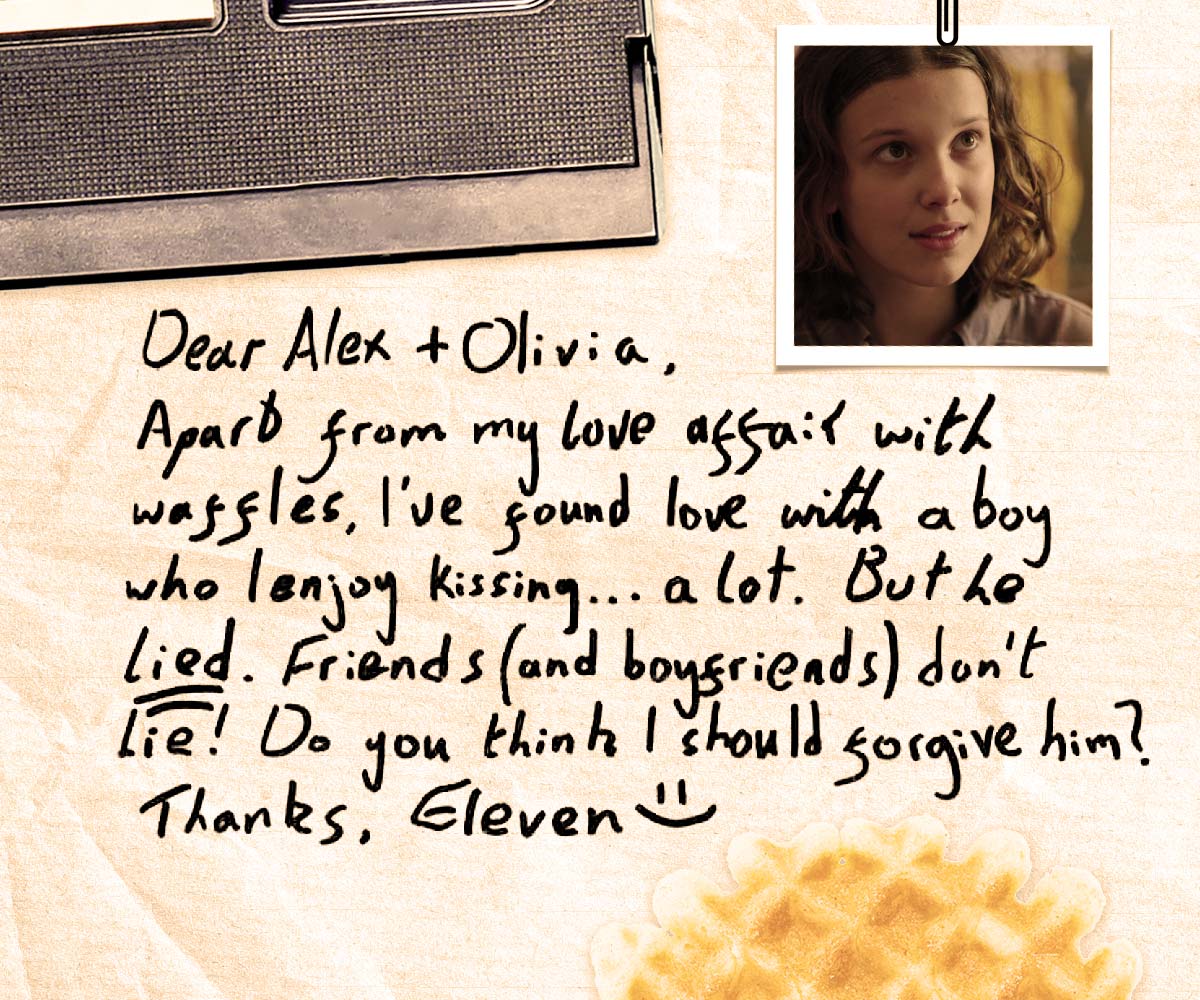 Dear Alex and Olivia,

Apart from my love affair with waffles, I've found love with a boy who I enjoy kissing… a lot. But he lied. Friends (and boyfriends) don't lie! Do you think I should forgive him?


Thanks, Eleven :)
Alex: We love Eleven!

Olivia: If it was a little white lie that didn't hurt anyone physically or mentally, then you can forgive it. You can have a go at him for a while, but forgive him eventually. Make him sweat a bit though!

Alex: If it's a serious lie, like cheating or anything, it's unforgivable. If it was a little stupid white lie to get him out of trouble, then he probably shouldn't have said it anyway.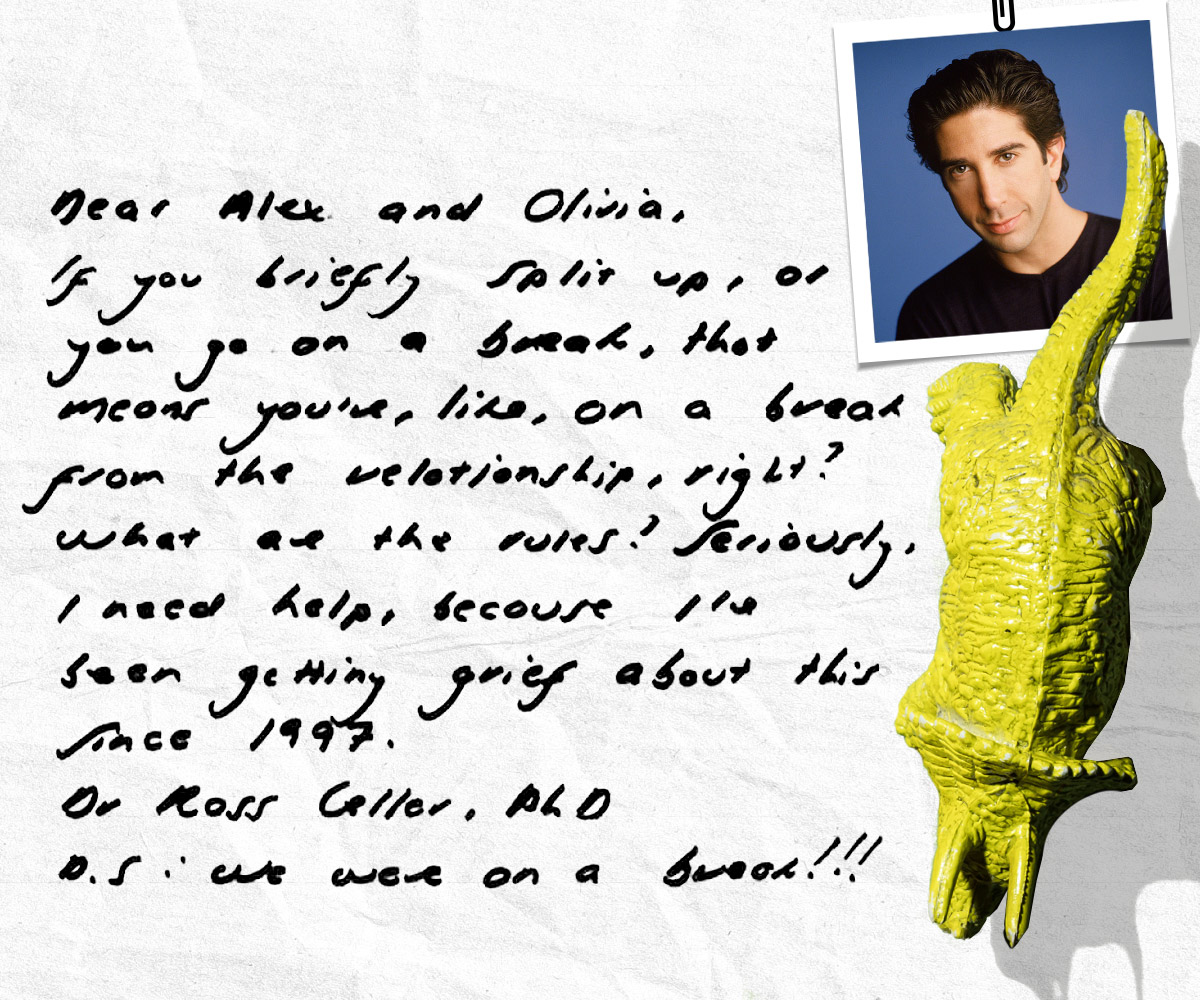 Dear Alex and Olivia,

If you briefly split up, or you go on a break, that means you're, like, on a break from the relationship, right? What are the rules? Seriously, I need help, because I've been getting grief about this since 1997.

Dr Ross Geller, PhD

P.S. We were on a break!!!
Alex: If it's miscommunication, then it's just an unlucky error in judgement.

Olivia: I feel like everyone needs to get over it. It's been going on too long. If they were definitely on a break then that's fine, but I don't think they should get back together after that. I don't think he even cared in the first place if he went and slept with someone else while they were on a break, but I don't think they were on a break…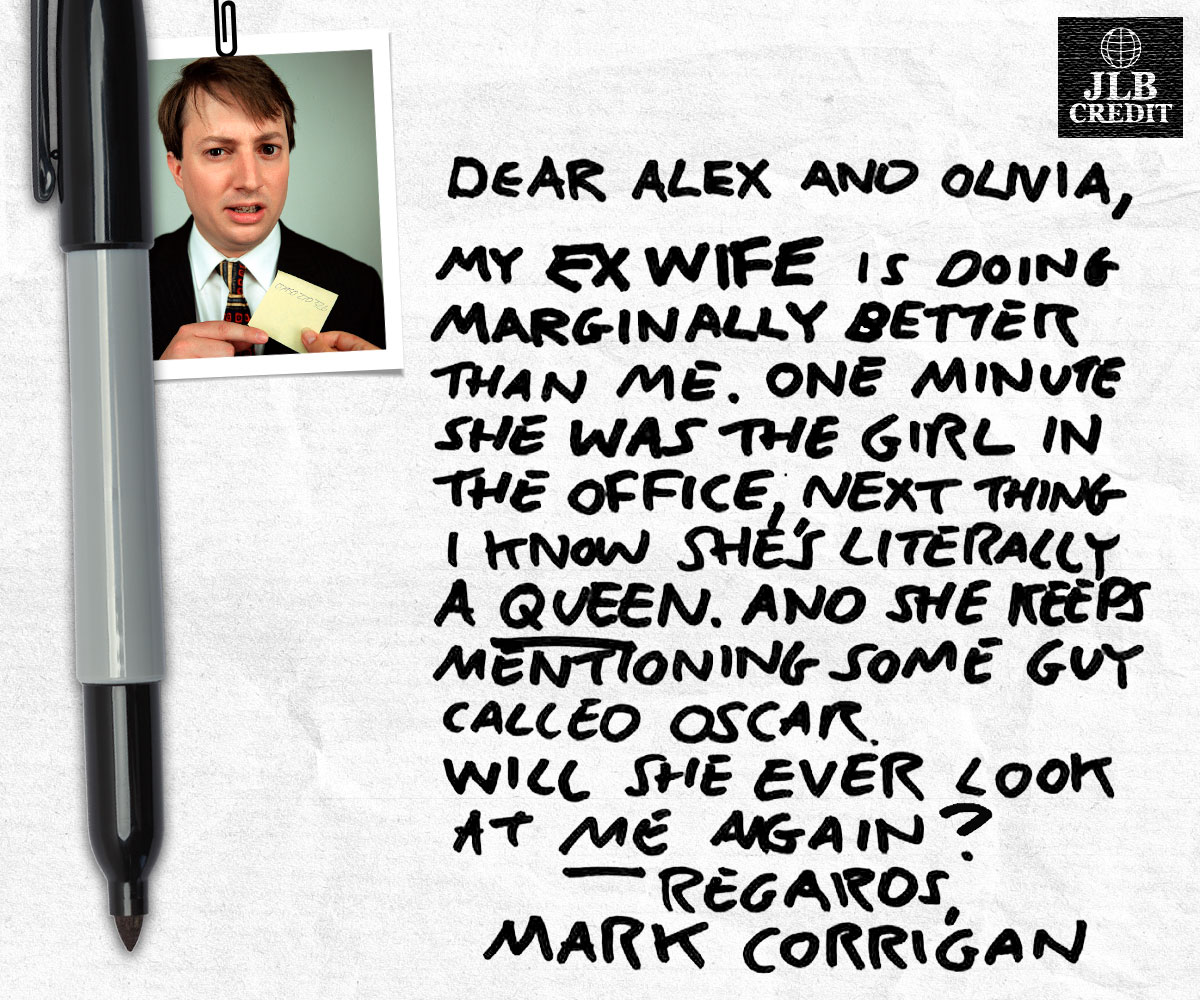 Dear Alex and Olivia,

My ex-wife is doing marginally better than me. One minute she was the girl in the office, next thing I know she's literally a queen. And she keeps mentioning some guy called Oscar. Will she ever look at me again?

Regards, Mark Corrigan
Olivia: He needs to move on, hun. He needs to go on a few dates – go speed dating or something. If she tries to string him along that's her own problem and she's in the wrong. You either get back together or you've gotta go your separate ways.

Alex: Maybe he needs to play the field a little bit and enjoy himself. If they have a kid as well… they shouldn't get together just for the kid, but then… I mean, I'm getting very deep here. If it didn't work in the first place, it might not work again.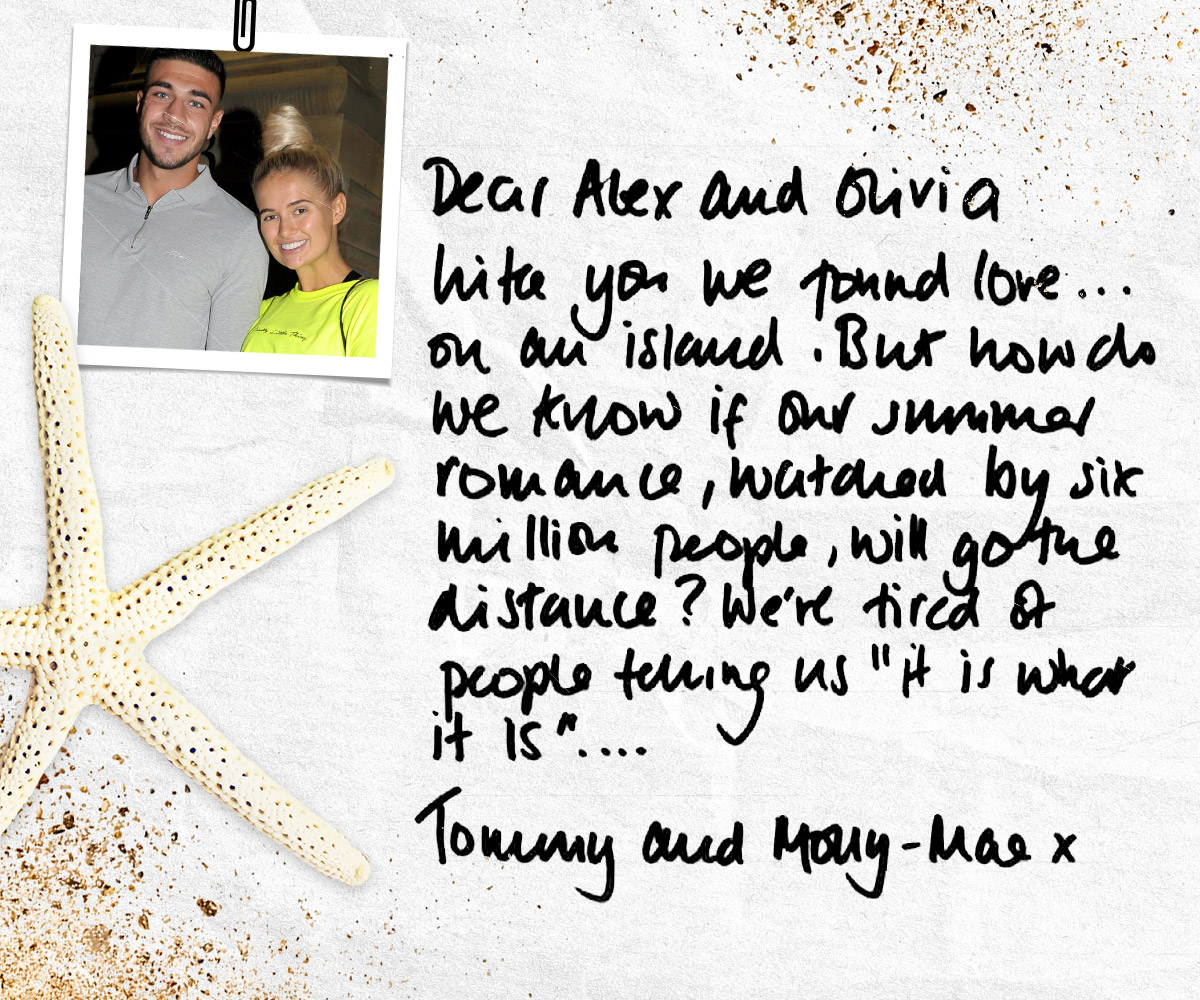 Dear Alex and Olivia,

Like you, we found love… on an island. But how do we know if our summer romance, watched by six million people, will go the distance? We're tired of people telling us "it is what it is"…

Tommy and Molly-Mae x
Alex: Maybe taking it slow is the best thing for them.

Olivia: Just ignore everyone and the comments and do what's good for you. Keep doing what you're doing and remember why you're together and smash it – but not quite too much, because we rule Love Island.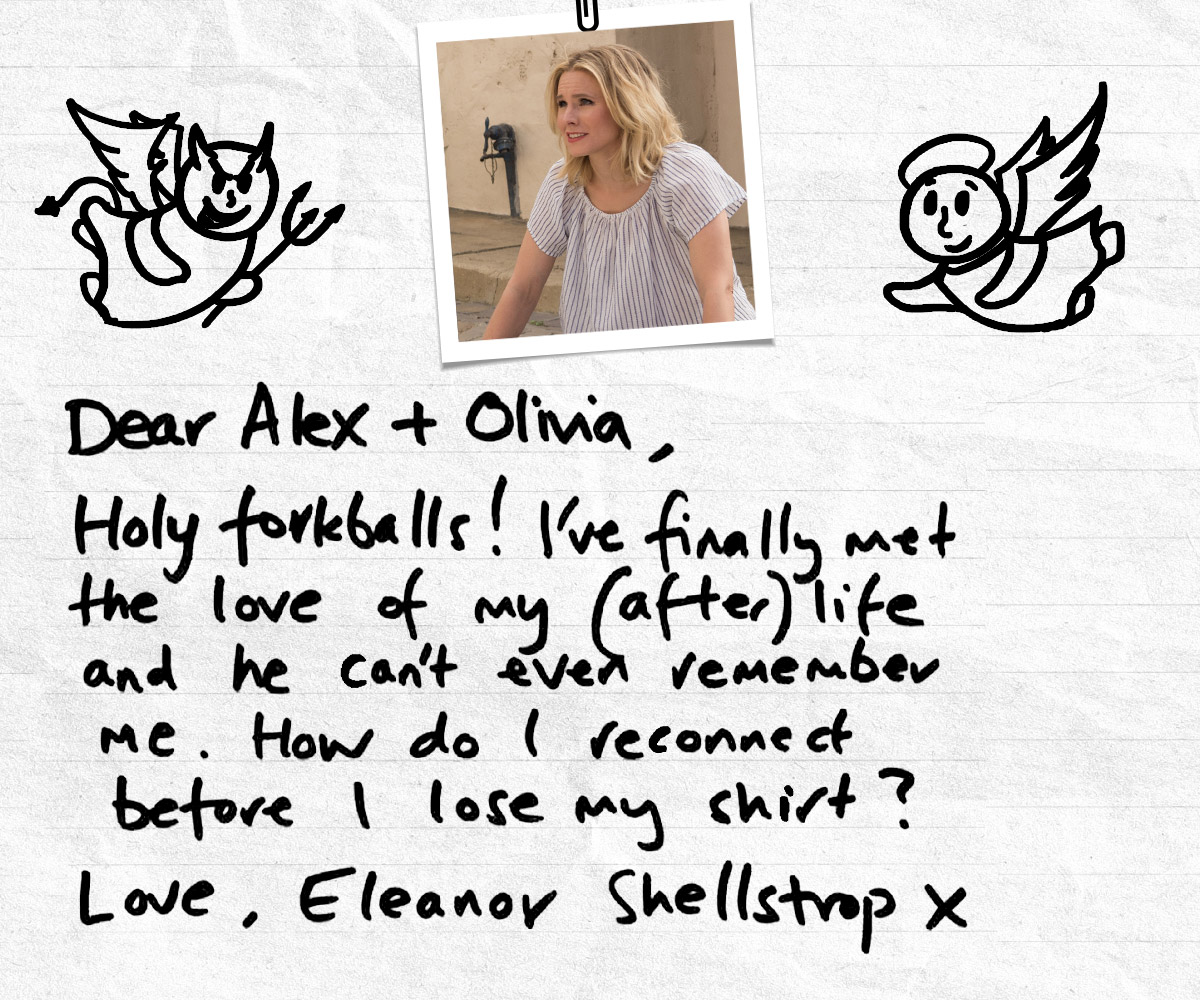 Dear Alex and Olivia,

Holy forkballs! I've finally met the love of my (after)life and he can't even remember me. How do I reconnect before I lose my shirt?

Love, Eleanor Shellstrop x
Alex: That's a tough one, that is.

Olivia: Do little things that remind him why she's a nice person, all the little things that you do when you first get together, or get a brain surgeon and see if they can make him remember. It's in heaven, so anything can happen.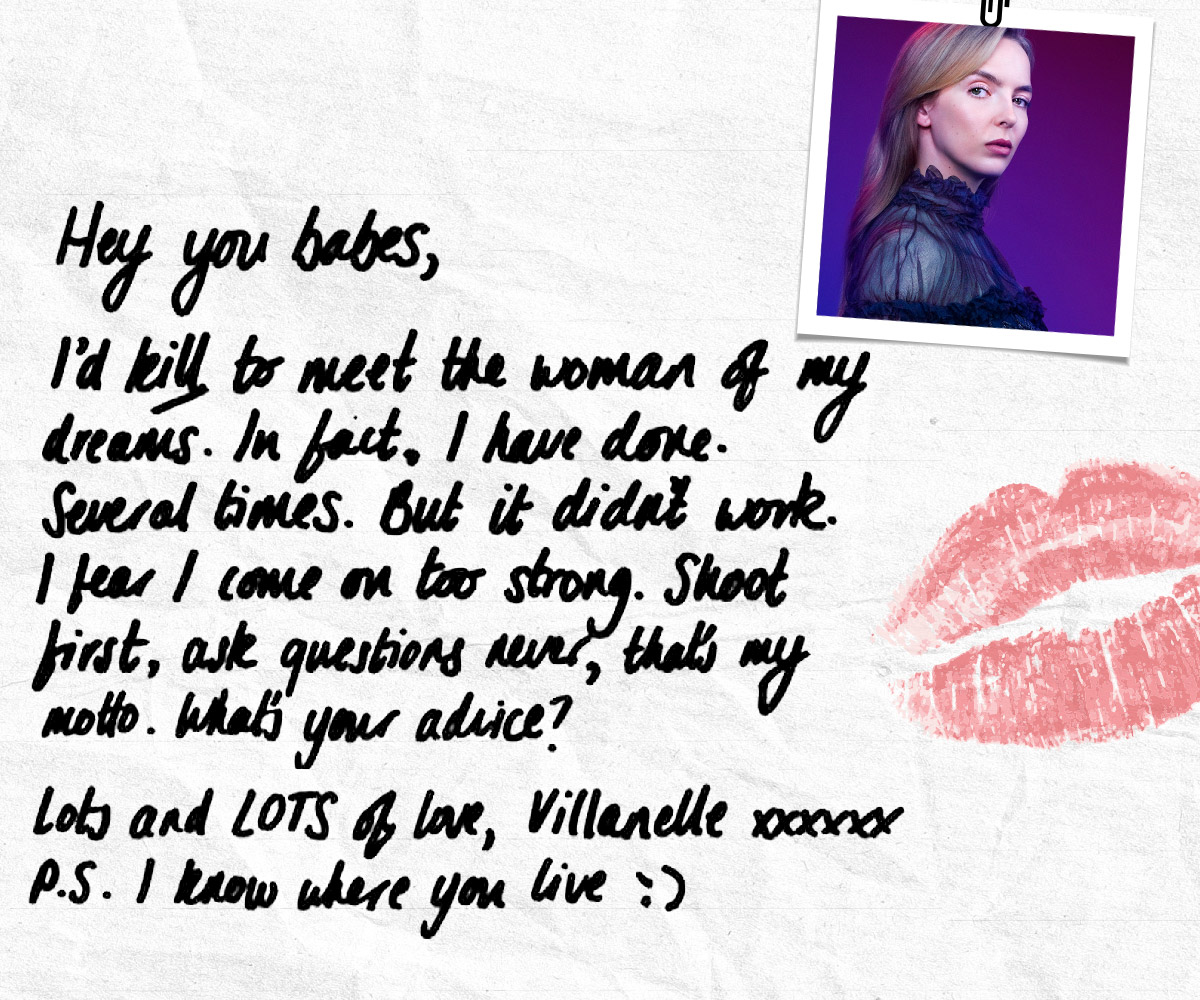 Hey you babes,

I'd kill to meet the woman of my dreams. In fact, I have done. Several times. But it didn't work. I fear I come on too strong. Shoot first, ask questions never, that's my motto. What's your advice?

Lots and LOTS of love, Villanelle xxxxxx

P.S. I know where you live ; )
Olivia: We need to watch Killing Eve! Oh, this is really complicated. I think they like the chase. If they didn't have that, would they even like each other?

Alex: That's what it is – the chase.

Olivia: They like the danger.

Alex: You should have your own show, sorting out relationships.

Olivia: They should just see what they actually like about each other.

Alex: It's probably the competition as well to see who's better, but then they kind of fancy each other. Take her out for a nice meal in public and see what happens.

Olivia: They can't do it in public though.

Alex: Behind closed doors, have a nice sit-down meal and talk to each other on a one-to-one level.

Olivia: On a non-shooting level.

Alex: No knives, no guns, no grenades.

Olivia: No handcuffs – or maybe handcuffs…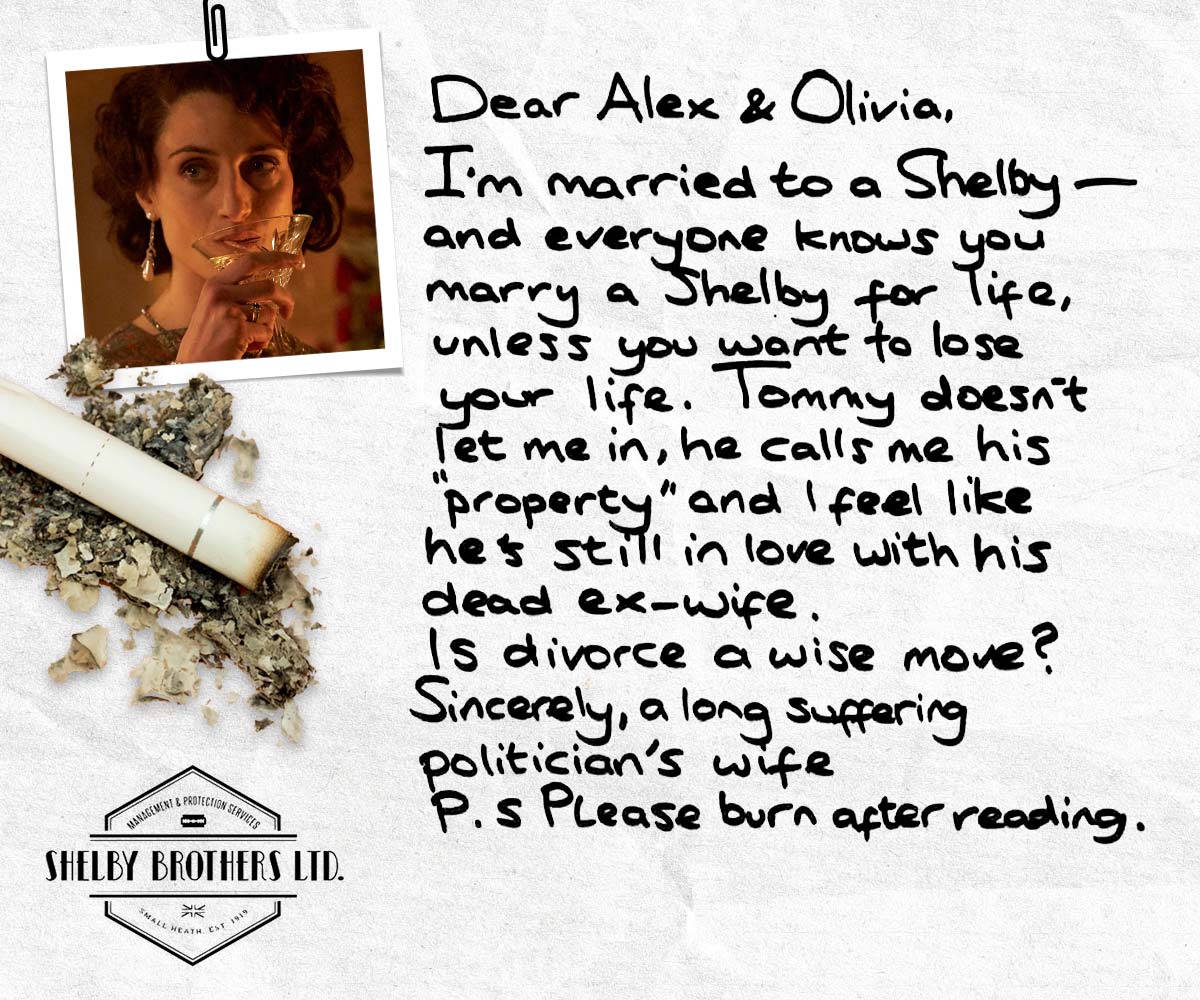 Dear Alex and Olivia,

I'm married to a Shelby – and everyone knows you marry a Shelby for life, unless you want to lose your life. Tommy doesn't let me in, he calls me his "property" and I feel like he's still in love with his dead ex-wife. Is divorce a wise move?

Sincerely, a long-suffering politician's wife

P.S. Please burn after reading.
Alex: She can't just keep living that same life, can she?

Olivia: She should divorce him and then change her name and move to the Bahamas. I think that would work.

Alex: Yeah, just do a runner.

Olivia: New passport, new identity, then run away.

Alex: Yeah, but he's Tommy Shelby. He's a bit of a gangster isn't he, so he'll find you. And you'll be looking over your shoulder the rest of your life.

Olivia: Wow, the advice…

Alex: Sorry, that might not be the best advice. That was a bit deep. Either way, she's messed up really. I've got no advice for her.

Olivia: Live with it, or get a new identity, hun!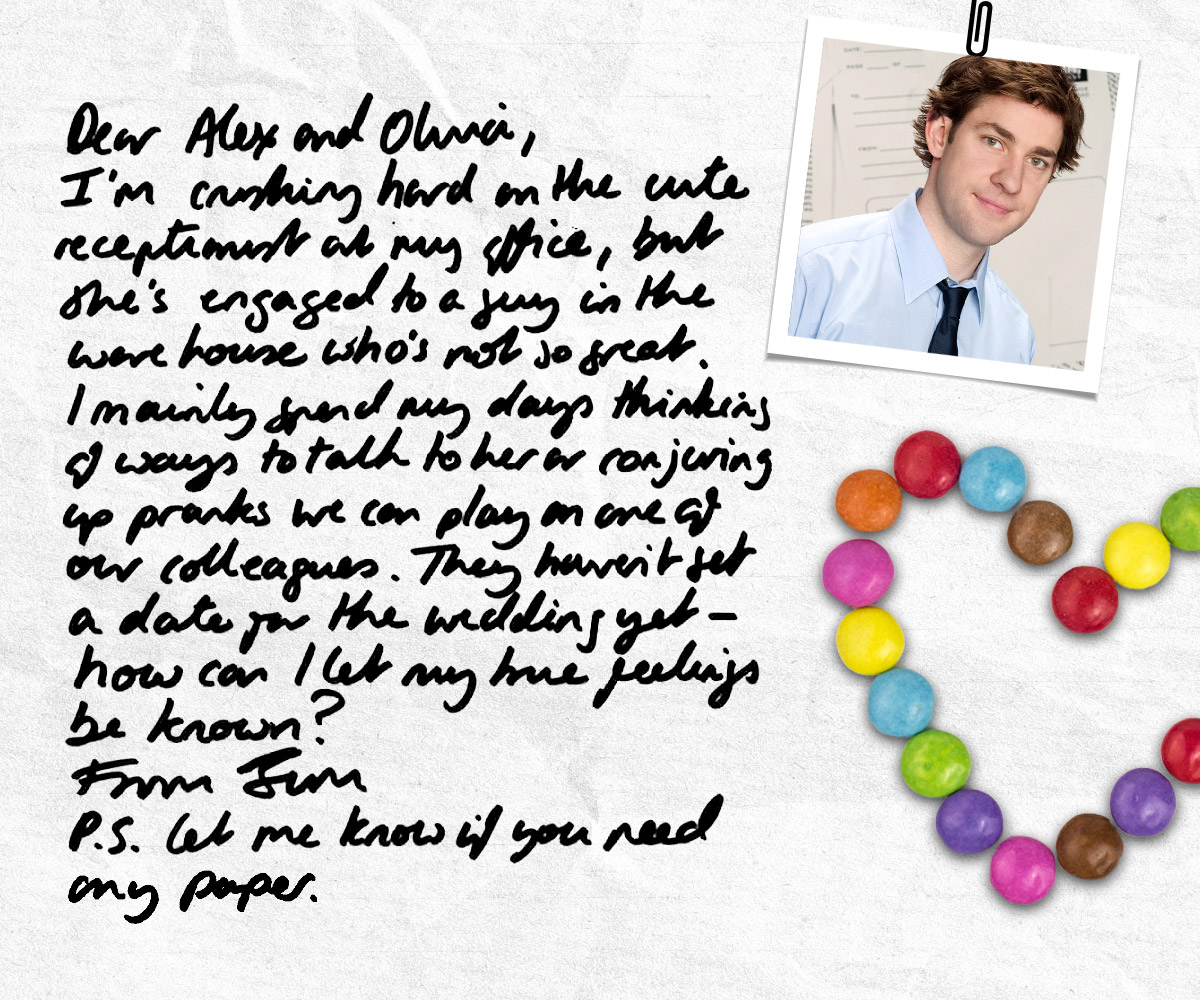 Dear Alex and Olivia,


I'm crushing hard on the cute receptionist at my office, but she's engaged to a guy in the warehouse who's not so great. I mainly spend my days thinking of ways to talk to her or conjuring up pranks we can play on one of our colleagues. They haven't set a date for the wedding yet – how can I let my true feelings be known?

From Jim

P.S. Let me know if you need any paper.
Alex: See, this is a tough one. Does he know the guy in the warehouse? They're not friends? That's it then, just go up to her and say, "I don't like the person you're with." Just put it all on the line. You've got to be ruthless.

Olivia: Be honest, because otherwise you're just going to be wondering "what if" for the rest of your life. You have to be brutally honest.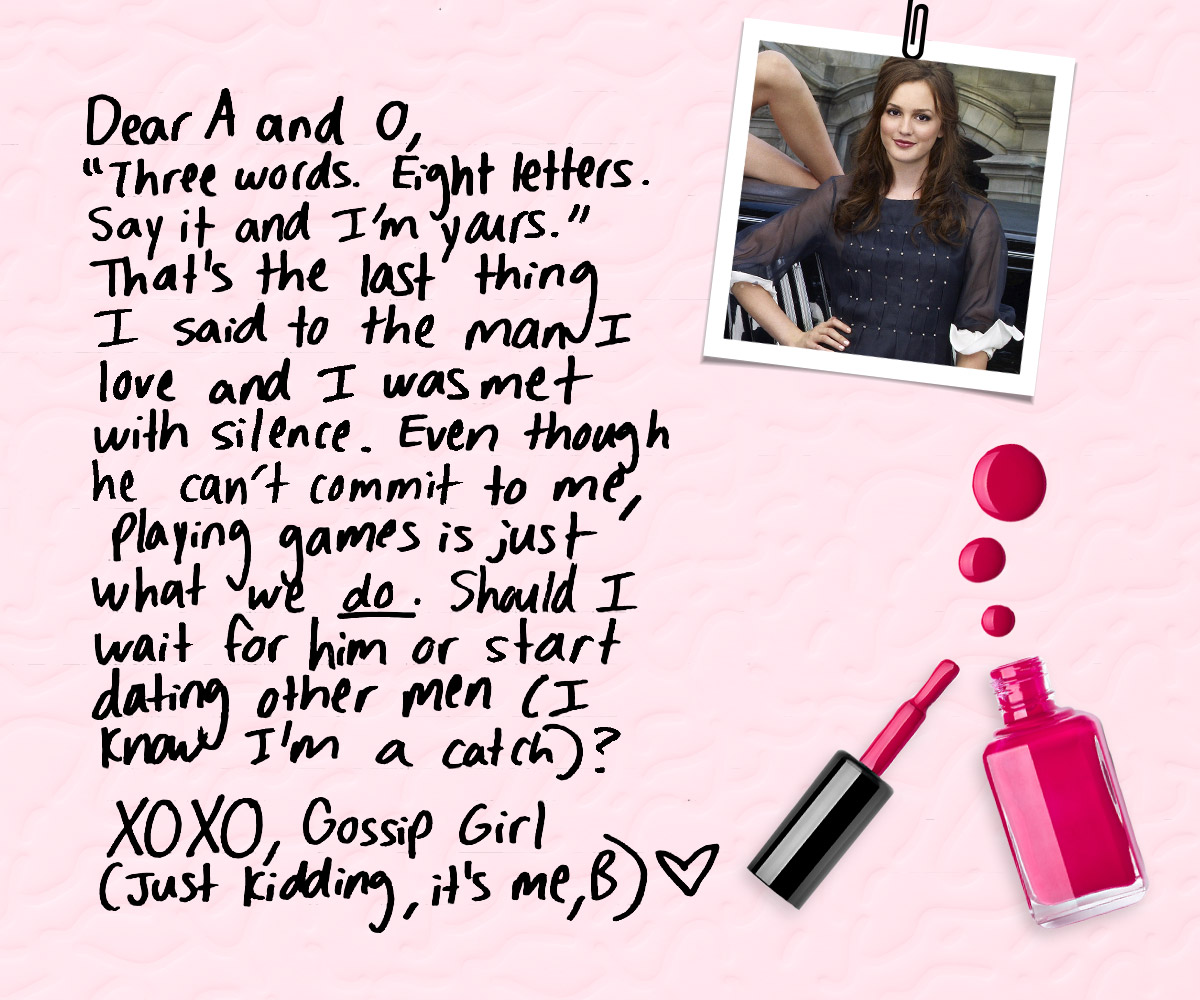 Dear A and O,

"Three words. Eight letters. Say it and I'm yours." That's the last thing I said to the man I love and I was met with silence. Even though he can't commit to me, playing games is just what we do. Should I wait for him or start dating other men (I know I'm a catch)?


XOXO, Gossip Girl (Just kidding, it's me, B)
Olivia: Put him in the bin.

Alex: That's true, she said it. Just put him in the bin.


Olivia: No girl has time to wait for a boy like that – trust me. The bad boy gets boring. It's just knowing your self-worth. You deserve more than that.
Need more realness?
Keep on keeping up with the Kardashians, discover love and dating in all its forms and take on the best talent the world's got to offer in baking, ballroom and beyond on our reality TV homepage.
TV channels: Channels, content and features available depend on your chosen package. Channel line-ups and content are subject to change at any time and to regional variations.
HD: HD TV set, V HD Box, TiVo box or Virgin TV V6 connected with HDMI cables required for HD channels. Number of inclusive HD channels depends on package.
Catch Up TV: Catch Up TV content available for up to 7 days or up to 30 days after broadcast, depending on content.
Interviews: Any opinions expressed in interviews are those of the interview subject and not those of Virgin Media.