Skip to main content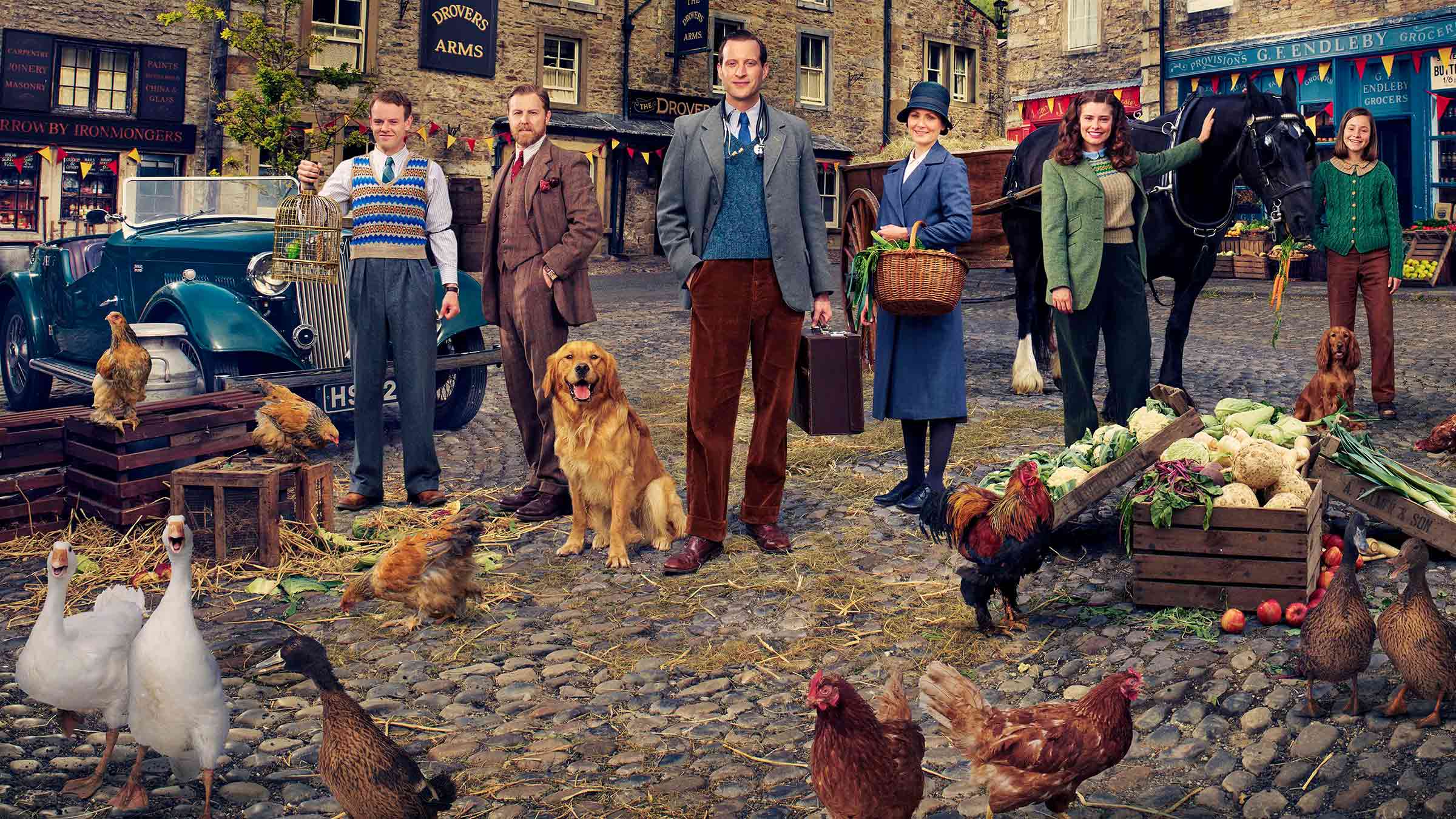 The cast and creative team behind the series reveal what we can expect in series 2, plus what it's really like working with the "Britain's Got Talent of animals"
By Laura Rutkowski, Senior Staff Writer
All Creatures Great And Small returns to Channel 5, picking back up in 1937, three months after the very dramatic Christmas special. Based on the novels by James Herriot (real name Alf Wight), the show follows Glaswegian vet James Herriot (Nicholas Ralph) as he tends to creatures – you guessed it – great and small, from horses to budgies.
The city boy who's traded life for the country must prove himself to his eccentric boss Siegfried Farnon (Samuel West) at Yorkshire veterinary practice Skeldale House. At the end of series 1, Helen Alderson (Rachel Shenton) called off her marriage to Hugh Hulton (Matthew Lewis), we can only assume because of her feelings towards James. But will they leap into each other's arms at the start of this series?

No, producer Melissa Gallant explains. "The Disney version would be they come out of the church and [Helen] goes, "Actually it's you I really love" [to James] and off they go, but this show doesn't do that.
"We always look at what the truth is for those characters. Helen is about much more than her relationship with James. She's a farmer, she's got a family, she's running a household."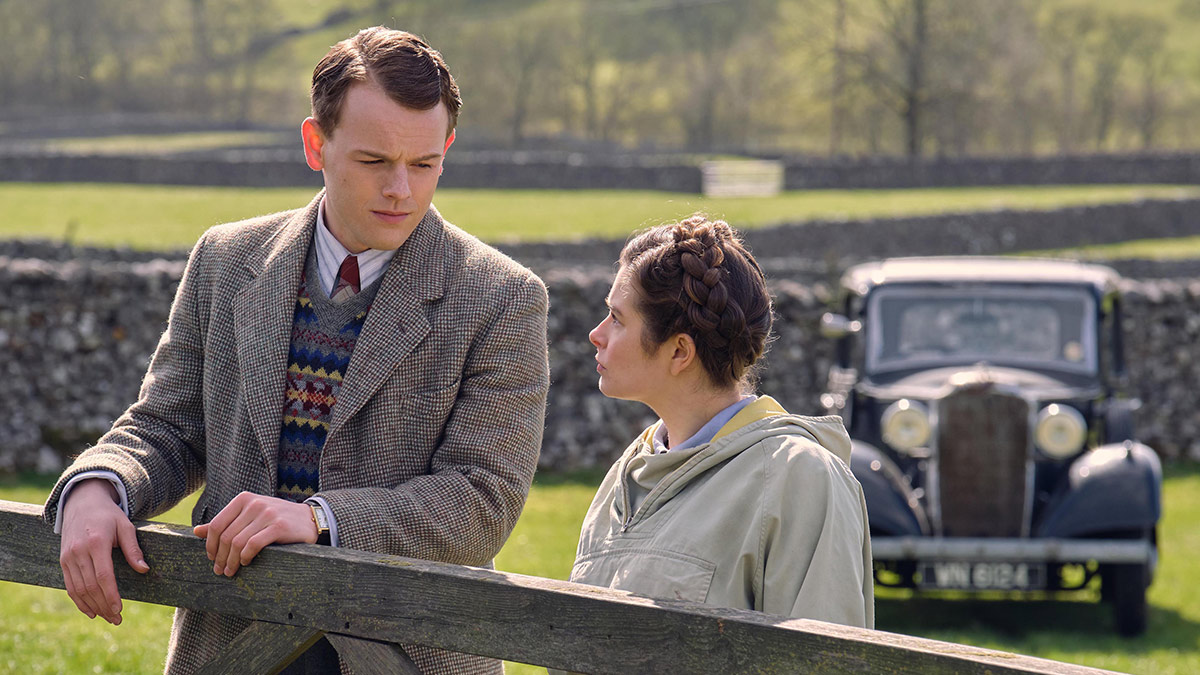 Siegfried Farnon's younger brother Tristan (Callum Woodhouse) and Helen Alderson (Rachel Shenton) avoid talking about the elephant in the room: her feelings for James Herriot

While giving Helen space, James is offered a job in Glasgow at a plush veterinary clinic working mainly with pets, and the lure of his mum's haggis, neeps and tatties is strong.
All Creatures Great And Small features a healthy dose of humour and wholesomeness, putting the "twee" in tweed. What's not to love about James, a vet who says things like, "Animals mess up sometimes, just like people do," watching lambs take their first wobbly steps, or some old-fashioned will-they-won't-they romance?
The show is about "decency and kindness and avoiding suffering", West says. "That feels sort of revolutionary. We're not making enough television like that."
With a third series already on the cards, here's what you need to know about series 2…
1. The Yorkshire locals have given the show their stamp of approval
Rachel Shenton: People love the books and the BBC adaptation was loved. Everyone was so supportive of what we were doing, although it always came with a caveat of "Don't mess it up." Now the series comes with "You've got big boots to fill," because series 1 was so good.
2. All Creature Great And Small features the "Britain's Got Talent of animals"
Helen's sister Jenny (Imogen Clawson) trains her adorable new cocker spaniel Scruff (played by nine-month-old Bobbi)

Nicholas Ralph: Andy Barrett [the show's veterinary advisor] is on set every time we have animals. We did veterinary camp with Andy before series 1. For three days, we went out and got up close and personal with cows, sheep and horses and he was going through some of the procedures that we do in the show. Ultimately you want a vet to watch the show and buy it.
Samuel West: Derek [the Pekingese who plays Mrs Pumphrey's dog Tricki Woo] is one of the most gifted animals I've ever worked with. He definitely reads the scripts – and that's not meant to be funny. Everybody who's been on set with him knows the extraordinary way he gets the mood of the scene by osmosis and plays it.
Melissa Gallant: A lot of dramas have a couple of dogs and an owl or a squirrel or something, but this is like having the Britain's Got Talent of animals. We have horses that can roll, sheep that lie perfectly still and cows that sit down for long enough, and that requires incredible skill.
Ben Vanstone (writer): It shouldn't sound that difficult to get a cow to lie down, but it takes hours of training and preparation. If you don't train them, then you've wasted a lot of time on set. If the cow gets up, the shot goes.
3. Patricia Hodge plays Mrs Pumphrey in series 2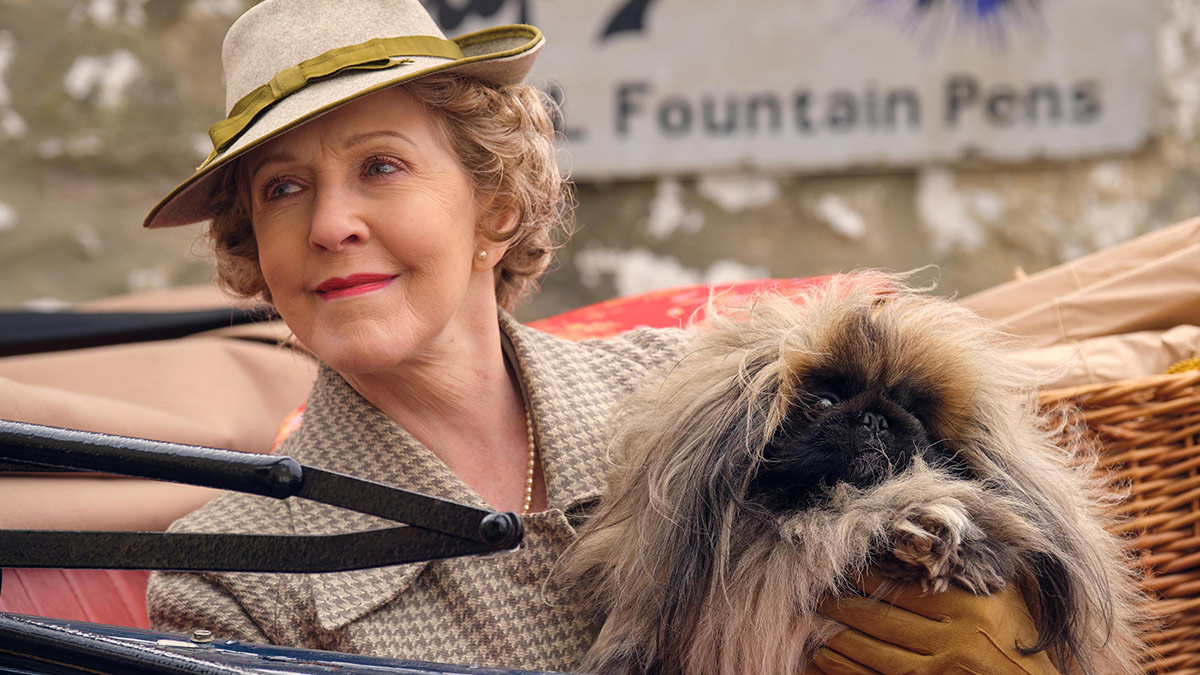 "I'm really the support act to Tricki Woo," says Patricia Hodge, pictured here as Mrs Pumphrey with her scene-stealing pet

MG: We wanted to do the right thing for the audience. Having lost Dame Diana Rigg [she died last year], who we were so thrilled to work with, we had lots of conversations about bringing in a relative of that character, but Mrs Pumphrey is so iconic. From two seconds of being on screen, Patricia is Mrs Pumphrey. There's something familiar about her, but really fresh.
Patricia Hodge: I met Diana several times. I didn't ever work with her, but she was lovely. She was very, very generous. You could never play Hamlet if you thought of all the people that had gone before – you just step in and do what you feel instinctively is right.
4. The set is entirely real
MG: We're depicting a period world, so it needs to feel and be authentic, but it also needs to feel like a place a modern audience would want to be. Our mandate is that it would feel really rich and vibrant, textured and appealing, homey and warm, and truthful, but we work with quite a tight tonal spot. It can't be too twee and it can't be too grim. It can't be too chocolate box, but it mustn't look like yesteryear either. The [Yorkshire] Dales are just beautiful. It's such a happy place to be in.
NR: If anyone was thinking of going to the James Herriot Museum in Thirsk, you might want to wait until the show's finished, because we've got all of his stuff on our set.
5. Samuel West broke his Achilles tendon on the last day of filming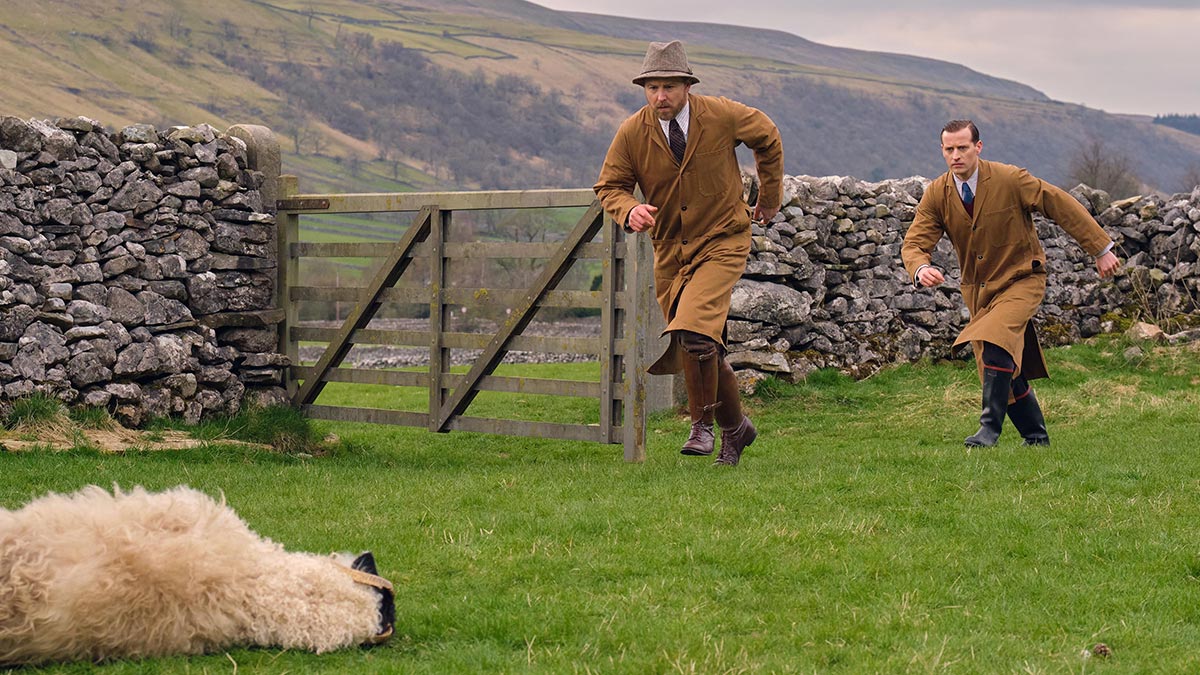 "Should you be running on that leg, Samuel?"

SW: During the cricket scene, a game I'm meant to be able to play, I pulled a muscle in my right leg and went for a run – a cricket run – and my tendon broke. While being put into plaster, I met a nurse called Rachel, who recognised me and she gave me the best review of this show I've ever had. She said, "I really like your show, it's happy and sad." Four-word review. Love it.
Then I had to come back and shoot the last scene from the waist up. I missed the wrap party and I woke up horizontal for the next ten weeks.
6. There have been a few animal mishaps
"Fancy a drink, you two?" James Herriot (Nicholas Ralph) offers to buy his wooly friends a round of... water

NR: I spent a lot of time at the wrong end, the business end, of these bigger animals.
Callum Woodhouse: I did it once this series and in that one time got weed and pooed on by a cow, which has never happened to Nick.
SW: There's a scene in episode 3 where Siegfried buys some chickens for Tristan to look after. They were late for the scene when we had to shoot them, so they [the production team] just went around Arncliffe knocking on everybody's doors, saying, "You got any chickens?" After the second knock, somebody said, "Go on, you can have ours," because everybody's got chickens and everybody's kind and lovely.
When is Channel 5's All Creatures Great And Small on TV?
All Creatures Great And Small series 2 airs on Channel 5 HD (CH 105) on Thursdays at 9pm, with the first episode screening on September 16th. It is also available in Apps & Games > My5. Series 1 available now.
The six-part series will subsequently air every week until Sunday 21st October, followed by a Christmas special later in the year.
TV channels: Channels, content and features available depend on your chosen package. Channel line-ups and content are subject to change at any time and to regional variations.
HD: HD TV set, V HD Box, TiVo box, Virgin TV V6 box or Virgin TV 360 box connected with HDMI cables required for HD channels. Number of inclusive HD channels depends on package.
Catch Up TV: Catch Up TV content available for up to 7 days or up to 30 days after broadcast, depending on content.
Interviews: Any opinions expressed in interviews are those of the interview subject and not those of Virgin Media.