Skip to main content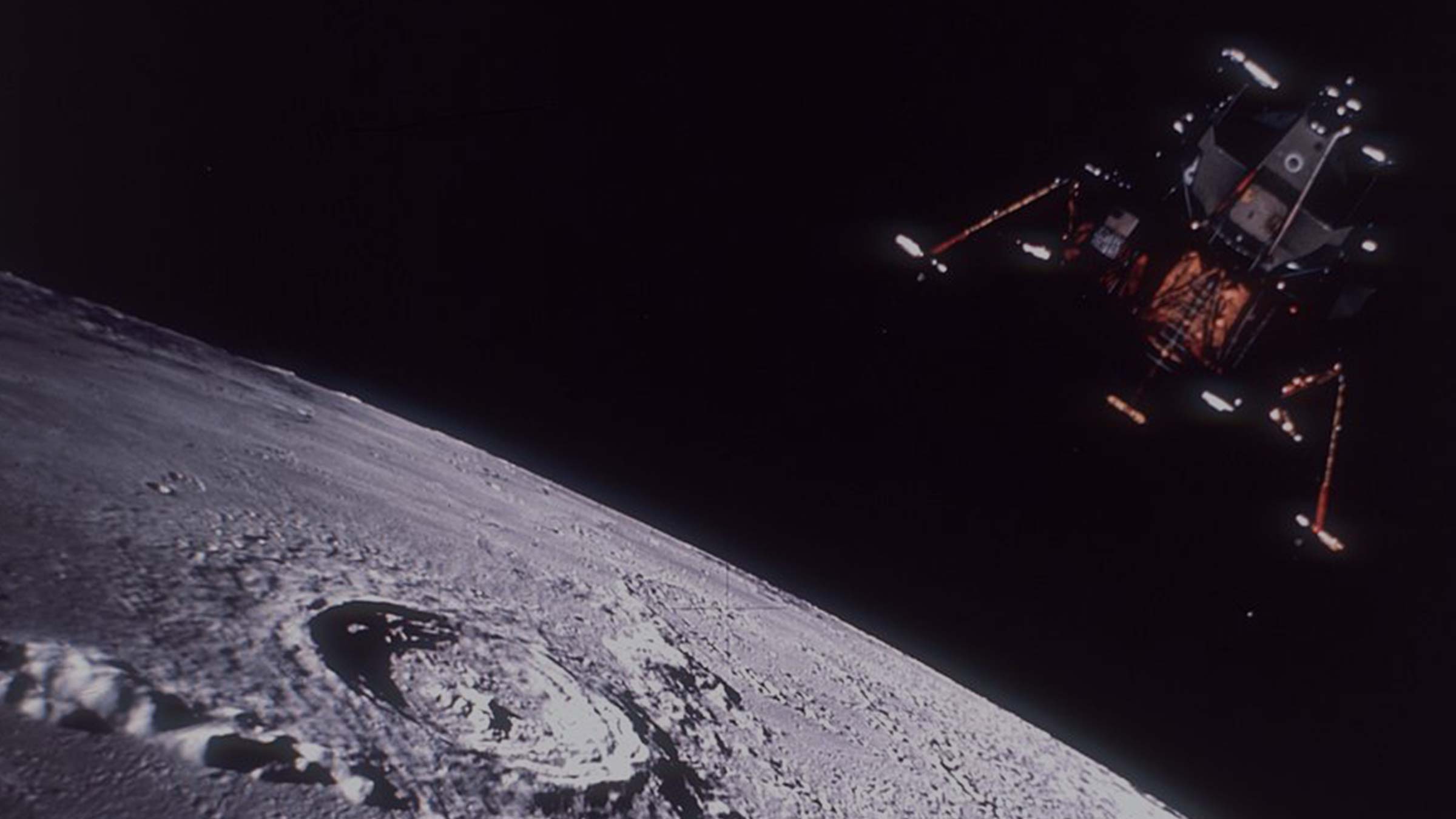 Fifty years ago, the Moon landing captivated the world. Fifty years on, its legacy is stronger than ever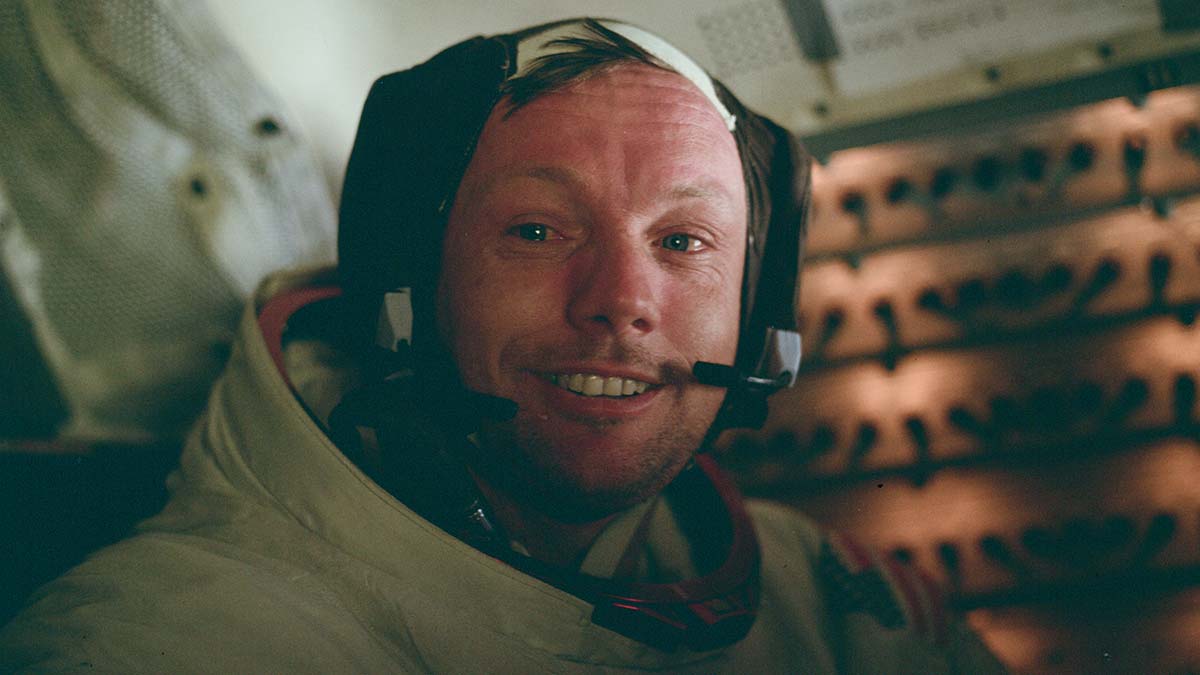 Neil Armstrong inside the lunar module Eagle during the Apollo 11 mission

This giant leap for mankind is still one of the most-watched TV moments of all time, with more than 500 million viewers around the world tuning in to the live broadcast – itself a first for many countries. It was also a historic moment for British TV, with the BBC and ITV hosting their first all-night broadcasts. Dr Teasel Muir-Harmony, curator of the Space History Department at the National Air and Space Museum, says, "Access to television was relatively new, so it was this doubly exciting phenomenon and a moment where people were also feeling very optimistic about technology."
The way networks used wall-to-wall coverage for the event became a "gold standard", says David Schoumacher, a former national correspondent for CBS, who covered the lunar launch. "This was of a different order of magnitude. All of America, all the world rejoiced over the successful landing." Remarkably, the network allegedly did not have a contingency plan in place should the worst have happened, as Schoumacher reveals: "How were we gonna act if we lost the spacecraft? It never occurred to us."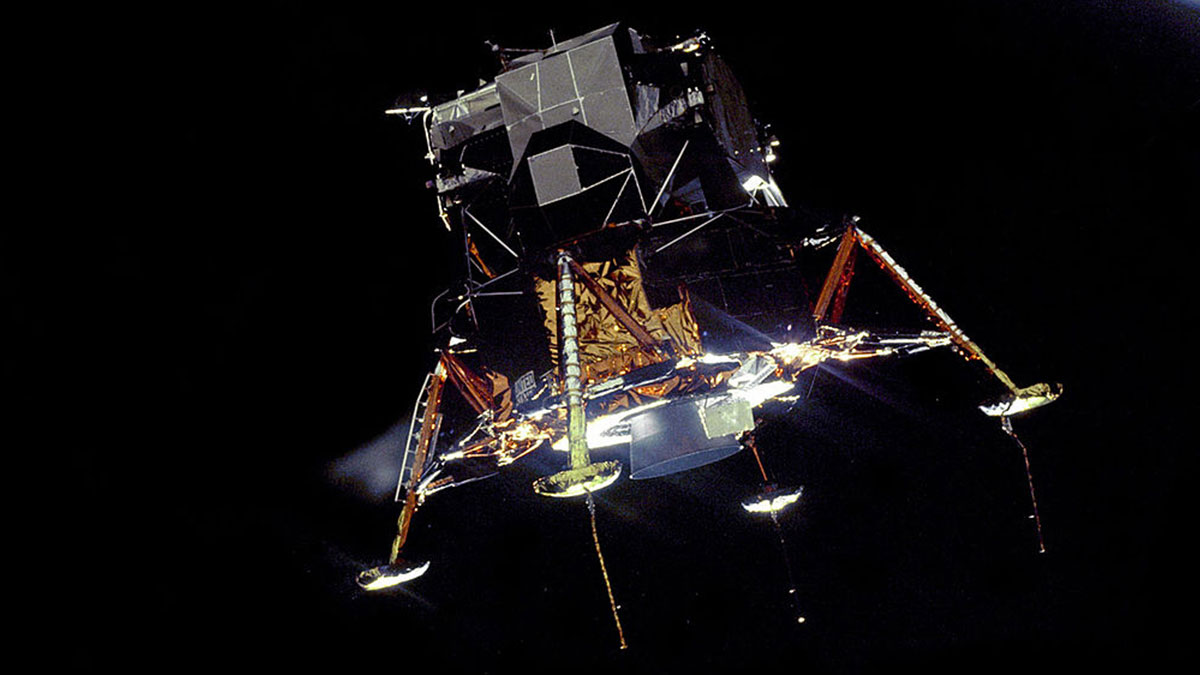 The Eagle in lunar orbit prior to landing in the Sea of Tranquility

The correspondent did prepare obituaries for the three astronauts aboard the Eagle spacecraft, but that's the furthest it went. "We were all cocky that this group of astronauts with NASA backing them up were gonna make this work," he explains. "When the launch came, everybody stood up, and I've had friends tell me they were in their living rooms and experienced the same thing. Everybody was saying, "Go, baby, go!" They couldn't stop themselves."
"Those first few seconds stretched into minutes, because it was such a heavy load and so slow to raise up. It was almost painful to watch the thing gather itself together and then force itself into the air. I swear the whole American – and probably world – population was pushing that rocket into the air that day."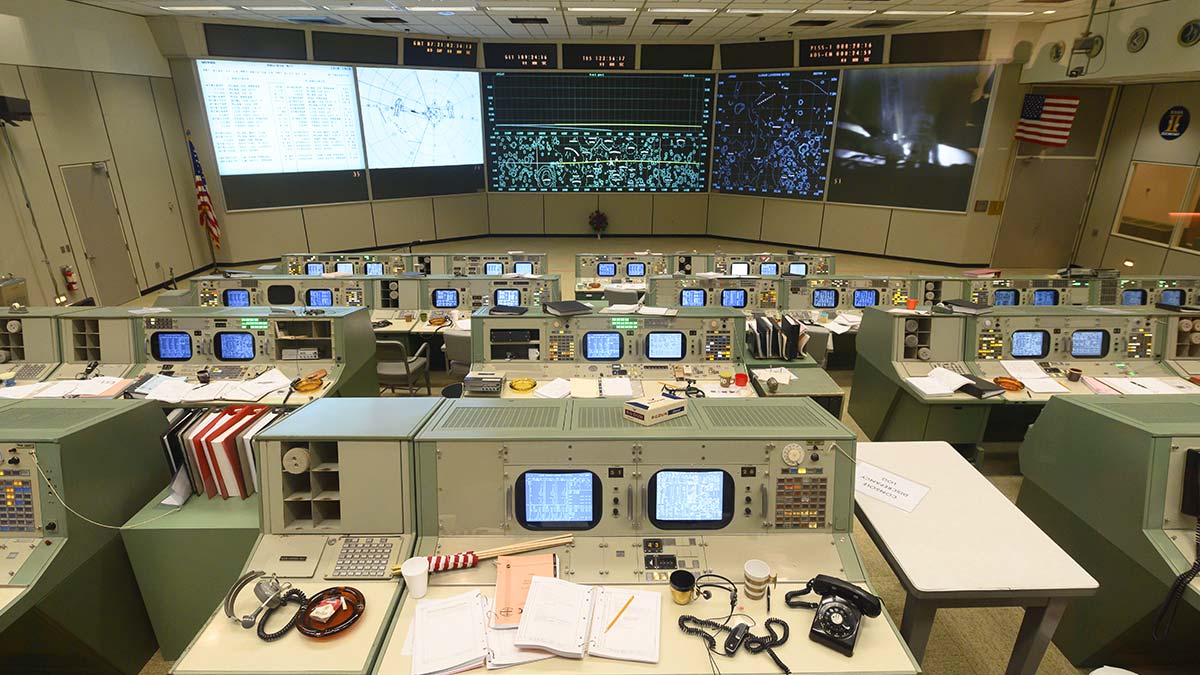 The newly restored Apollo mission control room – cigarettes and all – at NASA's Johnson Space Center in Houston, Texas

Steve Bales, the guidance officer during the Apollo 11 Moon landing, was just 26 years old at the time (he's 76 now). Although you might not recognise him by name, you'll definitely recognise him for his actions. As Schoumacher recalls, "There was a guy… He told them to keep going, to ignore that alarm bell. He could have gotten in a lot of trouble if he was wrong, but he threw the dice."
What Schoumacher is referring to is the dreaded 1202 alarm that very nearly derailed the entire mission. The Eagle's computer, which had a 78-kilobyte memory – "That's what? Twenty emails?", Bales says – and was responsible for navigating and guiding the vehicle, as well as giving the crew and mission control critical information, flashed with a 1202 alarm.
"It's a 1202… What is that? Give us a reading on the 1202 programme alarm", Bales recalls Armstrong asking ground control, with a note of panic in his voice. "Neil [Armstrong] didn't say much. When he asks for something, it's serious," says Bales.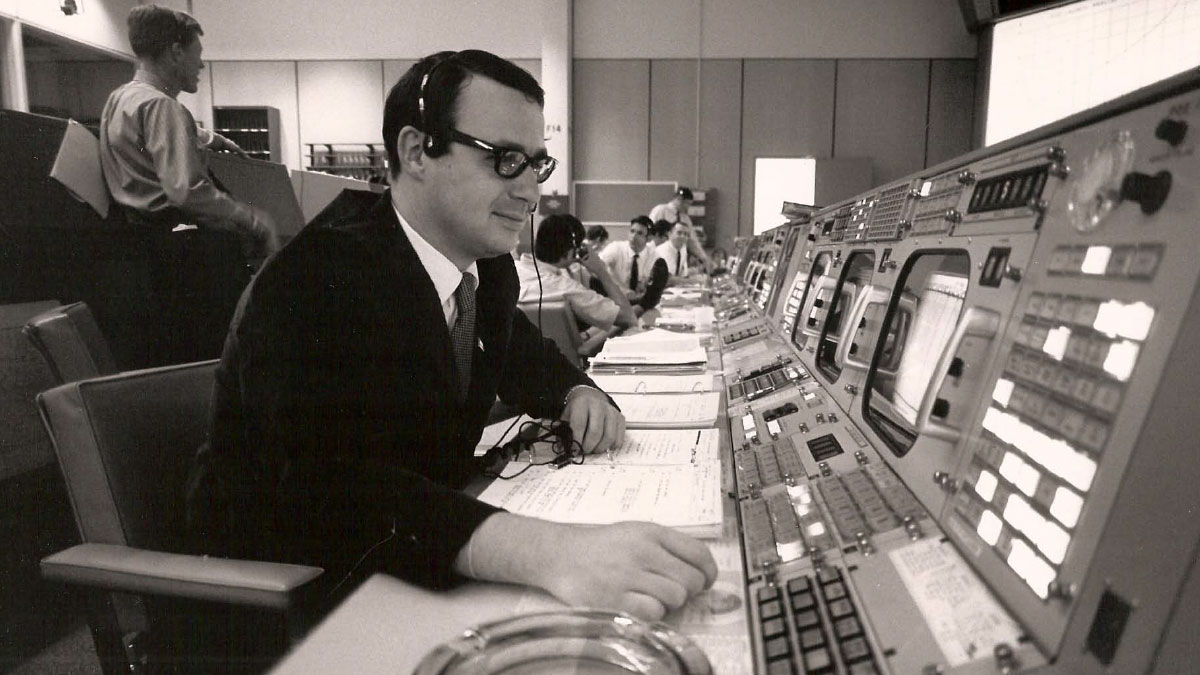 Steve Bales, guidance officer for Apollo 11, at mission control in 1969

Luckily, Bales knew how to approach the situation, having encountered a similar error reading one week previously under simulation conditions. At the time, Bales was unsure about the correct procedure, and subsequently called for the simulated mission to be aborted.
After the simulation, former NASA flight director Gene Kranz (who was in charge of the Apollo 11 mission, and who was portrayed in the film Apollo 13 by Ed Harris) instructed Bales to assemble a list of all the different alarm scenarios and the procedures to follow should they manifest. Bale's software assistant Jack Garman pulled together a cheat sheet to put under the console, despite a series of computer experts' claims that the alarms "would never happen". On the day of the landing, the first 1202 alarm was followed by a 1201 alarm three minutes later, and then two back-to-back 1202 alarms, all of which were disregarded, and the Eagle was cleared to make a safe landing.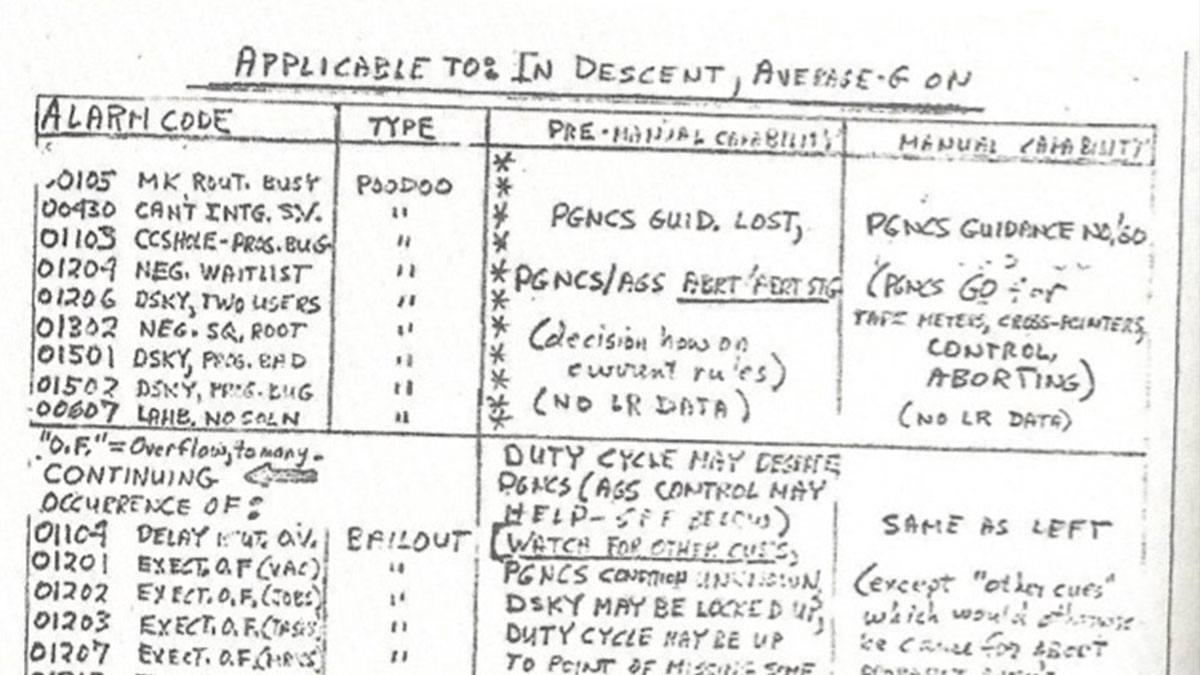 The computer alarm notes Jack Garman prepared for the Apollo 11 flight

And the legacy of that safe landing will be celebrated for years to come. Dr Teasel Muir-Harmony adds, "Apollo astronauts often say that the most important thing they discovered in the programme was Earth and an appreciation for Earth. They wished they could bring people into space so they could look back on Earth and see that there are no political boundaries, see the beauty of it and be inspired to protect it."
Need more moonlight in your life?
Then watch these shows…
Apollo: Missions To The Moon
Available for 30 days in Catch Up > Channels > National Geographic
Newly transferred film and never-before-heard mission control audio recount the key moments of NASA's Apollo space programme and America's goal to land on the Moon before 1970. Experience the excitement felt by the general public at the time through TV coverage, radio broadcasts, home movies and NASA footage.
Apollo: Back To The Moon
Available for 30 days in Catch Up > Channels > National Geographic
This two-parter comprises the episodes Impossible Challenge and Ultimate Mission, which include re-enactments, 3D reconstructions and digitised archive footage in Ultra High Definition to bring the Apollo space programme to life – from Apollo 1 to Apollo 11.
The Armstrong Tapes
Available for 30 days in Catch Up > Channels > National Geographic
This fascinating documentary provides a personal, in-depth look at the first man to set foot on the Moon. It features interviews with Neil Armstrong's only authorised biographer and his friends and family members, as well as archival audio tapes of interviews with the man himself.
Smithsonian Spotlight: Denying The Moon Landing
Saturday 20 July, 8pm, Smithsonian Channel HD (CH 295)
When America put men on the Moon, it ended the Space Race between the Soviet Union and the US. But there are still people who refuse to believe that the Apollo missions ever happened. Apollo astronauts and other experts weigh in on the legendary conspiracy theory.
TV channels: Channels, content and features available depend on your chosen package. Channel line-ups and content are subject to change at any time and to regional variations.
HD: HD TV set, V HD Box, TiVo box or Virgin TV V6 connected with HDMI cables required for HD channels. Number of inclusive HD channels depends on package.
Catch Up TV: Catch Up TV content available for up to 7 days or up to the 30 days after broadcast, depending on content.
Interviews: Any opinions expressed in interviews are those of the interview subject and not those of Virgin Media.