Skip to main content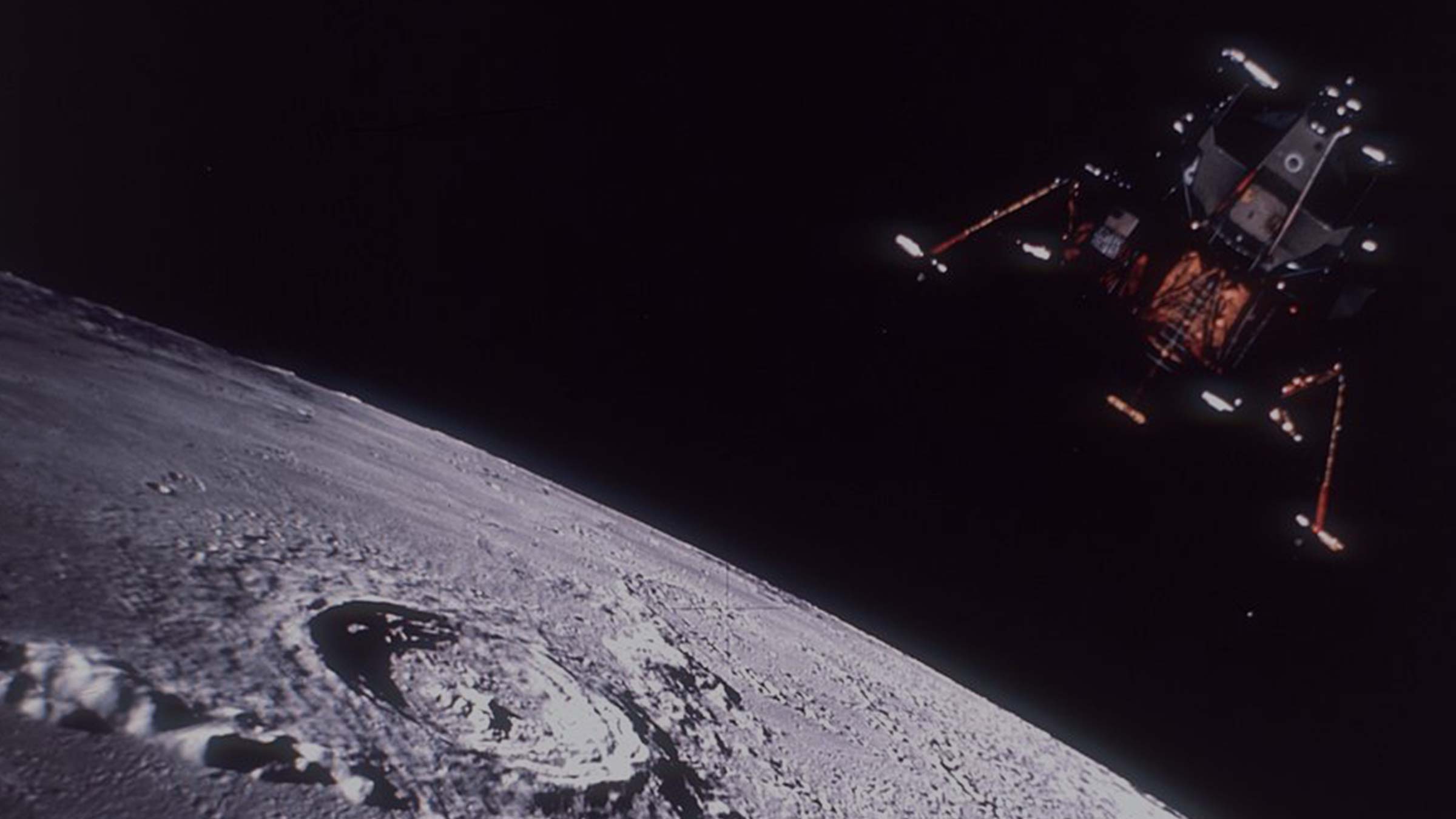 Fifty years ago, the Moon landing captivated the world. Fifty years on, its legacy is stronger than ever
Apollo's Moon Shot: New Frontier, Monday 22 July, 8pm, Smithsonian Channel HD (CH 295)
Saturday 20 July will mark 50 years since man first landed on the Moon. To celebrate this monumental anniversary, the Smithsonian Channel has been airing the six-part documentary series Apollo's Moon Shot. Through archive film, oral histories and artefacts donated by NASA to the Smithsonian National Air and Space Museum in Washington, DC, it revisits one of history's greatest moments. And don't worry if you've missed the first five episodes, as you can watch them again back to back from 9pm on Saturday 20 July.
Commander Neil Armstrong and pilots Edwin "Buzz" Aldrin and Michael Collins were selected for the Apollo 11 mission, which successfully touched down on the Moon on 20 July 1969, fulfilling then-President John F Kennedy's goal of making America the first country to do so.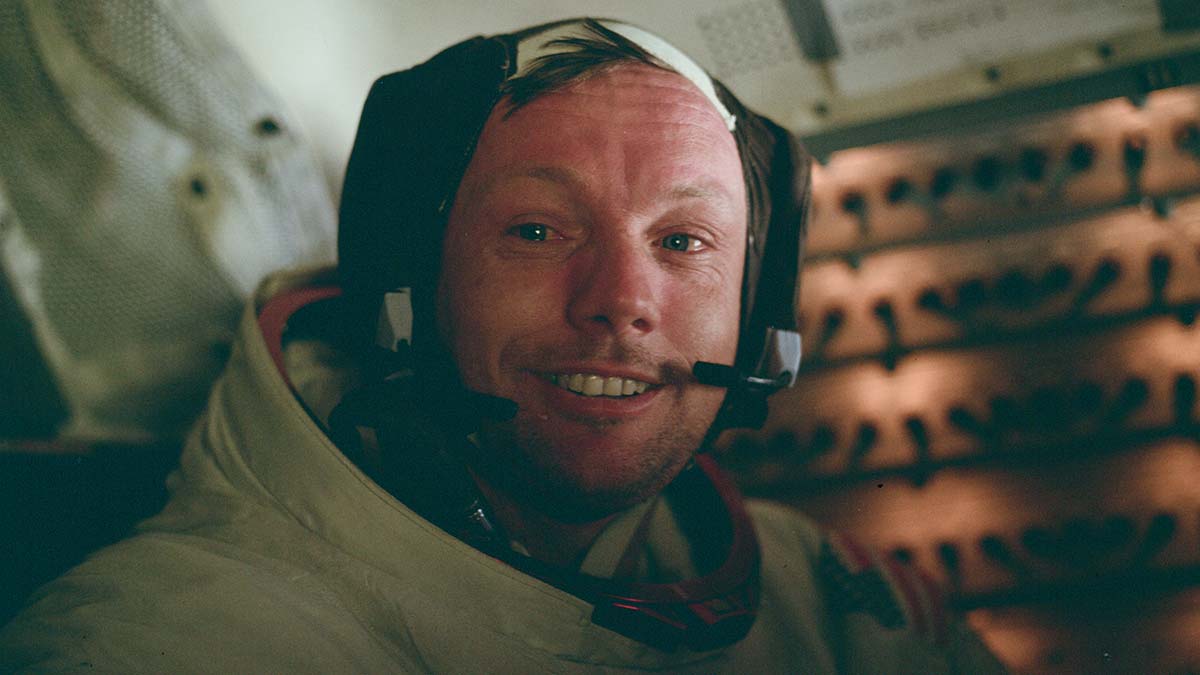 Neil Armstrong inside the lunar module Eagle during the Apollo 11 mission

This giant leap for mankind is still one of the most-watched TV moments of all time, with more than 500 million viewers around the world tuning in to the live broadcast – itself a first for many countries. It was also a historic moment for British TV, with the BBC and ITV hosting their first all-night broadcasts. Dr Teasel Muir-Harmony, curator of the Space History Department at the National Air and Space Museum, says, "Access to television was relatively new, so it was this doubly exciting phenomenon and a moment where people were also feeling very optimistic about technology."
The way networks used wall-to-wall coverage for the event became a "gold standard", says David Schoumacher, a former national correspondent for CBS, who covered the lunar launch. "This was of a different order of magnitude. All of America, all the world rejoiced over the successful landing." Remarkably, the network allegedly did not have a contingency plan in place should the worst have happened, as Schoumacher reveals: "How were we gonna act if we lost the spacecraft? It never occurred to us."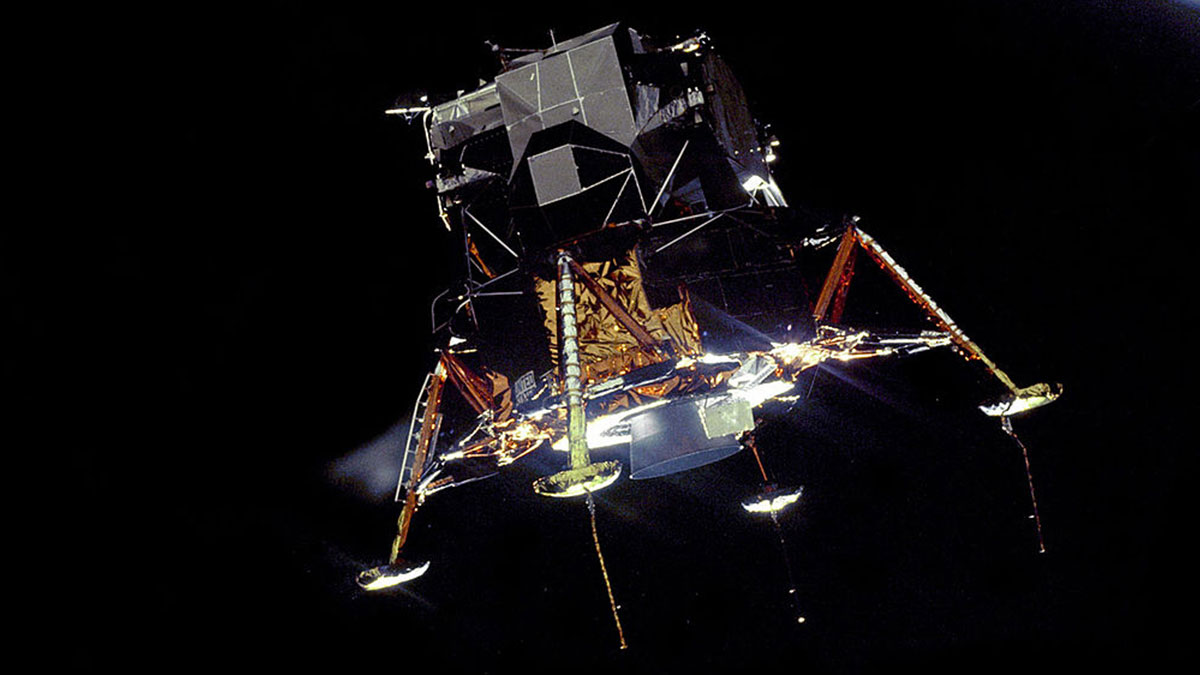 The Eagle in lunar orbit prior to landing in the Sea of Tranquility

The correspondent did prepare obituaries for the three astronauts aboard the Eagle spacecraft, but that's the furthest it went. "We were all cocky that this group of astronauts with NASA backing them up were gonna make this work," he explains. "When the launch came, everybody stood up, and I've had friends tell me they were in their living rooms and experienced the same thing. Everybody was saying, "Go, baby, go!" They couldn't stop themselves."
"Those first few seconds stretched into minutes, because it was such a heavy load and so slow to raise up. It was almost painful to watch the thing gather itself together and then force itself into the air. I swear the whole American – and probably world – population was pushing that rocket into the air that day."
And the legacy of that moment will be celebrated for years to come. Dr Teasel Muir-Harmony adds, "Apollo astronauts often say that the most important thing they discovered in the programme was Earth and an appreciation for Earth. They wished they could bring people into space so they could look back on Earth and see that there are no political boundaries, see the beauty of it and be inspired to protect it."
Still need more moonlight in your life?
Need more moonlight in your life?
Then watch these shows…

There's a range of special programmes and films celebrating this historical moment. Take a look through our telescope at these star shows, then check out our round-up of some of the best space-based entertainment you can buy on the Virgin Media Store here.
Apollo: Missions To The Moon
Available for 30 days in Catch Up > Channels > National Geographic
Newly transferred film and never-before-heard mission control audio recount the key moments of NASA's Apollo space programme and America's goal to land on the Moon before 1970. Experience the excitement felt by the general public at the time through TV coverage, radio broadcasts, home movies and NASA footage.
Apollo: Back To The Moon
Available for 30 days in Catch Up > Channels > National Geographic
This two-parter comprises the episodes Impossible Challenge and Ultimate Mission, which include re-enactments, 3D reconstructions and digitised archive footage in Ultra High Definition to bring the Apollo space programme to life – from Apollo 1 to Apollo 11.
The Armstrong Tapes
Available for 30 days in Catch Up > Channels > National Geographic
This fascinating documentary provides a personal, in-depth look at the first man to set foot on the Moon. It features interviews with Neil Armstrong's only authorised biographer and his friends and family members, as well as archival audio tapes of interviews with the man himself.
Smithsonian Spotlight: Denying The Moon Landing
Saturday 20 July, 8pm, Smithsonian Channel HD (CH 295)
When America put men on the Moon, it ended the Space Race between the Soviet Union and the US. But there are still people who refuse to believe that the Apollo missions ever happened. Apollo astronauts and other experts weigh in on the legendary conspiracy theory.
Make It To The Moon: The Unsung Heroes Of Apollo
Saturday 20 July, 8pm, Discovery/HD (CH 250/251)
It goes without saying that a cutting-edge mission required cutting-edge technology. Meet the four teams of young people responsible for getting Apollo 11 to the Moon, as illustrated by exclusive first-hand accounts and CGI recreations.

Life On Earth From Space
Saturday 20 July, 10pm and 11pm, Discovery/HD (CH 250/251)
When Neil Armstrong and Buzz Aldrin landed on the Moon for the first time, it hammered home the wonder of Earth. This two-part series celebrates the formation and history of our planet, as told through stunning 4K drone cinematography and high-res imagery from the International Space Station.

Apollo: The Forgotten Films
Sunday 21 July, 8pm, Discovery/HD (CH 250/251)
If you think you've learnt all there is to know about Apollo, think again. Watch footage from the NASA Research Centers, the National Archives and news reports of the time during this two-hour documentary to explore the Moon landing in a completely new way.

Apollo 8: The Mission That Changed The World
Sunday 21 July, 10pm, Discovery/HD (CH 250/251)
Apollo 8, which was the first mission to take humans to the Moon and back in 1968, paved the way for Apollo 11 to actually land humans on the surface the following year. Hear from Apollo 8 astronaut Bill Anders, who took the historic Earthrise photograph in this archive-driven documentary.

Photos That Changed The World: Moon Special
Monday 22 July, 9pm, HISTORY HD (CH 270)
The photo of Buzz Aldrin standing on the Moon, taken by Neil Armstrong, made history in its own right. View the Moon landing through a camera lens as the show investigates how images taken during the Apollo 11 mission, especially that one, hugely impacted people the world over.


The Moon Landing And The Nazis
Monday 22 July, 10pm, HISTORY HD (CH 270)
A little-known fact is that landing men on the Moon wouldn't have been possible without the help of more than 100 NASA technicians and engineers from Germany. Many of them had a Nazi past and helped develop the V-2 rocket. Americans brought the scientists to the USA in 1945 to obtain their knowledge about rocket technology – information only discovered decades later.
TV channels: Channels, content and features available depend on your chosen package. Channel line-ups and content are subject to change at any time and to regional variations.
HD: HD TV set, V HD Box, TiVo box or Virgin TV V6 connected with HDMI cables required for HD channels. Number of inclusive HD channels depends on package.
Catch Up TV: Catch Up TV content available for up to 7 days or up to the 30 days after broadcast, depending on content.
Interviews: Any opinions expressed in interviews are those of the interview subject and not those of Virgin Media.