Skip to main content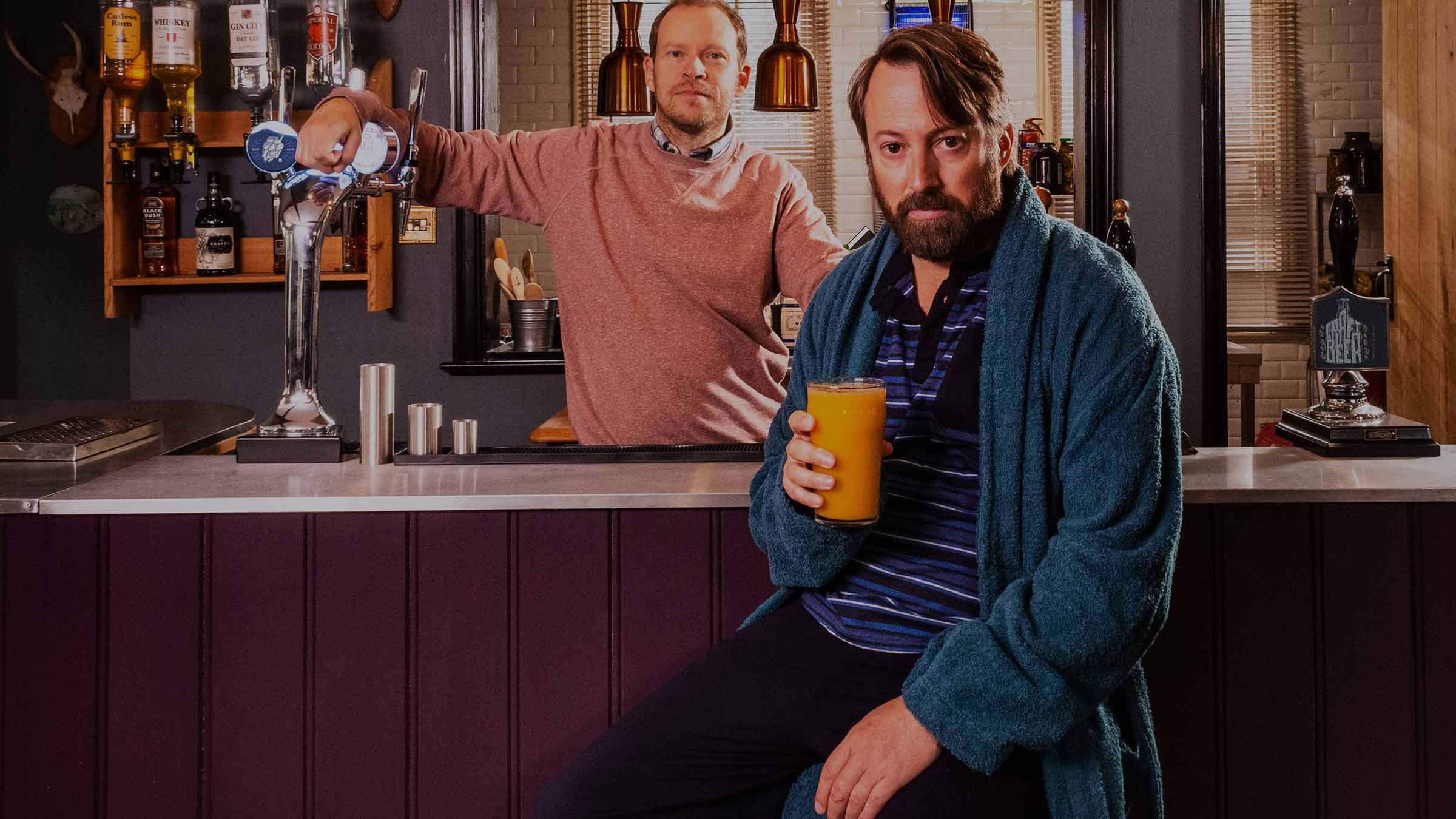 "With this, I basically get to be the murderer for two whole series!" Robert Webb is delighted to be Back – find out more with our cast and crew interviews
By Virgin TV Edit
With moments like "Where's the turkey Jeremy?", letter box pizza, ball-pit burials and many, many more, the acclaimed madness, mayhem and cringe-inducing mastery of Peep Show was always going to be a tough act to follow for stars David Mitchell and Robert Webb.
And while the pub-based, country setting of their subsequent sitcom Back is a far cry from Apollo House, it undoubtedly ranks as one of Mitchell, Webb and writer Simon Blackwell's best efforts when it comes to getting audiences laughing.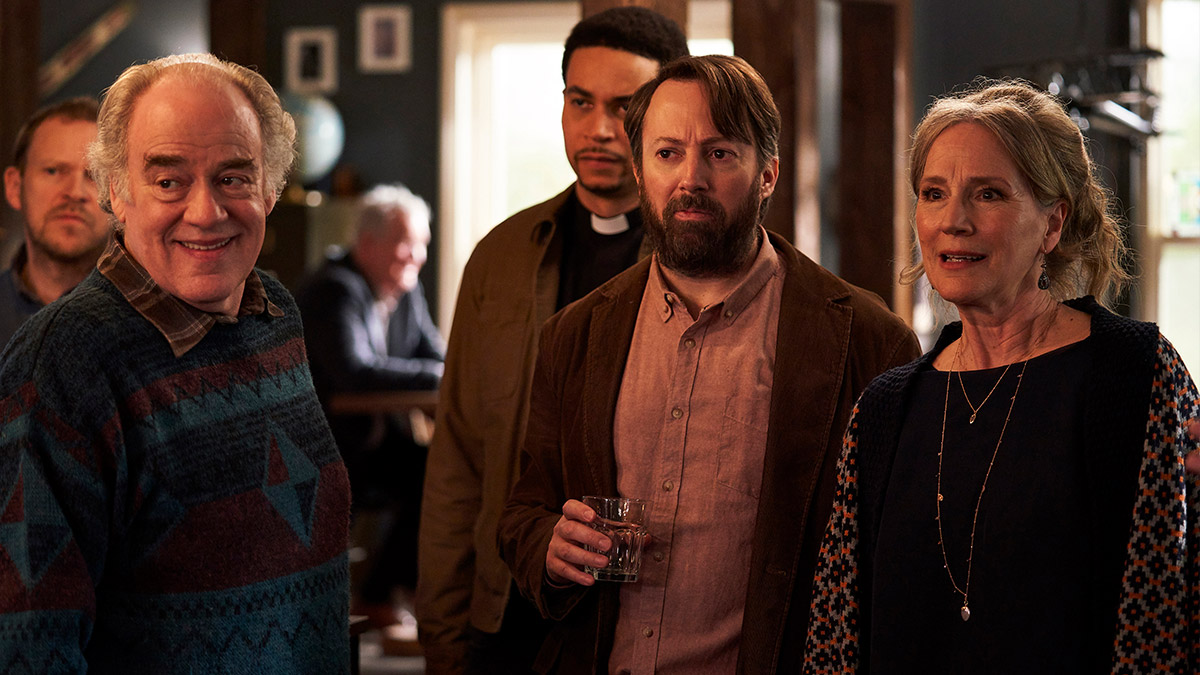 In a nutshell, Back sees Stephen (Mitchell) come to terms with both his publican father's death (and the subsequent responsibility of the pub), and the arrival of former foster brother Andrew (Webb), who, in Mitchell's own words, "by accident or design, is genetically engineered to undermine anything that makes Stephen feel contented."
For fans, Back's return will be a welcome relief after a lengthy, three-and-a-bit-year delay between the first series and the second. Though the delay, producer Kenton Allen explains, wasn't without good reason.
"To get all the pieces in the right place, and then to experience a rather terrifying major health scare like Robert did, and then have a global pandemic… it took longer than we'd have wished, but we're all very proud of what we've managed to achieve in the fifteen years since the first series."
"I've always seen the show as a historical drama," Mitchell adds. "So we waited for something fundamental to change our world, so that it felt like a bygone era, set in a pre-COVID time, when people would just walk up to one another for no reason… like maniacs."
As such, it's been some time since viewers saw sort-of-but-sort-of-not brothers Stephen and Andrew lock horns. Have the pair warmed to one another in the meantime?
"Well at the end of series 1 Stephen's been driven to the edge of insanity," writer Simon Blackwell says. "So at the beginning of this series he's restored, and heads back to the pub, where Andrew is now the landlord. The tables have turned, and Stephen's thinking he's now the interesting one, that he's now the prodigal son returning."

"The dynamic between them is largely the same, really," Webb adds. "The good thing about sitcoms is that once you've got characters that work, don't muck about with them. But the situation's changed given Andrew's now in charge – having successfully pushed Stephen out – so he's looking for someone else to pick on."
Part of Back's brilliance is its ability to blend Mitchell and Webb's trademark chemistry, wit, and wince-inducing bluntness with occasionally quite touching moments of drama, something Blackwell was keen to explore further in series 2…
"First and foremost, it needs to be funny," he says, "but it also needs to be emotionally true. I always try to write stuff where, if you lifted all of the jokes out, it would work as a drama. In the last few episodes it does get quite emotional, but hopefully there're enough laughs for you to go, "This is still a sitcom.""
Stephen and Andrew's barely constrained animosity towards one another is also taken to another level this series (think the aforementioned "Where's the turkey Jeremy?" moment, only more shouty, scathing and somehow more sweary). But with the loathing and the animosity comes an element of fun, according to Mitchell…
"Oh yeah… absolutely! Playing a scene of loathing, that's great fun. It so seldom happens in real life, certainly in my life. Getting to have scenes of straightforward animosity, goodness knows, that's probably doing me all sorts of good. It should probably be on the NHS."
"I played a murderer in a Marple once, which was great, though you only get to do evil acting once it's been discovered you're the murderer. With this, I basically get to be the murderer for two whole series!" Webb adds.
"There're these really nasty moments where Andrew's talking to Stephen, just sticking the knife in. It's quite cathartic, when you've spent as much time together as me and David, to get to scream at each other every now and again without causing any harm to our friendship."
So with the second series finally done and dusted, audiences can expect a third series in the not-too-distant future, right…? RIGHT?!
"There's a very particular ending to this series and I think we know where we might go in terms of the story, if there were a third one," Blackwell explains.
"Yep, so hold onto your hats for 2027!" Allen adds.
Oh. Well, see you then, everyone.

When is Channel 4's Back series 2 on TV?
Back series 2 airs on Channel 4 HD (CH 104/141) on Thursday 21 January at 10pm. The six-part series will subsequently air every week until Thursday 25 February.
It is also available as a full series Box Set in Apps & Games > All 4 from 10.30pm on Thursday 21 January.
TV channels: Channels, content and features available depend on your chosen package. Channel line-ups and content are subject to change at any time and to regional variations.
HD: HD TV set, V HD Box, TiVo box or Virgin TV V6 connected with HDMI cables required for HD channels. Number of inclusive HD channels depends on package.
Catch Up TV: Catch Up TV content available for up to 7 days or up to 30 days after broadcast, depending on content.
On Demand: Content available to view depends on TV package. Time limits apply for viewing chargeable On Demand content – see virginmedia.com. Once purchased, all chargeable On Demand content must be viewed within 48 hours. Premium channels and upgrades must be kept for at least 30 days.
Interviews: Any opinions expressed in interviews are those of the interview subject and not those of Virgin Media.