Skip to main content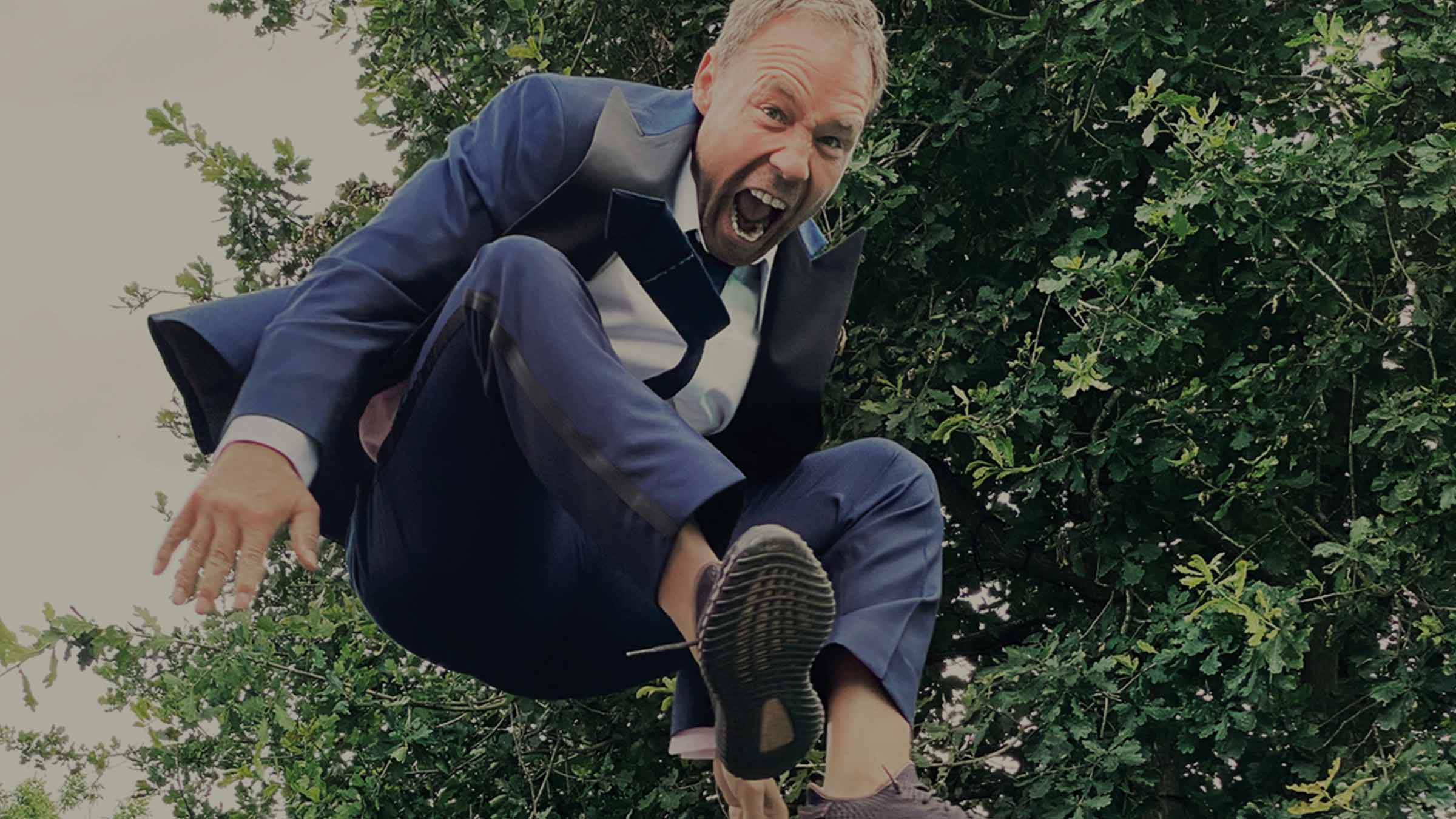 With the 2020 Virgin Media British Academy Television Awards going virtual this year, world-renowned photographer and director Rankin shot the nominees through the lens of lockdown. Find out how…
By Laura Rutkowski, Staff Writer
Despite being a photographer for 30 years, Rankin chats about his profession with all the giddiness and passion of someone who's just started snapping. "I'm the most massive fanboy about photography. I love it so much," he admits. He frequently professes his love of various things during our Zoom video call – he loves his job, people ("I kind of fall in love with the person I'm photographing"), the high he gets from nailing the perfect photo, great television and films ("Line Of Duty was wicked and Elizabeth Is Missing blew me away"), and "I love this," he exclaims – this being talking about his latest project.
The British Academy of Film and Television Arts asked Rankin to do a digital shoot with some of the nominees ahead of the BAFTAs, which air tomorrow night (Friday 31 July). Rankin used practically every video messaging service available – Zoom, Google Hangouts, FaceTime, WhatsApp video, you name it – from the comfort of his own home to collaborate with the stars in theirs. He sent lights to their houses, but everyone used the camera they had available, enlisting help from partners, friends, family members, or in some cases, themselves, to take the portraits. "How fab is that as a brief?", he enthuses.

Rankin could easily be an intimidating presence (it tends to be the case with people who go by mononyms), as he's shot practically everyone, including a grinning Queen Elizabeth II, Kate Moss, The Rolling Stones and Debbie Harry. But even he gets nervous. "I get a little bit star-struck every time. I'm not blasé about it at all, but I'm very good at hiding my emotions," he reveals.
"I always get asked what people are like. I don't know what they're like, I just know what they're like in that moment. I'd never assume they're having a good day or a bad day. I've watched people cry on set because of a relationship or because they're having a bad time. I've photographed people on a high one day and then five years later on a low," he adds. "I've got to bring that positivity to the moment, and in my career, I've not always been like that, but now more now than ever, I'm realising it's my job to be in a good mood."
He's incredibly humble and hard-working. His schedule during lockdown meant he "slept in" until 8am, as opposed to his usual 5 or 6am wake-up call. Rankin feels very lucky to have the "gift" of essentially being a people person and "revealing something about the person" on camera. "I really respect the fact that I've got that talent and I don't ever take it for granted."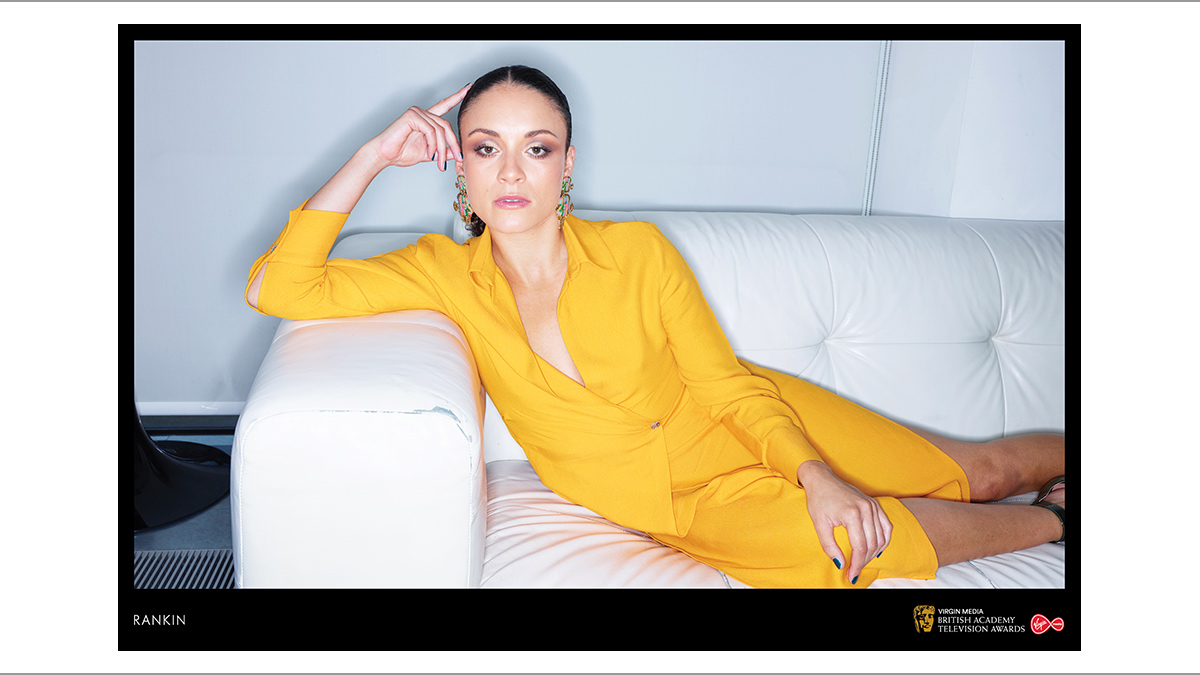 Rochenda Sandall | Virgin Media's Must-See Moment | Line Of Duty: John Corbett's death

It's easy to understand how Rankin could make anyone feel comfortable on set, but how does he achieve this, especially if he's not physically there? "You know what it is? It's just talking – and really meaning it and not phoning it in. What I do is make it fun and make it look easy, but it's very hard work to be sincere all the time and make sure you're "on." I do what I love, but that doesn't mean it's not work," he says.
He might be a good talker, but he's a good listener too. It's been noted in other interviews that Rankin acts as though he has all the time in the world, even though you know his to-do list is the length of a roll of film. His emphatic responses never waver during our interview, and occasionally, interviewee turns interviewer as he asks us questions, like where we're from, because he's genuinely interested in the answer.
So here's Rankin, in his own words, on the "weirdly intimate" process of what it was like to stage a socially distanced photo shoot with the BAFTA nominees…
Rankin on his BAFTA shoot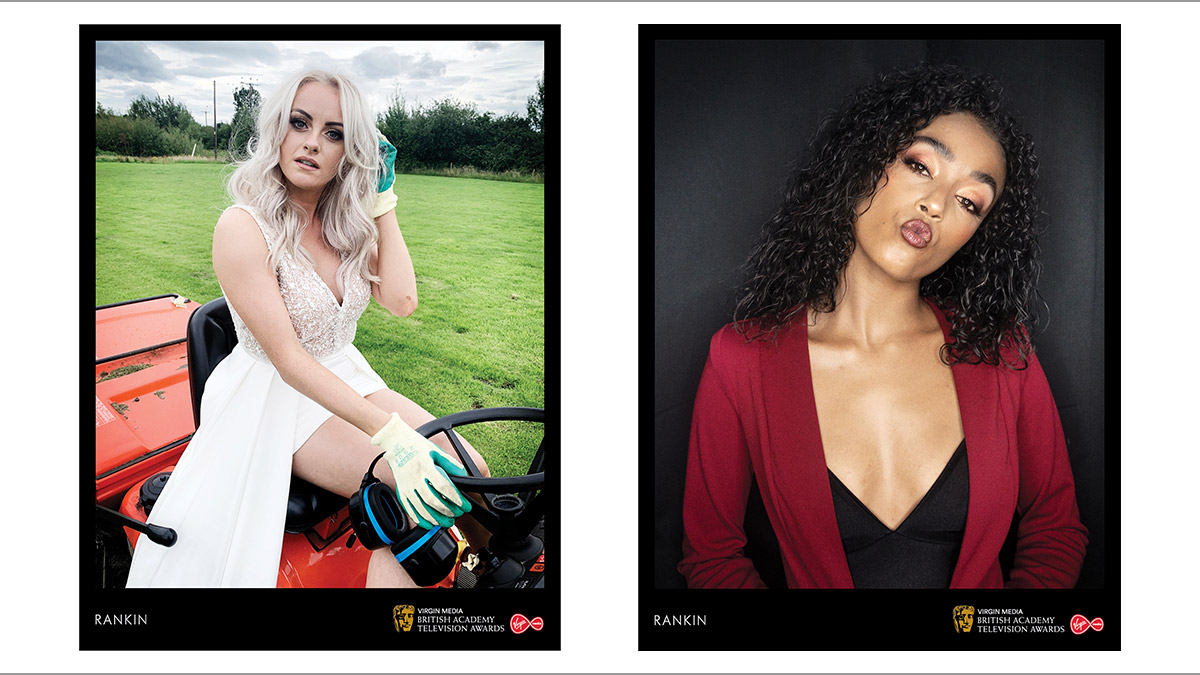 Left: Katie McGlynn | Virgin Media's Must-See Moment | Coronation Street: The death of Sinead Osbourne
Right: Jasmine Jobson | Supporting Actress | Top Boy

It was important for these photographs to be really great fun and for people to look at them and go, "They're enjoying their moment of nomination." We're trying to embrace the spectacle of an event that you as an audience can't watch in a set of pictures that you are going to relate to.
Going around to 20 people's houses just wouldn't have worked, and also, entering people's homes at the moment is so weird. We all feel a bit fragile and nervous, so this was a really interesting approach.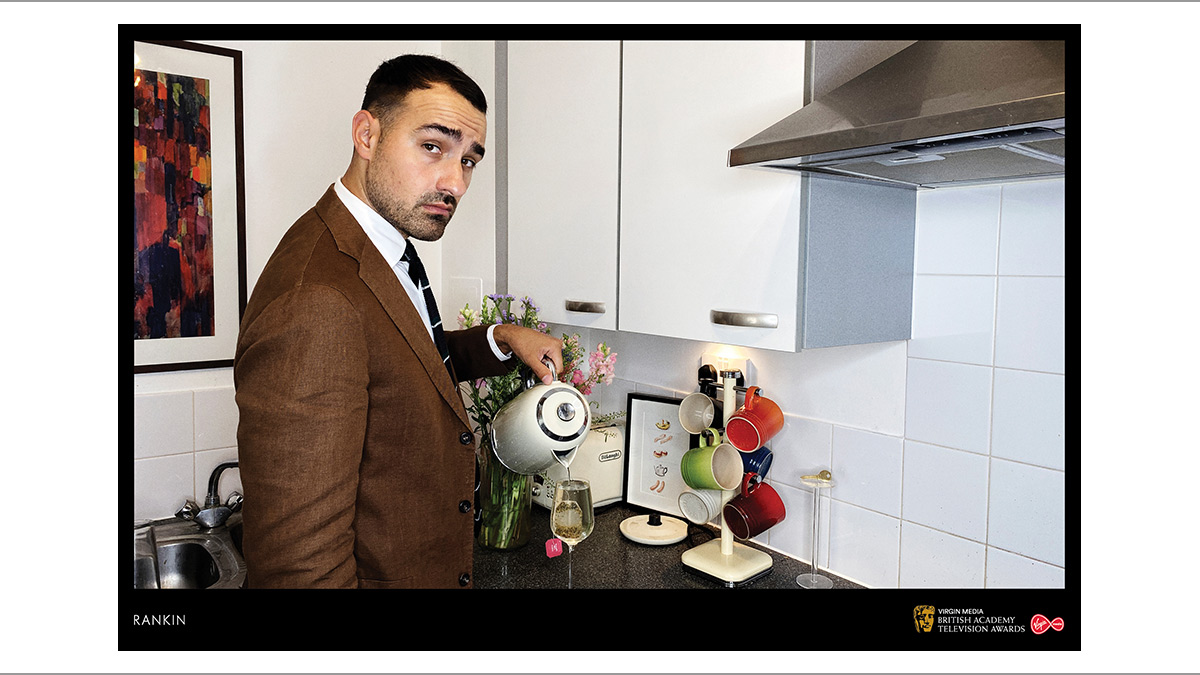 Jamie Demetriou | Male Performance In A Comedy Programme | Stath Lets Flats

I'm quite directional as a photographer and I love to have control of the images. I had to let that go completely, which was really hard for me. If I can do a load of pictures over webcams, I can probably do anything. I loved that challenge and that jeopardy and that excitement that it could mess up.
The secret of being able to take a good portrait is to make it as enjoyable as you can for the person that's being photographed. Everybody relates to feeling good about themselves, whether they're famous or not.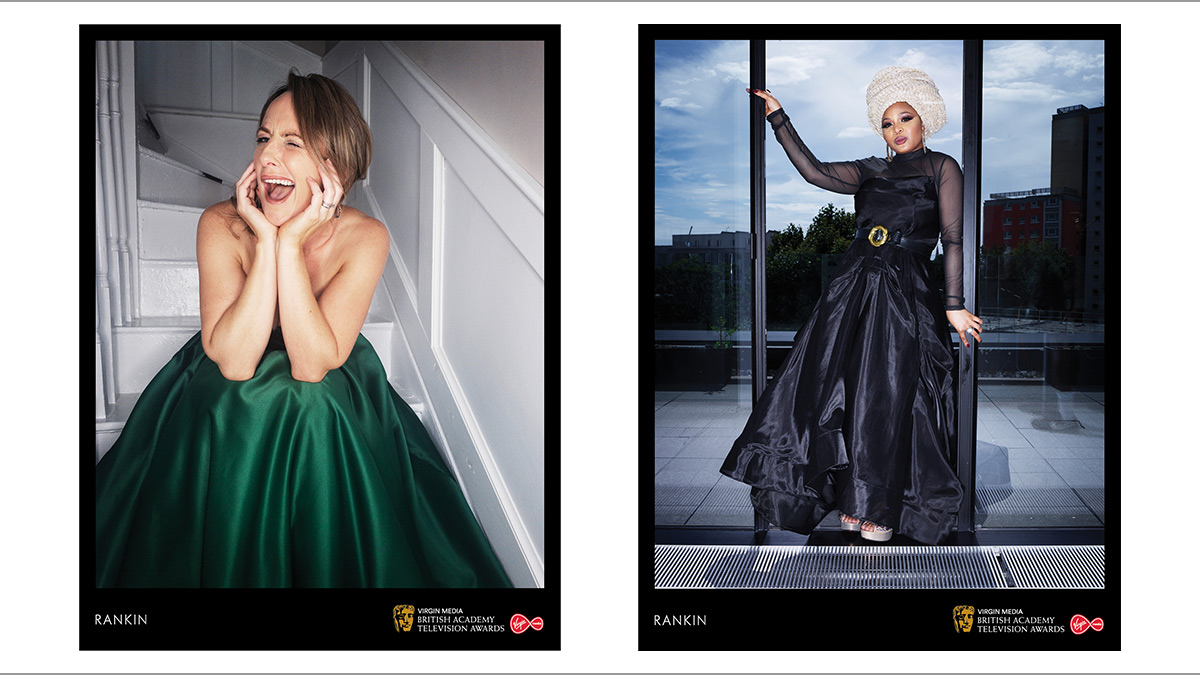 Left: Helen Behan | Supporting Actress | The Virtues
Right: Gbemisola Ikumelo | Female Performance In A Comedy Programme | Famalam

Instead of encouraging the subject, I was encouraging the person taking the picture. I set up the angle and the lens. Then I watched a few of them and I was like, "That's good, just do more like that." I'd say to the partners, "Make them do something a bit over the top, push it a little bit. Out of everybody, you're the person that's going to be able to get them to do something." Suddenly they would take over and then my job was done.
I'm so surprised at the level of quality that we've managed to create, because I've seen a lot of shoots in lockdown and they've been very static, very posed. These photographs have just got so much energy. There's an energy of wanting to come out of lockdown, the energy of the world opening up again and the energy of me going, "Give me some energy."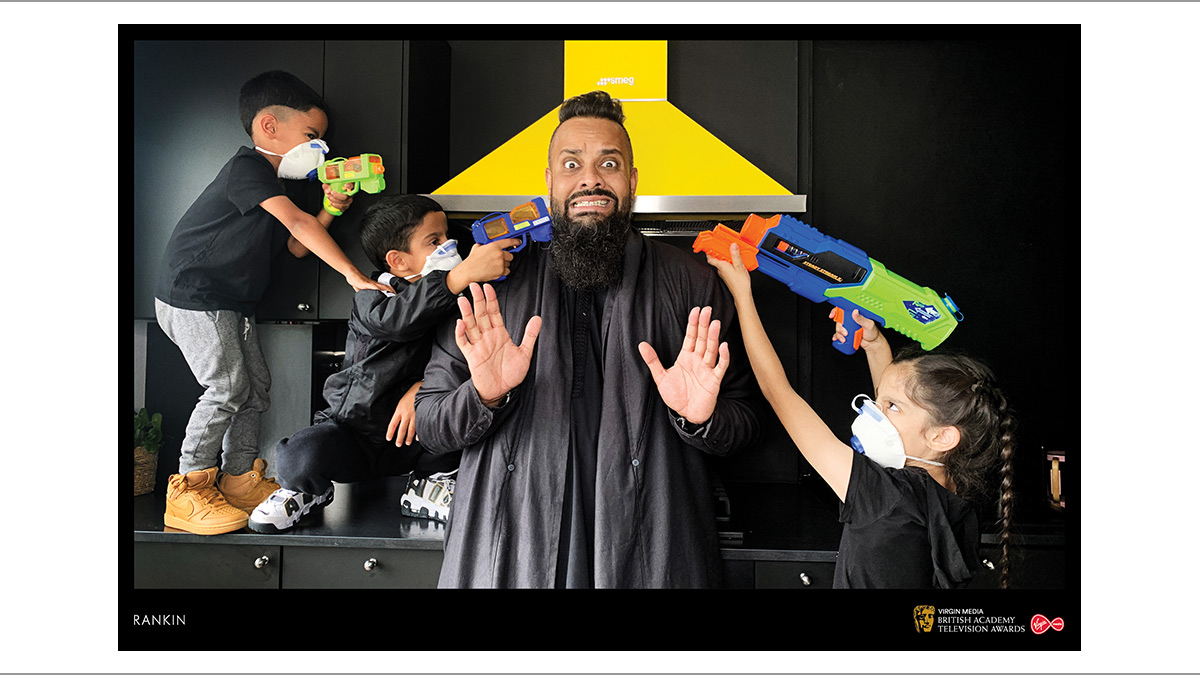 Guz Khan | Male Performance In A Comedy Programme | Man Like Mobeen

The first person I photographed was Stephen Graham and I've shot him a few times. Stephen's like, "Shall I bounce up and down on the trampoline?" I'm like, "Yeah, why not?" And then he's like, "Should I do one with the dogs?" I'm like, "Definitely." Then the picture that came back of him was so good that I thought all the pictures should be about the energy in the room at the moment.
Will [Sharpe], who is up for Supporting Actor, was in Portland in lockdown with his partner. His picture is more introspective and a bit quirkier. Everybody brought themselves to the picture, but there's definitely an entertainment aspect to it.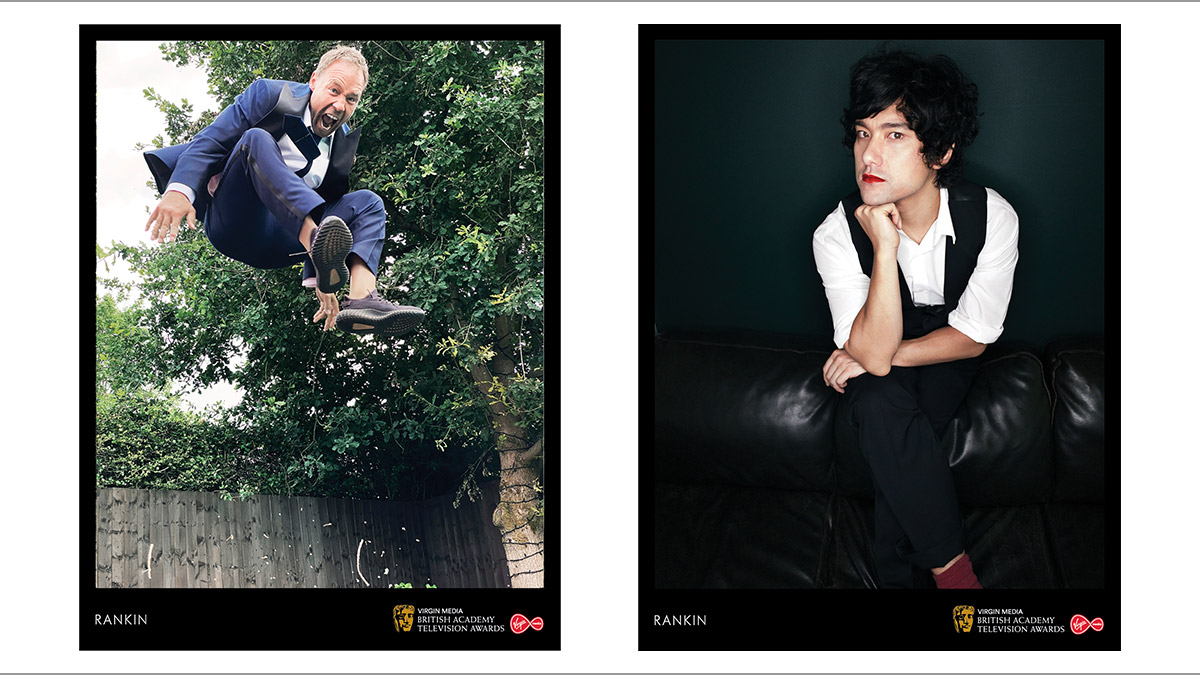 Left: Stephen Graham | Leading Actor | The Virtues
Right: Will Sharpe | Supporting Actor | Giri/Haji

Everyone got into the spirit of it and has pretty much done the photographs in my style. I always like a bit of cheekiness, a sense of humour, and they all really embraced that. It's kind of funny for me, because they almost look like my pictures from the beginning of my career in the 90s, when I wasn't as good technically. When I didn't have any cash to shoot in a studio, I would just go to someone's house or a hotel and go with what was there. For this, I asked people to show me what they had around and what they thought would make a good photo. Not one person didn't have a good corner or a good angle in their house.
I've known Sam Morton for a long time and hers are some of my favourites. She's worked with me before, so she just did what I would do. Guz Khan had his wife take his photos and they sent me these amazing pictures, which I would have been very proud of taking. Pretty much every picture of Ncuti [Gatwa] was great, he's so handsome.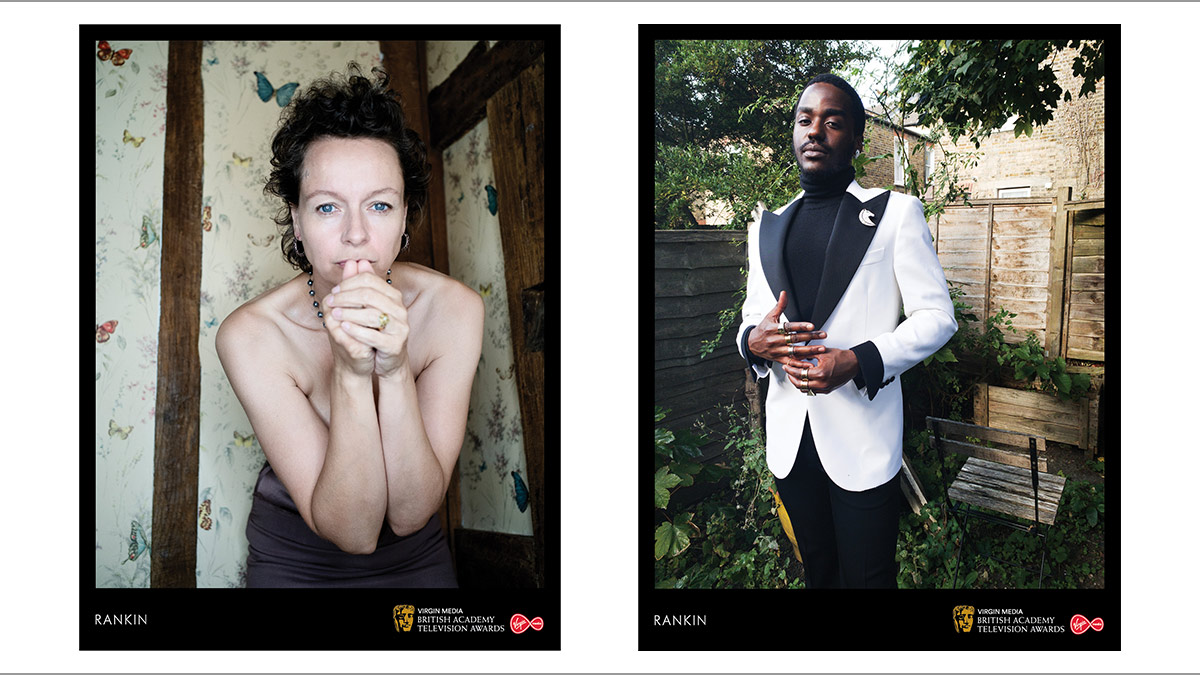 Left: Samantha Morton | Leading Actress | I Am Kirsty
Right: Ncuti Gatwa | Male Performance In A Comedy Programme | Sex Education

I've photographed Callum [Turner] a couple of times and he was in Cornwall with his mates on holiday. His photo is really funny, because it's so casual, but some of them were all dressed up and in ball gowns. Getting dressed up with nowhere to go is something we've all done.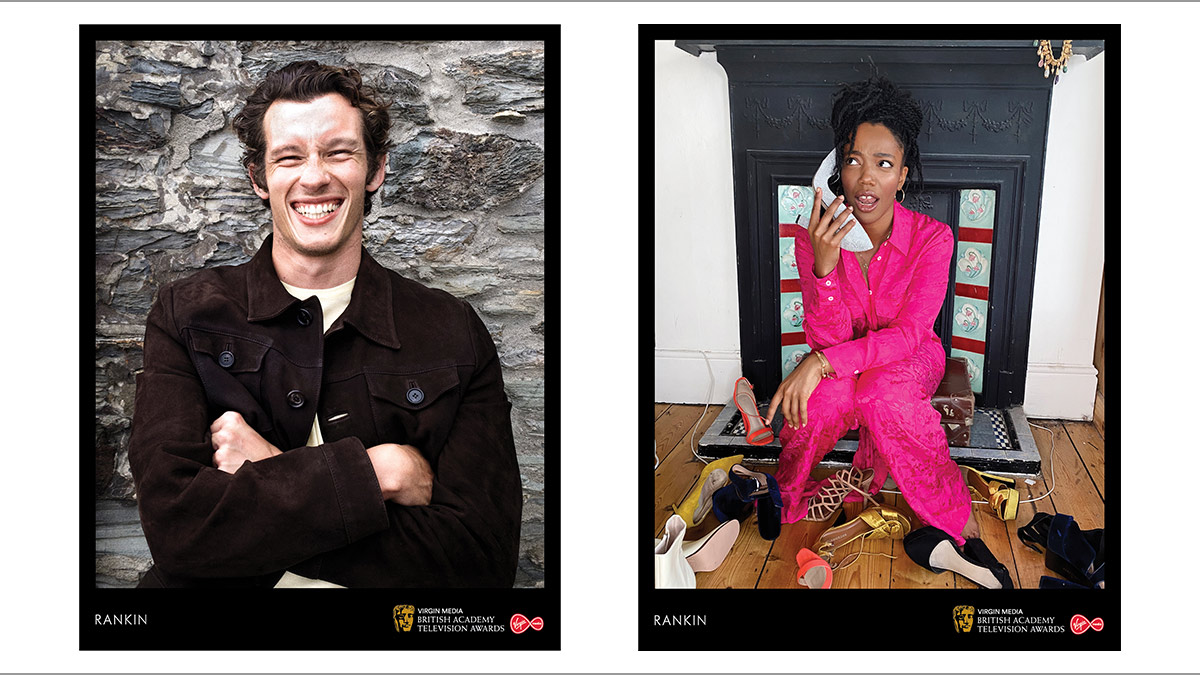 Left: Callum Turner | Leading Actor | The Capture
Right: Naomi Ackie | Supporting Actress | The End Of The F***ing World

Joe Absolom and Suranne Jones did self-portraits and they look like my photos. Joe must have looked at my pictures and gone, "Right, I'm gonna do a Rankin." There's one that we haven't chosen, but it's so like one of my pictures. I was like, man, this guy studied me.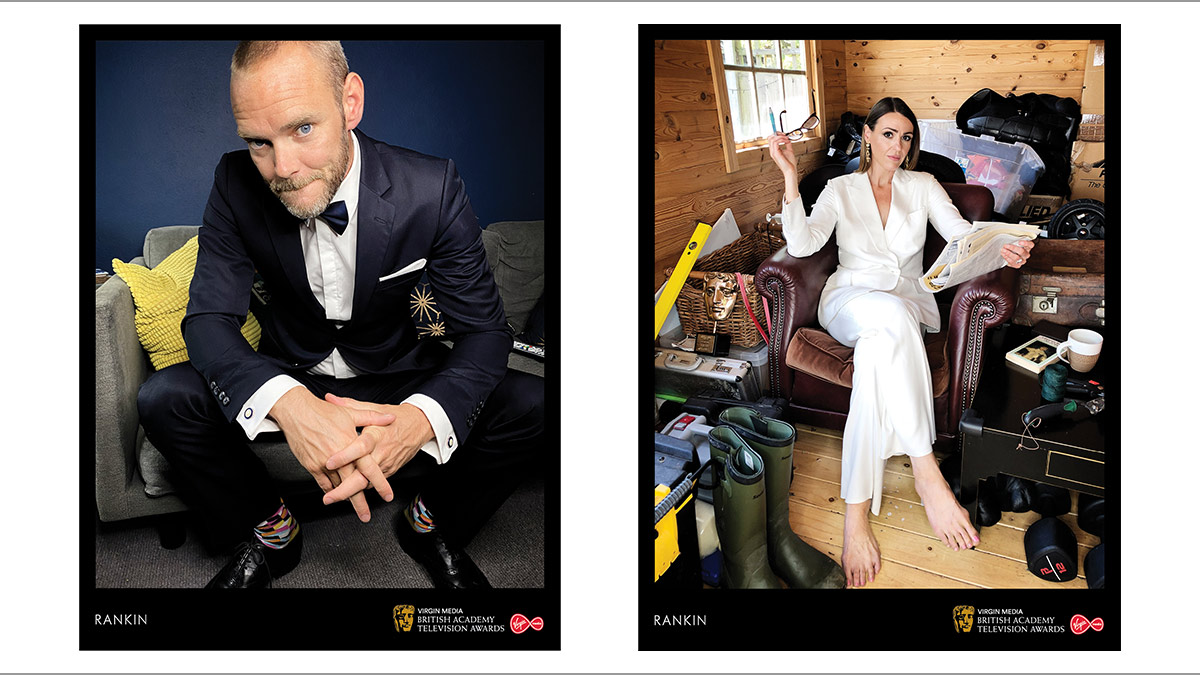 Left: Joe Absolom | Supporting Actor | A Confession
Right: Suranne Jones | Leading Actress | Gentleman Jack

Whose copyright they are, who knows. I'm definitely gonna be putting them on my social media as curated and art directed by me and lit by me as well. I would imagine they're the partners' or friends' copyright. I've got no problem with that.
One person, who I won't name, because that would be unfair, and their partner had no clue how to use any of the technology, so we had to bring them to a studio to photograph them, and that was all socially distanced. I would have loved to have shot Glenda Jackson [in person]. I'm a massive fan of hers.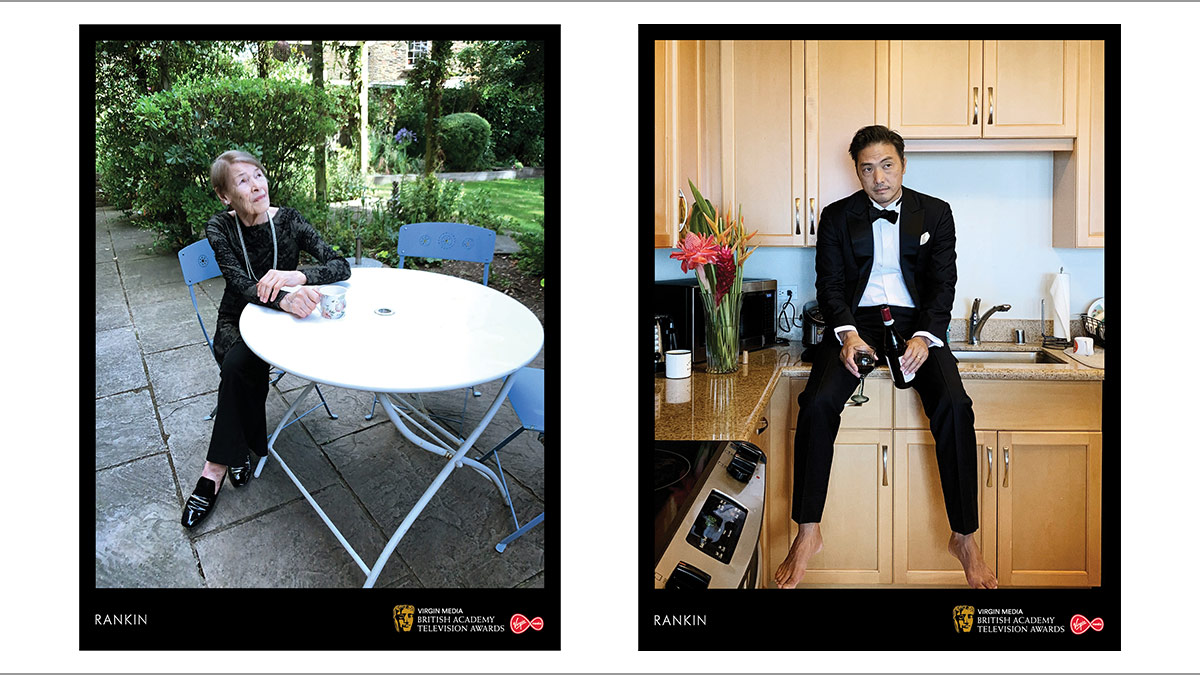 Left: Glenda Jackson | Leading Actress | Elizabeth Is Missing
Right: Takehiro Hira | Leading Actor | Giri/Haji

I told everyone to choose the best pictures they thought had been taken of them and to send me ten or 15. I could have used pretty much any of them. Instead of it being a physical thing, it's become a mental thing. One of the things you don't really talk about as a photographer is that people look to you for affirmation, to go, "Yes, this is a good picture of you." That's the element of trust that goes into the relationship. I always want to create a picture that people remember that person for.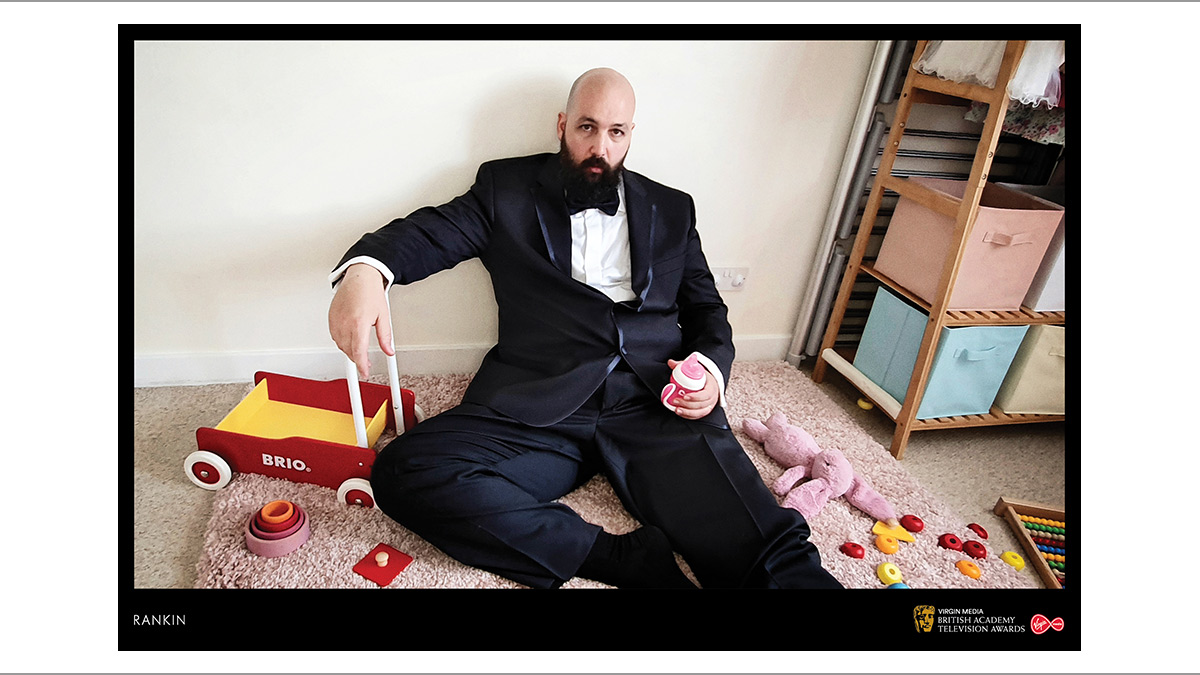 Youssef Kerkour | Male Performance In A Comedy Programme | Home


When is the 2020 Virgin Media British Academy Television Awards on TV?
The 2020 Virgin Media BAFTAs airs on BBC One HD (CH 101/108) at 7pm on Friday 31 July. It is also available for 30 days in Apps & Games > BBC iPlayer.
TV channels: Channels, content and features available depend on your chosen package. Channel line-ups and content are subject to change at any time and to regional variations.
HD: HD TV set, V HD Box, TiVo box or Virgin TV V6 connected with HDMI cables required for HD channels. Number of inclusive HD channels depends on package.
Catch Up TV: Catch Up TV content available for up to 7 days or up to 30 days after broadcast, depending on content.
Interviews: Any opinions expressed in interviews are those of the interview subject and not those of Virgin Media.