Skip to main content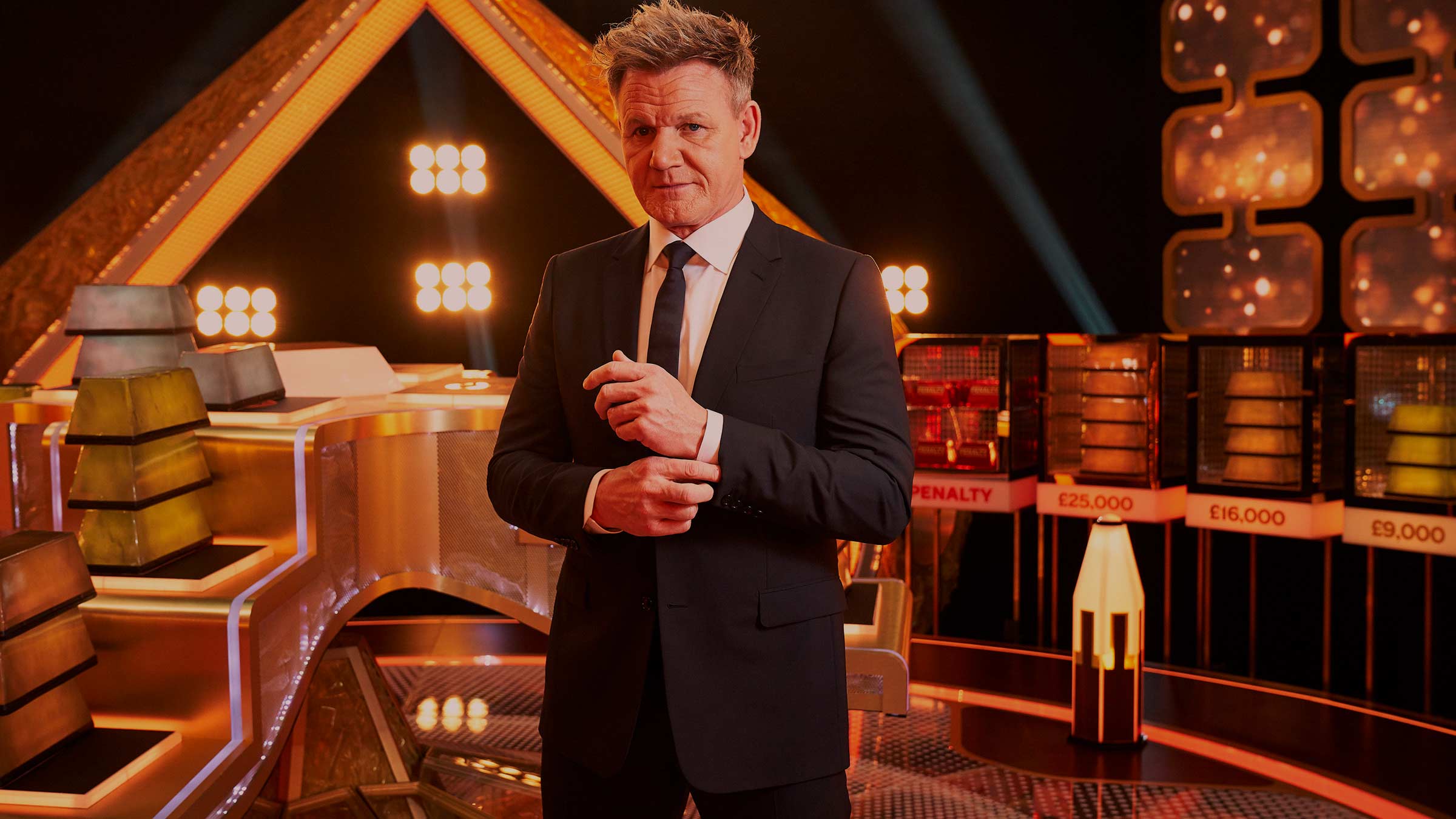 Bank Balance, a new series executive produced and presented by the chef, is not about food, but it does involve beating a board that's more unpredictable than he is
By Laura Rutkowski, Staff Writer
The Chase, The Wall, Who Wants to Be A Millionaire? and The Wheel have really come into their own during lockdown. Now there's a new kid on the block looking to shake up the traditional game show format.

Gordon Ramsay's production company Studio Ramsay, which is approaching its 5th birthday, is behind Bank Balance and has put Gordon himself front and centre as the host. It's not as weird a choice as you might first think.
As he trades his chef's whites for a suit and tie, the irony isn't lost on him either. The Hell's Kitchen and Ramsay's Kitchen Nightmares star, who is typically bleeped out on telly, now has a prime-time slot on the BBC! He jokes in the opening episode, "What our contestants need is a fluffy, cuddly game show host by their side. Well, they've got me."
But somehow it works. Gordon's fast-talking, no-nonsense, slightly shouty approach means he doesn't coddle the players. It feels as though they want to impress him, all while supressing the urge to respond, "Yes, chef!"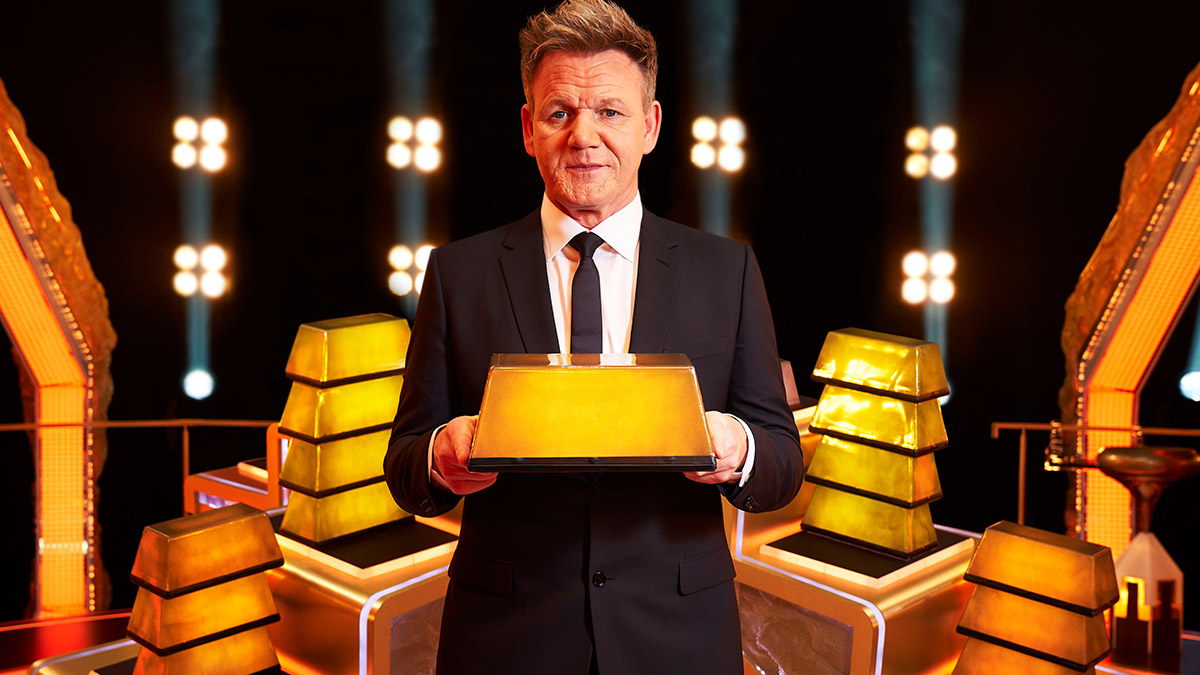 Golden boy Gordon Ramsay

Bank Balance is one of those shows you watch and think, "I could do that," but you know it's actually a lot more difficult than it seems. That's why it has what we're going to dub "shout-at-the-telly" appeal. All good game shows need to have it.
During a Zoom Q&A (with the Bank Balance set as his background), Gordon answered all the big questions surrounding the show. Here's what you need to know…

How does the format work?
The aim is for contestants to balance all 12 gold bars on the board, which has 12 zones, by answering questions across 12 categories, including TV soaps, pop divas, UK politics, Shakespeare, animals and art, plus more.
The large board rotates around on a pin, so when gold bars are stacked on it, it tilts and moves. First, the contestants draw a zone at random, then they have to decide what size stack they want to risk adding, all of which are worth different monetary values. The bigger the stack, the more the board tilts. Silver bars are worth £0, but hardly move the board.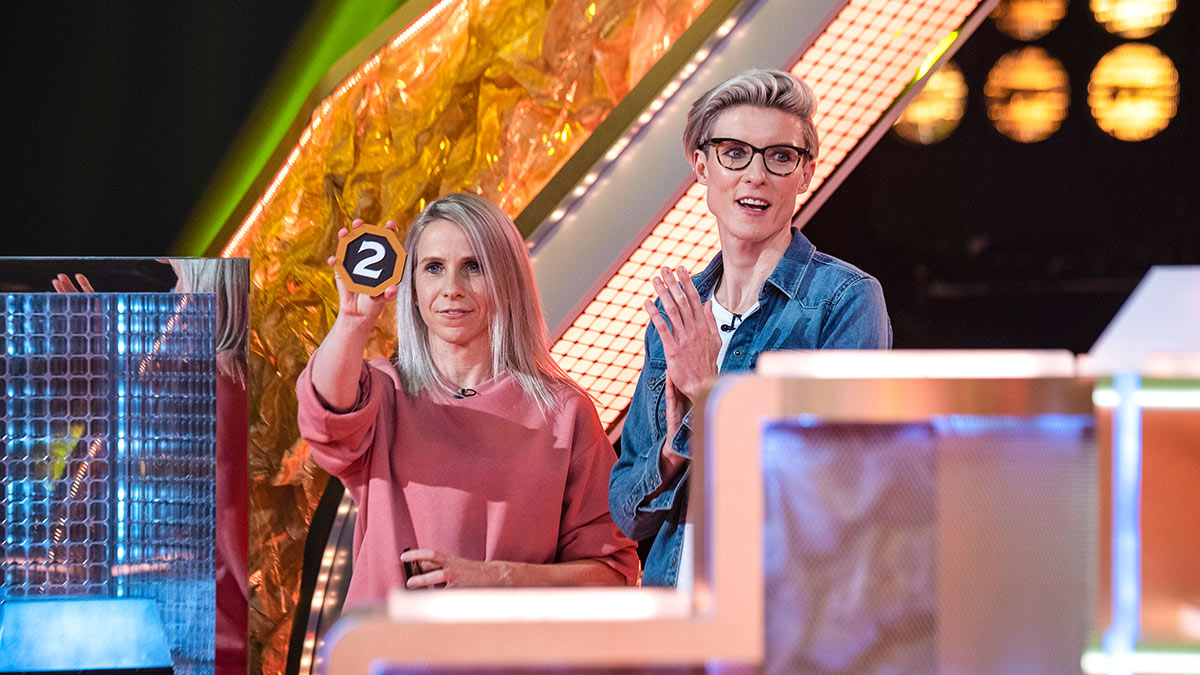 Here's hoping zone two is a good 'un!

If they choose three gold stacks, for example, they have to answer three questions in a category of their choice. They must answer correctly and stack all their bars within just 60 seconds. If they're successful, they bank the cash. If they answer incorrectly or run out of time, they don't earn the money and must add a red penalty block on top, which further tilts the board. If the board tips over at any point, it's game over and they lose all of their banked money.
Along the way, they can earn "credit", where they have the choice to draw another random zone if they don't like their initial one, or are guaranteed money if they can bank a certain stack.

How much money is up for grabs?
Up to £100,000! "The contestants are real people that are experiencing some very awkward, difficult, traumatic times. Ten grand, 15 grand, 25 grand, up to 100 grand – that's life-changing money," says Gordon.
"There's nothing wrong with telling the contestants, "I want you to do well, I'm here to help you. I can't answer the questions for you, but I'll be really pissed if you don't win, because there's some big money at stake." If they don't do well, I feel bad."

What is the set like?
Could this be the TARDIS of the game show world?

"It's rose gold and gilded. I said to just imagine the most glamorous set. If James Bond walked on to a game show, what would it look like? How does this thing look incredible, like a 21st-century spaceship, but intimidate every goddamn guest that walks up those stairs?"

How was the show developed?
"In September 2019, we first put this idea together. I had a tiny little pyramid in the front of my lounge and one thing that stood out was the level of excitement when balancing tiny little cubes across this pyramid. It was constantly getting knocked over.
"We were working on Bank Balance 12 hours a day, five days a week in the first lockdown. Breaking in a new show is as difficult as opening a restaurant. It's like a recipe coming together and you're trying to understand that level of discipline to stop overworking it.
"When we came out of that lockdown, we got into a studio in one of the restaurant's basements and started building out this board. We started over about 14 times."

How did Gordon feel about hosting?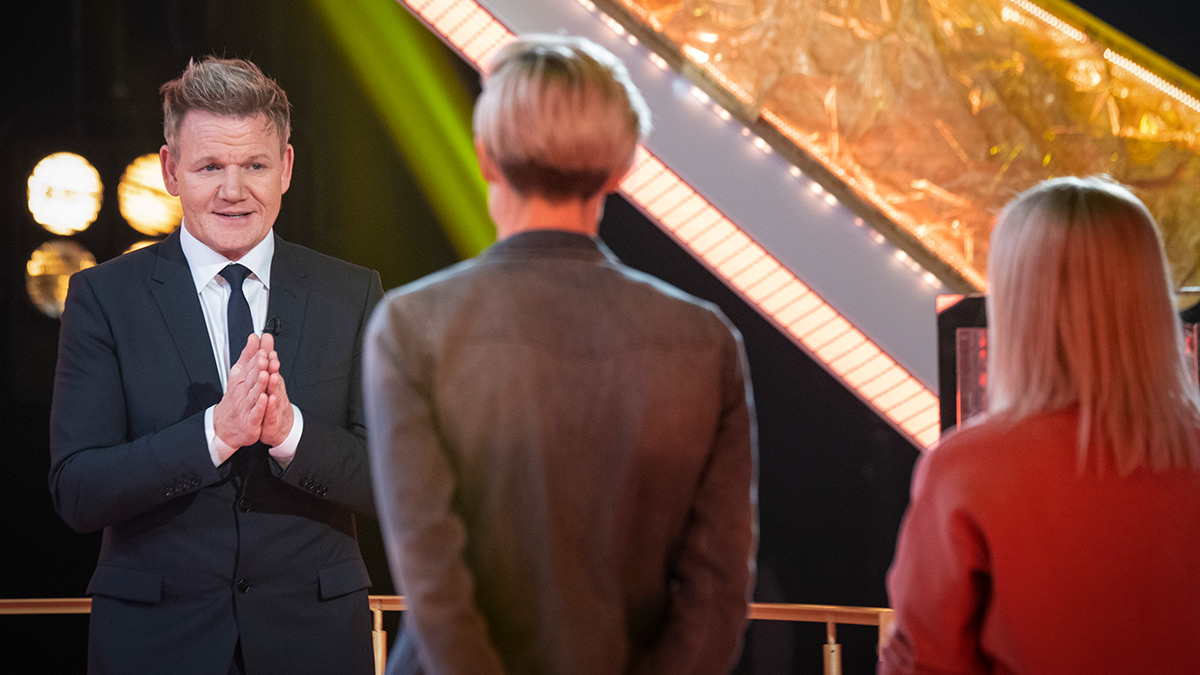 "If you lose, you must give me your chef's jacket and get out. Oh wait, wrong show."

"Do I look like a game show host? I was seriously nervous. I wasn't all cocksure about becoming a phenomenal game show host. I wanted to be me.
"It's very rare that you get the chance to not just present your own show, but be part of the creative team, and that was the bit that got me out of bed every morning at 5am. There's something pretty dynamic about being given a show at 9pm on the BBC. There's gonna be a lot of eyeballs on this."


Is he allowed to swear?
In a word, no – not in his usual F word-spouting glory anyway. But he is caught saying, "Where in the frick are we going?" and "Get your shit together" to the contestants. We're pretty sure we won't catch Bradley Walsh saying anything remotely similar anytime soon, but that's why Bank Balance is uniquely Gordon's game show.


When is the BBC's Bank Balance on TV?
Bank Balance airs on BBC One HD (CH 101/108) on Wednesdays, Thursdays and Fridays at 9pm, with the first episode screening on 24 February. It is also available in Apps & Games > BBC iPlayer.
The series will air three episodes per week for three weeks.
TV channels: Channels, content and features available depend on your chosen package. Channel line-ups and content are subject to change at any time and to regional variations.
HD: HD TV set, V HD Box, TiVo box or Virgin TV V6 connected with HDMI cables required for HD channels. Number of inclusive HD channels depends on package.
Catch Up TV: Catch Up TV content available for up to 7 days or up to 30 days after broadcast, depending on content.
Interviews: Any opinions expressed in interviews are those of the interview subject and not those of Virgin Media.
Image credit: Bank Balance © Studio Ramsay/Justin Mandel