Skip to main content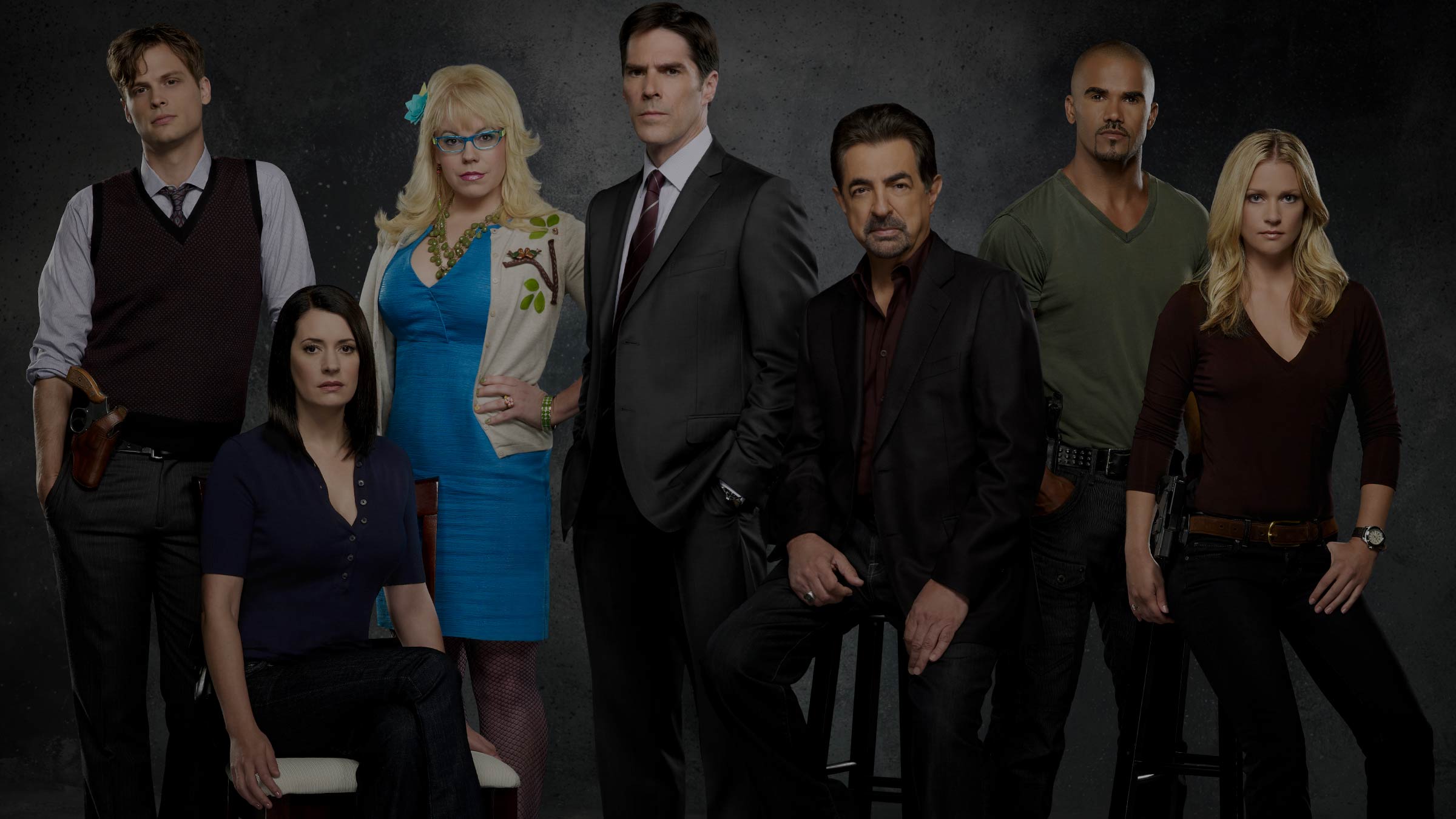 The evenings are getting colder and darker – making this the perfect time of year to settle in with a series or two on Virgin TV
On Demand, Netflix and Prime Video round-up
All the major autumn celebrations are over and the festive party season is yet to kick in, plus it's damp and chilly outside – so what better time to enjoy some top-quality TV? There are so many series and so many genres, from spy thrillers and supernatural chillers to royal dos and romantic runarounds, that you're always spoilt for choice.
So make some hot chocolate, grab a blanket if you're so inclined, and get ready to relax – all you need is your remote to cue up hours of superb entertainment.
Criminal Minds
Seasons 1-13 available in On Demand > Box Sets > ABC Studios
It's one of the big daddies among US crime procedurals, and it's just as gripping after 13 seasons (and nearly 300 episodes) as it was at the start. Agents Hotchner, Garcia, Morgan, Rossi, Reid, Prentiss and the rest solve some of TV's most disturbing crimes using the power of behavioural analysis while, of course, struggling with the ups and downs of their personal lives. It's going to end with season 15 in 2020, so enjoy it while you can!
L.A.'s Finest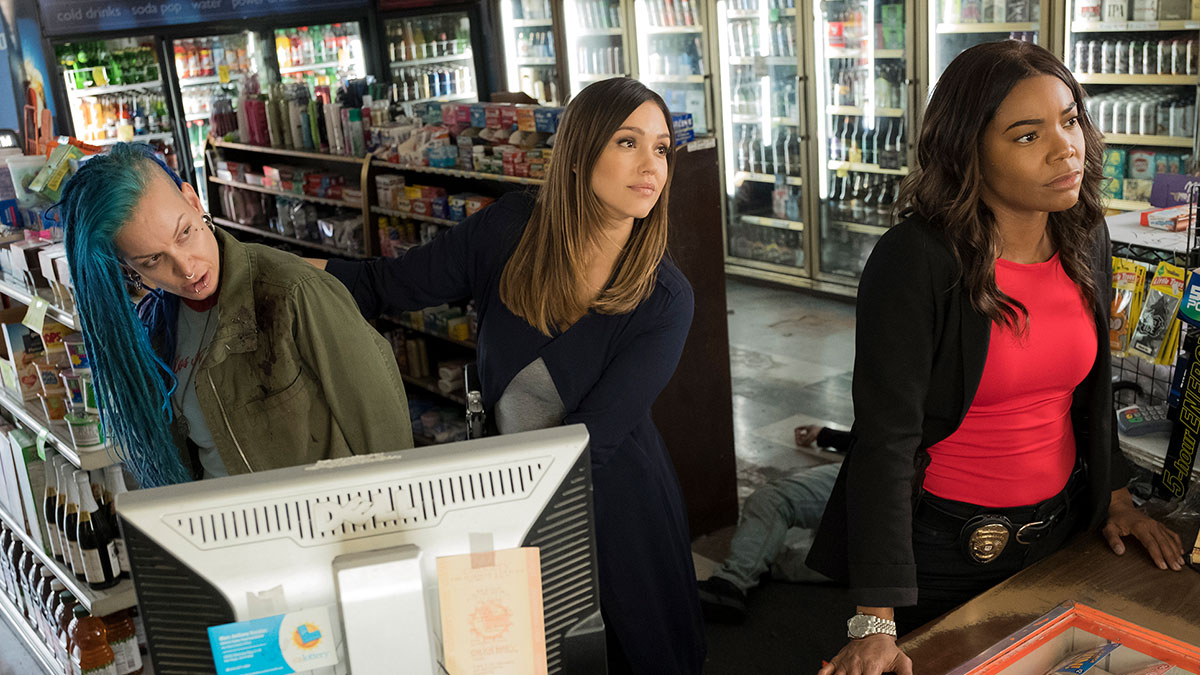 Season 1 available in On Demand > Box Sets > FOX
A new Bad Boys movie is coming to cinemas next year – and if you can't wait to see Will Smith and Martin Lawrence doing their thing on the big screen, then get into this fun spin-off series. Gabrielle Union is Syd Burnett (her character from Bad Boys II), a DEA agent transferred to the LAPD and partnered with detective Nancy McKenna (Jessica Alba). The twist? They're BOTH unpredictable loose cannons! Watch them shoot, punch and wisecrack their way through LA's criminal fraternity as they hunt for mastermind Gabriel Knox.
The Passage
Season 1 available in On Demand > Box Sets > FOX
The world teeters on the edge of a pandemic, and there's a treatment that might prevent the worst effects – but it needs to be tested on a child. Agent Brad Wolgast (Mark-Paul Gosselaar) is sent to bring in young Amy (Saniyya Sidney), but his conscience won't let him. A race against time then begins, as Wolgast and Amy try to stay ahead of the authorities while the clock ticks towards catastrophe. The Passage is a genuinely tense thrill ride, based on Justin Cronin's bestselling novels and executive produced by Ridley Scott.
Hawaii Five-0
Season 8 available in On Demand > Box Sets > Sky One
Sun, sand, surfing and… CRIME! Let's face it, if you want to revive an old TV show, it's definitely a good idea to pick one that has amazing scenery, even more amazing shirts, and one of the most memorable theme tunes of all time. Honolulu cops Steve McGarrett (Alex O'Loughlin) and Daniel "Danno" Williams (Scott Caan) lead the state's special crime task force as they find bad guys, round 'em up and, of course, book 'em. The popular show has racked up more than 200 episodes so there's plenty of sunny Hawaiian action to keep you entertained over the winter.
Detroiters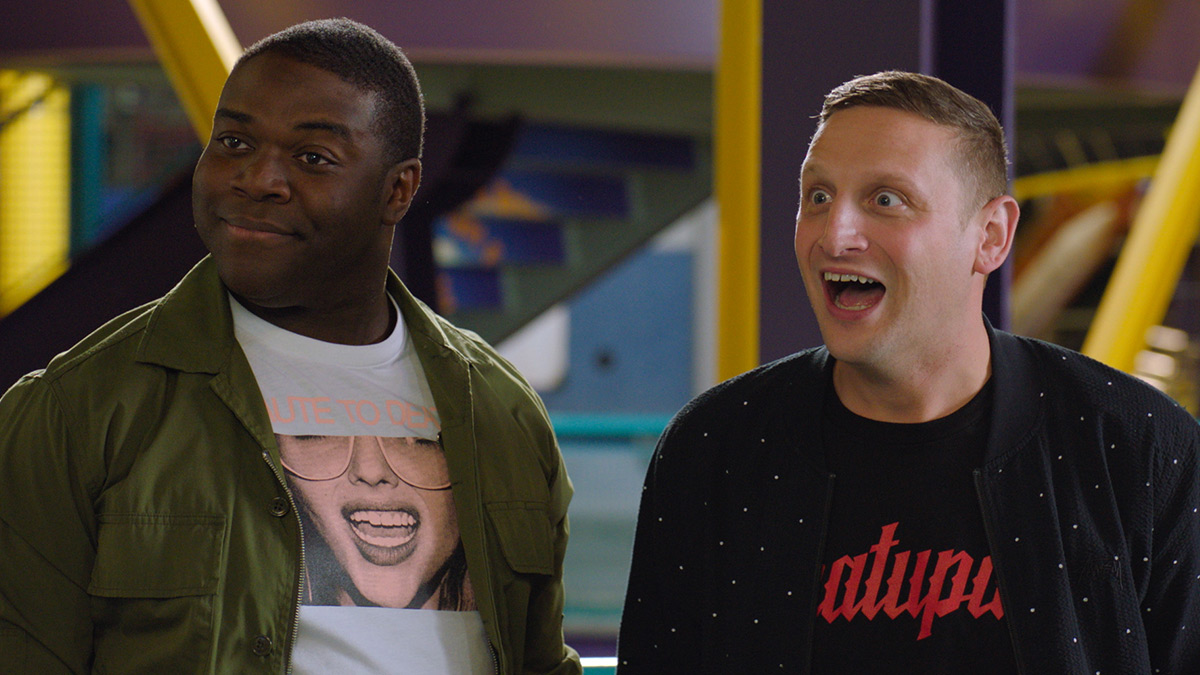 Seasons 1 & 2 available in On Demand > Box Sets > Comedy Central
Tim Robinson (I Think You Should Leave) and Veep's Sam Richardson create and star in this sitcom about a couple of advertising creatives trying to make it big in Detroit. There's just one problem: they're basically hopeless. Marvel at the many mishaps and scrapes they get into as they try to come up with commercials for everything for a local wig firm ("There is to be absolutely no mention of dead people!") to a car that poops. Unpredictable, absurd and consistently hilarious, Detroiters is an underrated comedy gem.
Monster Fish
Seasons 4 & 5 available in On Demand > Box Sets > National Geographic
Ecologist Zeb Hogan goes in search of some of the world's biggest aquatic creatures, from five-metre stingrays to 40kg Guyanese wolf fish rumoured to hunt people, via bull sharks, monkey-eating catfish, giant salmon and a species of flying fish staging an aquatic invasion of America. Your mind will boggle at the size of these monsters, but you'll also learn about threats to their respective environments and the conservation efforts to protect them.
The Crown
Find seasons 1-3 on Netflix
This lavish drama is one of the jewels in Netflix's, er, crown, and has been showered with accolades and awards since it began in 2016. Ambitious in scope and beautifully shot, it aims to tell the personal story of Queen Elizabeth following her accession in 1952, showing the world's major events through the eyes of one of its most famous women (played by Claire Foy for two seasons and Olivia Colman in the third). A landmark series, The Crown is television at its very best: smart, serious and insightful, wonderfully written and superbly acted.
Orange Is The New Black
Find seasons 1-7 on Netflix
The premise of this series – naïve, middle-class woman trusts the wrong people and is sent to prison – is pretty standard stuff for TV, but what follows for seven brilliant seasons absolutely isn't. This is a scorching, eye-opening drama that lays bare the gaping moral flaws in the US penal system without ever feeling preachy or laboured. By turns angry, bizarre, sad, violent and riotously funny (there's also a rather funny riot), OITNB is a genuine one-off. And now that it's concluded you can enjoy the journeys of Piper, Taystee, Gloria, Suzanne, Nicky, Red and all its wonderful, indelible characters from start to finish.
Grace And Frankie
Find seasons 1-5 on Netflix
Like police officers and doctors, TV stars seem to get younger every year, don't they? Not on Grace And Frankie, which reunites 9 To 5 stars Jane Fonda and Lily Tomlin as frenemies forced to bond when their husbands (Martin Sheen and Sam Waterston) announce they are in love with each other. But just because its four leads have a combined age of over 300, don't expect a gentle family comedy – this is full of delicious barbs, snark and put-downs, not to mention more sex toys than most sitcoms, as the two families navigate their new dynamic.
GLOW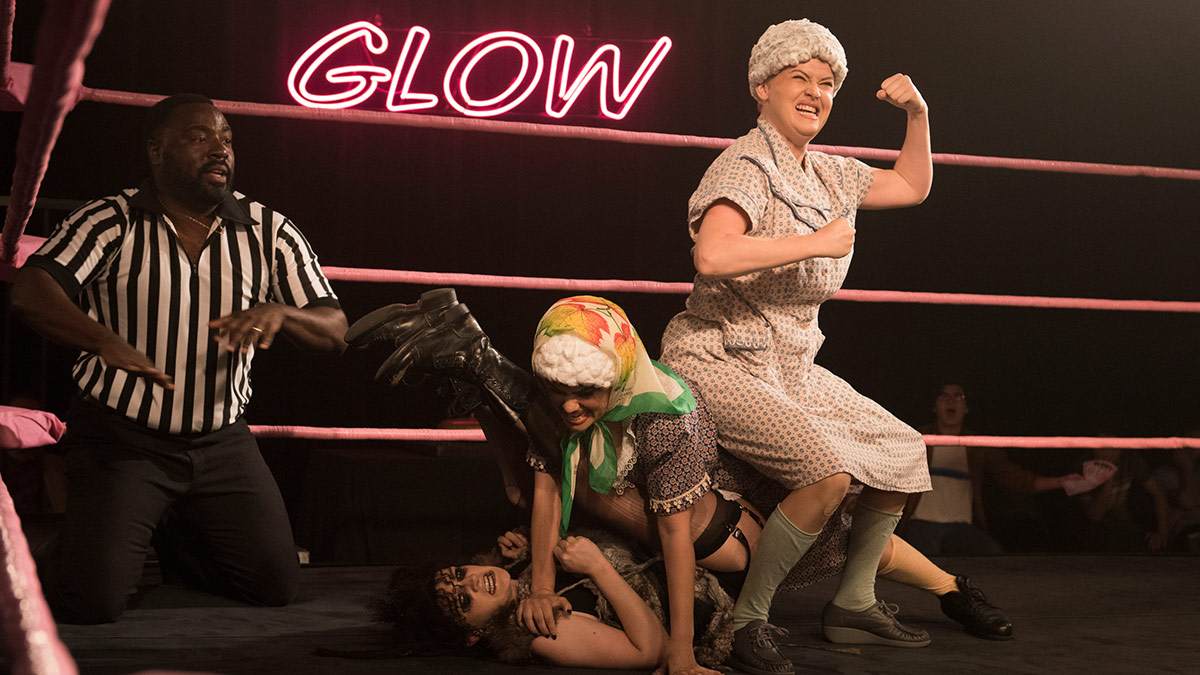 Find seasons 1-3 on Netflix
A show about the Gorgeous Ladies Of Wrestling may be a tough sell to aficionados of Golden Age TV, but Liz Flahive and Carly Mensch's comedy drama is as well written and satisfying as any "prestige" show out there. Struggling actor Ruth (Alison Brie) thinks she's slumming it when she joins a ragtag wrestling troupe, but soon finds camaraderie, creativity and even happiness in putting on show after show, spurred on by a rivalry with her former best friend Debbie (Betty Gilpin). You'll laugh, you'll cry, you'll want to hit someone with a folding chair. Probably.
Russian Doll
Find season 1 on Netflix
Nadia (Natasha Lyonne) isn't enjoying her 36th birthday party. She's not sure who's going to come, she thinks there's somewhere else she'd rather be, and to top it all off she keeps inconveniently dying. She can't figure out what's happening and begins to spiral out of control, until she meets Alan (Charlie Barnett), a man who's going through the same experience. Will they help each other out, or drag each other further down? Russian Doll is a rush – a dizzying, perplexing, wildly ambitious series that defies easy categorisation but remains absorbing till the end.
Tom Clancy's Jack Ryan
Find seasons 1 & 2 in Apps & Games > Prime Video
The series of hit movie thrillers featuring Jack Ryan made many people think he was a mix of James Bond and John McClane, but this series takes Ryan back to his roots as a pen-pusher – a US Department of State supply chain logistician, in fact – who's drawn into a dangerous web of espionage, fraud and terrorism. The Office's John Krasinski is the perfect choice to play our everyman hero, in over his head and struggling to deal with the realities of spycraft, as the excitement ramps up in this fast-paced series.
The Man In The High Castle
Find seasons 1-4 in Apps & Games > Prime Video
Set in an alternative reality in which the Axis powers were the victors in the Second World War, this is one of the most intelligent and multilayered dramas of the past decade. In post-war North America, now occupied by Nazi Germany and Imperial Japan, we follow the fortunes of those living under repressive rule. Before long, rumour begins to swirl of film footage that could threaten to upset the status quo. Inspired by Philip K Dick's novel, the series stars Alexa Davalos, Luke Kleintank and Rufus Sewell.
Modern Love
Find season 1 in Apps & Games > Prime Video
Based on a New York Times column, this anthology series of standalone mini-romcoms tells stories of love in all its contemporary forms. The cast list includes a wealth of talent – Anne Hathaway, Tina Fey, John Slattery, Dev Patel, Andrew Scott, Catherine Keener – and half the episodes are written and directed by John Carney, the unashamedly romantic film-maker behind Once, Begin Again and Sing Street. Other talents behind the camera include Sharon Horgan, co-creator of Catastrophe, and Emmy Rossum, the Shameless star turned director – and it all adds up to a terrific, heart-warming series.
The Magicians
Find seasons 1-4 in Apps & Games > Prime Video
When Quentin (Jason Ralph) finds himself at a magic university, he thinks all his dreams have come true. So far, so Harry Potter – but for his best friend Julia (Stella Maeve), rejection by the school means her troubles are just beginning, and the two are soon drawn into a dark world of magical lands, cruel gods and supernatural power struggles. From the very start, The Magicians cracks along at a frantic pace, but amid all the mystical threats, fiery vengeance and suchlike, it still finds time for strange romances, college parties and off-kilter humour.
The Tick
Find seasons 1 & 2 in Apps & Games > Prime Video
He's big, he's blue, he's bulletproof, and he's got some very fixed ideas about good and evil. He's The Tick, and he's the superhero we all need in these complicated times. Although his sidekick Arthur (Griffin Newman) may not agree, since he's being pulled into a superpowered scuffle involving a presumed-dead villain known as The Terror, an electricity-harnessing woman named Miss Lint, the permanently furious Overkill, and possibly, Arthur's mild-mannered stepfather Walter. Peter Serafinowicz brings just the right level of dopey righteousness to the antennae-sporting hero in this off-the-wall action comedy series.


How to watch Amazon Prime Video with Virgin TV
Prime Video is available to all Virgin TV customers with a V6 box, powered by TiVo®. Simply sign up to Amazon Prime Video via their website, and you can log in on the box. And because Prime Video is fully integrated into TiVo®, you can search without even going into the app. Just select Search & Discover from the Home menu and type in the name of the show or movie you're after.
How to watch Netflix with Virgin TV
If you have a TiVo® box or Virgin TV V6 box, powered by TiVo®:
Press home on your remote
Select Apps & Games
Select All Apps
Select Netflix
If you're already a Netflix subscriber, you can also access the app through Search & Discover or by pressing Red on channel 204. Just sign in with your existing login and start watching. And you'll only have to log in the first time you use it.
TV channels: Channels, content and features available depend on your chosen package. Channel line-ups and content are subject to change at any time and to regional variations.
HD: HD TV set, V HD Box, TiVo box or Virgin TV V6 connected with HDMI cables required for HD channels. Number of inclusive HD channels depends on package.
On Demand: Content available to view depends on TV package. Time limits apply for viewing chargeable On Demand content – see virginmedia.com. Once purchased, all chargeable On Demand content must be viewed within 48 hours. Premium channels and upgrades must be kept for at least 30 days.
Netflix: Netflix subscription required at extra cost.
Amazon Prime Video: Amazon Prime subscription required at extra cost. 18+. Click here for T&Cs.