Skip to main content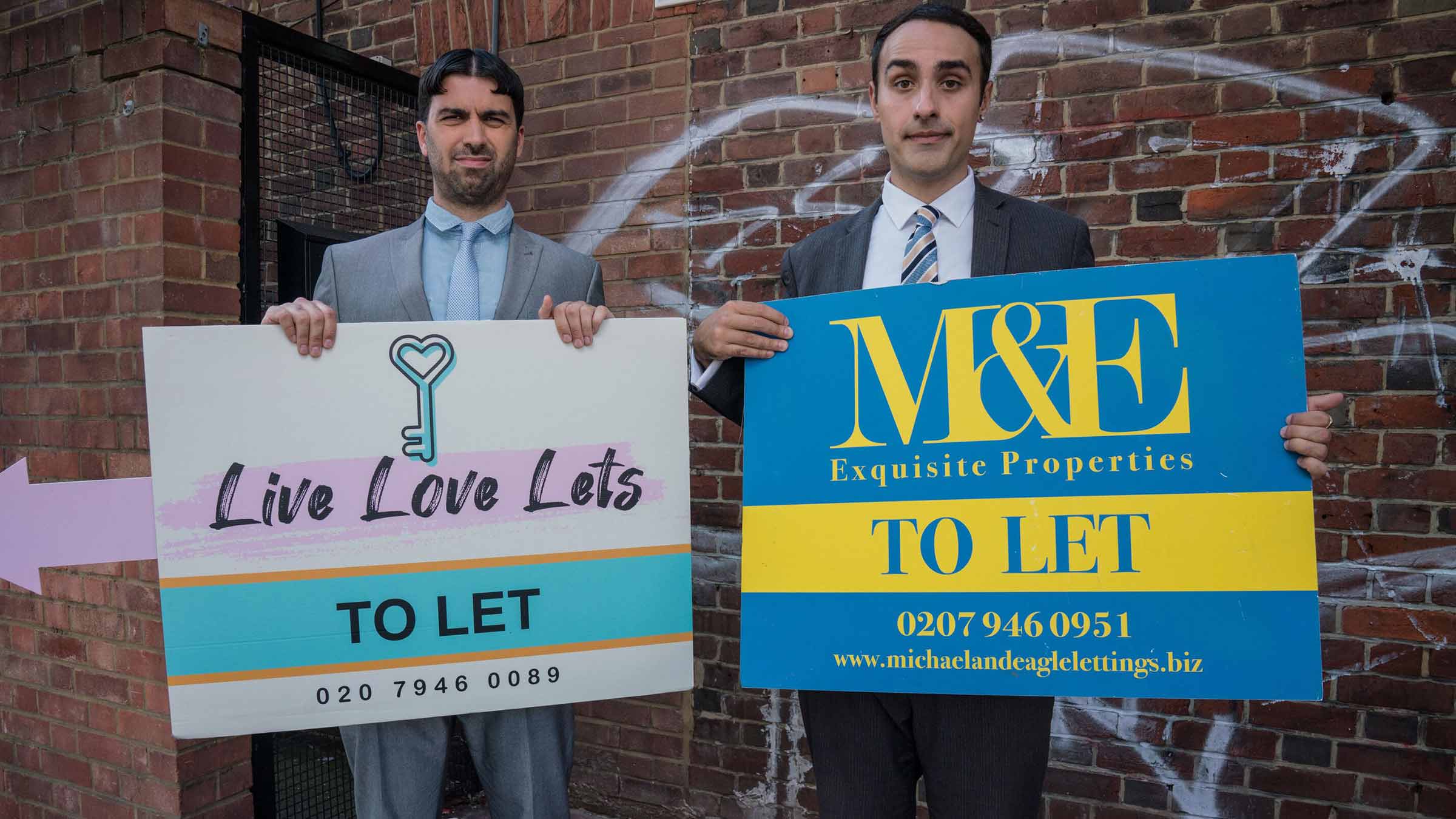 Looking for your next comedy binge? Good news, you're in the right place. This is what you might have missed this year on the comedy telly circuit
By Virgin TV Edit
Everyone should be taking some time to share in a laugh after the year we've all had, and thankfully you have loads of funny people waiting (not in a creepy way!) inside your telly for just that purpose. So why not unwrap some of the biggest and best comedy Box Sets of 2021?
Whether you're looking for some hearty laughs (The Cleaner), some spit-your-drink-out entertainment (Big Mouth), or a big-old dollop of nostalgia (Worzel Gummidge), we've got loads to pick from right here.
All of the shows listed below were either brand new in 2021 or had a new series on the box. Ready to discover the funny? Then check out these top picks…
Find it in Apps & Games > BBC iPlayer
From the team behind Horrible Histories. When Alison (Charlotte Ritchie) and Mike (Kiell Smith-Bynoe) inherit a country manor, it seems like a dream come true. But, the mansion is infested with a gaggle of ghosts, and only Alison can communicate with them. This third series sees Alison meet a woman claiming to be her sister (Jessica Knappett).
The Outlaws
Find it in Apps & Games > BBC iPlayer
In Stephen Merchant's black comedy, we meet a cross-section of offenders (including Hollywood's actual Christopher Walken), paying their respective debts back to society through community service in Bristol. The story is by turns funny, tender and action-packed, as the unlikely gang come together against a new threat.
Back
Find it in Apps & Games > All 4
As we learnt during Strictly Come Dancing when he had to pull out of the contest, Robert Webb had quite a big heart scare – something he found out during a medical for the second series of this brilliant show from Simon Blackwell. So there was plenty of reasons for the long gap since series 1 first aired in 2017 (plus there was some other stuff happening in the world). Regardless, the action picks up just after series 1 with Stephen (David Mitchell) in a psychiatric facility and Andrew (Webb) running the family pub.
Feel Good
Find it in Apps & Games > Netflix
Mae Martin returns for a second series of the critically acclaimed, sometimes autobiographical comedy series. Now in Canada, Mae is in rehab while George (a brilliant Charlotte Ritchie) looks to find meaning in her life without Mae. Brutally honest and so funny, do not miss out on this one.
Starstruck
Find it in Apps & Games > BBC iPlayer
Not just a great comedy, but a great series full stop. Hapless Jessie (writer and star, Rose Matafeo) hooks up with Tom (Nikesh Patel) without realising he is a famous movie star. Can they find love despite their very different worlds? Expect this one to be cropping up on all the end of year TV lists, so get in now and you can still seem ahead of the pack.
What We Do in the Shadows
Find it in Apps & Games > BBC iPlayer
We are into season 3 of the critically-acclaimed mockumentary comedy horror based on the Taika Waititi film of the same name, and we are still following the humdrum lives of three vampires on Staten Island. Although after the dramatic events of the previous season, it is all change for Nador (Kayvan Novak), Laszlo (Matt Berry) and Nadja (Natasia Demetriou).
Ladhood
Find it in Apps & Games > BBC iPlayer
A real hidden gem, this one. Ladhood explores the formative years of comedian and writer Liam Williams, as he goes back in time to recount and commentate on his adolescence – the good bits, and the bad. Featuring a cracking young cast, including Oscar Kennedy as the young Liam.
Together
Find it in Apps & Games > BBC iPlayer
We were expecting a raft of shows about the past two years, but nobody expected one as good as Together. James McAvoy and Sharon Horgan are a married couple, struggling with life in lockdown. With laughs, tears, shock and awe, it's the perfect balance of comedy and drama. Beware, there are some moments in this one that are very tough to watch.
Buffering
Find it in Apps & Games > ITV Hub
Starring Iain Sterling as, essentially, Iain Sterling, the show follows the Scottish comic bumbling through his job as a kids' TV presenter, all the while hating kids. With a supporting cast of comedians, including Jessie Cave, it's a laugh a minute for millennial viewers. Sterling also co-wrote and created the series, so you'll soon be trying to spot fact from fiction.
This Way Up
Find it in Apps & Games > All 4
After the BAFTA-winning first series, could creator and star Aisling Bea deliver a follow-up that packed as many laughs as it did pathos in its exploration of life and mental health. Emphatically, yes. Aine (Bea) is still putting her life back together after a "teeny little nervous breakdown" and finding her feet in a new relationship, while her sister (Sharon Horgan) deals with her choices from the last series.
The Cleaner
Find it in Apps & Games > BBC iPlayer
Very different from Greg Davies' other TV comedy Man Down, but still with a sense of silliness, albeit with an occasional dive into more sober terrority. Davies plays a professional crime scene cleaner, tasked with mopping, sponging and scooping up the grisly aftermath of all kinds of illegal activities. And in this job, you come across people from all walks of life. Features quite a memorable toilet scene with a rather famous actress.
Dave
Find it in Apps & Games > BBC iPlayer
Dave "Lil Dicky" Burd has big dreams of becoming a world-renowned rapper, but has he got the chops? With a neurotic personality and only his bar mitzvah bonds to keep him afloat, it's time to prove to the world that Lil Dicky has got what it takes. Some of the cameos in the second series are wild, including Kendall Jenner, Hailey Bieber and Lil Nas X.
Worzel Gummidge
Find it in Apps & Games > BBC iPlayer
Remember when TV had some gentler shows? So what a delight the rebooted Worzel Gummidge has been. Nostalgic yet modern, Mackenzie Crook (who stars, directs and writes) has done an incredible job. Ahead of the Christmas episodes, catch the friendly scarecrow with Susan and John in the brilliantly named November special, Guy Forks.
Inside No. 9
Find it in Apps & Games > BBC iPlayer
How do these guys do it? Six episodes a series, six mini plays featuring entirely new characters and situations. And they are already filming series 7! But, before that, series 6 once again finds more dark tales behind doors marked with the ominous number 9. This round includes a Misery-style episode about a TV fantasy writer, an episode set around the Last Night of the Proms, and a possible meeting with the devil.
Alma's Not Normal
Find it in Apps & Games > BBC iPlayer
A show that managed to win a BAFTA for a single-episode pilot tells you just how good this series is. Alma's not had a great start in life – she's got no qualifications, no job as a result, and a bit of a short temper to boot. Written by and starring comedian Sophie Willan, the series is adapted from her award-winning Edinburgh show from 2017. Another one for your best shows of the year lists.
In My Skin
Find it in Apps & Games > BBC iPlayer
In this coming-of-age comedy drama, Bethan (Gabrielle Creevy) is coming to terms with sexuality, relationships and mental health. With a not-so-perfect family at home, and the usual teenage dramas at school, it's a balancing act. The second series was a very welcome treat when it was released towards the end of 2021.
Back To Life

Find it in Apps & Games > BBC iPlayer
A beautiful and reflective first series was followed by a second that is just as good, if not better. Miri Matteson (Daisy Haggard) is starting to put her life back together following an 18-year spell in prison. But just when things are looking like they are finally getting better, including a budding romance with her next door neighbour, Billy (Adeel Akhtar), a threat from Miri's past returns.
Jack Whitehall: Travels with my Father
Find it in Apps & Games > Netflix
Jack and dad Michael are back for one last adventure. And naturally, after the past couple of years, their travels are a bit closer to home. With this final trip strengthen their bond and break down the stuffy barriers that have built up over the years? Um, probably not...
Stath Lets Flats
Find it in Apps & Games > All 4
Stath (Jamie Demetriou) is a hopeless estate agent, determined to make a name for himself in the family business of Michael & Eagle Lettings in north London. In the third season, Stath has become a father, a guaranteed recipe for disaster. The most quotable show on TV. Dusty! (That will make sense once you watch it).
Frank of Ireland
Find it in Apps & Games > All 4
Created and written by Brian Gleeson, and with Sharon Horgan as Executive Producer, this new comedy deals with the constant disappointment that is Frank. He's 32, a failed musician, and he still lives with his mother, whose dating life is far more exciting than his. Domhnall Gleeson (About Time) as Doofus almost steals the entire thing.
Dreaming Whilst Black
Find it in Apps & Games > BBC iPlayer
British-Jamaican writer, director and star Adjani Salmon plays Kwabena, who has been stuck in his dead-end recruitment job for way longer than he planned. What he really wants to do is make films. This is only one episode, but if there is any justice in 2022, a full series will hopefully follow.
Big Mouth

Find it in Apps & Games > Netflix
In this outrageous animated series – certainly not for kids – teenage hormones and emotions are personified as monsters and creatures, allowing the cast to interact with, and explore, their feelings. Season 5 was one of this year's funniest treats.
Good Girls
Find it in Apps & Games > Netflix
When three Michigan mothers are struggling with their finances, it's time for a change. So, the natural conclusion is to plan a heist at their local supermarket. What could possibly go wrong? Well, the mothers managed to get to a fourth and final series, so they were certainly doing something right.
Pretty Smart
Find it in Apps & Games > Netflix
Intellectual Chelsea thinks she has it good, until she's forced to share a home with her super-chilled, less academically-inclined sister and her like-minded housemates. This one comes from the writers of Crazy Ex-Girlfriend and How I Met Your Mother, so think studio sitcom meets journey of self discovery.
Atypical

Find it in Apps & Games > Netflix
Atypical follows the life of Sam Gardener (Keir Gilchrist), an 18-year-old with autism, who's determined to overcome life's hurdles in the pursuit of his passions – regardless of how much his overbearing mother and well-meaning but ultimately awkward father meddle.
The History of Swear Words
Find it in Apps & Games > Netflix
In this stylish comic documentary, Nicolas Cage takes us through some of the most profane words the English language has to offer. With appearances from comedians and etymologists, you'll learn, you'll laugh, and you'll wonder how they got Nic Cage to do this.
Modern Love
Find it in Apps & Games > Prime Video
While not strictly a comedy, and it certainly steers more into "rom" than "com", there are still plenty of laughs to be found in the second season of the anthology series about love in the 21st century. Although the first episode will have you crying until it's time to write the 2022 comedy Box Set list, so you have been warned...
How to watch Netflix with Virgin TV
If you have a TiVo® box or Virgin TV V6 box, powered by TiVo®:
Press home on your remote
Select Apps & Games
Select All Apps
Select Netflix
If you're already a Netflix subscriber, you can also access the app through Search & Discover or by pressing Red on channel 204. Just sign in with your existing login and start watching. And you'll only have to log in the first time you use it.
If you're new to Netflix, then you'll need to subscribe to use the app. The easiest way to do this is by going to netflix.com/virginmedia. You can also subscribe using the Netflix app in Apps & Games.
How to watch Amazon Prime Video with Virgin TV
Prime Video is available to all Virgin TV customers with a V6 box, powered by TiVo®, and a subscription to the service. Simply sign up to Amazon Prime Video via their website, and you can log in on the box. And because Prime Video is fully integrated into TiVo®, you can search without even going into the app. Just select Search & Discover from the Home menu and type in the name of the show or movie you're after.
Christmas has come early
This year we're bringing Christmas early with gifts and giveaways, plus check out all your Christmas TV, movie and sport listings and tips on what to watch and play!
TV channels: Channels, content and features available depend on your chosen package. Channel line-ups and content are subject to change at any time and to regional variations.
HD: HD TV set, V HD Box, TiVo box or Virgin TV V6 connected with HDMI cables required for HD channels. Number of inclusive HD channels depends on package.
Catch Up TV: Catch Up TV content available for up to 7 days or up to 30 days after broadcast, depending on content.
On Demand: Content available to view depends on TV package. Time limits apply for viewing chargeable On Demand content – see virginmedia.com. Once purchased, all chargeable On Demand content must be viewed within 48 hours. Premium channels and upgrades must be kept for at least 30 days.
Netflix: Netflix subscription required at extra cost.
Amazon Prime Video: Amazon Prime subscription required at extra cost. 18+. Click here for T&Cs.
Image credits: Inside No. 9 © BBC / Sophie Mutevelian