Skip to main content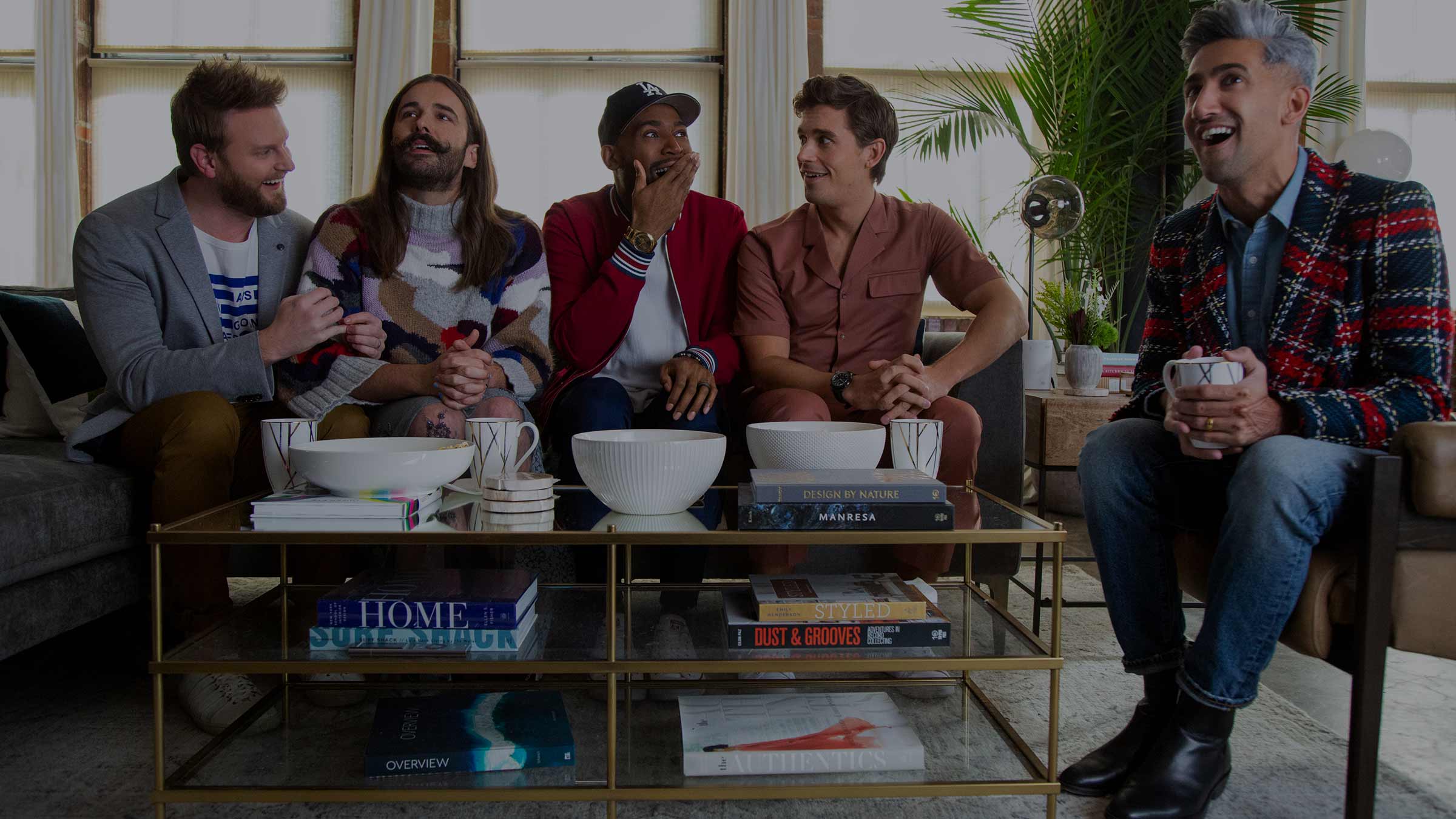 Now is the time to start and finish home improvement projects you've been putting off for ages. Not sure where to begin? These shows will help…
By Laura Rutkowski, Staff Writer
Paint cans are flying off the shelves, the buzzing sound of… not insects, but of lawnmowers, strimmers and drills, is in the air, and gardens are looking perkier than ever. Moving from outside to inside, all those pesky jobs you keep putting off are getting done around the house, the smell of freshly baked bread is wafting through from the kitchen and piles of bin bags full of things to donate are lining the halls.
This weekend's weather forecast is sunny, so why not make the most of it and start fixing up what needs to be fixed up outside or start improving your interiors and then take a well-deserved break in your (recently manicured) garden?
Even if you don't fancy doing a bit of DIY, there's one thing you can do yourself that requires no effort, and that's sticking on the telly! Discover our top 10 picks of the best home improvement shows below.

1. The Restoration Man
Find series 1-3 in Apps & Games > Prime Video
Can he restore it? Yes, he can! No job is too big for architect George Clarke, who travels around Britain to help people transform historic buildings (we're talking churches, water towers and even windmills) into their dream homes. If they can do that, you definitely can give the garage a fresh lick of paint.

2. Extreme Makeover: Home Edition
Find seasons 6-8 in Apps & Games > Prime Video
Remember this show? It's one of the best of its kind – and inspiring to boot, leaving viewers in floods of tears. Each episode shows a deserving family receiving a completely new house, which is built in just seven days. After Ty Pennington announces, "Bus driver, move that bus!" into the megaphone and the home is revealed, the family's reactions are always pure gold. Just don't try to completely remodel your own house in seven days… please.

3. Queer Eye
Find seasons 1-4 on Netflix
Bobby Berk, interior designer extraordinaire, is the true GOAT. We love the rest of the Fab Five, but like all the memes say, Bobby literally transforms entire HOMES in each episode, while the others do… other stuff. Antoni, we love ya, but avocado on toast… again? Season 5 lands on 5 June, so get ready to scream "YAAASSS!" as loudly, and proudly, as you can. This is not just a home improvement show, but an entire mind, body and soul makeover.

4. Tiny House Nation
Find seasons 1 & 2 on Netflix
Yes, it's a show, but it's also a movement. If you're looking to downsize in a big way, this show will tell you how to do it. How does the saying go? Tiny house, tiny mind? No, that can't be it… tidy house, tidy mind! Hosts and renovation professionals John Weisbarth and Zack Giffin travel across America to help people who have decided to scale back make their space as inviting, effective and homey as possible.

5. Tidying Up With Marie Kondo
Find it on Netflix
When are you ever going to have this much time to do some spring-almost-summer cleaning? Let Marie Kondo inspire you to finally let go of your old schoolwork (no, it will never come in handy and no one will ever want to read it. Sorry, the truth hurts.) or some clothes you haven't worn in a year. If it doesn't "spark joy", get rid of it!

6. Escape To The Chateau: DIY
Find it in Catch Up > Channels > All 4
Dick Strawbridge and his wife Angel Adoree meet British families that are renovating or looking to buy châteaux (gotta have the French spelling) in France. This spin-off of Escape To The Chateau is incredibly ambitious and incredibly rewarding to watch.

7. The Big Flower Fight
Find it on Netflix
This new series brings together 10 amateur gardeners who compete for a chance to design their own floral sculpture at London's Kew Gardens. The large-scale flower installations they come up with are just… wow. Florist to the stars, Kristen Griffith-VanderYacht, acts as judge, with Vic Reeves and Natasia Demetriou hosting. If you're a fan of The Great British Bake Off and The Great British Sewing Bee, this will tickle your fancy (and probably your nose – pollen, right?).

8. Gardeners' World
Find it in Catch Up > Channels > BBC iPlayer
Let's face it: Monty Don is the don of the gardening world, perhaps only competing for the title with Alan Titchmarsh. For all of you recently discovering your green finger, tune in for the presenters' valuable advice, tips and words of wisdom. You CAN grow your own vegetable patch or create your own pond (which is what a lot of people seem to be doing now).

9. Love Your Garden
Find it in Catch Up > Channels > ITV Hub
Speaking of Alan, he called on the government to reopen garden centres, describing them as "essential shopping". The garden centres are indeed open again, so stick this show on for ideas about how to revamp your own outdoor space. Alan visits people across Britain to give some love to their untamed, untrimmed gardens, planting seeds of knowledge as he goes.

10. The Fantastical Factory Of Curious Craft
Find it in Catch Up > Channels > All 4
This show had the stars of Gogglebox in stitches (pun very much intended) when one contestant's wearable macaw creation, complete with origami beak, didn't exactly soar. A for effort though, as with all of the contestants, who conjure up some magical finished products. A celebrity client chooses the winner, with their craft receiving pride of place in the celeb's house. Definitely do try this at home (we've already made Toy Story 4's Forky, who is surprisingly easy to replicate).
How to watch Netflix with Virgin TV
If you have a TiVo® box or Virgin TV V6 box, powered by TiVo®:
Press home on your remote
Select Apps & Games
Select All Apps
Select Netflix
If you're already a Netflix subscriber, you can also access the app through Search & Discover or by pressing Red on channel 204. Just sign in with your existing login and start watching. And you'll only have to log in the first time you use it.
If you're new to Netflix, then you'll need to subscribe to use the app. The easiest way to do this is by going to netflix.com/virginmedia. You can also subscribe using the Netflix app in Apps & Games.
How to watch Amazon Prime Video with Virgin TV
Prime Video is available to all Virgin TV customers with a V6 box, powered by TiVo®. Simply sign up to Amazon Prime Video via their website, and you can log in on the box. And because Prime Video is fully integrated into TiVo®, you can search without even going into the app. Just select Search & Discover from the Home menu and type in the name of the show or movie you're after.
Stay connected
From handy show recommendations to little WiFi wins, we're bringing together a few things to help make more time at home feel a bit easier.
TV channels: Channels, content and features available depend on your chosen package. Channel line-ups and content are subject to change at any time and to regional variations.
HD: HD TV set, V HD Box, TiVo box or Virgin TV V6 connected with HDMI cables required for HD channels. Number of inclusive HD channels depends on package.
Catch Up TV: Catch Up TV content available for up to 7 days or up to 30 days after broadcast, depending on content.
Amazon Prime Video: Amazon Prime subscription required at extra cost. 18+. Click here for T&Cs.
Netflix: Netflix subscription required at extra cost.