Skip to main content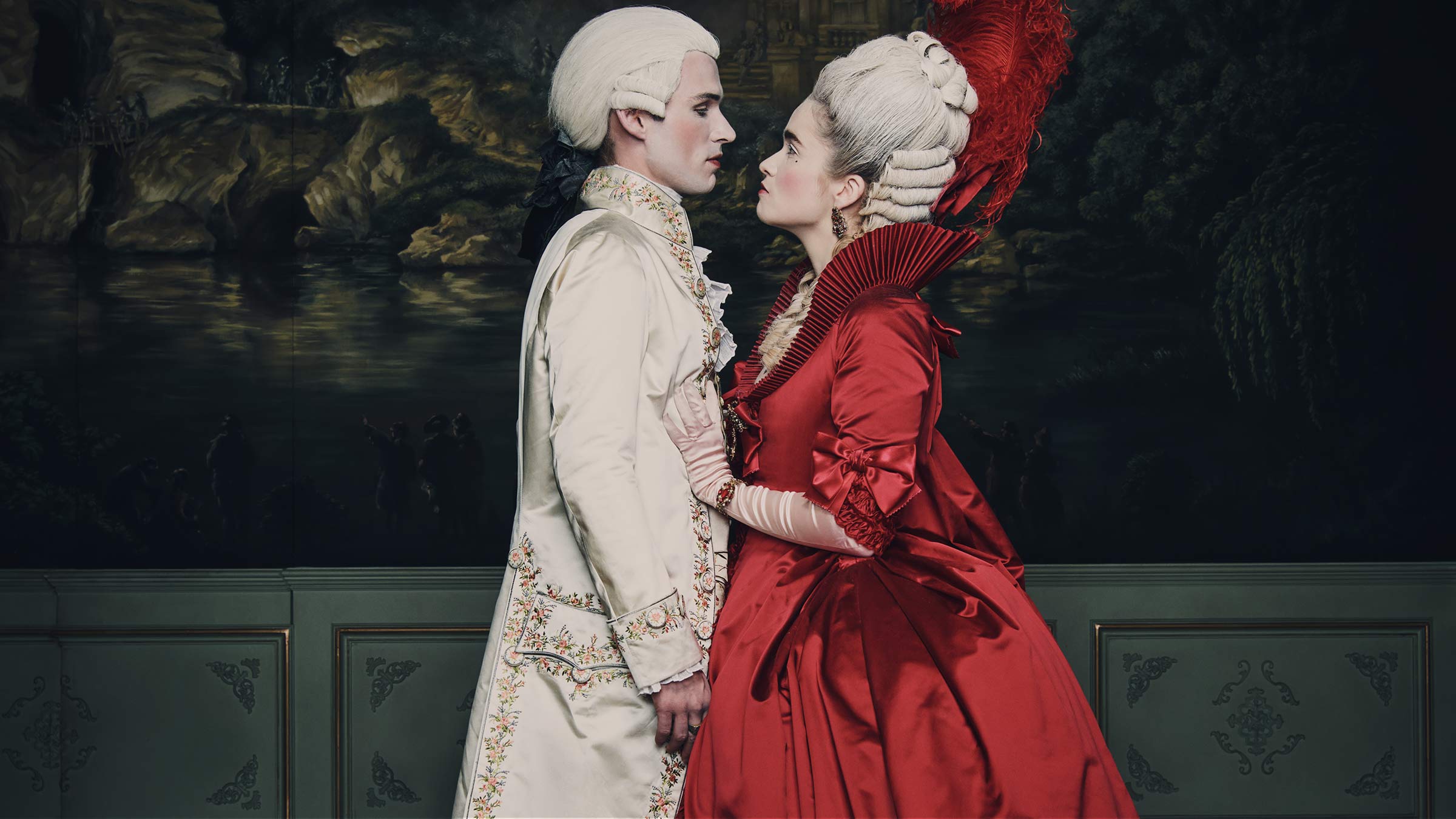 A lavish new adaptation of the classic French novel is coming to LIONSGATE+. We talked to the stars of the series to find out more…

By Chris Miller, Writer
If you thought the racy novel was a 20th-century invention, think again. Jilly Cooper? Jackie Collins? DH Lawrence? French aristocrat Pierre Choderlos de Laclos beat them all to it when he published Les Liaisons Dangereuses in 1782 – and his epic tale of seduction and revenge has proved enduringly popular, with two film versions in the 1980s, numerous stage and TV adaptations around the world, and not one but two teen-movie versions (1999's Cruel Intentions and just this year, a new French-language offering on Netflix).
And now there's a lavish eight-part TV series that brings a new twist to the story of the Comte de Valmont and Madame de Merteuil. While previous versions have portrayed them as middle-aged schemers out to corrupt the innocent, this new adaptation – which starts on LIONSGATE+ this week – reimagines the pair as damaged young lovers torn apart, and keen to exact their vengeance on the world while still harbouring hopes that love will find them.


Alice Englert (Beautiful Creatures, Top Of The Lake) is social-climbing Camille, trying to navigate a world of male power, using her knowledge and secrets to gain influence where she can. Nicholas Denton, in his first major role outside Australia, plays Valmont, a proud man who will stop at nothing to get back what he has lost – but is his taste for depravity just a facade covering his need for love?
Also starring Lesley Manville (The Phantom Thread, Sherwood), Carice van Houten (Temple) and singer Paloma Faith, Dangerous Liaisons promises to be an intriguing, provocative and frankly juicy story of jealousy, obsession and betrayal. And those are definitely all things we love to see in a TV show!
Virgin TV Edit had an exclusive chat with stars Englert and Denton, and here's what we learned about the show…
It humanises its famously spiteful leading characters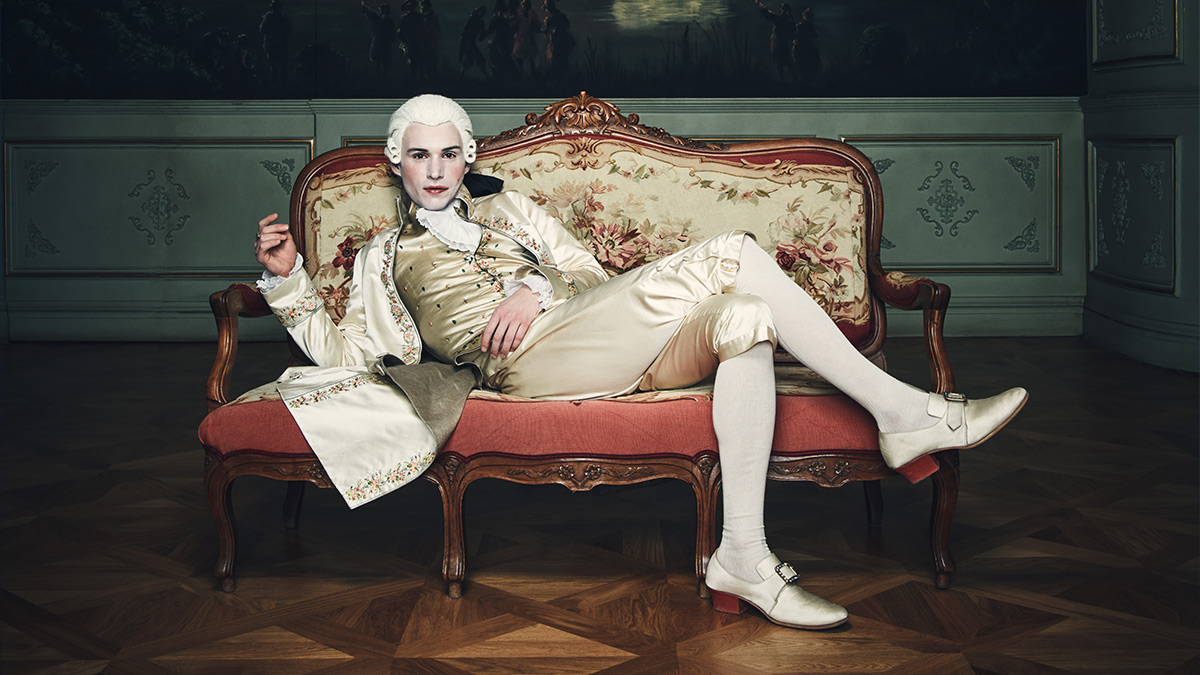 Nicholas Denton plays the cruel libertine Valmont and says, "There's something admirable about his will"

Other versions of the story slowly reveal what happened to Valmont and Merteuil earlier in their lives to make them the cruel, manipulative wrong 'uns they are. Here you're thrown directly into the action and see them caught up in the throes of the beautiful, tempestuous affair that soured them.
"If you're looking at that origin place, it's like, Why do they become those people?" says Denton. "How did they get to that point? What messed with them in their upbringing and life that made them be the way they are?"
Although we think of Valmont and Merteuil as vicious and heinous, Englert observes, the point is that they weren't always like that. "We're in a moment where we want more than just villains. We need to see them when they thought they were heroes."
There are even moments of sweetness
"Sweet" isn't the adjective that leaps to mind when you think of this classic story of depravity and moral corruption, but Englert says it's not completely alien to the characters in this retelling. "They're so caustic and acerbic and cold and kind of… protecting the warm gooey centre that we get to show for a millisecond."
Naturally, it doesn't last. "You get the moment of kind of sweet purity in their connection," says Denton, "but that's very quickly taken from under you. The carpet is ripped away and you're like, 'OK, we're into the game now'."
The costumes are very much part of the story…
"I wish she'd use her courage in a better way," says Alice Englert (Beautiful Creatures) of her character, Camille

One thing you'd always expect from an extravagant period drama set among opulent French aristocrats in the 18th century is incredible costumes. And they're present and correct – but, as Englert points, they indicate more than just how rich the characters are.
When wearing hers, she says, "you definitely feel the inherent misogyny of the time. It's so integral to the role to be able to know what it really felt like, and what it felt like is a straightjacket. There's something really beautiful about the construction of it, but it is like you're moving around in a fortress. Are you trapped in it or are you protected by it? Is this how I keep you out or is this how you keep me in?"
"Is it your armour or is it your prison?" Denton adds.
…whether they're wearing them or not
It's no surprise to find out that the costumes come off – this is the story that scandalised society, after all. But like all the best sex scenes, the ones in Dangerous Liaisons are absolutely integral to the narrative and its themes.
"There's quite a lot of intimacy and sex scenes, and when those clothes are taken off and there's the rawness, that's really where [the characters] find freedom," Denton says. "And why sex is such an important part of this piece is there is that freedom to be expressive and all of who you are. Behind closed doors people are just desperate to get out of those clothes and just live as the humans that they were born to be. Nude and happy!"
"It's true, exactly – nude and happy!" Englert laughs. "An element of it that I love is that this is not just objectification of the body, it's actually the time where they can be themselves. It's character time as well. I love the scenes we have where we're tangled up in bed and just plotting!"
They admired their characters – up to a point
Both admit that, even though their characters act monstrously a lot of the time, they also have qualities the actors wouldn't mind having.
"There's some pretty gnarly qualities of Valmont that I'm pretty happy to be far away from," says Denton, "but he's got a headstrong-ness that I am envious of. He's so committed to the action. I'm pretty flappable as a person at the best of times! He wants something, something that's been taken from him, and he wants to get it back so desperately that he'll do anything that he can. That leads to a lot of pretty unforgivable things, but there's also something admirable about his will."
"There's something in her nerve, her ability to really… hold space, and own it," Englert says of Merteuil. "She is extremely courageous, and courage is sometimes seen as something that will end well. 'Heroes! They're courageous and it all goes good and then they save everybody!' But I feel courage is actually kind of amoral. So I admire that in her, but I wish she'd use her courage in a better way. That's also the appeal of the show: it's so frustrating, they are so incredible and they just go wrong…"
Watching the characters make the choices they do, Denton says, is "like watching a horror film. Like JUST DON'T GO… WHY DID YOU… WHAT DID YOU DO THAT FOR?"
"It is!" Englert laughs. "It's like a horror film, but of society!"
Filming in gorgeous locations can bring its own problems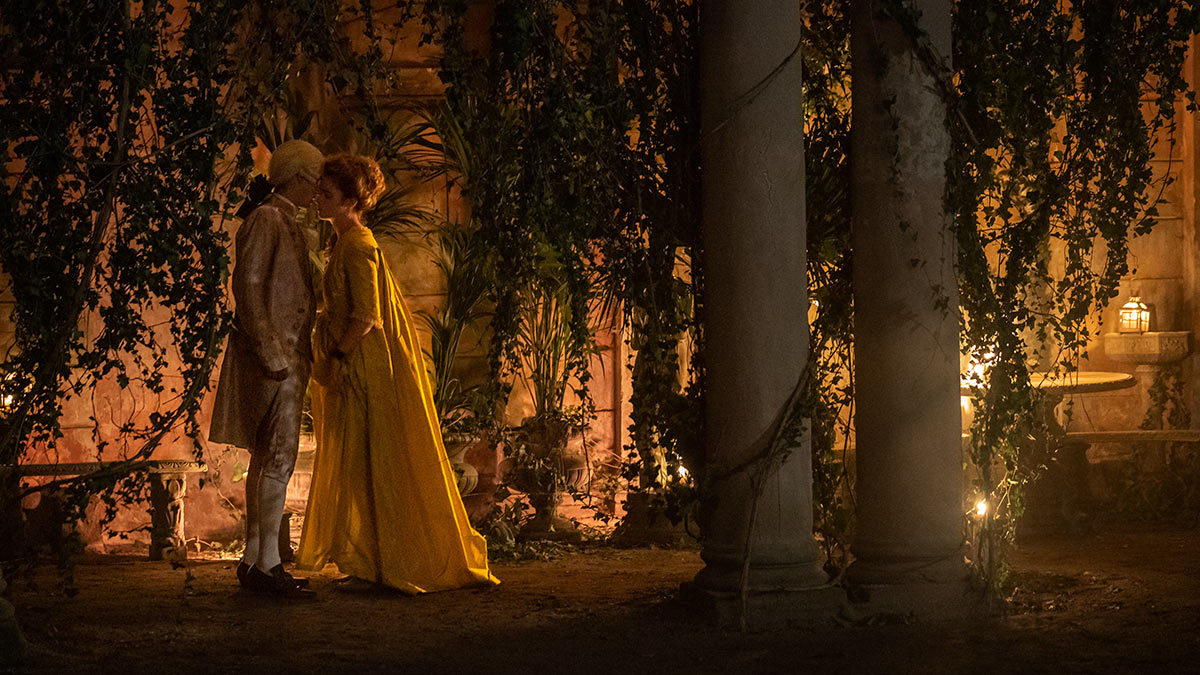 Prague stood in for 18th-century Paris in Dangerous Liaisons and the city looks beautiful on screen, but filming there brought some challenges. "Like when we were on that horse and carriage…" Englert recalls. "We realised that the person driving the carriage, a lovely guy, probably, but he did only speak Czech, and we discovered that as we were yelling, 'STOP… STOP!' No one was hurt but… it was very Scooby-Doo."
How can I watch Dangerous Liaisons on LIONSGATE+?
LIONSGATE+ is the new name for STARZPLAY. If you subscribed to STARZPLAY, you'll find all the brilliant entertainment you enjoyed previously in Box Sets > LIONSGATE+. Not a subscriber and want to upgrade? Simply go to Apps & Games > Upgrade.
When does Dangerous Liaisons start on LIONSGATE+?
The first episode will be available on LIONSGATE+ on Sunday 6 November, with a new episode released every Sunday.
Interviews: Any opinions expressed in interviews are those of the interview subject and not those of Virgin Media.
TV channels: Channels, content and features available depend on your chosen package. Channel line-ups and content are subject to change at any time and to regional variations.
HD: HD TV set, V HD Box, TiVo box or Virgin TV V6 connected with HDMI cables required for HD channels. Number of inclusive HD channels depends on package.
On Demand: Content available to view depends on TV package. Time limits apply for viewing chargeable On Demand content – see virginmedia.com. Once purchased, all chargeable On Demand content must be viewed within 48 hours. Premium channels and upgrades must be kept for at least 30 days.
LIONSGATE+: LIONSGATE+ is a premium On Demand service available on Virgin Media. LIONSGATE+ shows a wide range of movies and TV Box Sets, including a number of Original series, many of which premiere the same day as the US. It costs £5.99 a month to subscribe to the service.
STARZPLAY rebranded to LIONSGATE+ on 29 September. Apart from the change to the name, there is no other change to the service for customers. STARZPLAY subscribers should go to Box Sets > LIONSGATE+ to find shows ready to enjoy.
For any Virgin TV customers who currently don't have access to LIONSGATE+, use the Upgrade App on your Virgin TV to upgrade through your Virgin set-top box.
Please note LIONSGATE+ is not an app. Content is available to view in the On Demand area. All customers can search and click on the content, but as with other premiums, they can only view once they have subscribed.