Skip to main content
Time travel, demons, space, superheroes, scoundrels – this DC comic-inspired show has it all… and then some
DC's Legends Of Tomorrow, Wednesday 31 October, 8pm, Sky One/HD (CH 109/110). Also available for 30 days in Catch Up > Channels > Sky One
Breathing new life into a host of overlooked and underappreciated characters from the pages of DC Comics, DC's Legends Of Tomorrow is a super spin-off/team-up force to be reckoned with. The series follows the titular Legends – a bizarre band of space-faring, dimension-hopping superheroes and antiheroes – as they work to protect (or control) the very fabric of space-time.
Part of the crossover-centric Arrowverse that's also home to popular superhero shows The Flash, Supergirl and – obviously – Arrow, Legends Of Tomorrow is the barmy black sheep of the family. The show is fun, clever, emotional and completely over the top, pretty much all at once, and all the time.

The show also seems to reinvent itself on a regular basis, and that quality looks set to continue in season 4. But before the team return to board the good ship Wave Rider, we answer some of the big questions to get you bang up to speed and fighting fit…
So what happened in season 3?
Season 3 saw the Legends battling and ultimately defeating an extremely powerful demon called Mallus with the help of a series of totems they acquired across the series that, when combined, formed a giant, demon-destroying, stuffed blue bear called Beebo. Yes, really. But just as things begin to wind down, party-pooper John Constantine (Matt Ryan) arrives and warns the Legends that their actions have made things much, much worse.
How "much, much worse" can things get?
As it turns out, the Legends' campaign against Mallus released a slew of other menaces, who are now scattered across time and space. These magical "Fugitives" are sure to give the team plenty of trouble as they deal with the fallout from their battle.
Just how does this Constantine character know so much?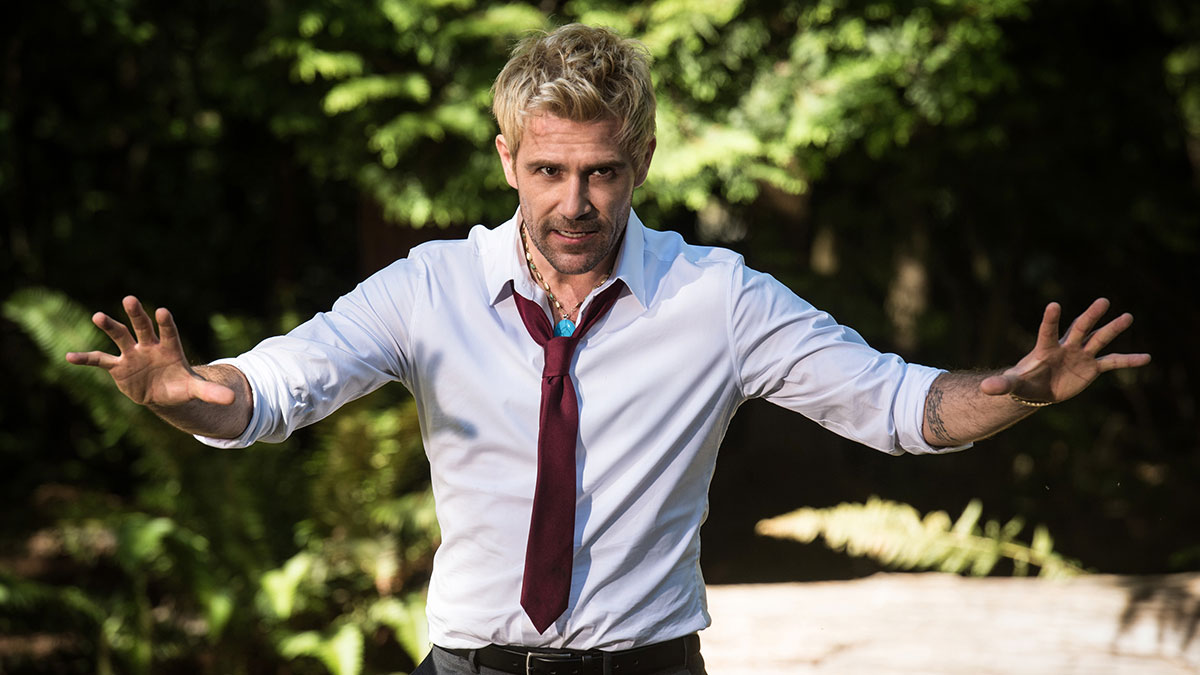 With more magic on the cards in season 4, the demon-hunting, spell-casting and frown-wearing British detective John Constantine is just the man for the job. In the comics and the show, Constantine is an expert on the occult and a magic user (but only when absolutely necessary). He's notorious for being a loner, so it remains to be seen whether this moody magus can find common ground with his teammates – don't expect him to crack a smile any time soon!
Who else is in the team?
The Legends of Tomorrow line-up has always been gleefully fluid; chopping and changing across seasons almost as quickly as the speed at which they flit across time. But Sara Lance aka White Canary (Caity Lotz), Ray Palmer aka Atom (Brandon Routh), Mick Rory aka Heat Wave (Dominic Purcell), Nate Heywood aka Steel (Nick Zano) and Zari Tomaz (Tala Ashe) are all confirmed for season 4.
Another notable addition is magical creature expert Alaska Yu (Ramona Young), who is drawn in to help track the bad guys the Legends inadvertently unleashed. With the disposition of an eager student, she'll make an interesting sparring partner for the weary, highly cynical Constantine.
So it's superheroes chasing monsters across time and space?
Well, yes, but that's not all. If season 3 was anything to go by, you can bet your cape that there'll be a battle of epic, world-shaking proportions. Look out for the rise of DC comic book baddie Nora Darhk, as the actress who played her in season 3 has been made a series regular.
There's also the small case of a certain actress returning for season 4, despite the fact that her character returned to her own timeline in the previous season, effectively "leaving" the show. Whoever she ends up playing, word on the street is that her character won't be on friendly terms with the Legends – far from it!
Sounds like a handful. Will they get any help?
While it's a tradition to have a massive crossover Arrowverse episode each season and across all its shows, the Legends are sitting it out this year. This may well mean that no one will be flying in from another show to lend a hand. This year's crossover is all about Gotham City, where The Flash, Green Arrow, Supergirl and Superman are expected to drop by and meet the brand new Batwoman (Ruby Rose) ahead of the launch of her very own show.
Despite keeping to themselves this year, the Legends cropped up in the first episode of season 5 of The Flash. Grant Gustin's Barry Allen was presented with "The Flash Ring", which he was told was made by Ryan Choi – the same Choi who was under the tutelage of Routh's Atom, before taking up the name "Atom" himself. Could this spell the beginning of the end for Routh? Or will there be a passing of the baton between the two Atoms at some stage down the line? Tune in to find out.

TV channels: Channels, content and features available depend on your chosen package. Channel line-ups and content are subject to change at any time and to regional variations.
HD: HD TV required to view HD channels. Number of inclusive HD channels depends on package.
Catch Up TV: Catch Up TV content available for up to 7 days or up to the 30 days after broadcast, depending on content.