Skip to main content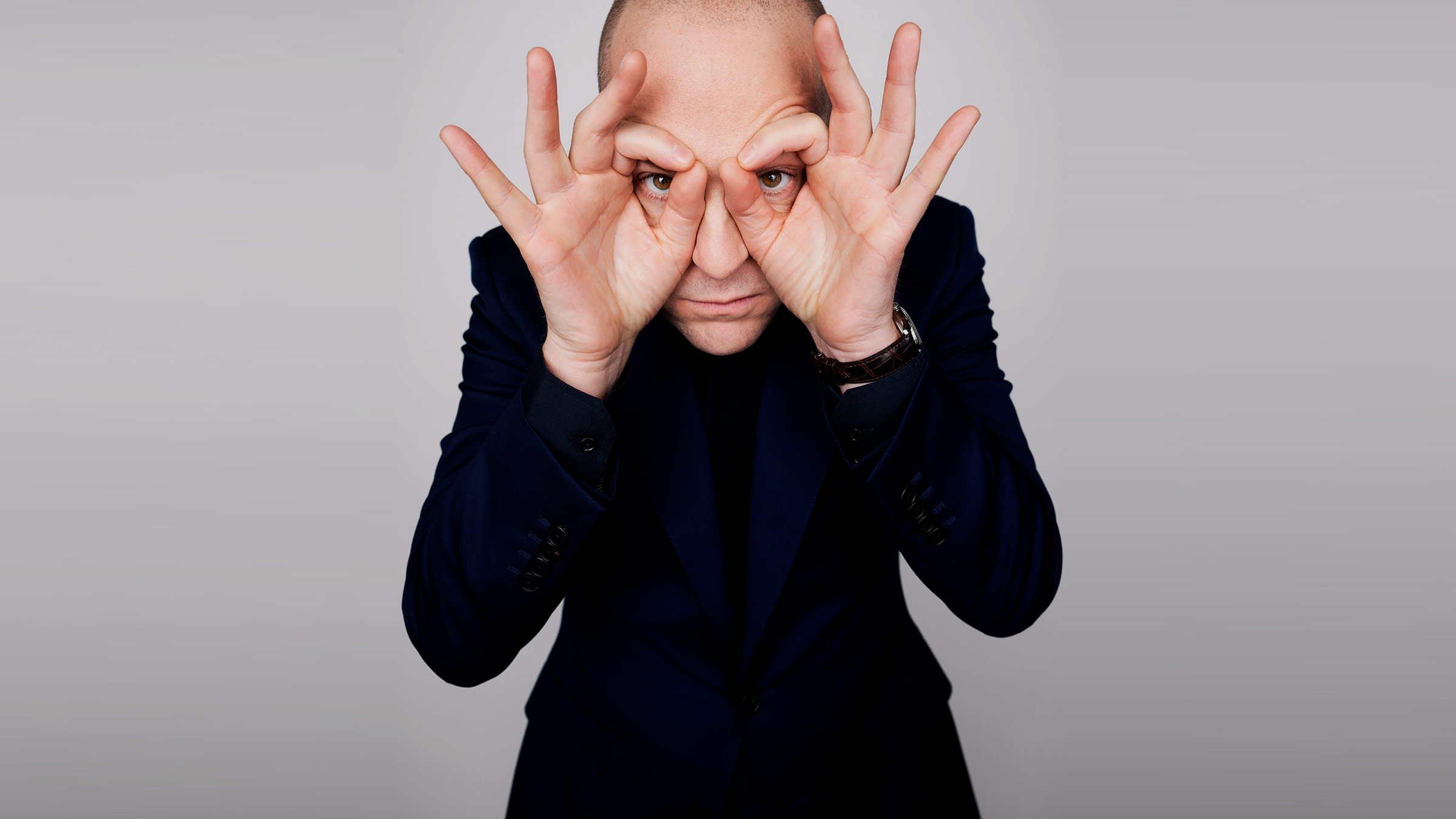 In a new two-hour special, Derren Brown revisits his most daring and shocking stunts, while the public votes for their favourite moment
By Laura Rutkowski, Staff Writer
Psychological illusionist Derren Brown is up to his old tricks again, and new ones – he will perform a live stunt with an unsuspecting participant for Derren Brown: 20 Years of Mind Control: Live. As well as performing his latest feat, he will also talk through the meticulous logistics involved in some of his most iconic achievements.
These include correctly predicting the National Lottery result and hypnotising a member of the public into attempting to assassinate national treasure Stephen Fry! But don't fret, we're sure he'll leave a few tricks up his sleeve.
After the show, Brown will introduce Derren Brown's Greatest Stunt. He's shortlisted five of his favourite stunts that viewers can vote for before the show airs. The winner will be revealed on the night.
The multi-award-winning mentalist first appeared on our screens in 2000 with the Channel 4 series Derren Brown: Mind Control and has gone on to have six shows and 13 specials. He often attributes his performances to "magic, suggestion, psychology, misdirection and showmanship".
Let's revisit the top five times Brown made our jaws drop, then cast your vote for your favourite moment on Facebook. The vote closes at 5pm on Thursday 13 August.
Russian Roulette (2003)
Find Derren Brown: Plays Russian Roulette Live in Apps & Games > All 4
Brown performed Russian roulette live! That involves loading a bullet into a revolver, spinning the cylinder and then pulling the trigger while pointing the gun at your own head. Brown chose a man called James (picked from 12,000 applicants) to be the only person in the room during this dangerous game of chance.
James loaded a bullet into a revolver with six numbered chambers. Brown alternated between aiming the revolver at his head and at nearby sandbags. On his fifth chance, Brown shot the live round into a sandbag. Intense? The 3.3 million viewers who tuned in likely agreed!
The Heist (2006)
Find Derren Brown: The Heist in Apps & Games > All 4
During a "motivational seminar", which contained subliminal messages, Brown selected four participants, who he manipulated into robbing a security van in broad daylight. The idea was that they would commit the crime of their own free will and not because anyone instructed them to.
Three out of the four people went through with it, holding up the van and guard (played by an actor) and stealing a case filled with real cash. Earlier, Brown had given them a realistic-looking toy pistol, which they also used. Powerful stuff!
Hero At 30,000 Feet (2010)
Find Derren Brown: Hero At 30,000 Feet in Apps & Games > All 4
Matt Galley, who had a phobia of flying and hadn't been on a plane in ten years, was hypnotised by Brown, who convinced him to pilot a fake plane. Matt boarded a flight travelling to Jersey, and during the flight, it was announced the captain had been taken ill and they needed a volunteer to land the plane. Galley volunteered and that's when Brown put him in a trance.
After the plane landed, Galley was placed in a flight simulator and woken. A man who said he was an air traffic controller talked him through landing procedues and Galley completed it successfully! When he exited the simulator, Galley's friends and family were waiting to congratulate him.
Apocalypse (2012)
Find Derren Brown: Apocalypse Part One and Derren Brown: Apocalypse Part Two in Apps & Games > All 4
A man named Steven, described as having a "lazy sense of entitlement", received the 28 Days Later treatment to show him that he shouldn't take life for granted. He woke up in an abandoned military hospital, convinced a huge meteorite hit Earth, which led to the world's destruction.
As one of the few survivors, he had to navigate a zombie wasteland. The show, which drew in 2.3 million viewers, took months of planning and included hacking Steven's phone, controlling his news feeds and Twitter, recording special versions of TV and radio shows and more than 200 actors.
Pushed To The Edge (2016)
Find Derren Brown: Pushed To The Edge in Apps & Games > All 4
Brown's boldest stunt to date aimed to test whether he could drive someone to murder a person they'd never met before. During an audition for one of his shows, he conducted an experiment to test for high levels of social conformity. Four were shortlisted, but all were told they hadn't made it.
Two months later, Chris Kingston (one of the shortlist, unaware he was being filmed), was invited to attend a charity launch, believing he had won a software contract. At the event, a wealthy donor (played by an actor) appeared to die, but when he woke up and discovered what unfolded that evening, it culminated in a moment where Kingston was pressured to push the donor off the roof to his death.
But he refused! Brown then revealed the three others shortlisted also all participated and did push the donor to his apparent death (don't worry, a safety harness was used)! Wow!
When is Channel 4's Derren Brown, 20 Years of Mind Control: Live on TV?
Derren Brown, 20 Years of Mind Control: Live airs on Channel 4/HD (CH 104/141) at 9pm on August 16th. It is followed by Derren Brown's Greatest Stunt at 11.10pm. The shows are also available for 30 days in Catch Up > Channels > All 4.
TV channels: Channels, content and features available depend on your chosen package. Channel line-ups and content are subject to change at any time and to regional variations.
HD: HD TV set, V HD Box, TiVo box or Virgin TV V6 connected with HDMI cables required for HD channels. Number of inclusive HD channels depends on package.
Catch Up TV: Catch Up TV content available for up to 7 days or up to 30 days after broadcast, depending on content.