Skip to main content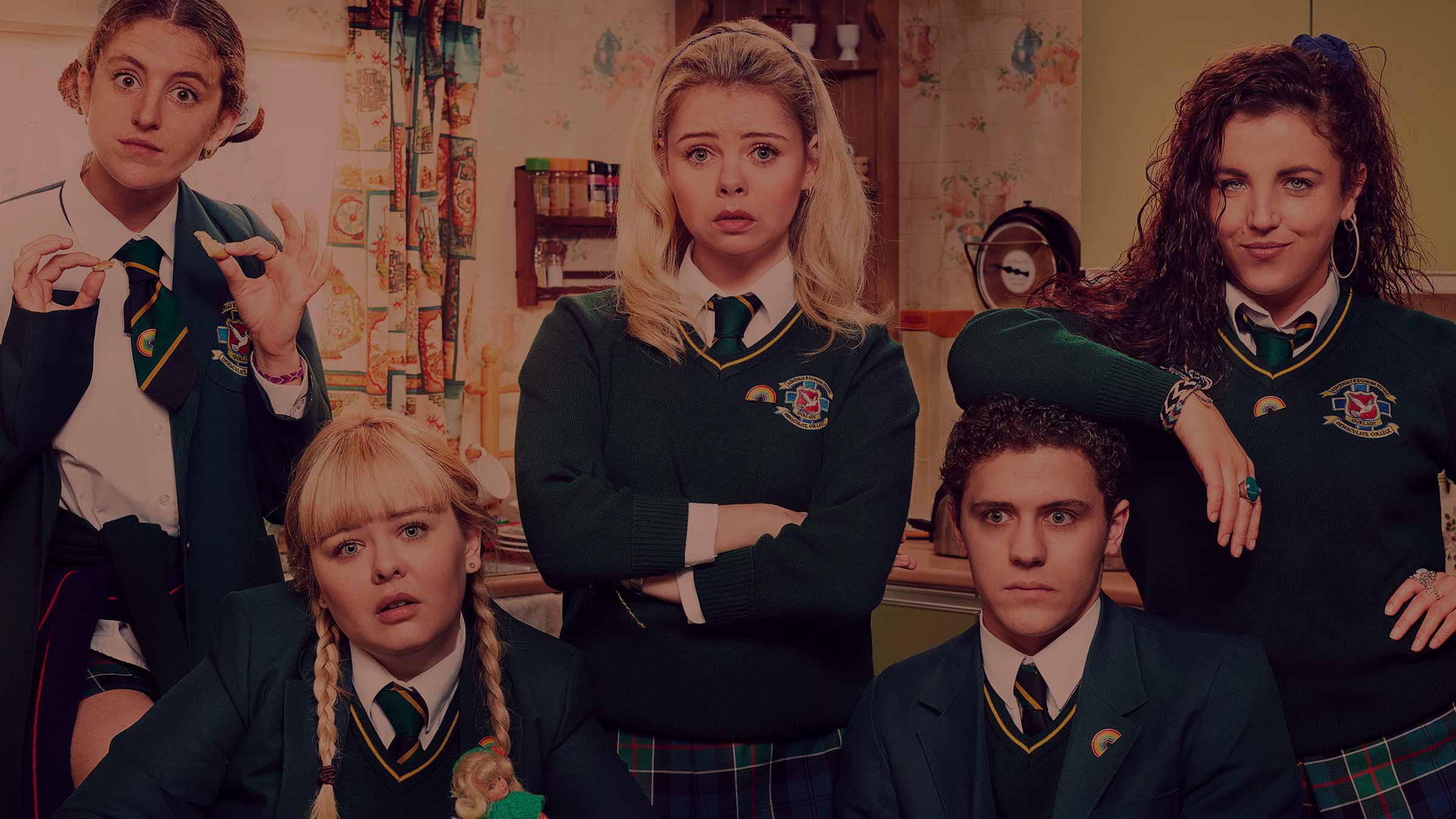 It's one of Britain's favourite comedies – and the most-watched show in Northern Ireland (yep, bigger than Strictly and Bake Off)
Derry Girls, Tuesdays, 9.15pm, Channel 4/HD (CH 104/141). Also available for 7 days in Catch Up > Channels > All 4
By now, everyone knows the origin story of a big British comedy. They're typically launched to little fanfare and go somewhat unnoticed (by viewers at least – the critics tune in and slate them). They look to be heading for a swift exit, or swexit… until they're saved at the last minute. From relative obscurity, they go on to become classics, and as much as part of British life as tea and apologising profusely. But that's not the case with Derry Girls.
Following four young girls (plus "wee English fella" James) as they navigate teenage life in Northern Ireland during the Troubles, the first episode of series 1 ended with a dead nun slumped face down in detention, the girls caught rifling through her handbag and James relieving himself in a bin. It was renewed for a new series before its second episode even aired and has grown exponentially since then, averaging 2.5 million viewers. There's even a giant mural of their faces in Derry – a tribute normally earmarked for political icons.
We meet the cast in Channel 4's London offices inside a tiny meeting room just big enough to seat us all – a world away from writer Lisa McGee's impeccably pitched show. Outside, everywhere has gone Derry Girls crazy. Nicola Coughlan, who plays straight-laced Clare, knows that too well: "I went to New York, and loads of people stopped us to talk about the show and buy us shots in bars. It's unbelievable how far it has travelled." And it's not just the US; the girls are getting daily messages from fans in countries like Cuba, Brazil, Canada and Spain, to name a few, "but they're watching with subtitles," chuckles Saoirse-Monica Jackson, a Derry native who plays ringleader Erin. "After the viewing figures came in, we could not wrap our heads around it. I just can't imagine 2.5 million, my mind doesn't work like that… that's a lot of M&Ms."
Series 2 is already a hit, putting to rest fears about "second album syndrome", and the cast tease that the best is still yet to come (with an episode set during a school prom said to be an absolute classic). "As the series goes on, you'll see different sides to some of the characters, like when you saw a vulnerable side to Claire in series 1 with the whole coming out thing," says Dylan Llewellyn, who plays James – the only boy at the all-girls Catholic school, and the only English voice onscreen. We'll also see the introduction of comedian Ardal O'Hanlon ("that was such a fun couple of days," says Saoirse-Monica) and even more of Siobhan McSweeney's hilariously demoralising Sister Michael, a character summed up perfectly by a line in series 1, uttered to a group of exam-fearing students: "If anyone is feeling anxious, worried or maybe you just want a chat, please, please, do not come crying to me."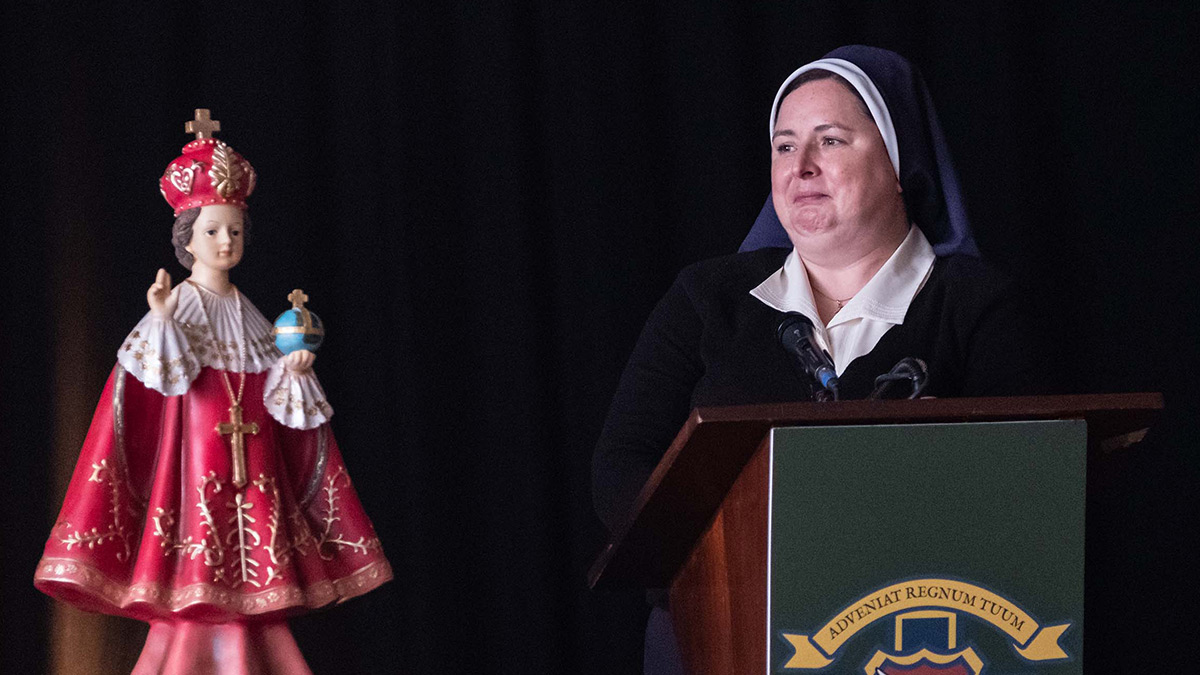 The success of the show means the actors are now recognised almost everywhere – and nowhere is that truer than in Derry itself, where the cast are practically rock stars. "But when we're filming, everyone is so respectful. They wait to get photos, or they tell each other to be quiet, and they don't give out any spoilers," says Louisa Harland, whose spaced-out Orla might be Derry's answer to Father Ted's Dougal. "There are magnets with our faces on them in the newsagents, and that's never going to get old." Well, maybe not for everyone. "Going back to my mum's house, she buys every bit of merchandise with our faces on it. I'm always telling her she doesn't need any more," adds Saoirse-Monica. As for discounts, forget it. Even the show's creator was charged full price when she picked up a Derry Girls jumper locally – a bargain at £20.
The show has resonated with a wide audience, partly because it's simply beautifully written TV with universal themes of growing up and misbehaving – not to mention its razor-sharp one-liners like, "I wanted to be an individual, but my ma wouldn't let me". But it's very much rooted in its setting and the political context of 1990s Northern Ireland. "I remember paramilitaries being present in Derry when growing up," says Saoirse-Monica. "It's done in such a brilliant way and the people of Derry have really taken this show to their hearts. It's genuine and original, and it's the first time that we've seen this period through comedy." Indeed, rather than showing a state living in fear, Derry Girls makes it clear how everyday life went on – an Orange Order march is an inconvenience, a bomb scare means a missed hair appointment. After the girls worry about getting in trouble in series 1, gobby Michelle (played by Jamie-Lee O'Donnell) says: "Nobody actually gets expelled. Rhonda Gallagher hasn't even been expelled and she's in the IRA." Erin dryly replies: "I'd say that's probably why."
If the first series was largely light in tone, its ending packed an emotional punch. Like the ending of Blackadder, it was a rare moment of seriousness made all the more moving by it's presence in a show with such a high joke ratio. A scene is which Erin's family silently watches a TV report about a bombing that killed 12 people is interspersed with shots of the girls dancing carefree in a school talent show – the hope of youth against a background of tragedy. Many viewers took to social media after the episode aired to reveal how it brought them to tears, while others said it encouraged them to learn more about the Troubles. "I was very nervous reading the script, because I wanted to get that bit right, and it was just beautifully written," says Louise. "But I think we earned that still moment, I think that's what is so clever about Lisa's writing."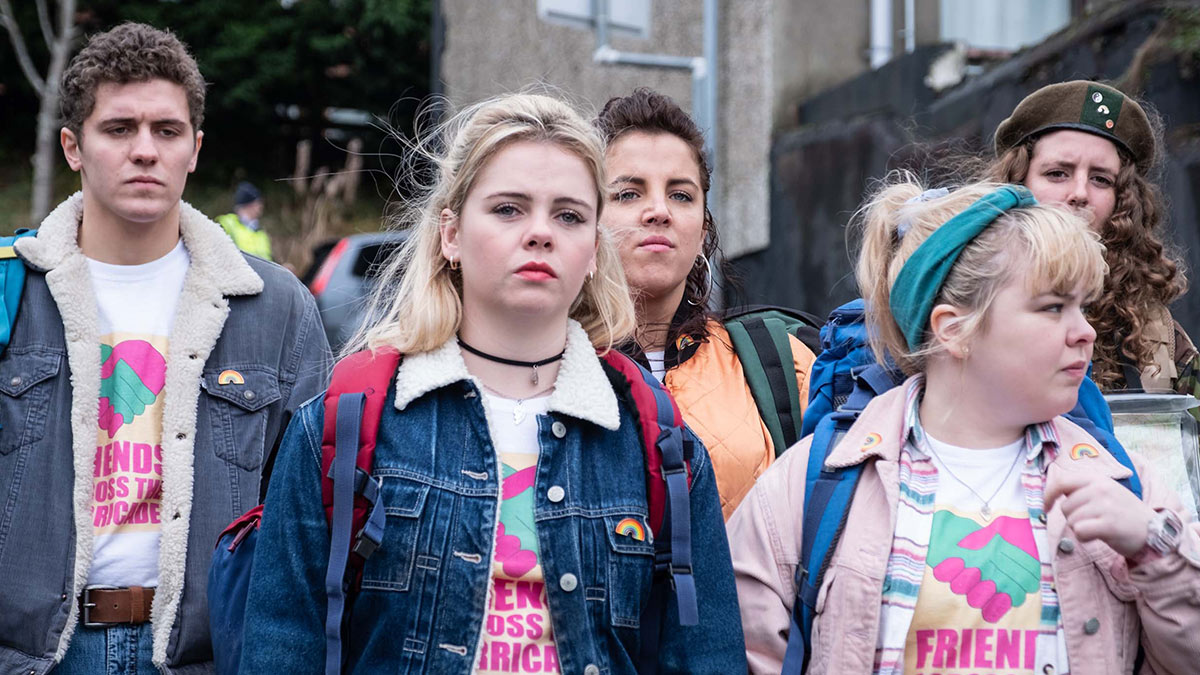 It's easy to compare Derry Girls to another huge Channel 4 hit about badly behaved schoolkids, but the cast find the comparison flattering. "Watching The Inbetweeners when I was younger, it was always on my acting career bucket list to be in a show like that, so this has been perfect," says Dylan. That show ended with two movies, so will we see Derry on the big the screen? McGee says she's not averse to the idea, and the cast already have some ideas of their own. "Maybe we should do something mental, like living in space," suggests Nicola. "You could just let us write it and it would be absolutely horrendous." Louise pitches in: "I would love to go to Magaluf!" "Could you imagine us in Magaluf," says Saoirse-Monica, unable to control her laughter. "Could you imagine Claire in Magaluf? Jesus Christ, Ola in Magaluf! Imagine Michelle in Magaluf – that's a spin-off series." As she so often is on the show, Nicola provides the voice of reason: "We've pitched things to Lisa in the past, and she's like… "no"." Meanwhile, their ideas for cameos range from Dara O'Briain and Dylan Moran to Madonna and Kanye West.
Common wisdom would dictate that we may now be closer to the end of this great show than the beginning, and McGee says she has a clear ending in mind, with the characters remaining around the same age, leaving the action rooted in the 90s. With Bill Clinton's visit to Derry in 1995 featuring in this series – a moment seen as key to the eventual peace process – will the girls undergo a similarly radical transformation? Maybe it'll happen in a small way, with their beloved Friday night chip shop order finally switching to pizza? "Pizza is just glorified cheese on toast," deadpans Saoirse-Monica. In other words: catch yourself on…
TV channels: Channels, content and features available depend on your chosen package. Channel line-ups and content are subject to change at any time and to regional variations.
HD: HD TV set, VHD Box. TiVo box or Virgin TV V6 connected with HDMI cables required for HD channels. Number of inclusive HD channels depends on package.
Catch Up TV: Catch Up TV content available for up to 7 days or up to the 30 days after broadcast, depending on content.
Interviews: Any opinions expressed in interviews are those of the interview subject and not those of Virgin Media.