Skip to main content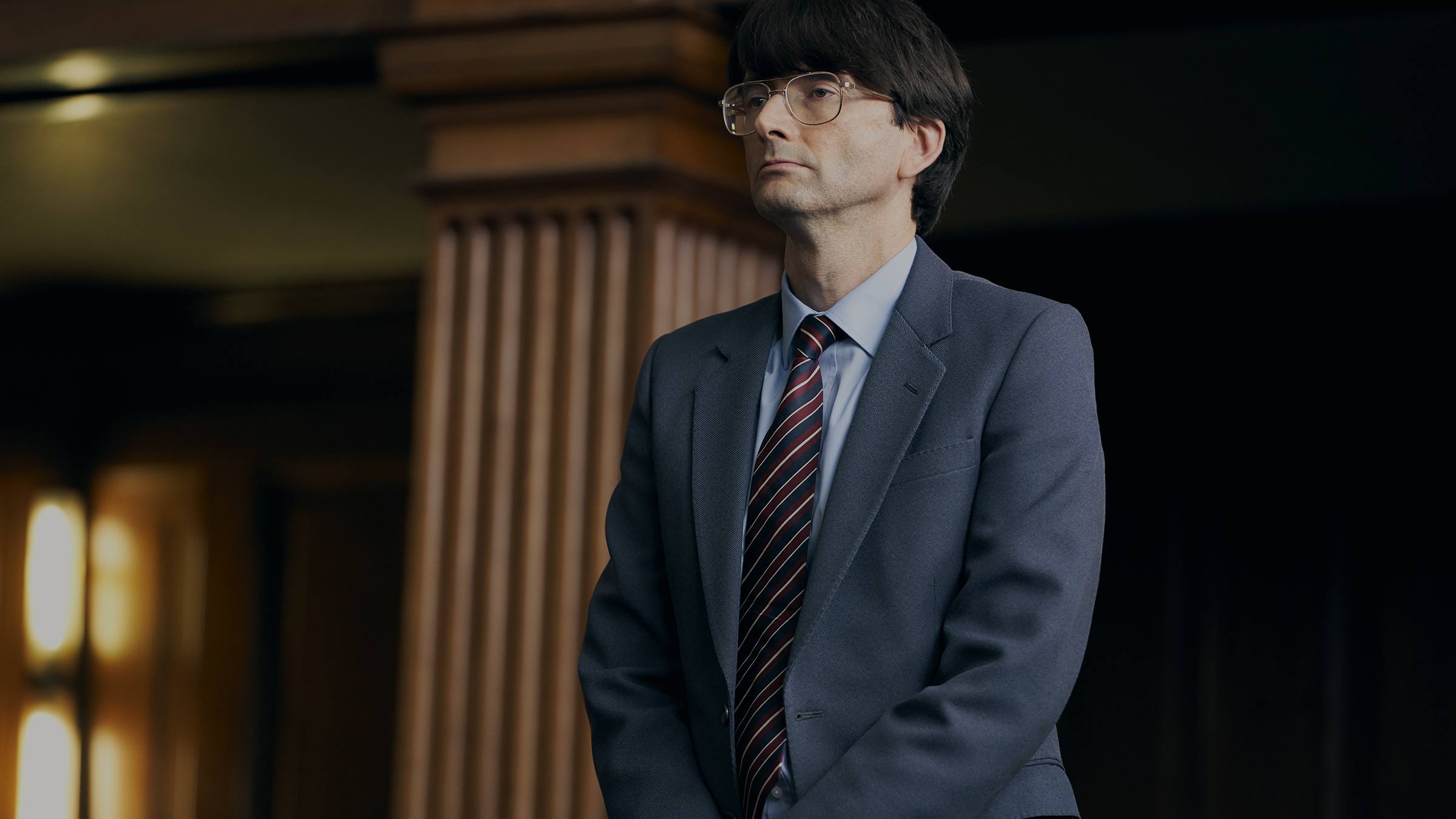 David Tennant stars as real-life serial killer Dennis Nilsen in this new ITV series. We spoke to the cast and creatives to find out everything you need to know
By Laura Rutkowski, Staff Writer
Des is an unusual true crime drama in that it begins with an arrest, but truth always is stranger than fiction. There's not much build up or fanfare and Dennis "Des" Nilsen (played by David Tennant) actually willingly enters the police car, admitting, quite calmly, that, yes, he did murder around 15 or 16 men. In fact, there's the impression that he wanted to be caught. He wrote a letter to his landlord complaining that the drains were blocked outside his flat, and that turned out to be his undoing. The plumber uncovered human flesh and bones, from the individuals Nilsen killed.
Nilsen, a Scottish civil servant, spent the years between 1978 and 1983 killing boys and young men in London. Most of them were homeless and vulnerable and were grateful for his offer of food and shelter at his home. He lived at two different addresses during that time, the infamous 23 Cranley Gardens and 195 Melrose Avenue, which is where he murdered, dismembered and then occasionally committed sexual acts on the bodies. He would dispose of the remains by a bonfire or by flushing them down the toilet.

In February 1983, Nilsen was caught and ready to confess all. As Daniel Mays, who plays DCI (Detective Chief Inspector) Peter Jay, describes it, "It was strange, because it was a murder case in reverse. As soon as they arrested Nilsen and they interrogated him, he didn't stop talking. Nilsen said it was like he was unburdening himself". However, his apparent cooperation was entirely unhelpful because he couldn't remember any of the victims' names.
Des charts the frustrating process of attempting to identify the victims in order to charge Nilsen and provide justice for their families. Each episode in the three-part series is told through the lens of three individuals. Nilsen, Jay and Nilsen's biographer Brian Masters (Jason Watkins), who wrote Killing For Company: The Story Of A Man Addicted To Murder, which the series is based on, all provide an account of the grisly events.
Tennant says there was frequent discussion among the team about Nilsen's motivations for killing and whether he really did forget the victims' names, but it's impossible to reach a conclusion. "He remains an enigma," he says. In the series, at the police station when Jay asks Nilsen why he carried out these crimes, his response is, "I don't really know. I was hoping you could tell me that." It's up to you as a viewer to make up your own mind about the walking contradiction that was Nilsen.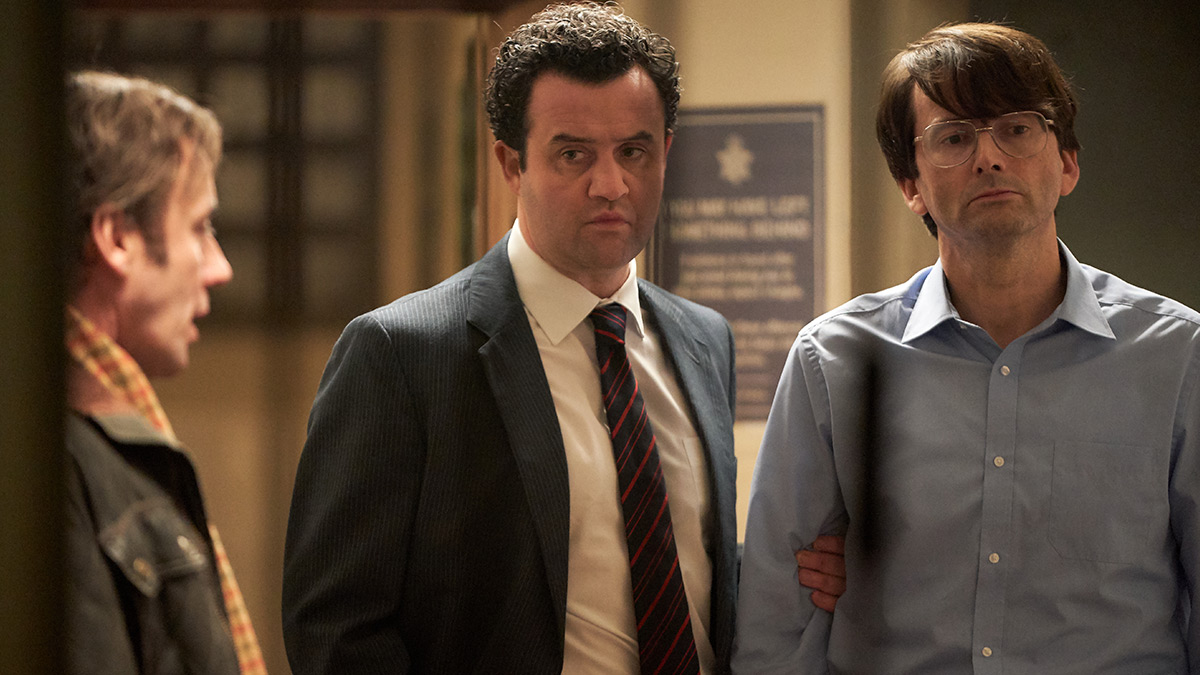 The arrest: Peter Jay's approach was to treat Dennis Nilsen with "kid gloves", says Daniel Mays. "He championed the fact he was in that interrogation room and was incessantly talking. It's a great investigation into policing in the early 80s."

We spoke to the cast, as well as Lewis Arnold, co-creator, director and executive producer, and Luke Neal, co-creator, writer and executive producer, who answered the big questions surrounding the series. And yes, Tennant does talk about what's been running through everyone's minds – his uncanny physical resemblance to Nilsen…
Are any of the crimes shown in the series?
Luke Neal: "Very early on, we knew we didn't want to show any of the crimes that would give a salacious version of these events. The only thing those poor men did was go home with someone they met in the pub for a few more drinks that night. They didn't deserve to be gratuitously shown on a TV drama. We wanted to tell another story, which is the human cost of Dennis Nilsen, what comes after he's caught and the people that have to investigate."

How did David Tennant get involved?
David Tennant as narcissistic psychopath Dennis Nilsen

David Tennant: "I'd read Killing For Company many years before, partly because I lived just down the road from Cranley Gardens, so it felt like a bit of local history. A couple of people had said, "Ooh, he looks a bit like you," which, of course, as an actor, you go, "Does he? Really?" and then you start investigating the story and you think, "This is unfathomable." From an acting point of view, these are the psychologies you are fascinated by. Trying to unpick what went on in the mind of someone like that is horrifying – and fascinating.
"I was 12 when Nilsen was arrested, so it was a name I was aware of. He was a sort of Boogeyman in the national consciousness from the 80s. I read a very early draft that Luke had written and I thought it absolutely found the right way to tell the story. It wasn't sensationalist. It wasn't celebrating the violence. It was memorialising the victims."
Did the cast meet the real people they were playing?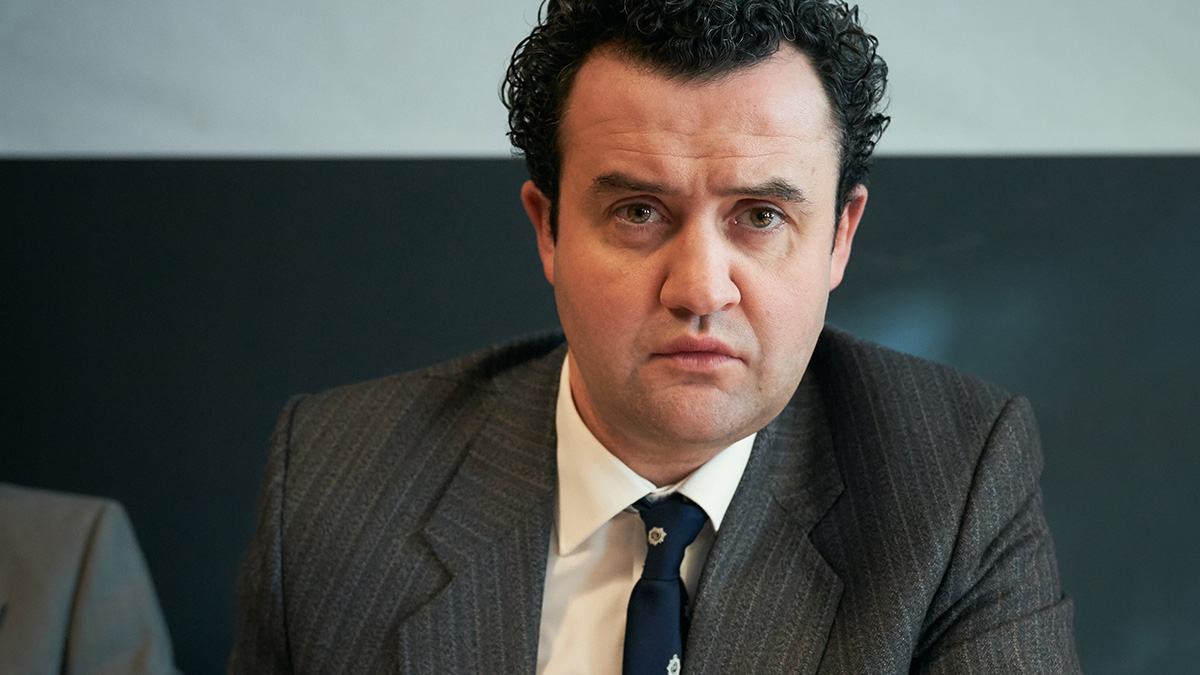 Daniel Mays as DCI Peter Jay, who left the police force two years after the Nilsen case

Daniel Mays: "I had a lovely lunch with Linda, Peter's widow, and Simon, their son. I felt like I really got to know Peter so much better after that lunch. They stressed to me that it was all about getting closure for the families. He was a diligent, hardworking, experienced policeman. It was such a laborious, time-consuming and difficult case to work on with the eyes of the media on him and his team. He said he'd never encountered evil like that before. I also got an opportunity to read Peter's unpublished memoirs, which were a great source of information."
Jason Watkins: "I met Brian Masters at the Garrick Club, which is an indicator of the kind of person Brian is. I thought of him being more bookish, but he's not at all. He's so colourful and very eloquent, almost 19th century, in the way he speaks. He's quite in control and he's a good storyteller, so when you put somebody like that in front of Nilsen, it becomes even more interesting."

Is Dennis Nilsen still alive?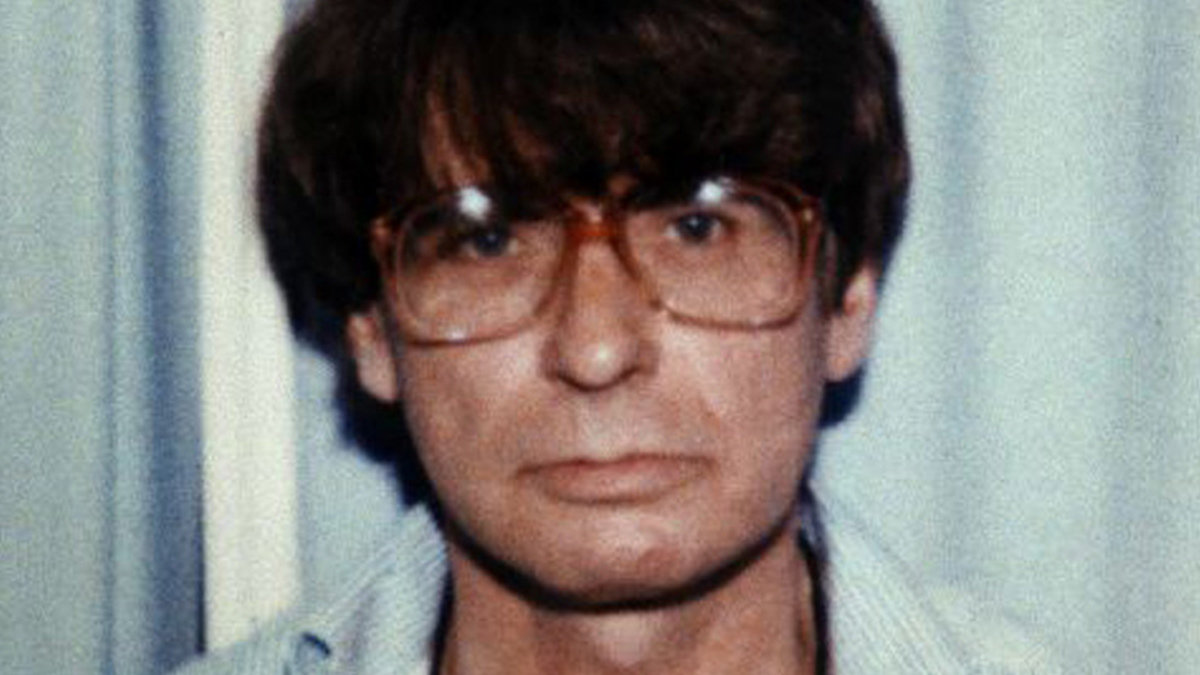 The real Dennis Nilsen

DT: "When we started developing this, he was still alive. I'm very relieved he's not now [he died in 2018], because I would hate for this to go out and for him to be sitting in a cell somewhere, imagining that we were in any way glorifying him. I'm sure he would have complained about everything we said and everything we did, but at the same time would have been smugly pleased that he was on television. Whenever he slipped out of public consciousness, even in prison, there was almost a sense that he wanted to get back into it. So I think it's right and proper that this is transmitting after he's gone."

Why is the drama called Des?
LN: "Des was a name that Nilsen called himself and what people who knew him [called him]. Nilsen was the head of a union. He was someone who was a champion of the downtrodden. He was someone who was nice to people who needed an ear or a pint in the pub. But Des was a construct that Nilsen made in order to get people back to his flat to kill them.
"Des to me is a fallacy that allowed Nilsen to control his own narrative. The job of Brian and Peter in the series is to get past Des, to get past someone people nicknamed the "Kindly Killer," which doesn't make any sense when you know the horrific things he did. They have to get past that in order to find out how this man got away with killing for five years."

How did the press report on the case?
JW: "Brian [who is gay] was appalled at the way certain elements of the press had inferred that the dysfunctionality of a murder is somehow akin to the perceived dysfunctionality of being homosexual. At that time, that seemed to be a very prevalent thing and was one of the things he wanted to redress as he dived into the prospect of interviewing Nilsen."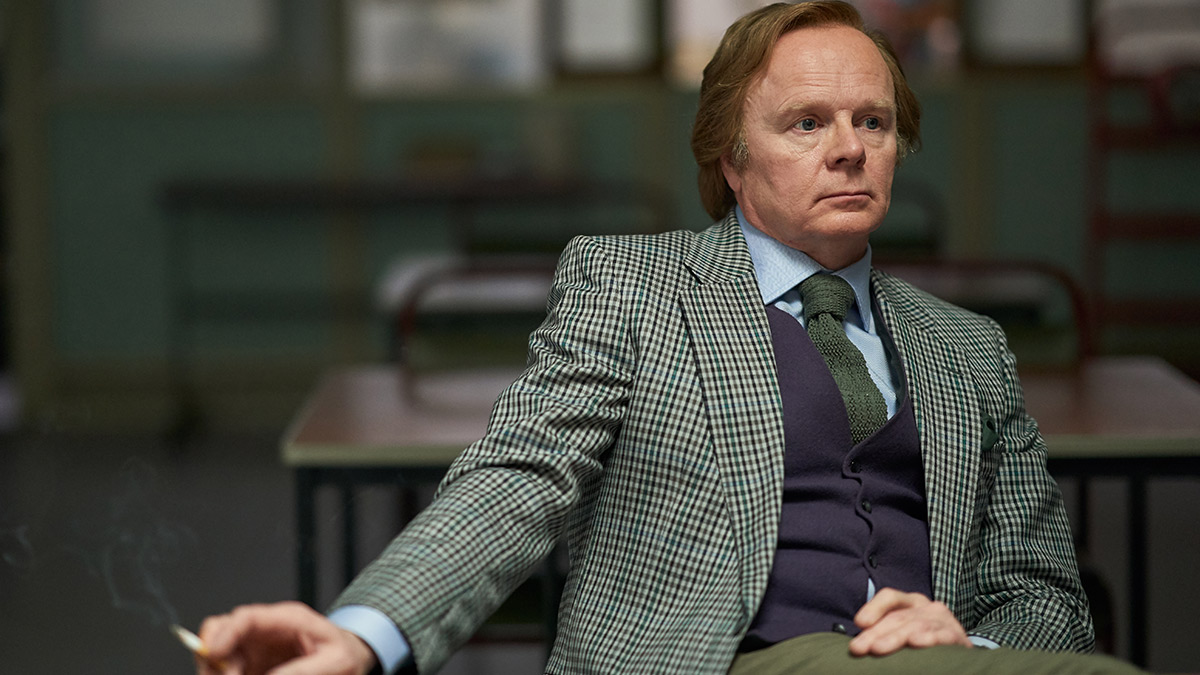 Jason Watkins as Nilsen's biographer Brian Masters, who continued to visit Nilsen in prison after the book was published

LN: "The victims and their families were mistreated because of the prejudice that existed in 1983, which meant this narrative has been skewed somewhat for the last 35 years or so. It became mine and Lewis' duty in developing the script that we righted some wrongs and corrected some of those mistruths."

What is the main message of the series?
LN: "Whatever motivation Nilsen had, the fact that he was able to kill is the most important thing. The fact that there was a population that was invisible to society meant he could get to this place until he'd killed 12 or 15 times before he decided he wanted his drains unblocked."
Lewis Arnold: "Everybody you speak to about this thinks they know about Nilsen and the case. They have certain assumptions and might be slightly ill-informed about the victims. Lots of people just assume that all of the victims were young gay men, but the reality is only a small percentage of them were gay. Most of them were victims of poverty before they became a victim of Nilsen. We need to make sure that someone like Dennis Nilsen is never allowed to get away with this again."

When is ITV's Des on TV?
Des airs on ITV/HD (CH 103/113) across three consecutive nights from 14 September to 16 September at 9pm. The three-part series is also available for 30 days in Catch Up > Channels > ITV Hub.
TV channels: Channels, content and features available depend on your chosen package. Channel line-ups and content are subject to change at any time and to regional variations.
HD: HD TV set, V HD Box, TiVo box or Virgin TV V6 connected with HDMI cables required for HD channels. Number of inclusive HD channels depends on package.
Catch Up TV: Catch Up TV content available for up to 7 days or up to 30 days after broadcast, depending on content.
ITV HD is subject to regional variation. ITV HD is not available where STV HD or UTV HD is available.
Interviews: Any opinions expressed in interviews are those of the interview subject and not those of Virgin Media.