Skip to main content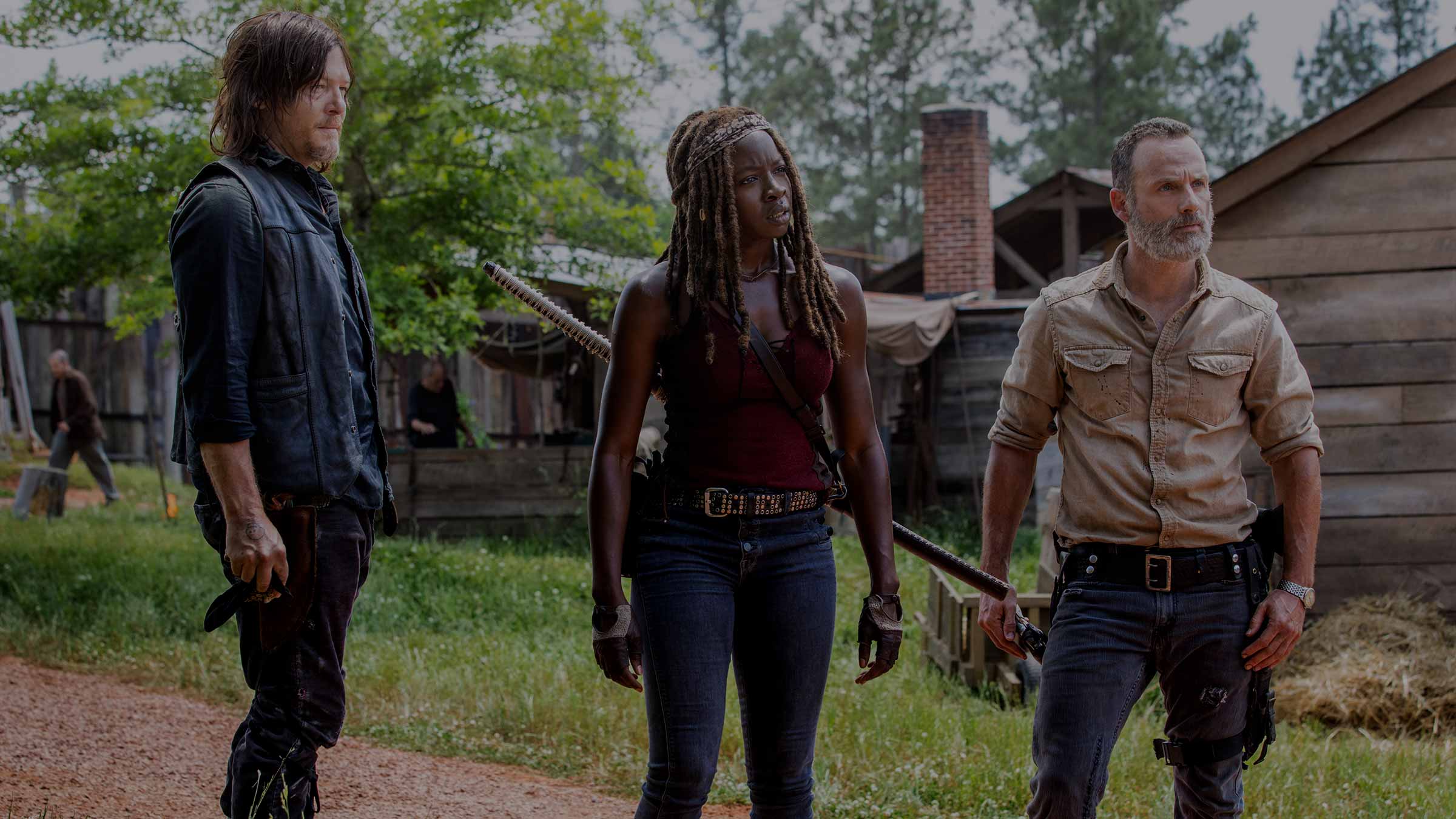 The "all out war" may be over, but there's plenty of action to come as TV's greatest horror series returns
The Walking Dead, Monday 8 October, 9pm, FOX/HD (CH 157/199). Also available for 30 days in Catch Up > Channels > FOX. Seasons 1-8 are available in On Demand > Box Sets
The finale of The Walking Dead season 8 proved so explosive that, if we're being honest, we're only just getting over it now… just in time for the much-anticipated new season to start the whole nerve-racking, check-behind-the-door-and-under-the-bed process all over again.
At the beginning of season 9 we rejoin the group to find them in a markedly different world to the one in which we left them. But although things may seem peaceful at first, this season looks set to ramp the tension and unpredictability all the way up to 11.
The survivors are still dealing with the waves of walking undead, of course, which remain as pesky and ravenous as ever – but now a new band of baddies is lurking in the wastelands. So grab your sheriff's hat and crossbow, and feast your eyes on our nine things to know before going into this season…
1. It's a whole new world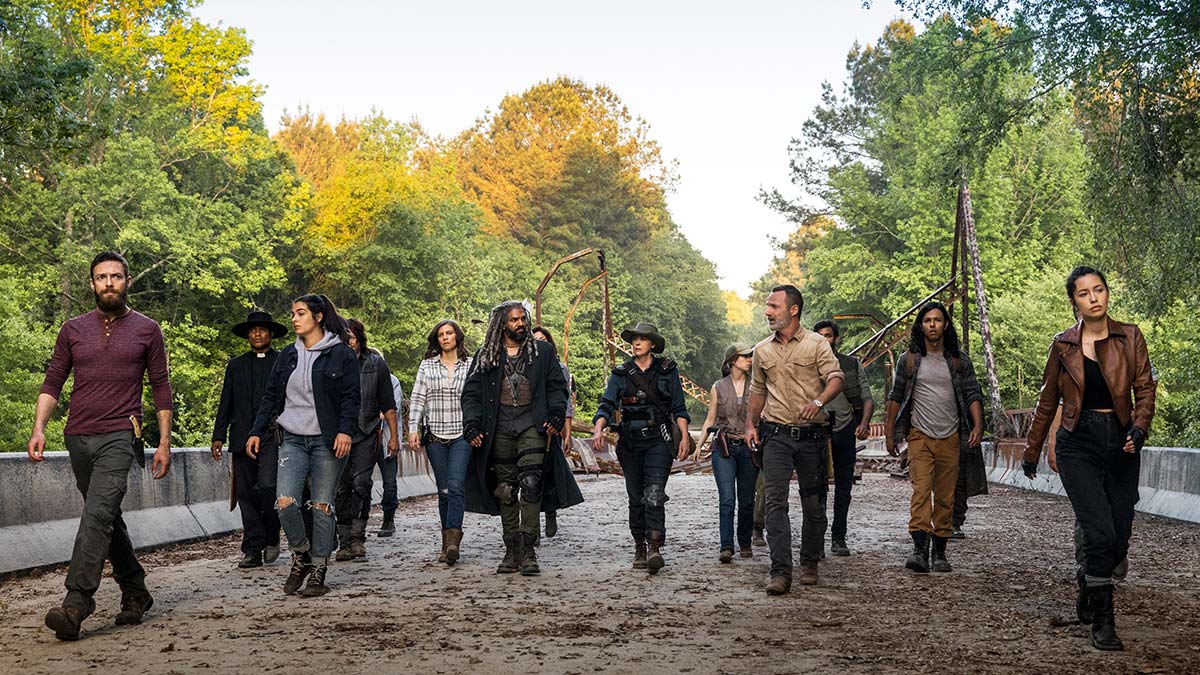 Following some devastating losses in last season's bruising conflict, Rick (Andrew Lincoln), Daryl (Norman Reedus) and Michonne (Danai Gurira) are trying to lead their ragtag band of humans into a new, calmer era – with help from the creative team behind the show, who are promising new-look sets and locations for the war-weary heroes… not to mention redesigned walkers.
2. Even the old hands are getting excited
We think this is shaping up to be one of the most thrilling seasons yet – but don't just take our word for it! Greg Nicotero – the award-winning effects genius who's also an executive producer of TWD and has directed 25 episodes – is more enthusiastic than ever, claiming that this upcoming run will be "one of the most exciting times on the show in a long time". Strong words from a man who's been involved since day one, and we can't wait to see for ourselves.
3. New showrunner, new dangers
Each episode may have its own writer(s) and director, but the showrunner has the biggest influence on the overall tone and direction of a series. And for the first time since season four, a new showrunner will be leading The Walking Dead. Scott Gimple has made way for Angela Kang, who promises a "fresh" new look and plenty of suspense.
4. Some fresh villains will be ramping up the chills
Fans of the comic book have been anticipating this for a while – the uber-creepy band of baddies known as the Whisperers are set to make their screen debut. The group survive by disguising themselves among the walkers and if there's anything scarier than a horde of shuffling undead, it's a bunch of ruthless un-undead types blending in with them.
5. We'll see another British thesp classing up the joint
After David Morrissey and Lennie James, Samantha Morton (Fantastic Beasts And Where To Find Them) becomes the latest British guest star to grace the series. Expect some unsettling, sinister charisma as the Oscar-nominated actor plays Alpha, the shadowy leader of the Whisperers.

6. Expect to see more super-stealthy zombies
There's a common misconception that the slow, groaning undead wrong 'uns are as conspicuous as an overweight cow in an art gallery. And yet, as we've seen mutiple times over 131 episodes, they can be as stealthy as a high-class cat burglar, surprising the humans again and again. Will the group have learnt their lesson after eight seasons of sudden shocks and furtive break-ins, or will they be caught off-guard yet again?
7. Some old faces make welcome returns
Though he'll presumably spend much of this season sitting on the proverbial naughty step thinking about what he's done, Negan (Jeffrey Dean Morgan) will be back. And in a suitably mysterious announcement, it's been confirmed that Shane (The Punisher's Jon Bernthal) is also making a return – though in what capacity remains to be seen…
8. There'll be departures – and they could be shocking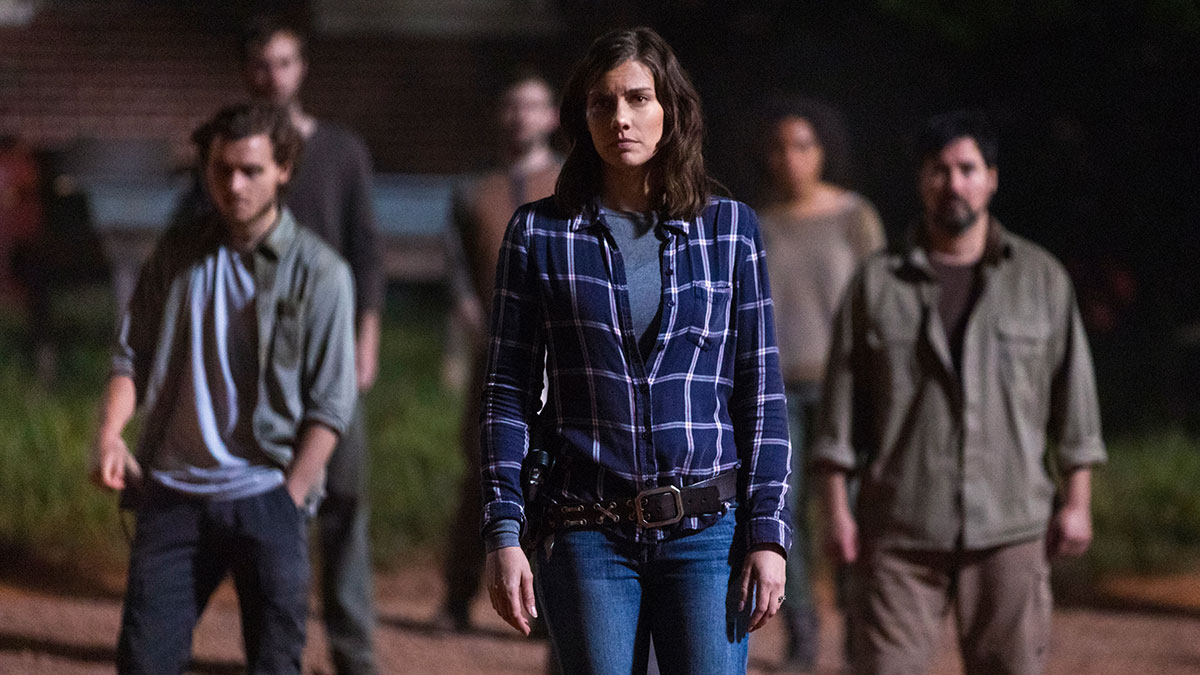 In a bombshell for the show's army of fans, Lincoln announced that after eight seasons as Rick, the ninth season would be his and the character's last. Long-time co-star Lauren Cohan, who plays Maggie, is also due to depart, and both actors have said they would relish the chance to really explore their characters in their final few episodes. And viewers will know that on The Walking Dead, goodbyes are rarely less than traumatic…
9. Basically, anything could happen at any time
The tantalising question is: when and how will these two much-loved characters make their exits? Though both are guaranteed to feature in at least six episodes of the upcoming season, details of their departure remain firmly under wraps. This means we'll see some serious edge-of-the-seat moments, since any encounter with a walker could prove to be their last…
TV channels: Channels, content and features available depend on your chosen package. Channel line-ups and content are subject to change at any time and to regional variations.
HD: HD TV required to view HD channels. Number of inclusive HD channels depends on package.
Catch Up TV: Catch Up TV content available for up to 7 days or up to the 30 days after broadcast, depending on content.
Image credit: The Walking Dead TM & © 2018 AMC Network Entertainment LLC. All Rights Reserved.