Skip to main content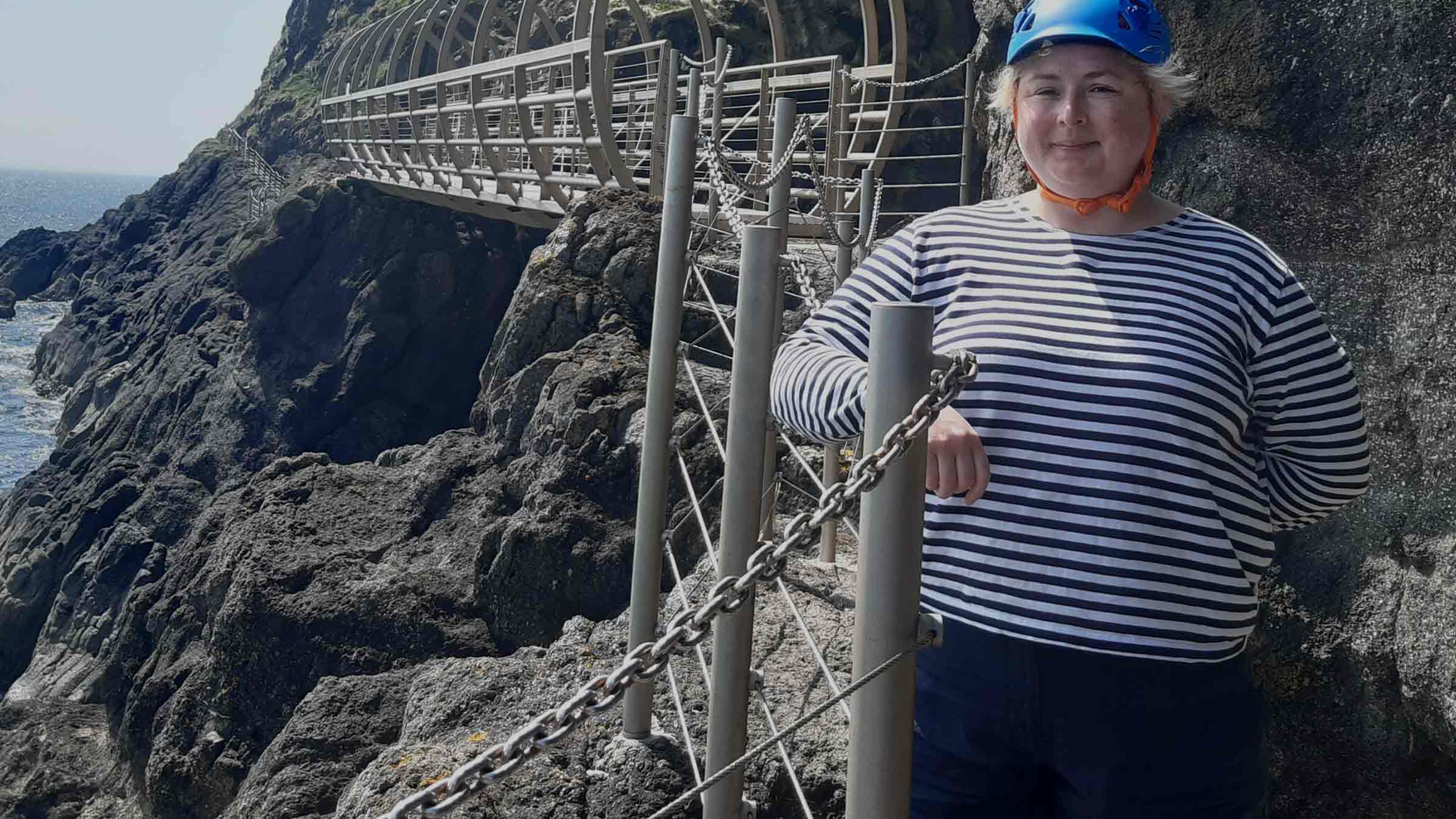 We speak to the actor about her new travel series Exploring Northern Ireland With Siobhán McSweeney on More4

By Laura Rutkowski, Staff Writer
As Sister Michael on Channel 4's hit comedy Derry Girls, she is a fearsome presence that has schoolgirls (and grown adults) quaking in their boots. But in real life, actor Siobhán McSweeney is warm, funny, self-deprecating – and the only boots that currently occupy her mind are usually connected to pedals. "Travelling by bike is gorgeous… and COVID-friendly. It's a very gentle way to interact with people. There's an informality to it, which suits my haphazard style," she laughs.
She's talking about her new travel series Exploring Northern Ireland With Siobhán McSweeney, which starts on More4 this week. In a world with so many celebrity travelogues on TV, this one is a bit different. "I'm not a presenter," she stresses. "I don't know what I'm doing. I can assure you I did no research whatsoever. Absolutely none."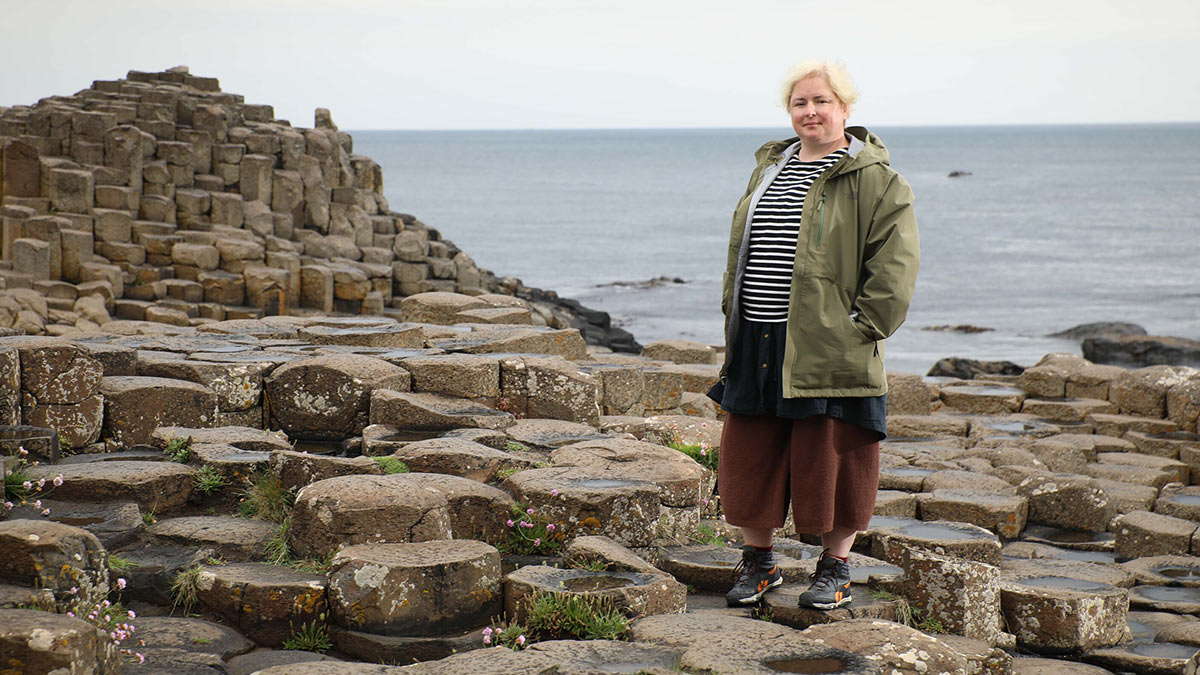 Siobhán McSweeney is not just standing on any old rocks. That's the Giant's Causeway, which is made up of about 40,000 basalt columns

McSweeney is, of course, being modest, because she loves travel documentaries – and so versed is she in the format (she's a huge Michael Palin fan), she was keen to differentiate her show from what has come before. "I feel a huge responsibility to the people of Northern Ireland, because they are just brilliant. I wanted to show the Northern Ireland that I know, which is modern, fun, really interesting, full of craic and filled with beautiful places."
It will come as a surprise to people who have only watched her scene-stealing role in Derry Girls that McSweeney is actually from Cork, Ireland, not Northern Ireland. Indeed, filming that show was actually the first time she had visited the country. Although her accent may baffle viewers, on her road trip, that wasn't the thing that puzzled some of the people she met.
"There were a few people I was talking to who didn't know the show [Derry Girls, which is set in Northern Ireland in the 1990s], who thought I was actually a nun," she says. "They were very confused the entire time."
In this series, while she doesn't sport a habit, in the first episode alone we see her in a hard hat, a wet suit, a pilot's uniform and a particularly fancy gown. "A real presenter wouldn't have gotten into half the outfits I got into," she says.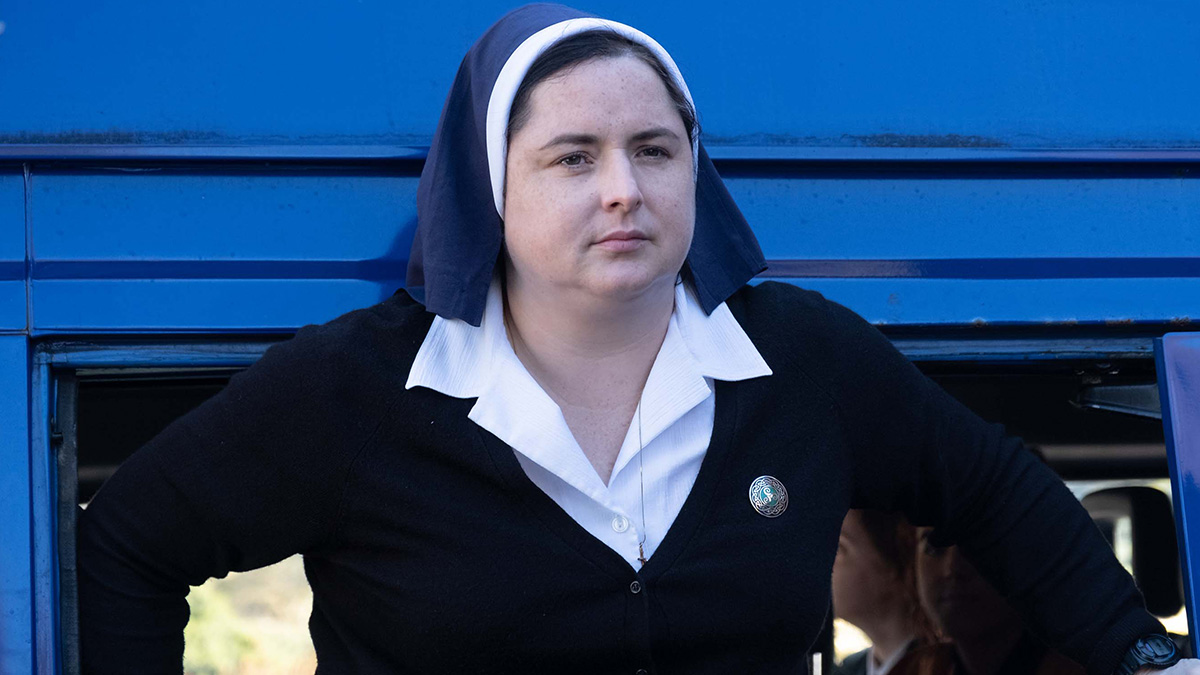 No, this is not a still from Exploring Northern Ireland With Siobhán McSweeney, but from Derry Girls

That idea of being a "real" presenter is something she keeps returning to throughout our conversation, calling herself "amateur at best". Again, she's being modest. Throughout the series, McSweeney is relatable, genuine and downright hilarious, with very little of the series scripted. She's clearly a natural! "I don't think you can dress me up to be anything other than myself," she says. "I put myself in the headspace of the viewer and what the viewer would be interested in."
That's apparent from the beginning. As she climbs hills, she pauses to catch her breath, complaining between huffs and puffs about how steep they are, and openly admits her fear of heights. Her tour of Belfast's ginormous Samson and Goliath cranes almost didn't happen because of it. "Siobhán would never push herself to do something, but Siobhán at work will do most things."
"You don't see [Joanna] Lumley doing this, do you? No, it's just beautiful silhouettes and nice scarves," she says while riding her trusty travel companion – electric bike Thunderclap.

ET would probably enjoy a ride in Thunderclap's basket

Ah yes, Thunderclap – the other "character" on the show, which was named as soon as McSweeney sat down on it for the first time: "I started laughing so much because I suddenly looked like the politest, most boring… spinster aunt. I thought it would be very funny if we called her something that was the antithesis of that, like Flesh Eater 2000, some death metal-y kind of vibe."
She's a keen cycler, having bought an electric bike during lockdown as a way of getting around London. Here she's pedalling through Belfast, Armagh, Derry and County Fermanagh. A lot of the time, it's just her with a GoPro attached to Thunderclap. "I love the Gonzo, ninja style of just going into a place, filming it and nipping off to the next bit," she says.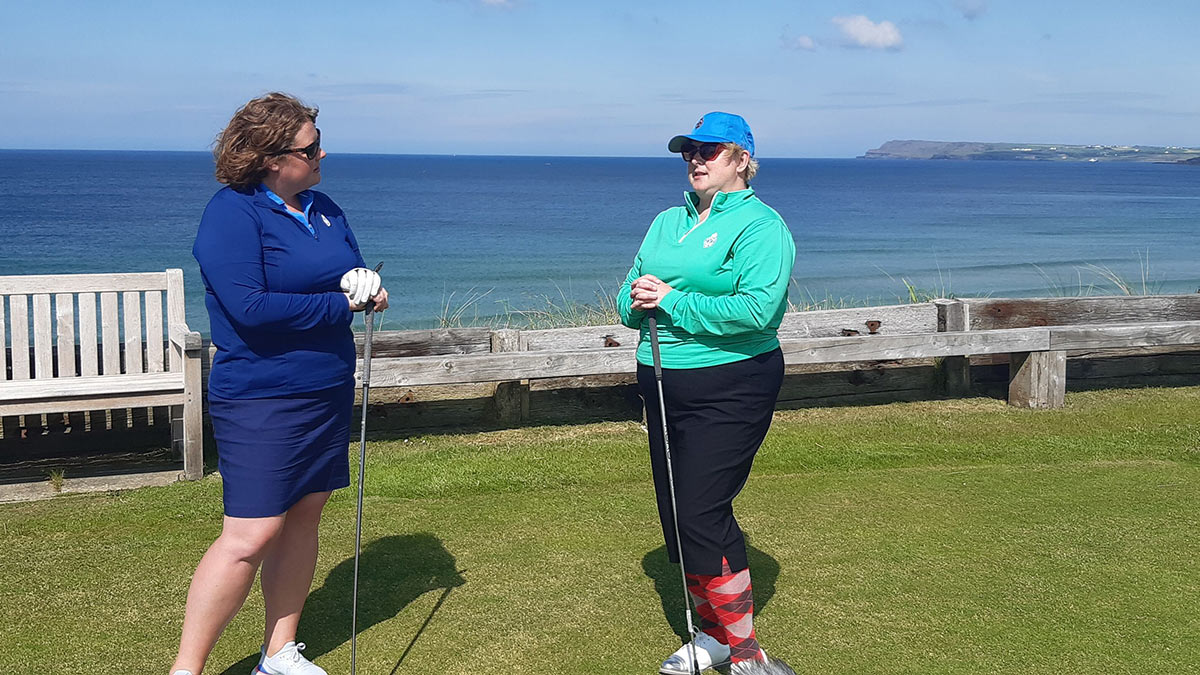 "So as you can tell by my outfit, I'm not a nun, I'm actually a golfer"

McSweeney will soon be returning to Northern Ireland to start filming series 3 of Derry Girls, granting her a new appreciation of the landscape… and the authority to give out recommendations. "I'll be an even bigger pain in the bum, telling everybody, "You should go here, do you know the history of this? Let me tell you the right way to get onto a paddle board"," she jokes.
As well as Exploring Northern Ireland With Siobhán McSweeney, here are a few other celebrity travelogues you should book a telly trip with.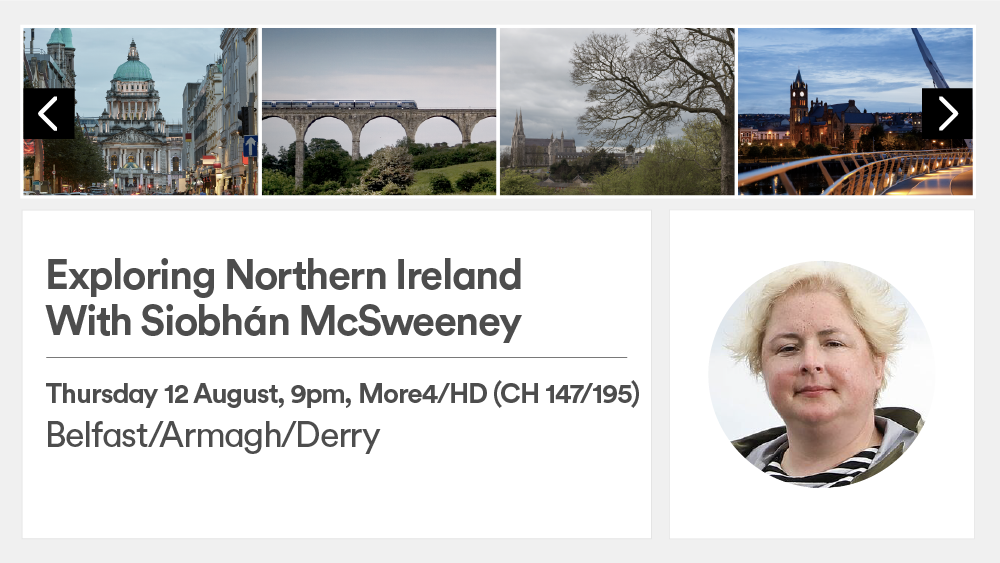 Strangford Lough, the Mourne Mountains, the Fermanagh Lakelands, the Sperrins and the Causeway Coast are just a few of the places McSweeney checks off on her travels with good old Thunderclap. While a travel series about Northern Ireland is nothing new, McSweeney tells us what hasn't been done is showing it in a "contemporary way that doesn't brush over the past, but incorporates it" – and is also fun.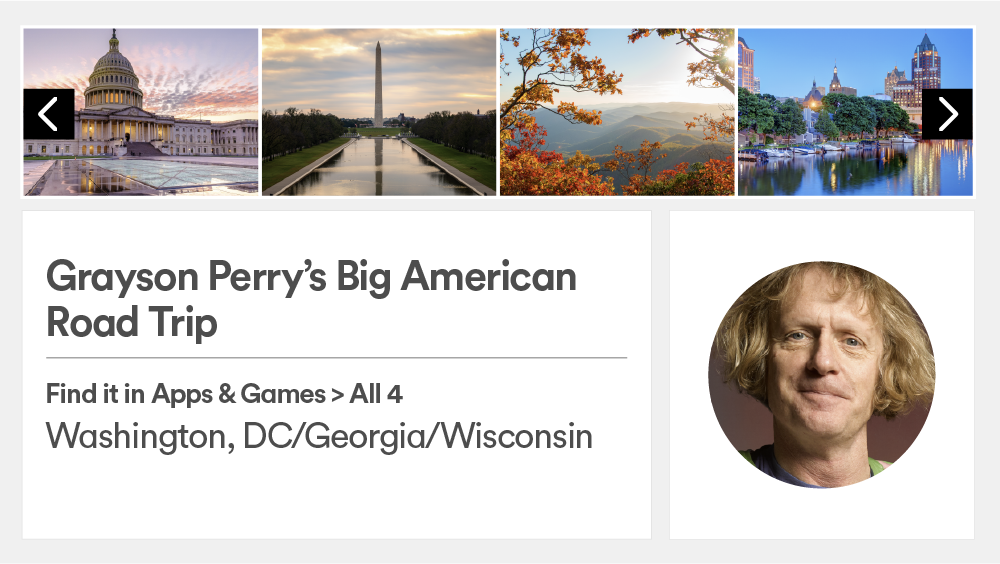 The artist and writer places the American Dream under the microscope and doesn't shy away from pondering why it might be broken. Grayson Perry asks the hard questions, covering the topics of identity, race, money and class, allowing the often complicated answers the space they need to breathe.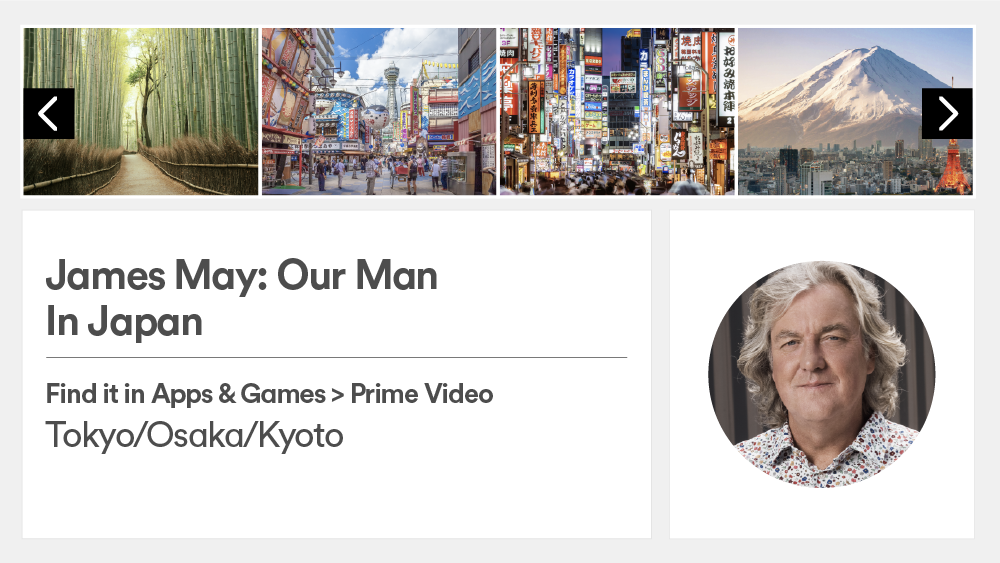 Travelling from the north to the south of Japan, James May (alongside essential guides and translators) takes on everything: from trying out competitive snowball fighting and attending a J-pop concert to enjoying a tea ceremony with a geisha and reviewing automated toilets.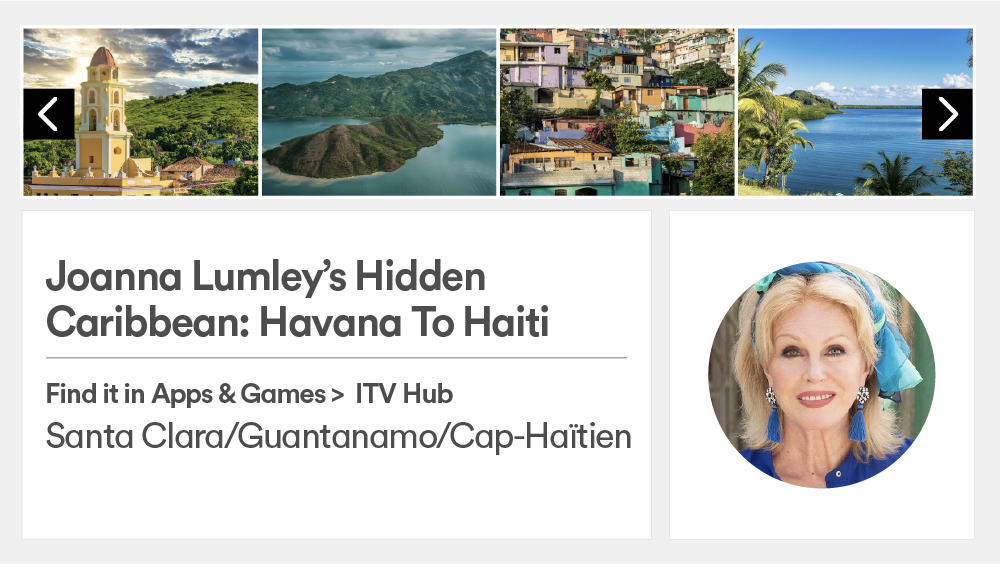 If "beautiful silhouettes and nice scarves" are your thing, look no further. That's what defines a Joanna Lumley travelogue, darling. For this series, she starts off in a classic car in Havana, travelling in style on her 1,500-mile Caribbean adventure. A cigar factory, Che Guevara's final resting place, Guantanamo Bay and Ernest Hemingway's favourite beach are all on the itinerary.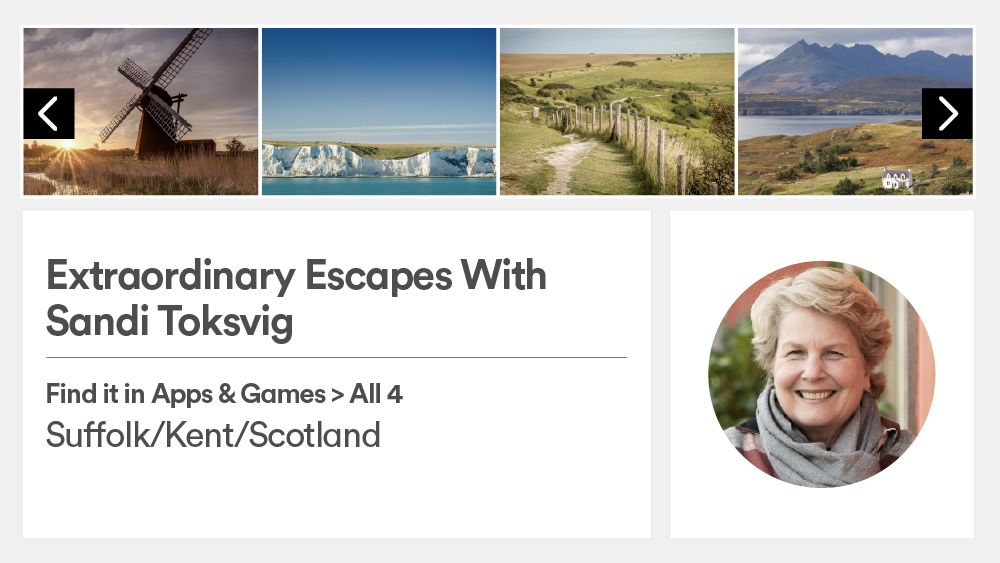 Sandi Toksvig is joined by Alison Steadman, Jessica Hynes, Sindhu Vee and Prue Leith across four episodes to test out some of the UK's best staycations. Whether you want to lay your head to rest in a lighthouse or a treehouse, there's a hidden holiday gem for everyone – right on your doorstep.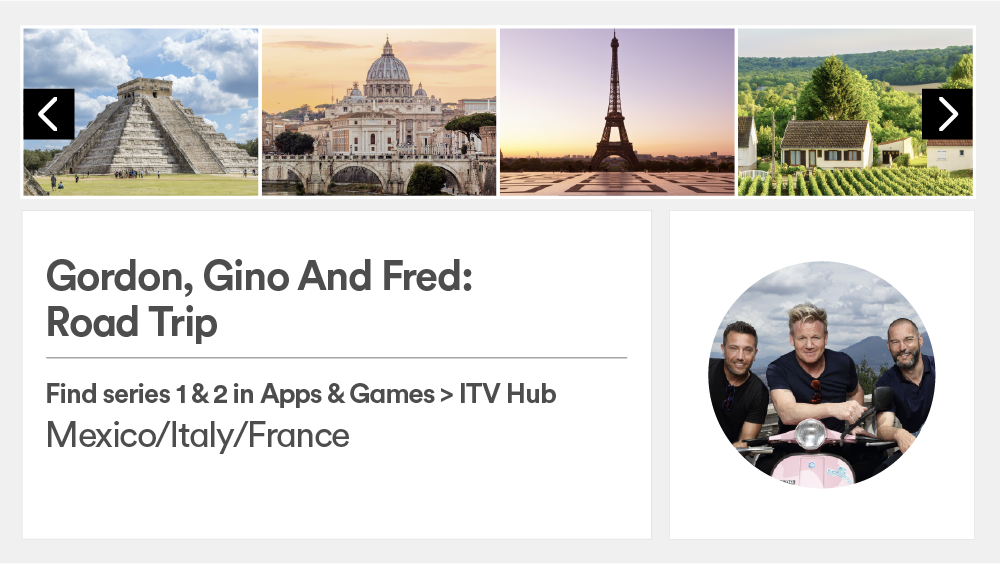 Gordon Ramsay, Gino D'Acampo and Fred Sirieix hit the open road in a camper van and cook up a storm while sampling the culinary delights each country has to offer. This middle-aged lads' holiday combines their three larger-than-life personalities, making for good telly and good grub.
When is More4's Exploring Northern Ireland With Siobhán McSweeney on TV?
Exploring Northern Ireland With Siobhán McSweeney airs on More4/HD (CH 147/195) on Thursdays at 9pm, with the first episode screening on 12 August. It is also available in Apps & Games > All 4.
The four-part series will subsequently air every week until Thursday 2 September.
TV channels: Channels, content and features available depend on your chosen package. Channel line-ups and content are subject to change at any time and to regional variations.
HD: HD TV set, V HD Box, TiVo box, Virgin TV V6 box or Virgin TV 360 box connected with HDMI cables required for HD channels. Number of inclusive HD channels depends on package.
Catch Up TV: Catch Up TV content available for up to 7 days or up to 30 days after broadcast, depending on content.
Amazon Prime Video: Amazon Prime subscription required at extra cost. 18+. Click here for T&Cs.
Interviews: Any opinions expressed in interviews are those of the interview subject and not those of Virgin Media.