Skip to main content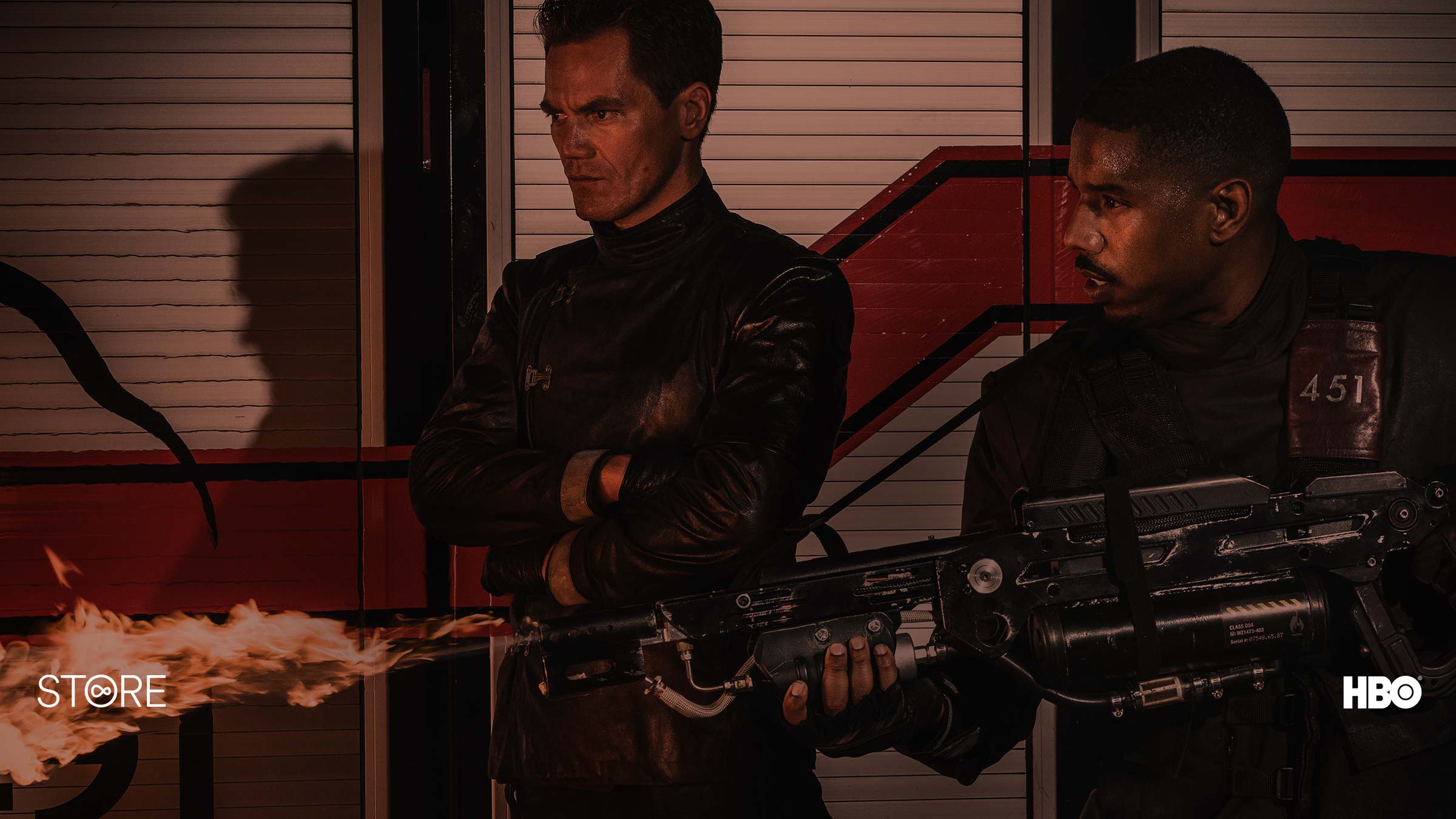 Thought TV movies were zero-budget space-fillers? Forget all your preconceptions – this star-studded sci-fi adaptation is a real sizzler!
Buy Fahrenheit 451 on the Virgin Media Store from Wednesday 23 May
After the box office-busting Black Panther, it was hard to imagine that Michael B Jordan could get any hotter. He'd already blown us away with the Rocky spin-off Creed, and played a superhero who could literally turn himself into flame with the Fantastic 4 reboot. But hotter he got. So hot, he's reached Fahrenheit 451.
If you know your science-fiction literature (or speculative fiction, as many aficionados prefer), then you'll already know the significance of that particular temperature. As Ray Bradbury's classic 1953 novel revealed, it's the temperature at which paper ignites. Set in a future America, Bradbury's story depicts a dystopian society where books are banned, for fear that they poison and corrupt people's minds, encouraging dangerous free thinking in a society where conformity is paramount.

This latest screen version – it was previously adapted into a 1966 movie by French auteur François Truffaut – puts Jordan in the lead role of Guy Montag, a "Fireman" who, under the command of the autocratic Captain Beatty (The Shape Of Water's Michael Shannon), is on the front line of book-burning duties. Until, that is, the free-spirited Clarisse (Star Trek Beyond's Sofia Boutella) causes him to question his responsibilities and motives, with devastating results.
Also in the impressive cast are Martin Donovan (Weeds) and genuine sci-fi aristocracy in the form of Keir Dullea, who played Dr Dave Bowman in 2001: A Space Odyssey.
As created by rising star director Ramin Bahrani (99 Homes), the world of this Fahrenheit 451 looks similar to the dark futures of Blade Runner and Ghost In The Shell – slickly designed and visually striking. However, the main draw has to be Jordan himself, who is also executive producer and has admitted that initially he was reluctant to take the role of an oppressive law enforcer – until he realised that Montag's journey "was an incredible one… so it's something I wrapped my brain around and really wanted to be part of."
The heat, as they say, is on.
Buy Fahrenheit 451 on the Virgin Media Store from Wednesday 23 May
Not heard about the Virgin Media Store?
It's the place where you can buy hundreds of ace films and TV Box Sets. Want to know more about how to order these top movies and series? Then read our full story here.
How to use it
First, set up your account quickly and easily at virginmediastore.com. Once that's done, if you have a Virgin TV box, you can buy and watch hundreds of films and TV Box Sets via the Virgin Media Store app on your box. Alternatively, if you're not a Virgin TV customer, you can buy and watch via the Virgin Media Store website and do everything through that. Simple!
Virgin Media Store: Separate terms and conditions apply to the Virgin Media Store service. DVD included for movie purchases only. Purchases must be made on the website or set top box. Compatible device & browser required. Max 5 registered devices. Max 2 devices can stream content simultaneously. Stream and download in UK only (or while temporarily in the EU).
Image credits: Fahrenheit 451 © 2018 Home Box Office, Inc. All rights reserved. HBO® and all related programs are the property of Home Box Office, Inc.