Skip to main content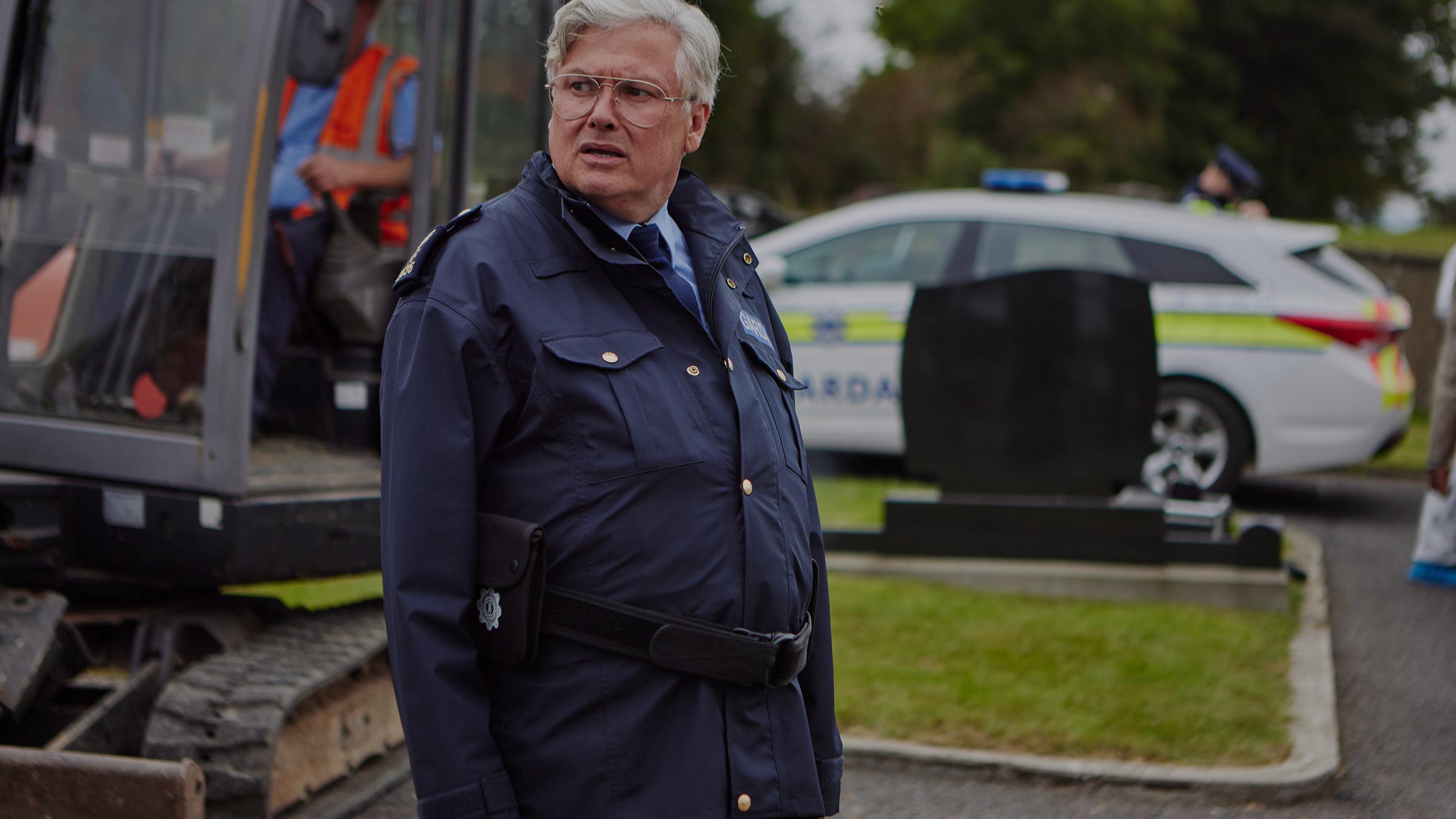 In this adaptation of Graham Norton's bestselling novel, nothing and no-one in a small Irish town are quite what they seem. We meet the cast of ITV's Holding to find out more

By Chris Miller, Writer
PJ Collins, the local Garda officer for the fictional town of Duneen in West Cork, seems happy enough with his lot in life and always has a friendly word for the locals as he patrols the streets. And yet, in private, his curious behaviour hints at some inner turmoil, something hidden, some pain he's holding on to.
That's true of all the major characters in this new ITV drama, adapted from Graham Norton's 2016 novel of the same name. Their small-town friendliness often masks something much darker – regret, guilt, frustration – that makes it difficult for them to move on and find real freedom. But when human remains are uncovered in the town, and past events resurface, these hidden feelings start to spill over.

Conleth Hill (Game Of Thrones), who plays PJ, says, "he doesn't ever feel like he belongs. Even though he quotes to someone the exact years, months and days he's been there, he's never felt part of the community. But he does come from a small community himself so he knows how to deal with them diplomatically."
The shocking discovery throws PJ's job into sharp focus all of a sudden – but not exactly in the way he expects. "He's waited all his life and suddenly in his 50s this amazing case comes along," Hill says. "Then just when he thinks he's going to take it on by himself, this superior is sent down to oversee everything he's doing."
Care in the community
It's Cork City detective Linus Dunne (Clinton Liberty, Normal People) who pulls the rug out from under PJ's feet, as well as providing the outsider perspective through which the viewer sees the community. "When Linus initially arrives in West Cork he's not caring too much about opinions – he's just doing what's best for the investigation," Liberty says. "Duneen is the complete opposite of how he approaches his job. It's a tight-knit community, people really care for each other. They don't really take too well to his straightforwardness."
In the best traditions of mismatched cops, PJ and Linus resent each other at first but soon realise what they can learn from each other. "It starts in a precarious situation – Linus is younger but he's in charge, PJ is older but he's the subordinate," Liberty says. "They both have such different modes of operation. But PJ's knowledge of the community helps Linus navigate the investigation. Linus learns from PJ to take a step back and calm down and not always go by the book. PJ learns from Linus to have more confidence and take more initiative."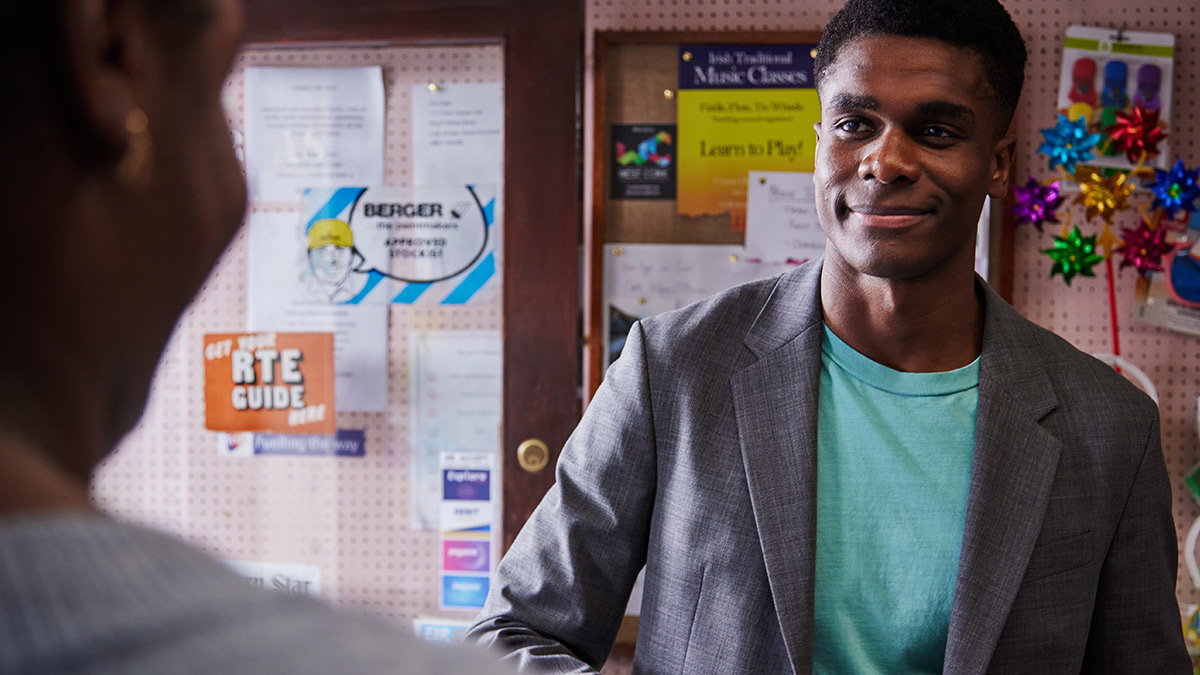 Clinton Liberty plays Linus Dunne, a city cop in a small town
The relationship fits the drama's enduring themes of contradiction and hidden depths. Kathy Burke, who directed all four episodes, says it's exactly what you expect from the author. "We all know Graham," she says. "There's warmth there, plus a sneakiness, a darkness, taking the p**s, as well as great humour and great love… Half the job is done when you've got that at the core of it."
Karen Cogan, who wrote the script with Dominic Treadwell-Collins, says the setting also helped with the themes of duality, of nothing and no one being exactly what you expect. "The juxtaposition of the dark and the light is inherently Irish, and inherently Cork. It's a place of tons of contradictions – it's so progressive, West Cork, and so cosmopolitan and global, and at the same time quite traditional. There are so many contradictions to the place that it helped us with that tone of light and dark."
Ghosts from the past
It's soon established that the remains are those of a local man, Michael, who hasn't been seen for ten years – since around the time he left Bríd Riordan (Siobhan McSweeney, Derry Girls) at the altar. Bríd is now married with children but finds it hard to let go of the past, and – contradiction alert! – spends her days resenting her alcoholic mother while sneaking swigs of white wine.
What everyone knows, but doesn't like to talk about, is that Michael was also entangled with Evelyn Ross (Charlene McKenna, Ripper Street), a woman who appears free-spirited but under the surface – we're spotting a theme here – is still haunted by her experiences. "She's a big heart, and life has knocked it and she's wrapped it, she's barbed it," McKenna says. "She's a gift to play because she's hateful, loveable, ornery, she's just everything. You want to choke her and hug her at the same time. I hope the audience like her – I hope they see through the barbs to the heart."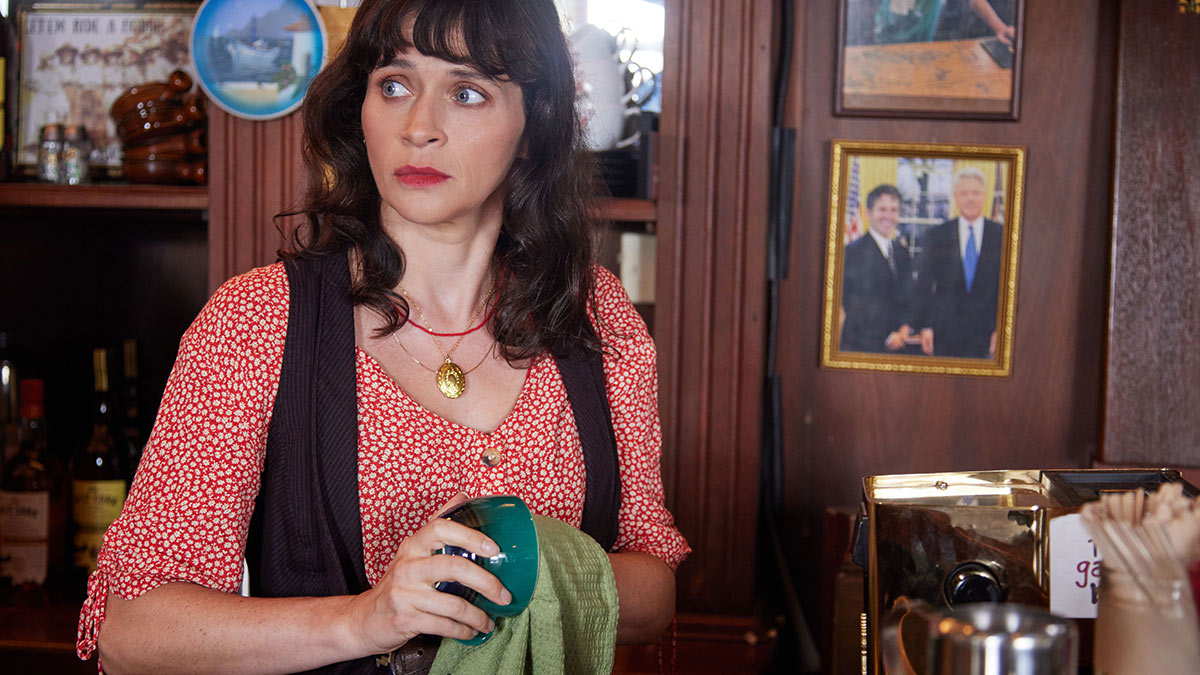 Is Evelyn Ross (Charlene McKenna) hiding something?

In fact the whole community is populated with complex, interesting characters, not least Evelyn's two older sisters. Florence (Amy Conroy) is planning to start a new life in California with her girlfriend Susan, but convinces herself the family needs her to stay a bit longer, while eldest sibling Abigail (Helen Behan, The Virtues) alternates between indulging and resenting her sisters.
Norton says he was completely hands-off for the adaptation and is delighted with the changes the writers made to these characters. "My Ross sisters were much more constrained and they've been fully developed now. Each of those three could have their own show, we know them that well."

Then there's sharp-tongued shopkeeper Eileen O'Driscoll (Pauline McLynn, Father Ted), who thinks she knows what's best for everyone… but may have secrets of her own. Perhaps most mysterious of all is Lizzie Meaney, the police station's permanently exasperated housekeeper. She's played by Brenda Fricker, Oscar winner for My Left Foot, in what these days is a rare screen appearance. Treadwell-Collins remembers that Fricker clearly picked up on the show's themes of holding on to things – whether that's the past, or grief, or their traditional roles in the community. "Every time Brenda Fricker had to say the word "holding" she'd go, "HOOOOOOOLDING!"," he laughs. "No, Brenda, pull it back!"
Two sides to every story
Like its characters, Holding is never quite what you expect. Its tone veers from serious to silly, from light-hearted to deeply emotional. As Cogan says, it's, "that dark and light… A huge amount of that is Graham – that warmth, but not being afraid of the darkness. The acerbic immediately followed by a hug."
McLynn agrees: "It is a whodunnit, but it has incredible moments of high emotion and it also has the comedy of being alive, and people not being able to escape other people – it's just got it all," she says, crediting Burke for pulling off a tricky feat of directing. "Kathy held a tone that's so difficult to marshal."
Holding caters to many tastes: whether you're looking for a mystery, an emotional drama or a realistic depiction of small-town life, you'll enjoy this well-written, smartly directed and brilliantly acted show. Norton sums it up. "My book is a genre book. It's cosy crime. There are lots of books like my book. Karen and Dominic have made a TV show that isn't like other television shows. Its tone and its feel is entirely its own, and that is so hard to do because everything's a bit like something else. People will go, "Did you see Holding?" – you won't go, "Did you see that show that's like that other show?" They've really elevated the book."
When is ITV's Holding on TV?
The four-part series starts on ITV/HD (CH 113/103) at 9pm on Monday 14 March. It is also available in Apps & Games > ITV Hub.