Skip to main content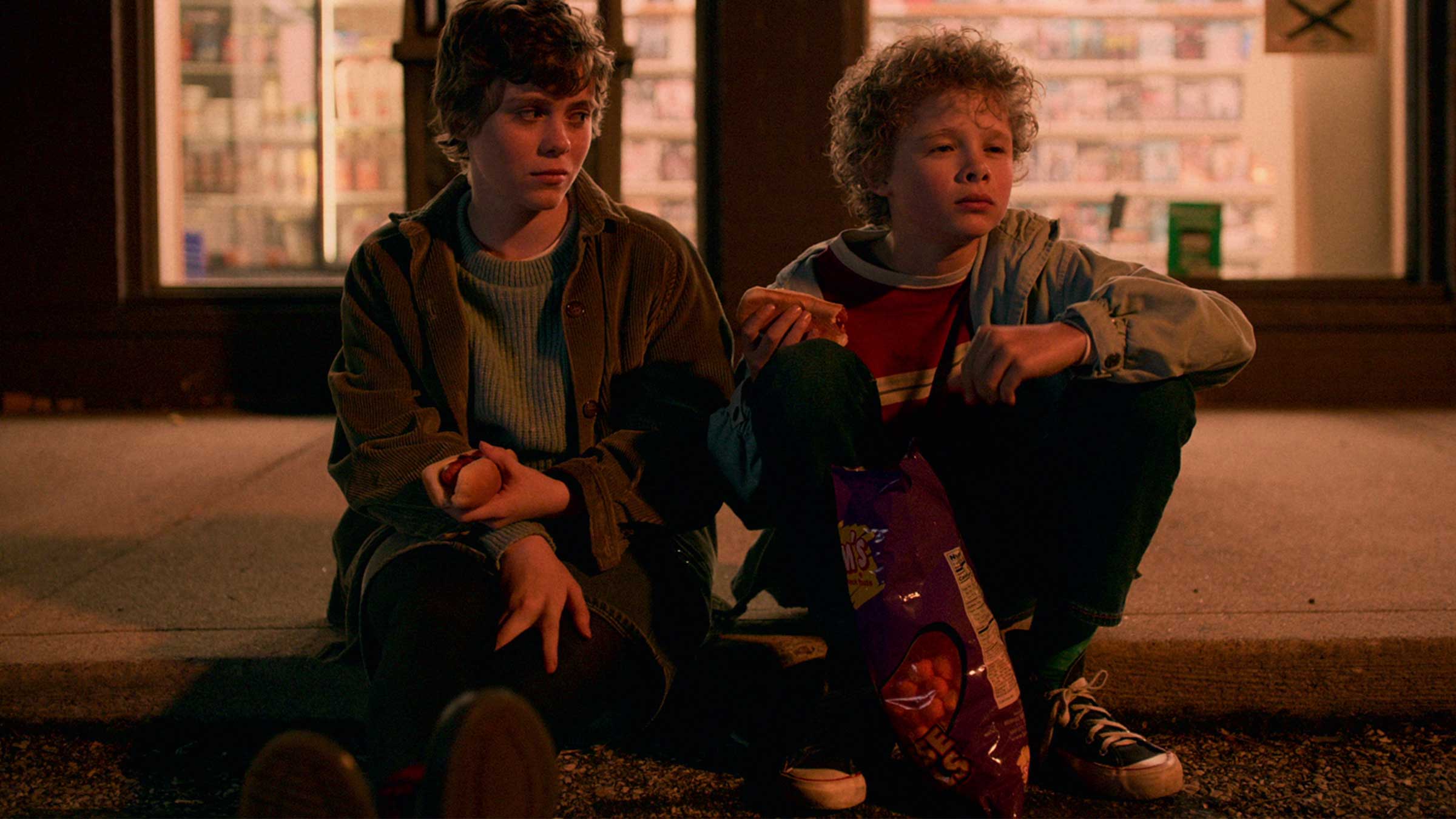 The director of The End Of The F***ing World + the producers of Stranger Things + the cast of IT = I Am Not Okay With This
I Am Not Okay With This, available on Netflix from Wednesday 26 February
Author Charles Forsman is having a bit of a moment. His graphic novels – with their dark humour, whimsy and creativity – easily make the leap from page to screen. He wrote The End Of The F***ing World, and the television adaptation quickly became a quirky smash hit. But after two series, the story is now done and dusted. Luckily, we don't have to wait too long for Forsman's magic to take hold yet again.
New Netflix series I Am Not Okay With This is based on his 2017 graphic novel of the same name, with IT's Sophia Lillis playing lead character Syd (Sydney if you wanna be formal). As if dealing with high school and the confusing feeling of being "not a girl, not yet a womannnn" (take it away, Britney) wasn't bad enough, she's also harbouring telekinetic powers. A promotional poster for the show features Lillis covered in blood, so we're guessing there's probably a bit of a learning curve to mastering these abilities.

On top of THAT, Syd has a crush on her best friend Dina (Sofia Bryant, The Good Wife), who is loved up with a boyfriend. Then there's Stanley Barber, Syd's geeky yet lovable neighbour (played by Lillis' IT co-star Wyatt Oleff), who is always on hand for support and to impart wisdom beyond his years.
We have no choice but to stan a show that Netflix describes as "cynical" and "irreverent". That's basically what our whole algorithm is based on! As the new coming-of-age tale lands, with seven 30-minute episodes, check out the other young adult series you can enjoy on the service. Because let's face it, those three-and-a-half hours are going to fly by faster than you can demand a second season!
Stranger Things
Find seasons 1-3 on Netflix
Let's start off with Stranger Things, which sent everyone's world Upside Down on its release, drove a resurgence in 80s music and clothes, and provided endless inspiration for Halloween outfits (Demogorgon included – yes, really). In the fictional town of Hawkins, Indiana, 12-year-old Will Byers (Noah Schnapp) goes missing. His mother Joyce (Winona Ryder) and Will's friends subsequently go down a rabbit hole of conspiracy theories and secret government experiments, which lead them to a girl with strange powers called Eleven (Millie Bobby Brown).
The End Of The F***ing World
Find series 1 on Netflix
James (Alex Lawther, The Imitation Game) is a 17-year-old psychopath, or he thinks he is anyway. When Alyssa (Jessica Barden, Penny Dreadful) unexpectedly crash-lands into his life, he starts to feel things again, or at least he thinks he does. He can't quite decide whether or not he should kill Alyssa, but it's a hell of a ride watching him make up his mind. A modern-day, unconventional Bonnie and Clyde-esque love story.
Sex Education
Find series 1 & 2 on Netflix
Netflix recently renewed Sex Education for a third series, due in 2021, so there really is no better time to brush up on what you've missed. When the series first aired, 40 million people tuned in during the first four weeks. It shouldn't come as a shock, because the show has been praised for its diverse cast, frank storytelling and sex-positive messages.
On set, an intimacy coordinator ensured the actors always felt comfortable during sex scenes, making their wellbeing a priority. What could be next in store for Otis (Asa Butterfield) and the sex therapy clinic he's set up at school? Gillian Anderson also stars as Otis' mother, sex therapist Dr Jean Milburn.
Daybreak
Find season 1 on Netflix
In a post-apocalyptic world, the least you can do is have some fun, right? Based on the comic-book series by Brian Ralph, Daybreak takes a humorous look at survival in a ravaged world, which comes complete with Mad Max-style gangs and zombie-like creatures called ghoulies.
Canadian teen Josh Wheeler (Colin Ford) is most concerned with finding his high school sweetheart Sam Dean (Sophie Simnett). He's even Sharpie'd his sword with: "Josh's Sam Saving Sword" – aww, true love!
Chilling Adventures Of Sabrina
Find seasons 1-3 on Netflix
Dispel all your illusions of Sabrina The Teenage Witch from your younger years – Netflix has magicked up an entirely darker, chicer version, and without so much as a purr from Salem the cat. Okay, there might be some purring, but there's definitely no talking. Sabrina Spellman (Kiernan Shipka, Mad Men) must come to terms with being half-human, half-witch, all while being dragged into power struggles with Satan and the like. All in a day's work!
Gossip Girl
Find seasons 1-6 on Netflix
XOXO, Gossip Girl. That's it. That's all we need to say to sell this show. Everyone knows the iconic text sign-off (coined before texting was even really THAT cool), so why not find out the story behind it? If you somehow haven't found out who Gossip Girl is yet (and even if you do know), you're in for a wild ride of bling, money, OUTFITS (emphasis on the outfits) and dramaaaa.
Atypical
Find seasons 1-3 on Netflix
Finding love is hard for anyone, but for 18-year-old Sam (Keir Gilchrist, It Follows), who's autistic, the world of dating is completely new – and confusing. His decision to find a girlfriend also kickstarts journeys of self-discovery for his sister and parents, who want to understand him better. Created by How I Met Your Mother's Robia Rashid, this comedy is all heart.
Big Mouth
Find seasons 1-3 on Netflix
Growing up can be weird – it's often unpleasant, awkward and downright uncomfortable at times. Big Mouth knows that and attempts to make it better by poking fun at it and all its… grossness. Whether you're currently going through puberty or have gone through puberty (so that's… everyone), this cartoon comedy will have you laughing, crying and grimacing in equal measure. The voice actors include: Nick Kroll, John Mulaney, Jordan Peele, Maya Rudolph, Jenny Slate and more.
Riverdale
Find seasons 1-4 on Netflix
This series is based on the Archie Comics, so it's only right that the adaptation landed in the lap of the company's chief creative officer Roberto Aguirre-Sacasa. Here, the comic-book teens, including Archie Andrews (KJ Apa), Betty Cooper (Lili Reinhart), Veronica Lodge (Camila Mendes) and Jughead Jones (Cole Sprouse, Friends), take on a live-action life all their own. When a classmate is murdered, the friends, and Riverdale's residents, become concerned that their bubble of suburban bliss might be about to burst.
Gilmore Girls
Find seasons 1-7 on Netflix
Revisit Stars Hollow for the feel-good factor. Whether you're new to the show or not, it's arguably one of the best young adult series to get stuck into. Thirty-something Lorelai Gilmore (Lauren Graham) and her gifted teenage daughter Rory (Alexis Bledel) really rope you into their world of fast-talking, fast-paced, small-town living. The will-they-won't-they tension between Lorelai and local diner owner Luke Danes (Scott Patterson) is reason enough to tune in.
How to watch Netflix with Virgin TV
If you have a TiVo® box or Virgin TV V6 box, powered by TiVo®:
Press home on your remote
Select Apps & Games
Select All Apps
Select Netflix
If you're already a Netflix subscriber, you can also access the app through Search & Discover or by pressing Red on channel 204. Just sign in with your existing login and start watching. And you'll only have to log in the first time you use it.
If you're new to Netflix, then you'll need to subscribe to use the app. The easiest way to do this is by going to netflix.com/virginmedia. You can also subscribe using the Netflix app in Apps & Games.
TV channels: Channels, content and features available depend on your chosen package. Channel line-ups and content are subject to change at any time and to regional variations.
HD: HD TV set, V HD Box, TiVo box or Virgin TV V6 connected with HDMI cables required for HD channels. Number of inclusive HD channels depends on package.
Netflix: Netflix subscription required at extra cost.