Skip to main content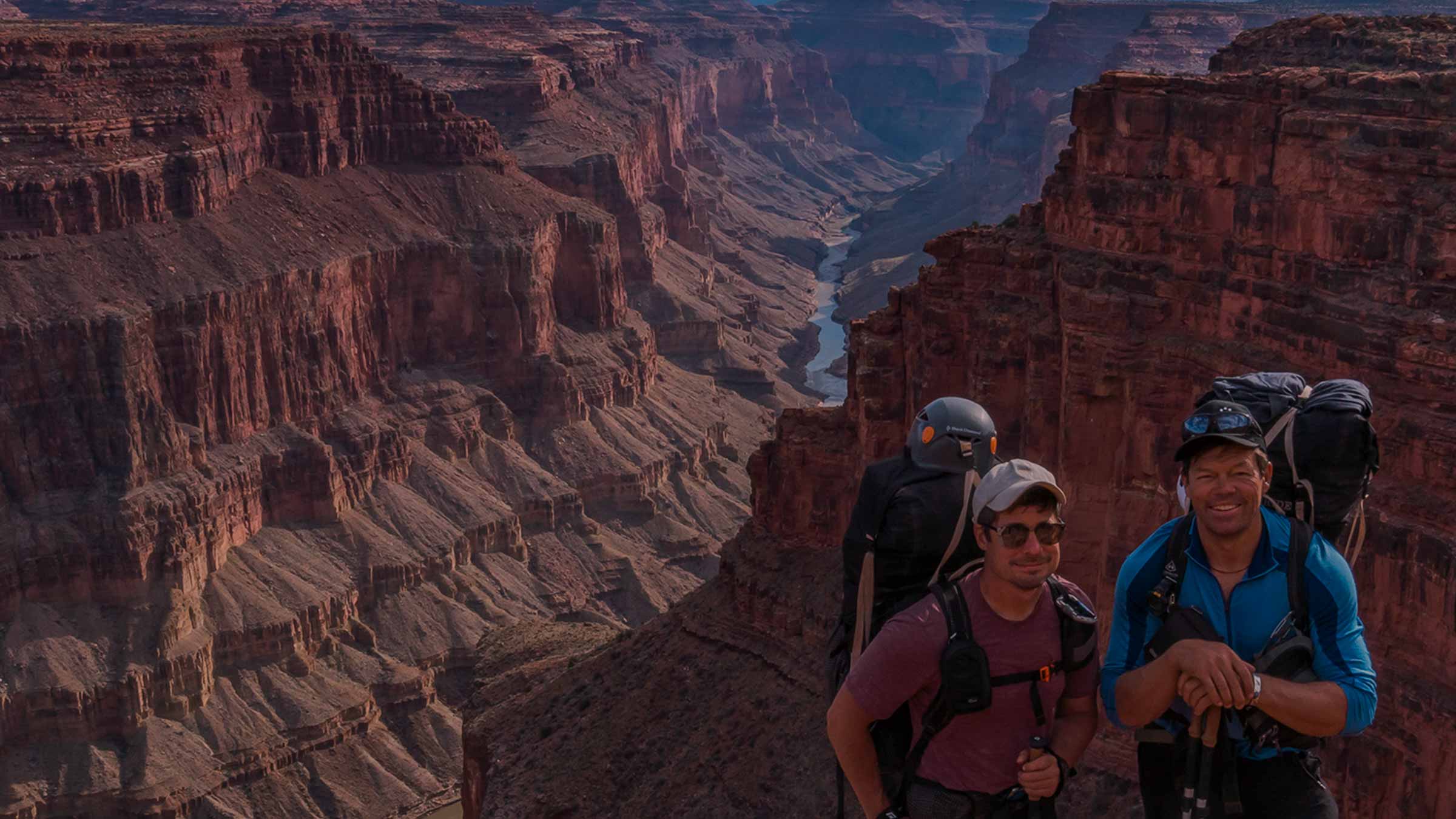 These boots are made for walking… the length and breadth of the Grand Canyon
Into The Canyon, Saturday 2 March, 12pm, National Geographic/HD (CH 266/268). Also available for 30 days in Catch Up > Channels > National Geographic
Fewer than 30 people have hiked the entire Grand Canyon. Two people who can lay claim to having achieved this feat are film-maker and photographer Pete McBride and writer Kevin Fedark, who strapped on their boots and set off to explore the dramatic landscape in 2016.
Part of National Geographic's Exploration Weekend, Into The Canyon follows the intrepid adventurers in their arduous task – one that can take anywhere between months and decades to complete. The duo managed to finish their journey in 71 days, spread out across one year. As if that wasn't enough, McBride later returned to the area and spent more than 40 days and nights photographing the underside of the Grand Canyon's rim.
McBride and Fedarko initially wanted to traverse the Grand Canyon in one continual hike – something just eight people have achieved – but soon abandoned this idea. The Grand Canyon is a whopping 277 miles across, up to 18 miles wide and reaches depths of more than a mile, after all!
Along the way, the duo meet members of the Navajo tribe that inhabits the land. They express concern about a billion-dollar proposal to construct a tram system in the area. "How does the American public see a national park?" asks McBride. "Is it a place that's sacrosanct or is it a place we just want to treat as an amusement park and fill up with more lights, railings, and noise?"
Asides from being a potential eyesore, a tram would undoubtedly create noise pollution; disrupting the blissful, natural sounds of the canyon. "The brush of bat wings in the morning over your head. The clatter of sheep hooves on the rock across the river. It sounds as if it's close by, but it's not," says McBride. "And then, you realise just how quickly that silence can be shattered."
The Grand Canyon truly must be seen to be believed. But before you tune in to see it in all its splendour, click/hover on the statistics below to learn more about the big numbers behind one of nature's greatest wonders.
The big numbers behind the Grand Canyon

Still hungry for adventure?
My Pacific Quest, Saturday 2 March, 9am, National Geographic/HD (CH 266/268)
My Pacific Quest ticks all the boxes. Join New Zealander and adrenaline junkie Ellis Emmett as he takes on his next challenge – sailing. There's just one tiny problem: he doesn't know how to sail. Ah, just a minor glitch then. He'll surely pick it up along the way!
On his voyage to the remote Pacific Islands, including the Kingdom of Tonga, Fiji and the Marshall Islands, his wobbly sea legs start to gain momentum as he slowly learns the ropes and develops a better understanding of the ways of the ocean.

TV channels: Channels, content and features available depend on your chosen package. Channel line-ups and content are subject to change at any time and to regional variations.
HD: HD TV set, V HD Box, TiVo box or Virgin TV V6 connected with HDMI cables required for HD channels. Number of inclusive HD channels depends on package.
Catch Up TV: Catch Up TV content available for up to 7 days or up to the 30 days after broadcast, depending on content.
Image credit: Into The Canyon © National Geographic