Skip to main content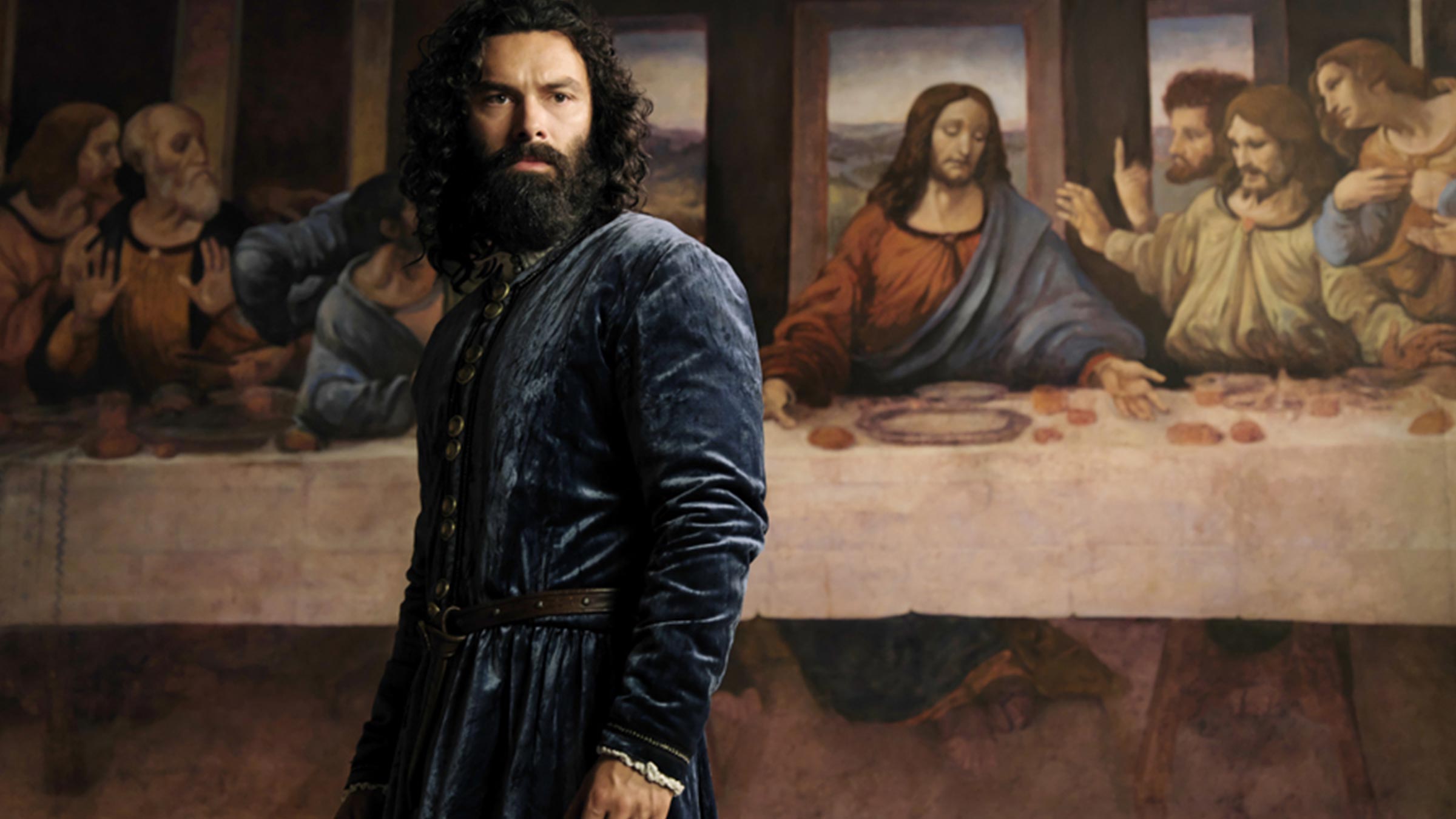 Before watching the show on Prime Video, check out all these pop culture references to Leonardo da Vinci and his work, which will make you (Mona Lisa) smile
By Laura Rutkowski, Staff Writer
Aidan Turner takes on his first television role since leaving behind Ross Poldark in 2019, but for his latest period drama, it's less about torso showing and more about torso painting.
The raven-haired actor is playing the part of Leonardo da Vinci, the Italian Renaissance artist and engineer known for his paintings, inventions and all-round talent, in Leonardo. In Italy in the late 1400s, Leonardo follows the teachings of his master, Andrea del Verrocchio (Giancarlo Giannini, Hannibal), before breaking out on his own.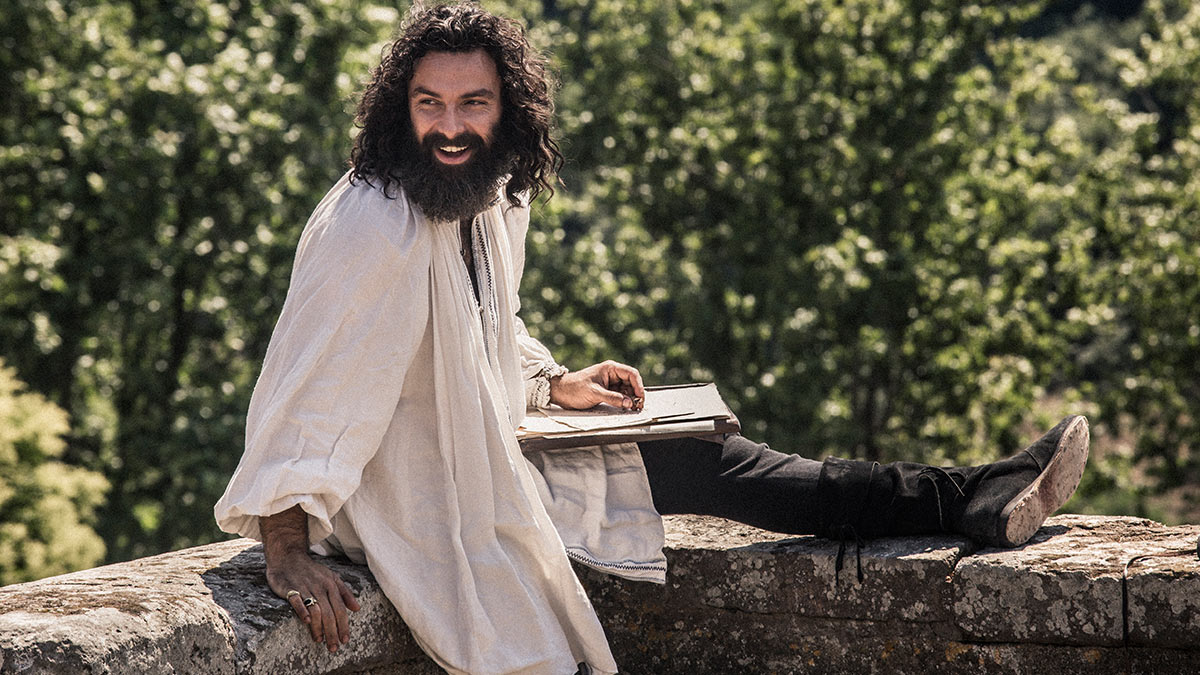 What do Aidan Turner and Leonardo da Vinci have in common? Luscious locks

That part of history is true, but his muse, Caterina da Cremona (Matilda De Angelis, The Undoing), is fictional, invented by a 19th-century Romantic – as is the investigation into Leonardo's potential capacity to murder. There's a joke in there somewhere about framing Leonardo…
Stefano Giraldi (Freddie Highmore, The Good Doctor) is the one investigating him in this series created by Sherlock writer Stephen Thompson and The Man In The High Castle's Frank Spotnitz.
Spotnitz told Variety that he and Thompson didn't want to "just say that Leonardo was a genius, but really show why he was a genius and have the audience understand what it was that made him so brilliant and radical and centuries ahead of this time. To do that, you need to get really close to his work".
Each episode is centred around one of Leonardo's masterpieces. In the series, Turner says, "Art is the noblest endeavour. Only art can take the pain and suffering of our lives and turn it into beauty." Filming took place before and during the pandemic on location in Italy, making for some truly stunning scenery.
As well as the embellished elements, Leonardo offers up some truths, some of which you might not know, including that the revolutionary individual was an illegitimate child, gay, vegetarian and left-handed.
Before you get stuck into Leonardo, why not check out some other cultural references to the master and his work? You might be surprised where he's popped up, paintbrush or no paintbrush.
Assassin's Creed II

Leonardo is a key supporting character in the video game. He guides the story's protagonist, Renaissance-era assassin Ezio Auditore da Firenze, who is on a revenge mission to hunt down the Templar Order, which murdered his family. Leonardo creates innovative contraptions, like the flying machine seen in the gameplay footage above. It was also known as the "ornithopter", which he really did think up in real life. He is also responsible for asking Ezio to kill members of the Roman Rite of the Templar Order, Uberto Alberti and Francesco de' Pazzi, and save patron of the arts Lorenzo de' Medici – the latter two of whom were real people.

Futurama
Find seasons 1-10 in Apps & Games > Prime Video
In the season 6 episode "The Duh-Vinci Code" from 2010, Leonardo is an alien from Planet Vinci, where he's the least intelligent out of a population of brilliant individuals. He tries his luck on Earth, but can't stand how unintelligent everyone there is, so he returns to Planet Vinci to unveil his greatest invention yet: the Doomsday Machine.

Epic Rap Battles Of History

Didn't know that you needed to see Renaissance artists Leonardo, Donatello, Michelangelo and Raphael dishing out sick burns to their namesakes from the Teenage Mutant Ninja Turtles franchise? Well, this rap battle is pure ART (and surprisingly informative too).

Star Trek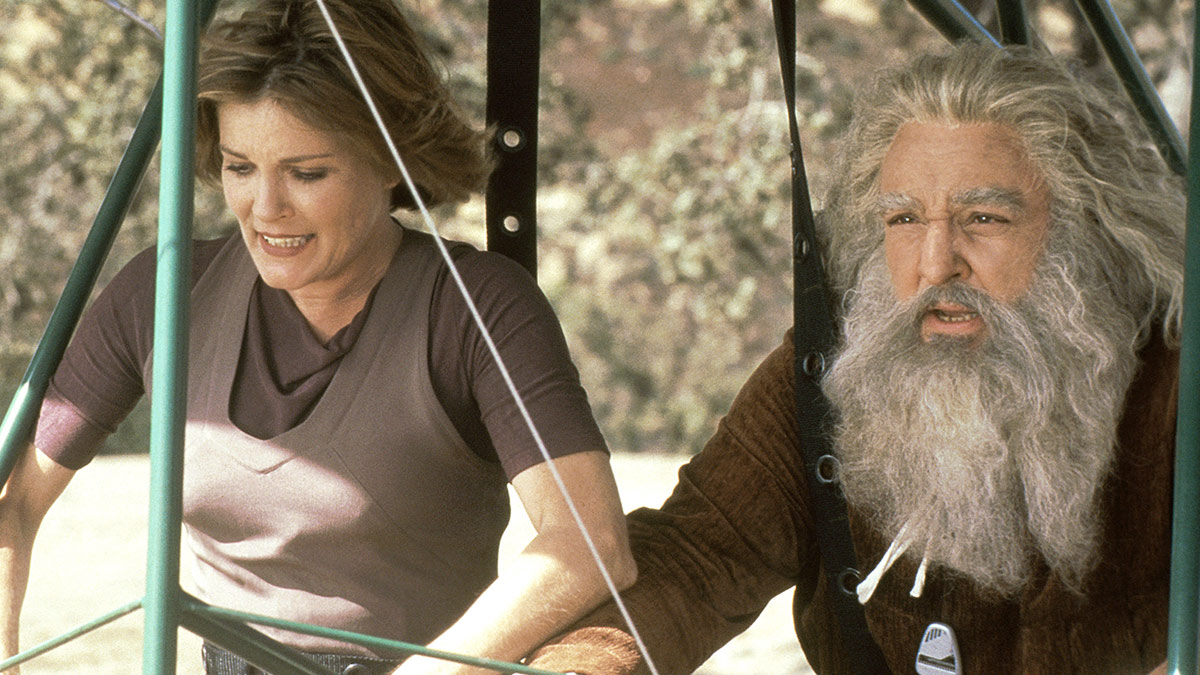 Captain Kathryn Janeway (Kate Mulgrew) seeks advice from the visionary who she calls the Maestro (John Rhys-Davies as Leonardo) in Star Trek: Voyager


Find Star Trek seasons 1-3 + Star Trek: Voyager seasons 1-7 in Apps & Games > Netflix
In "Requiem For Methuselah", an episode from 1969, Flint, an immortal creature born in 3834 BC, reveals that one of his many aliases is Leonardo. In the Star Trek: Voyager series, Leonardo (John Rhys-Davies) and his workshop are created as a holographic simulation. We wish we could consult Leonardo in times of need!

The Da Vinci Code
Find it in Apps & Games > Netflix
Dan Brown's best-selling novel from 2003 and the film adaptation starring Tom Hanks have caused much controversy and speculation about what is real and what is false. It's a tale following a conspiracy theory surrounding Leonardo's works and calls into question a lot of religious beliefs. The most striking link to Leonardo's work, however, is when a murder victim appears in the Grand Gallery of the Louvre, posed in a similar manner to Leonardo's Vitruvian Man drawing.

DC and Marvel Comics
In the DC Comics story Black Masterpiece, Leonardo's apprentice becomes the Renaissance Batman, using his inventions to fight crime in 16th-century Florence. The DC Vertigo division also published a miniseries called Chiaroscuro: The Private Lives Of Leonardo Da Vinci. In art, chiaroscuro means the strong contrasts between light and dark (which makes the name of the below Marvel miniseries all the more interesting).
In the Marvel series S.H.I.E.L.D., Leonardo is the leader of the Brotherhood of the Shied. Through time travel, he visits the 1960s, where he contributes to the founding of S.H.I.E.L.D., an espionage and counter-terrorism agency. He additionally appears as a character in the limited series The Light And Darkness War.

Mr. Peabody & Sherman

"I paint the paintings, I make the machines, I don't tell the jokes!" an exasperated Leonardo tells Mona Lisa as he has almost finished painting her, except for her smile – and she's not smiling. That's where Mr Peabody, a freakishly intelligent talking dog, steps in. He's travelled back in time to Florence in 1508 with his adopted human son Sherman and his classmate Penny, and he makes Mona laugh. Sherman also proves that Leonardo's flying machine works as the great polymath makes a charming cameo in animated form.

Doctor Who
Find series 1-12 in Apps & Games > BBC iPlayer
In the 1979 episode "City Of Death", set mainly in Paris, Leonardo is not seen, but his presence is deeply felt. When the Mona Lisa is stolen by an alien to finance experiments in time travel, the Doctor (Tom Baker) goes back in time, where Leonardo creates six copies of the original painting. Five of them end up getting destroyed, along with the original, but one copy survives. The Doctor and his assistant Romana (Lalla Ward) place the "fake" in the Louvre, and although it is not the first one by Leonardo, it's still been created by the man himself.
In spin-off series The Sarah Jane Adventures, the 2009 episode "Mona Lisa's Revenge" is based on the idea that an alien took on the form of Mona Lisa and was trapped inside the painting for centuries.
If you fancy another reminder of the importance of art, watch the Doctor Who episode from series 5, "Vincent And The Doctor".


While Leonardo was lucky enough to gain recognition and fame during his lifetime, there was no such luck for Vincent van Gogh, who sold just one painting while he was alive, and even that was a struggle to accomplish. The Doctor (Matt Smith) and his companion Amy Pond (Karen Gillan) take Vincent to the Musée d'Orsay in Paris in 2010, where they visit a crowded exhibition of his work. Vincent hears art curator Dr Black (Bill Nighy) say that Vincent was "the greatest painter of them all" and "one of the greatest men who ever lived", and yep, now we're crying.

When is Leonardo on Amazon Prime Video?
Find the eight-part series in Apps & Games > Prime Video from Friday 16 April.
How to watch Amazon Prime Video with Virgin TV
Prime Video is available to all Virgin TV customers with a V6 box, powered by TiVo®. Simply sign up to Amazon Prime Video via their website, and you can log in on the box. And because Prime Video is fully integrated into TiVo®, you can search without even going into the app. Just select Search & Discover from the Home menu and type in the name of the show or movie you're after.
TV channels: Channels, content and features available depend on your chosen package. Channel line-ups and content are subject to change at any time and to regional variations.
HD: HD TV set, V HD Box, TiVo box or Virgin TV V6 connected with HDMI cables required for HD channels. Number of inclusive HD channels depends on package.
Catch Up TV: Catch Up TV content available for up to 7 days or up to 30 days after broadcast, depending on content.
Amazon Prime Video: Amazon Prime subscription required at extra cost. 18+. Click here for T&Cs.
Netflix: Netflix subscription required at extra cost.