Skip to main content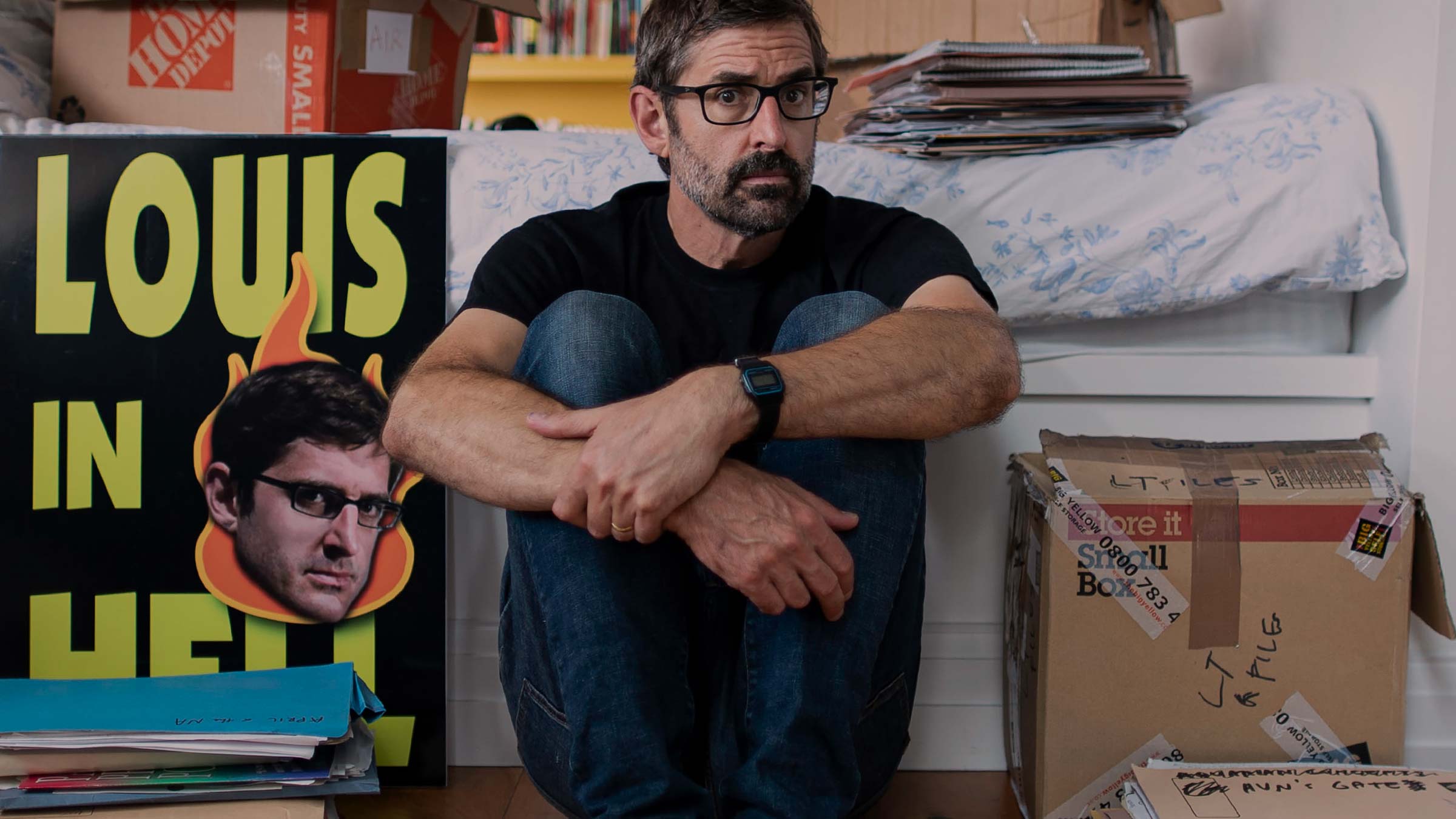 Celebrate 25 years of the nation's self-confessed "socially awkward" sweetheart
By Laura Rutkowski, Staff Writer
Louis Theroux: Life On The Edge is a fitting title for Louis' latest four-parter, because he has made a career out of attempting to understand fringe communities, interviewing people on the outskirts of society. He's shocked and informed audiences since he first appeared on our screens in Louis Theroux's Weird Weekends in 1998.
No topic is off-limits for the journalist, no matter how big, bold or controversial. We've seen him confront the Westboro Baptist Church, the Church of Scientology and his friendship with Jimmy Savile. He's covered polyamory, pornography and postpartum psychosis. He's rapped ("my money doesn't jiggle jiggle... it folds") and stripped (at a sensual eating party, with permission from his wife) his way into our hearts.
During lockdown, Louis has had time to look back through his archive to examine work that spans 25 years and more than 60 hours of documentaries.
Louis Theroux: Life On The Edge will feature interviews with the award-winning filmmaker as he revisits where some of his contributors are now and what he's learnt about the psychology of people. Louis also said the trip down memory lane was "an interesting review of how my haircuts and glasses have changed over the years".
If you Google Louis Theroux, one of the most searched results is: "Why is Louis Theroux so popular?" There's no denying he's got that je ne sais quoi, but if we had to break it down, here are a few ways we'd answer that question…

He has a great sense of humour
Although he often deals with sensitive and serious subject matter, Louis off-camera is quirky and dry, delivering jokes completely deadpan. Just take a quick glance at his Twitter feed or watch a few videos of him being interviewed and you'll see what we mean.
He named his 2019 memoir Gotta Get Theroux This: My Life And Strange Times In Television. Chances are, you've seen the merch with this slogan printed on it, birthday cards that read, "You made it Theroux another year," or pillows that say, "Sleep tight Theroux the night" (slightly creepy).
For the title, Louis told the BBC he wanted to "repurpose the meme, which never struck me as really that funny. Any pun on my name, I've heard a million times". To promote the paperback edition of his book coming out, Louis turned interviewer and interviewee as he grilled himself for a result that is both hilarious and delightful.
He backs himself
You better believe he owns some of the merch we just spoke about, including t-shirts with his face blown up, ones featuring THE MEME, and action figures of himself! He also loosely endorses those, um, interesting prayer candles with his face on. And of course he promotes his work too…
He knew Joe Exotic before everyone knew Joe Exotic
Find Louis Theroux: America's Most Dangerous Pets in Apps & Games > BBC iPlayer
The breakout star of lockdown was undoubtedly Joseph Maldonado-Passage, better known as Joe Exotic, from Netflix's Tiger King: Murder, Mayhem and Madness. A rapt audience devoured his shenanigans in the documentary series, and not long after bingeing through the episodes, people found out why he looked so familiar.
Speaking on The Graham Norton Show, Louis said: "I knew him before he was famous." Joe appeared in Louis' 2011 documentary America's Most Dangerous Pets. Louis added, "If I have any regrets, it's not talking to him more about his two husbands and his rules of engagement for three-person love-making!"
The BBC aired the episode again after Netflix released the series in March, and Louis staged a Twitter watch-a-long. He revealed insights along the way, including: "Yes, I liked him, but I also knew he was spinning me a line" and "Joe may have started with good intentions but he lost his way." He also revealed that Joe mentioned his rival, animal activist Carole Baskin, but Louis and the crew never met her or filmed her. Missed opportunity right there…

How many famous people do you know who would make this kind of video? Exactly. Louis gives the people what they want and what we want is five minutes of his inquisitive face gazing at us as if he's listening to us respond to one of his hard-hitting questions. Who needs therapy? Just put this on and let Louis nod his head and stare into your soul until you're in floods of tears and blaming everything on your parents.
His eyebrows

Louis has a brilliant poker face – it's one of the reasons why people so readily open up to him. He never gives a judgemental or reproachful look, but he does frequently give a… *dun, dun duuuuun* eyebrow raise or eyebrow wiggle. In a Radio Times article analysing Louis' body language and verbal cues, Geoff Beattie, a Professor of Psychology at Edge Hill University specialising in cognition communication, said Louis doesn't allow his face to show emotion or micro-expressions. However, Louis' high eyebrows, which indicate surprise, are an "evolutionary sign of submissiveness or weakness", said Beattie.
"It sends out a signal to another person that they're in control of the conversation. That, combined with the way Theroux looks a bit nerdish, makes him very unthreatening and therefore comforting to his subjects. It may sound harsh, but it's a real social advantage," he added. We're gonna have to give this one a try!

His faux-naïf approach
Find Louis Theroux: Law and Disorder In Philadelphia in Apps & Games > BBC iPlayer
In a BAFTA Guru interview from 2018, Louis said, "Sometimes people say I'm faux-naïf or that I ask naïve questions… I do think that part of the journalistic posture when you're on TV is you can't be seen to know too much – partly, it's not very appealing if you sort of know all the answers to the questions you're asking, but also there's a necessary assumed ignorance where… you've read your notes, but you need to make a scene out of it."
For example, in the clip above, taken from 2008's Louis Theroux: Law and Disorder In Philadelphia, Louis interviews a well-known drug dealer, who denies what he does. Louis doesn't push him, despite knowing his profession, and asks other questions, including how much the diamond chain costs that he's wearing and "How do you make your living?"

There is a wealth of Louis content to enjoy
Find them in Apps & Games > BBC iPlayer
Enjoy 42 documentaries presented by Louis on BBC iPlayer, including:

When Louis Met…: The Hamiltons
Louis And The Brothel
Selling Sex
Mothers On The Edge
Altered States (Episodes: Love Without Limits, Choosing Death and Take My Baby)
Dark States (Episodes: Heroin Town, Trafficking Sex and Murder In Milwaukee)
The Most Hated Family In America
Savile
Louis And The Nazis
Transgender Kids
When is BBC Two's Louis Theroux: Life On The Edge on TV?
Louis Theroux: Life On The Edge airs on BBC Two HD (CH 102) on Sundays at 9pm, with the first episode screening on September 6th. It is also available in Apps & Games > BBC iPlayer.
The four-part series will subsequently air every week until Sunday 27th September.
TV channels: Channels, content and features available depend on your chosen package. Channel line-ups and content are subject to change at any time and to regional variations.
HD: HD TV set, V HD Box, TiVo box or Virgin TV V6 connected with HDMI cables required for HD channels. Number of inclusive HD channels depends on package.
Catch Up TV: Catch Up TV content available for up to 7 days or up to 30 days after broadcast, depending on content.
Interviews: Any opinions expressed in interviews are those of the interview subject and not those of Virgin Media.
Image credits: Louis Theroux © BBC