Skip to main content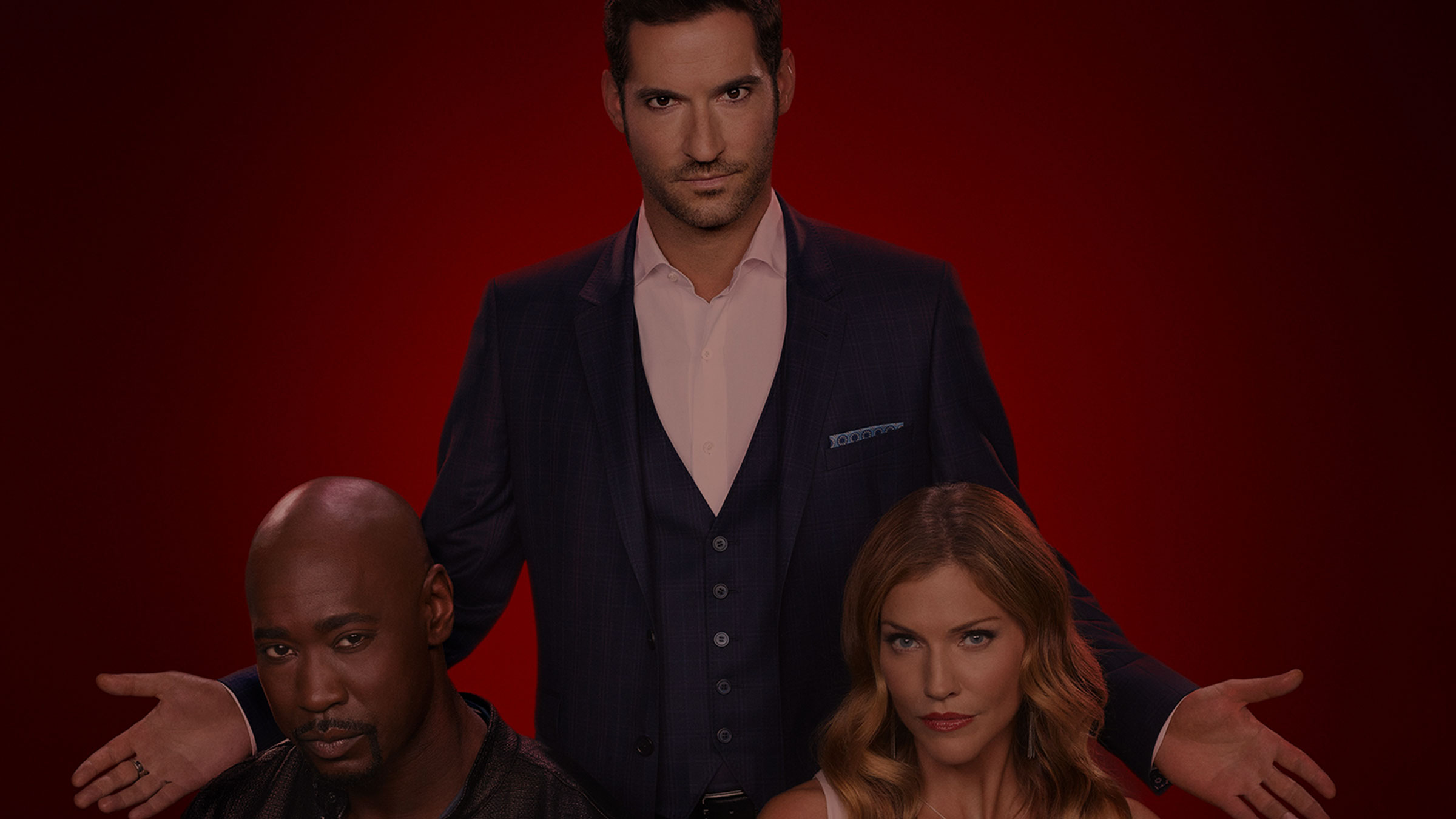 Will Lucifer reveal his devil face to Chloe in season 3? And, more importantly, will she still find him devilishly handsome if he does?
Lucifer, Monday 8 April, 9pm, FOX/HD (CH 157/199). Also available for 30 days in Catch Up > Channels > FOX
The devil is someone who can't be saved, but when Lucifer was set to be axed, the show's fans (or Lucifans, as they're known) raised hell. They stormed Twitter with #SaveLucifer and their prayers were eventually answered, with the show picked up for a fourth season. Season 3 ends on a massive cliffhanger, so you can sleep easy knowing that the dashing dark lord will return to reveal all.
The story follows Lucifer Morningstar (Tom Ellis, Miranda), aka the devil, who one day decides to trade his hellish digs for… the City of Angels. But when a pop star is murdered outside his LA nightclub, he decides to cast his devilish ways aside (within reason, of course) and help find the person responsible.
Soon, homicide detective Chloe Decker (Lauren German, A Walk To Remember) comes knocking and enlists Lucifer as a police consultant. Well, to help find bad people, you need to know how to think like a bad person – or, in Lucifer's case, just be a bad person. Oh, and did we mention that he's British? All the very best evil villains are.
The relationship between Lucifer and Chloe is the beating heart of the show, and their will they/won't they dynamic has kept fans hot under the collar and glued to their screens. As season 3 lands on FOX, we revisit all the best #deckerstar moments. Warning: spoilers ahead!
Up in flames

Being a key feature of his natural habitat, Lucifer's pretty at home surrounded by fire. In fact, it's probably quite a toasty temperature for him. Good thing then that he happens to be around when Chloe is trapped inside a burning building in season 1. What a hunk of burning love!
Piano duet

This scene from season 1 tinkles the ol' heartstrings as Lucifer tinkles the ivories. Sat at a piano, he plays a rendition of Bob Dylan's "Knockin' On Heaven's Door" (oh, the irony). It's the same song Father Frank Lawrence played earlier in the season as Lucifer looked on and charmingly suggested: "Do you know anything that doesn't make me want to impale myself?"
After Father Frank's untimely death, Lucifer revisits it with an unusual amount of melancholy and reverence for the devil incarnate. But it's not all doom and gloom; Chloe later joins him, and together they style out Hoagy Carmichael and Frank Loesser's upbeat "Heart And Soul".
A seaside smooch

These two finally share a kiss in the second half of season 2, and all after Lucifer confesses that he's not worth Chloe's affections, that it would never work out between them, that she deserves someone better than him, blah blah blah. That reverse psychology must have worked. Deckerstar fans the world over let out a collective squeal as Chloe and Lucifer shared this moment.
Rocking a sweet 80s jam

Not only does Lucifer expertly play the piano, he also has the voice of an angel. To prove to Chloe that she "needs" him, he serenades her with "Eternal Flame" in season 2. At the beginning, he even dedicates it to a special someone, but it's not Chloe. He uses his slippery suavity to hunt down Marla, a suspect Chloe's been trying to find. As his finishes the song, he calls her out; weeding her out from the bodies in the crowd before saying to Chloe, "See, you need me" – smooth!
While Ellis doesn't play the piano, the singing is all his own. He told Screener, "I'm very musical, and I can play a little bit, but piano was never my instrument."
Getting "engaged"

Here's something to look forward to in season 3. Lucifer and Chloe pretend to be engaged to solve the mystery behind a jewellery store owner's stolen gems. At one point, Chloe produces one of the stolen diamonds, claiming her "fiancée" is cheap.
But the best part comes when Lucifer adamantly refutes her claim. Ah, it warms our hearts to see the pair bickering like an old married couple! If Lucifer likes it, he should put a ring on it!

Lucifer, Monday 8 April, 9pm, FOX/HD (CH 157/199). Also available for 30 days in Catch Up > Channels > FOX
TV channels: Channels, content and features available depend on your chosen package. Channel line-ups and content are subject to change at any time and to regional variations.
HD: HD TV set, V HD Box, TiVo box or Virgin TV V6 connected with HDMI cables required for HD channels. Number of inclusive HD channels depends on package.
Catch Up TV: Catch Up TV content available for up to 7 days or up to the 30 days after broadcast, depending on content.
Image Credit: Lucifer © 2017 Fox and its related entities. All rights reserved.