Skip to main content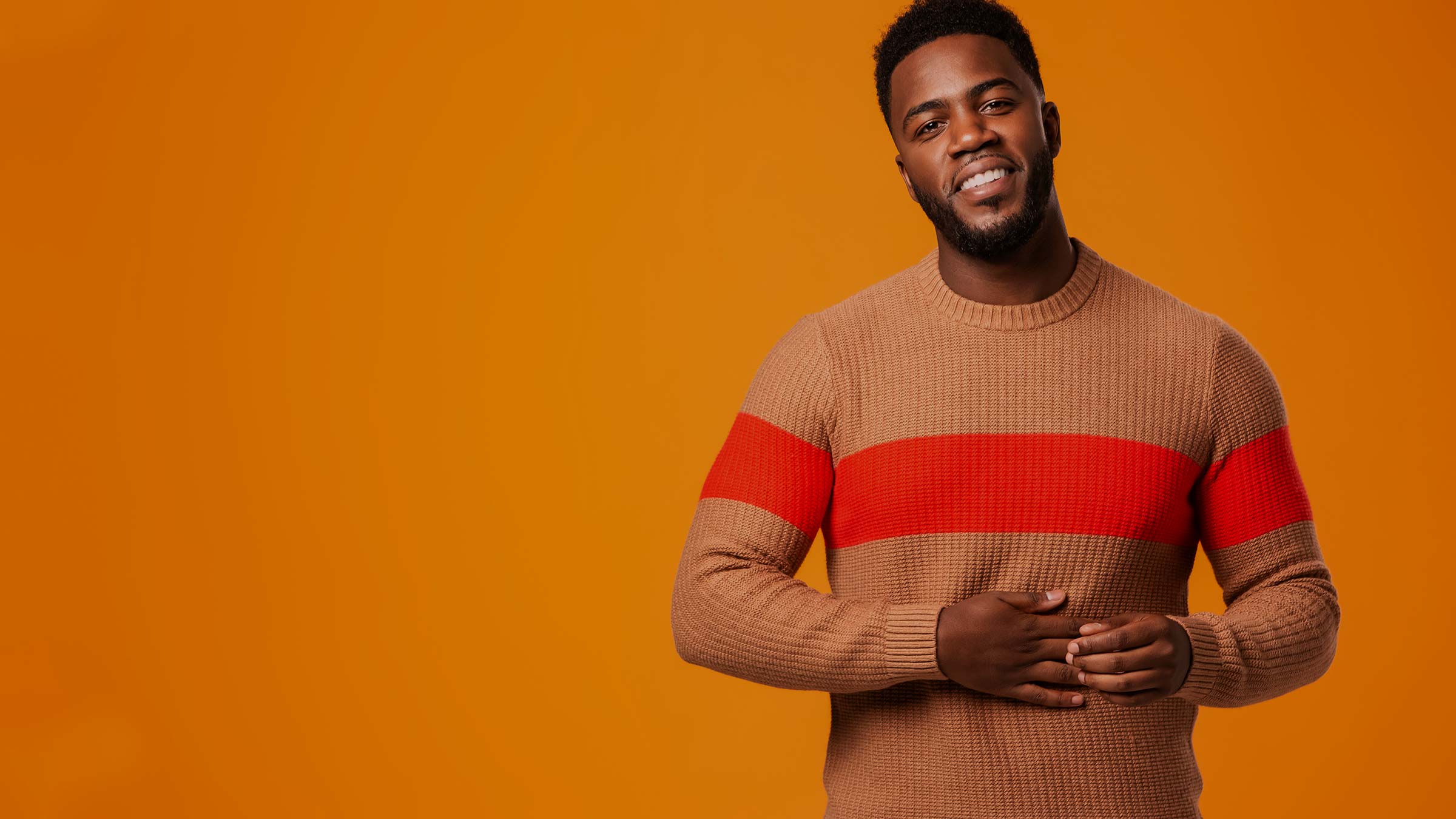 Ahead of the new Channel 4 series Mo Gilligan's All Star Happy Hour, the comedian talks pirate radio, bulk-buying durags and being the "jam king".
By Laura Rutkowski, Staff Writer
What has comedian Mo Gilligan been up to in lockdown? He's been entertaining the nation with his "Quarantine Games" on Instagram Live, where he selects people to play games. He was inspired by pirate radio, which he listened to when he was younger. "I was texting in just so they could call my name out," he says.
His new show Mo Gilligan's All Star Happy Hour is an expanded version of this. "Instead of getting your name called out, you get to play a game." Members of the public go up against celebrities in "homemade games" to win prizes – all coming to you live from Mo's home each week.
If you caught Mo's hilarious appearance in series 3 of The Great Celebrity Bake Off, you'll be pleased to know he's also been spending his time baking. "I have been baking melting moments biscuits, believe it or not, even though I took ages to put my biscuits in the oven [on the show]."
He's also stocked up on a lot of jam sugar to make jam from scratch, one of his newfound specialities. He promises, "The jam is on the way. The jam king is in the kitchen. I'll be at a summer fete any time soon."
We caught up with Mo ahead of his show airing tonight. It promises to be the "happiest hour" on television, not least because he really, really wants people to leave the show happy: "I want to give people the answers so badly. I kind of just want everyone to win, but at the same time, it's not fair then on the next person, so I've been trying to get my quizmaster/host skills up to date."
Here's one of everything from the entertainment world that puts a smile on Mo's face…

TV show: Brooklyn Nine-Nine
Find seasons 1-6 on Netflix + season 7, Thursdays, 9pm, E4/HD (CH 196/145)
I didn't understand the hype, but I get why people love it so much now. I'm on series 1 and I'm fully involved in it. I'm a total binge-watcher. When Tiger King came out, I watched it before the hype had really started. I was like, "This is crazy, this is a bit mad." I'm quite current with Netflix and if there's something new, I tend to watch it.

Box Set: Unorthodox
Find it on Netflix
I binge-watched it in two days. I didn't know there were different people from the Jewish community, so that was eye-opening. It's based on a true story and the acting was really good. Plus, it's in a language I've never heard before – Yiddish. Now I've just gotten onto Narcos: Mexico.

Film: Remember The Titans
A recent film my girlfriend and I really liked was Remember The Titans with Denzel Washington. It's an old Disney film based on a true story, but it was such a heart-warming film.

App: Amazon
Oh my gosh, I can't stop looking for things on Amazon that I don't need. But then I find things that I actually do need that I didn't know I needed – like a food thermometer for my jam. I've been buying a lot of durags. Hopefully I can keep changing them up [on the show] and surprise people with different colours to keep the people guessing.
I got a vinyl player for my birthday, so I want to get a little vinyl collection going. I bought Stormzy's album, J Hus, some Kendrick Lamar.

Friend you always call: The guys
Once I've told my girlfriend and my family [some news], normally I put it in the WhatsApp group with my friends. If I call up one, then I've got to call up everyone, so I tell the guys all at one time. Plus, they're my close friends, so I can trust that they're not gonna go and tell everyone.
The group name changes every other week. Because my beard has grown, and a lot of the guys asked, "How did your beard grow so quickly?", the group is now called "Flight to Turkey," because they all reckon I went to Turkey and got a beard implant.

Video game: Grand Theft Auto V
I've put my PS4 back on, so I've been playing a lot of Grand Theft Auto. Oh my god, I love that game. I completed it already, but I'm restarting it from the top. I'm playing the missions and once I've finished that, I'm gonna start it again and play online. Online is a lot more difficult.

YouTube/TikTok: Million-dollar mansions
I've got TikTok. I don't really put that much stuff on it, but I am quite addicted to it. Once I'm in, I just can't stop watching. What I tend to watch a lot on YouTube is tours of $50 million mansions in LA and New York. I'm like, "Come on, let's have a look. Let's see how ridiculous this house is." Sometimes they have celebrities' houses on. Then in my head, I start being like, "Oh, I wouldn't buy that house." I don't even have $50 million!

Podcast: The Joe Rogan Experience
I like hearing about conspiracy theories. Because the episodes are so long as well, it feels like you're listening to the radio more than a podcast. When I'm cooking, I like a bit of Joe Rogan. My cooking is much better than my baking. I've been making saltfish fritters, lemon pepper wings. I'm a great cook! Celebrity MasterChef – I'm here for it!


Documentary: The Last Dance
Find it on Netflix
What I'm so intrigued by is the footage they've got from the 90s and how it looks so clear now. The 90s suits... oh man. Someone said on Twitter, "Tailors in the 90s were so lazy." You're getting to see behind the scenes of one of the greatest sports players in history [Michael Jordan]. He was at the best of his game, but he still wanted to achieve more, and that's inspiring to watch.

Guilty pleasure: Keeping Up With The Kardashians
My girlfriend and I were looking for something to watch and Keeping Up With The Kardashians was on. I've never really watched it and I was so engrossed in it. I was asking loads of questions, like, "Who is she? Who's this guy then? What does he do? Does Kylie live by herself? Whose house is that then?"
When is Channel 4's Mo Gilligan's All Star Happy Hour on TV?
Mo Gilligan's All Star Happy Hour airs on Channel 4/HD (CH 104/141) on Mondays at 10pm, with the first episode screening on 4 May. It is also available for 30 days in Catch Up > Channels > All 4.
The four-part series will subsequently air every week until Monday 25 May.
TV channels: Channels, content and features available depend on your chosen package. Channel line-ups and content are subject to change at any time and to regional variations.
HD: HD TV set, V HD Box, TiVo box or Virgin TV V6 connected with HDMI cables required for HD channels. Number of inclusive HD channels depends on package.
Catch Up TV: Catch Up TV content available for up to 7 days or up to 30 days after broadcast, depending on content.
Interviews: Any opinions expressed in interviews are those of the interview subject and not those of Virgin Media.