Skip to main content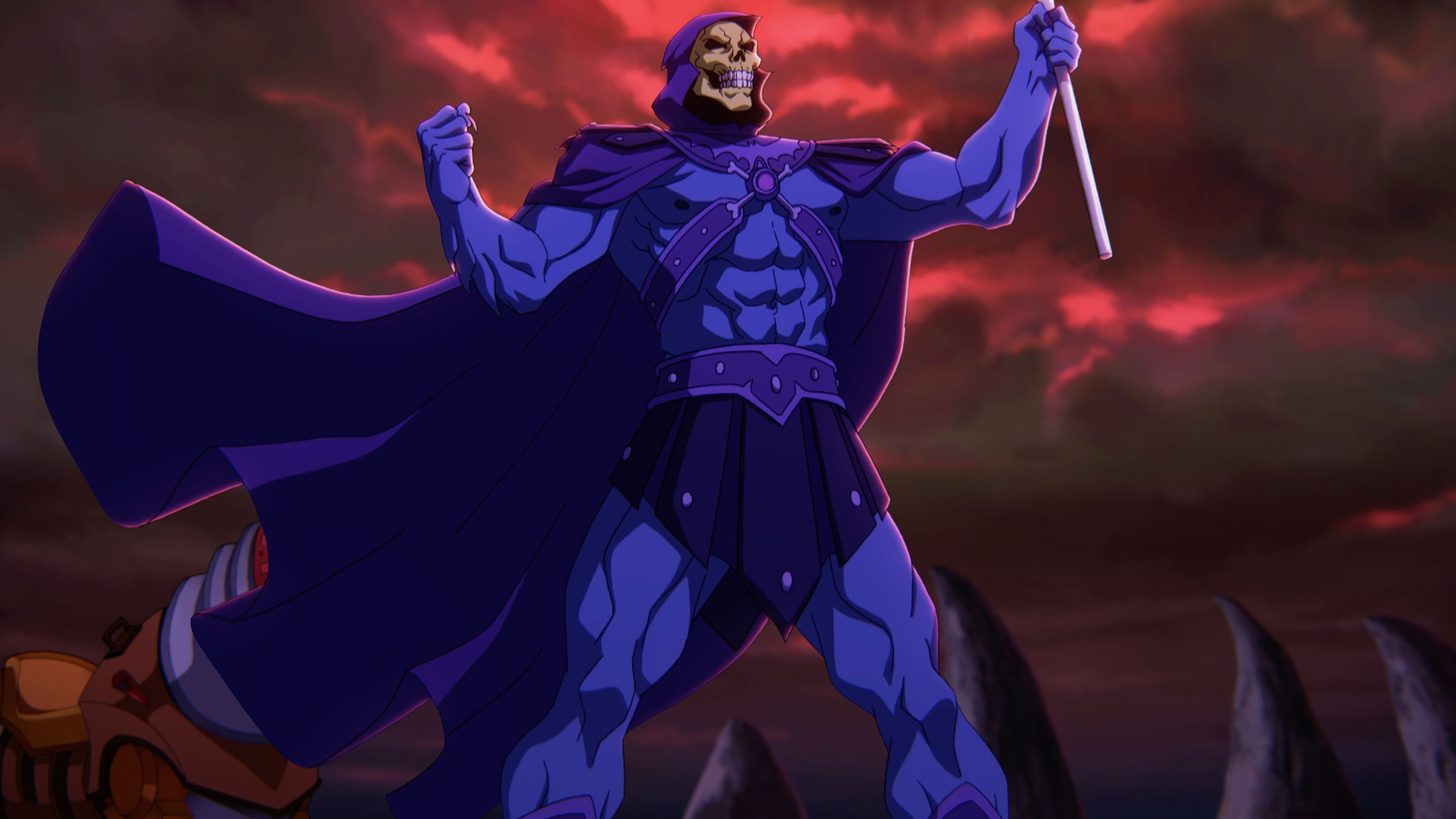 Four decades after first gracing our screens, He-Man is back – thanks to the beautiful mind of Kevin Smith

By Virgin TV Edit
The year is 1983... Return of the Jedi is in cinemas, Michael Jackson's "Billie Jean" is in the charts, and Mario Bros has just hopped its way onto the NES. It was, by all accounts, an absolute vibe.
There was of course another pop culture icon of 83 we shouldn't overlook, the one and only He-Man – son of King Randor, Prince of Eternia, and sworn protector of Castle Grayskull. And now he's back, in a brand-new Netflix series premiering on Friday 23 July.
Let's recap what He-Man was, and is, about...
You're forgiven for not being able to remember every intricate detail of the cartoon you likely watched as a child (or may have only ever heard old people talk about). So, allow us to fill in the blanks…
The show is set on the planet of Eternia, which is pretty much the centre of the universe – were it to fall, the universe would likely follow. Prince Adam is son to King Randor and Queen Marlena, and he's been endowed with special abilities from the Sorceress of Castle Grayskull. When Adam raises the Sword of Power, and shouts "By the power of Grayskull" he's transformed into He-Man – a near-indestructible, exceptionally swole, superhuman.
Much alike Superman, who is unrecognisable to the good people of Metropolis without his Clark Kent glasses, He-Man is Prince Adam's secret identity – despite the fact he looks pretty much the same, just with a tan.
Adam is often seen with Cringer, his cowardly pet tiger. When the Sword of Power is pointed at Cringer, he's transformed into Battle Cat – a huge, armoured tiger, who He-Man rides into combat. The pair are also joined by Man-at-Arms, a dome-headed warrior-solider (real name Duncan – LOL); Teela, captain of the royal guard; and Orko, a diminutive floating mage.
On the other team is of course Skeletor – the skull-faced, blue-skinned big baddie; his right-hand guy, Beast-Man, who's kind of like an ape-human mix; and Evil-Lyn, a wicked witch who can conjure dark magic against our brave heroes. Skeletor wants to run the show, and is hell-bent on toppling the powers that be so he can gain access to Castle Grayskull. But our heroes are no pushovers, and will stop at nohting to protect the sacred fortress.
What's the new story about?
It picks up where the 80s series left off, following a calamitous showdown between He-Man and Skeletor, which left the custodians of Castle Grayskull battered, bruised, and far flung. Now, decades later, it's down to Teela to reunite the champions, find the Sword of Power (which has gone walkabout) and restore peace to Eternia.
Who's in the voice cast?
It's a genuine pop culture bonanza. First up is this one guy who did a little thing once called Star Wars – it's only Mark bloomin' Hamill! Jedi Master Luke Skywalker will be lending his vocal talents to the villainous Skeletor. Hamill is no stranger to sound booth-ing baddies, having voiced DC's Joker in video games and cartoons for years.
Chris Wood (Supergirl, The Vampire Diaries) will voice the most powerful man in the universe, Liam Cunningham (Game of Thrones) is Man-at-Arms, Sarah Michelle Gellar (Buffy) is Teela, Lena Heady (also Game of Thrones) is Evil-Lyn, Griffin Newman (The Tick) is Orko, and Stephen Root (Office Space, Dodgeball) is Cringer.
Who is Kevin Smith?
The reprised show has Kevin Smith at the helm – self-proclaimed geek, comics writer and the man behind films like Mall Rats, Chasing Amy and Dogma. Born in the early 70s, Smith grew up watching He-Man, and the show is one of the reasons he fell in love with superhero stories.
Smith is confident the new series isn't just for fans, but newbies, too. And the only thing that's different in his series, is that the animators have a sharper box of pencils. "For the first ten minutes of the show, it plays like an episode of He-Man and the Masters of the Universe, just better drawing," he says. "And then at the ten-minute mark, we switch. Everybody's still the same, but they have to deal with the fallout of something dire happening for the first time. We tee off from there."
Master your He-Man facts with our Big Numbers
When is Masters Of The Universe: Revelation on TV?
Spread over ten episodes, the first half of Masters of the Universe: Revelation series will arrive on Netflix on Friday 23 July. The remaining episodes are due at a later date.
How to watch Netflix with Virgin TV
If you have a TiVo® box or Virgin TV V6 box, powered by TiVo®:
Press home on your remote
Select Apps & Games
Select All Apps
Select Netflix
If you're already a Netflix subscriber, you can also access the app through Search & Discover or by pressing Red on channel 204. Just sign in with your existing login and start watching. And you'll only have to log in the first time you use it.
If you're new to Netflix, then you'll need to subscribe to use the app. The easiest way to do this is by going to netflix.com/virginmedia. You can also subscribe using the Netflix app in Apps & Games.
TV channels: Channels, content and features available depend on your chosen package. Channel line-ups and content are subject to change at any time and to regional variations.
HD: HD TV set, V HD Box, TiVo box or Virgin TV V6 connected with HDMI cables required for HD channels. Number of inclusive HD channels depends on package.
Netflix: Netflix subscription required at extra cost.