Skip to main content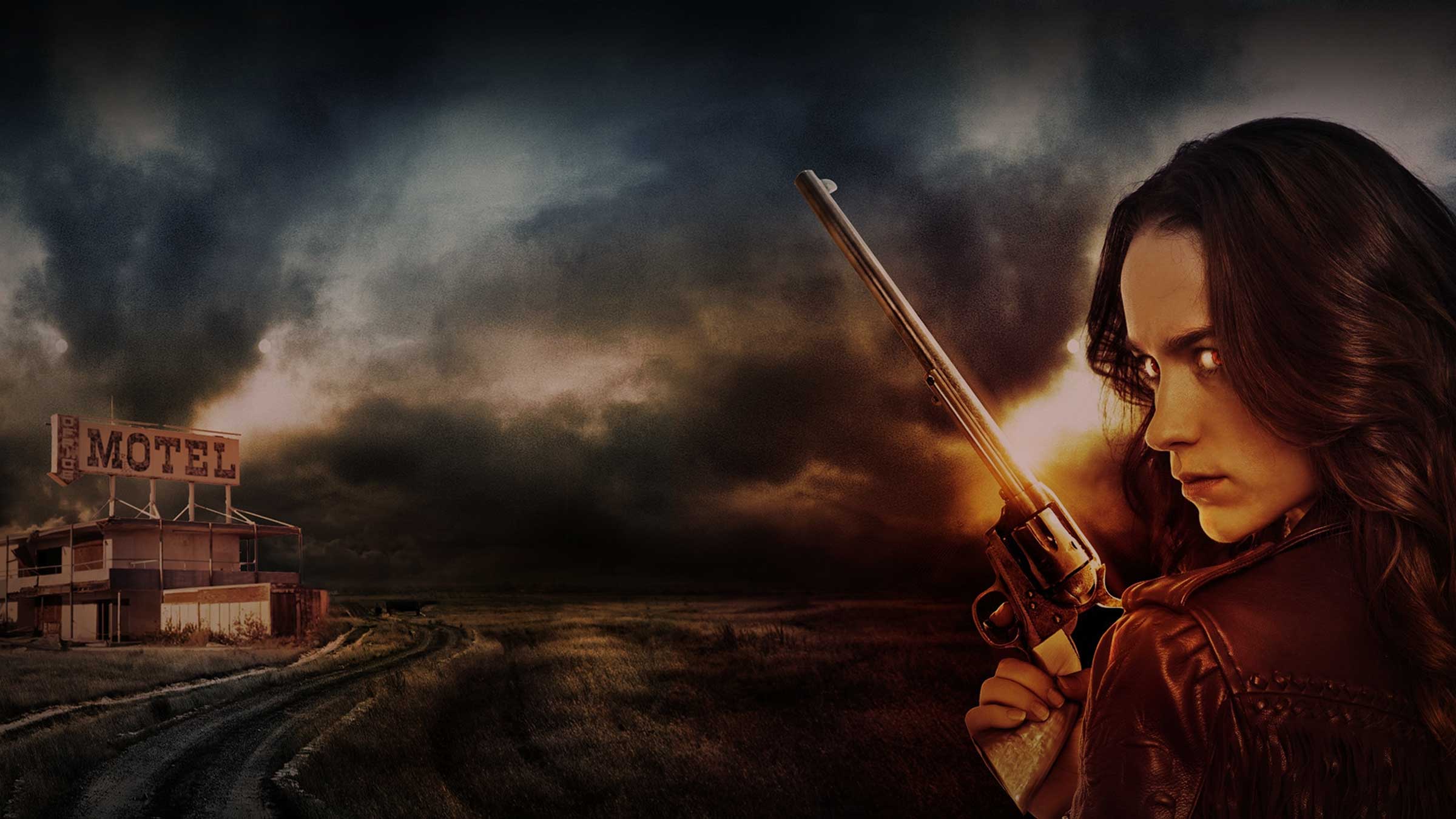 They're creepy and they're kooky, mysterious and spooky, they're altogether ooky, and they're so hot right now
Find them on Netflix
You know a TV show has had a real cultural impact when it gets a loyal band of fanatical followers who even have their own name. That's certainly true of western/horror hybrid Wynonna Earp, one of the most talked-about shows on Netflix, with fans who call themselves Earpers. And shows that dabble in the supernatural seem to attract this kind of dedicated fandom, including Lucifer's Lucifans and Teen Wolf's Wolfies. All those passionate fans can't be wrong – right?!
Those titles all appear in this list of some of the very best supernatural shows you can watch on Netflix. There's no doubt that fans of the spooky and strange are well served. So when you feel like escaping real life for a little while, get absorbed in the worlds of vampires, witches, werewolves and things that go bump in the night. Ooh, we're getting goosebumps just thinking about it…
1. Chilling Adventures Of Sabrina

We remember the light-hearted Sabrina The Teenage Witch of yesteryear, featuring Salem the talking cat, but Chilling Adventures Of Sabrina goes down an altogether darker route, with not a word from Salem (so far). Sabrina Spellman (Kiernan Shipka, Mad Men) must come to terms with being half-human, half-witch while being dragged into power struggles with Satan and the like. Here, sorcery is very chic – just take Sabrina's spin-and-her-outfit-changes move. We want to learn that!
2. Riverdale
There's been talk of a Riverdale/Chilling Adventures Of Sabrina crossover – they are both from the Archie comics universe, after all – and season 3 of Riverdale began very supernaturally indeed. We're talking back-carving, a cult around a bonfire, twins suspended in the air… Things were already creepy before all that for Archie (KJ Apa, The Hate U Give) and his gang, with a mysterious death shaking his small town to its core.
3. Wynonna Earp
Giddyup, partners! This is the tale of the (imaginary) great-great-granddaughter of Wyatt Earp, who was a very real American frontiersman, saloon owner, gambler and lawman. In this series based on Beau Smith's comic books, Wynonna (Melanie Scrofano) steps into her ancestor's shoes as she's forced to kill the Revenants – criminals Wyatt killed long ago who have now come back to life. This is the Wild West at its weirdest.
4. The Umbrella Academy
It's only right that this series based on a brilliant comic book is, well, brilliant. Former frontman of rock group My Chemical Romance, Gerard Way, penned this story about seven special children adopted by billionaire Sir Reginald Hargreeves. He creates the Umbrella Academy and trains them to save the world. They lose touch as teenagers, but the members later regroup when they learn of Hargeeves' death. Misfits' Robert Sheehan, Ellen Page (Flatliners) and singer turned actor Mary J Blige star in this unconventional superhero show.
5. Stranger Things

If you've not heard of Stranger Things, perhaps you've been living in the Upside Down too long. In small-town Indiana in 1983, 12-year-old Will Byers (Noah Schnapp) goes missing. His mother, Joyce (Winona Ryder), will stop at nothing to find him, which leads her and Will's friends down a rabbit hole of secret government experiments, a frightening beast called the Demogorgon and a girl with strange powers called Eleven (Millie Bobby Brown). Get involved before season 3 is released on 4 July – it's all anyone will be talking about.
6. Lucifer
After Fox cancelled Lucifer, Lucifans caused an uproar – and Netflix rode to the rescue, picking up the show for season 4. The story follows Lucifer Morningstar (Tom Ellis, Miranda), literally the devil in people's clothing, who relocates from Hell to LA, and occasionally helps out the police. Detective Chloe Decker (Lauren German, A Walk To Remember), the other half of Lucifer's will-they-won't-they couple (also known as #DeckerStar) returns, with fans eager to see whether the two will face their forbidden love. Whether this will be the final finale we don't know, but either way, it's devilishly good.
7. The Haunting Of Hill House
Shirley Jackson's classic horror novel is given a modern makeover in this tale of siblings who return to the haunted house they grew up in. Seeing ghosts seems to be something of a family trait, with the siblings' presents seemingly as troubled as their pasts. This jumpy scarefest is psychological as well as supernatural, meaning it'll be in your head long after the credits roll.
8. Shadowhunters: The Mortal Instruments
Clary Fray (Katherine McNamara, Arrow) receives an unexpected 18th birthday present when she finds out she's a Shadowhunter – a human-angel hybrid with a sacred duty to hunt demons. When her mother is kidnapped, Clary is given a baptism of fire into this new world, where the impossible becomes fantastically possible. We recommend reading the books this series is adapted from for maximum immersion.
9. Hemlock Grove
Based on Brian McGreevy's book and executive-produced by horror king Eli Roth (Hostel), this Netflix original series centres around the murder of a young girl. Two suspects decide to take matters into their own hands in a bid to find the killer, but among the creepy residents of the run-down Pennsylvania town, everyone is a suspect. Hemlock Grove has all the ghouls you could ask for: vampires, werewolves and monsters of all shapes and sizes. Look out for It's Bill Skarsgård, who has become a regular on the horror scene.
10. The OA

Brit Marling co-created this series and also stars as Prairie Johnson, a woman who returns home after disappearing seven years ago… and she's no longer blind. Although her friends and family are thrilled to be reunited with her, she refuses to discuss what exactly happened during those years. With Prairie as your unreliable narrator, you don't know whether or not what you're seeing is a mere flight of fancy – and that's part of the fun.
11. Grimm
Grimm's Fairy Tales – the real ones, not the watered-down kiddie versions – are actually pretty gory and disturbing. Grimm brings their villains from the page to the screen, with Nick Burkhardt (David Giuntoli) the only one who can stop them. He's a homicide detective in Portland, Oregon, and is also a descendant of a group of hunters responsible for banishing the mythological creatures known as Wesen. Good luck sleeping tonight!
12. The Innocents
Like a 21st-century Romeo and Juliet, teenagers Harry (Percelle Ascott) and June (Sorcha Groundsell) are in love, much to the dismay of their families. They run away together so they can express their love freely, but it soon comes to light that, wouldn't you know it, June has the ability to shape-shift. And there are more people like her – a revelation that threatens to derail their relationship. Perhaps staying ignorant, or innocent, really is bliss?
13. Goosebumps
RL Stine's books terrified us and so did the 1995 series based on them. From a kitchen sponge that's alive and a creepy cuckoo clock to perpetuating the notion that we should absolutely not go to summer camp or into our basement, Goosebumps still has the ability to chill your bones, even with its 90s-era special effects.
14. American Horror Story
This Emmy-winning drama is not for the faint of heart. Each season has its own spooky theme (Murder House, Asylum, Coven, Freak Show, Hotel, Roanoke, Cult and Apocalypse) and even the trailers and opening credits are ridiculously scary. Series regulars Evan Peters, Lily Rabe, Sarah Paulson and Jessica Lange star as different characters each time around alongside a top-class, changing cast in this show from – would you believe it – the co-creators of Glee. Definitely watch with a friend!
15. Sense8

Eight strangers around the world become intrinsically linked and discover they are "sensates", which means they can psychically share all their knowledge and skills. When a malicious sensate attempts to manipulate them, they're forced to work together to ensure they don't lose their connection. Film-makers Lana and Lilly Wachowski (The Matrix) make their Netflix debut in this series co-created with comics writer J Michael Straczynski, which was filmed in cities including London, Reykjavik, Nairobi and Mumbai.
16. Once Upon A Time
If you wish life was just one big fairytale, this is the show for you. For Emma Swan (Jennifer Morrison, House), life is good until Henry, the child she gave up for adoption, re-enters it. He believes she's the daughter of Snow White and Prince Charming, and that only she has the power to break the curse that binds her hometown of Storybrooke, which is teeming with fairy tale characters who have lost their memories. With Ginnifer Goodwin as Snow White, Jamie Dornan as the Huntsman and Robert Carlyle as Rumpelstiltskin, this is one magical world you won't want to bibbidi-bobbidi-boo out of.
17. Being Human
Mitchell (Aidan Turner, Poldark) and George (Russell Tovey, Quantico) are just your average 20-something housemates… except Mitchell's a vampire, George is a werewolf and their house is haunted by a ghost called Annie (Lenora Crichlow, Black Mirror: White Bear). What bonds them all is their desperate desire to become human – a struggle that proves to be both humorous and dramatic, and manages to make the surreal seem entirely normal.
18. Russian Doll
Russian Doll will keep you glued to the edge of your sofa, bed, train seat, desk – basically wherever you're watching it. Nadia Vulvokov (Natasha Lyonne, Orange Is The New Black) is celebrating her 36th birthday when she gets stuck in a time loop in which she dies, only to wake up back at the party as if nothing happened. She eventually meets a man named Alan Zaveri (Charlie Barnett, Chicago Fire), who seems to be going through the same experience. Lyonne co-created the show with Parks & Recreation's Amy Poehler, so you're guaranteed a few laughs along the way.
19. The Originals
In this spin-off from The Vampire Diaries, Klaus Mikaelson (Joseph Morgan), who's part-vampire, part-werewolf, returns to New Orleans, the city his family helped to build. It's now being run by the evil vampire Marcel, who once was Klaus's protégé. Talk about a stake in the back! Whether you're a fan of The Vampire Diaries or not, there's lots to enjoy in this standalone series, which features occasional crossover episodes.
20. The Rain

We don't like rain at the best of times, but we especially don't like it when it's carrying a deadly virus. Almost everyone in Scandinavia has died because of this toxic rain, but two Danish siblings, Simone and Rasmus, are among the survivors. After spending six years in a bunker waiting for their father to return, they're forced to emerge into the outside world once more, and join a group of fellow survivors. But this post-apocalyptic world isn't as lawless as it initially seems, spelling danger for the duo. Will what's left of humanity descend into savagery or find salvation?
21. Altered Carbon
Based on Richard K Morgan's cyberpunk novel, Altered Carbon is set in the 24th century, where the human mind has been digitised and the soul can be transferred from body to body. The mind of Takeshi Kovacs (Joel Kinnaman, RoboCop) – the only surviving soldier of a group of warriors – has been imprisoned for centuries and now he's being given the chance to live again. Laurens Bancroft (James Purefoy, The Following) offers to revive him, with one condition – he has to solve Bancroft's murder. It's mind-bending stuff.
22. Black Mirror
Charlie Brooker's dystopian world may seem far-fetched but it's only fantastical in that it hasn't happened yet. We already have contact lenses that can capture video, as used in the episode "The Entire History Of You"; people are creating online versions of themselves for loved ones to chat to when they're gone, which is taken to the next level in "Be Right Back"; and we're expecting a "Hang The DJ"-style dating app, where matched couples are forced to spend a predetermined amount of time together, to be rolled out any minute now. And not forgetting Boston Dynamics' robot dogs, which are eerily similar to the ones killing all humans in "Metalhead". To avoid an existential crisis, maybe don't watch this series all in one go!
23. Teen Wolf
This revamp of Michael J Fox's 1985 film follows teen Scott McCall (Tyler Posey, The Last Summer), who's bitten by a creature in the woods that turns him into a werewolf – fur, fangs and all. The poor guy just wants to crack on with getting to know his crush, Allison Argent (Crystal Reed, Gotham), but she's harbouring her own family secret related to werewolves… Where will Scott's loyalties lie?
24. The Mist
Stephen King's 1980 novella was first adapted into a film in 2007, and now you can double down on the thrills with this series, starring Alyssa Sutherland (Vikings) and Morgan Spector (Homeland). In Bridgeville, Maine (the state in which almost all of King's stories are set), a bizarre mist containing unspeakable evils is suddenly unleashed, wreaking havoc on the residents as they try to retain their sanity.
25. iZombie

If you're looking for a fresh spin on the zombie genre, look no further. Olivia "Liv" Moore (Rose McIver, A Christmas Prince) turns into a zombie, but still tries to pass herself off as a human, despite her pallid complexion and newfound appetite for human brains. She takes a job at a coroner's office (primarily to sate her appetite), but begins to experience the memories of the people she tucks into, leading her to collaborate with the police to solve a series of murders.
Ready to watch?
Find out how to access Netflix from your telly here – a whole world of dreamy streaming awaits!
Netflix: Netflix subscription required at extra cost.