Skip to main content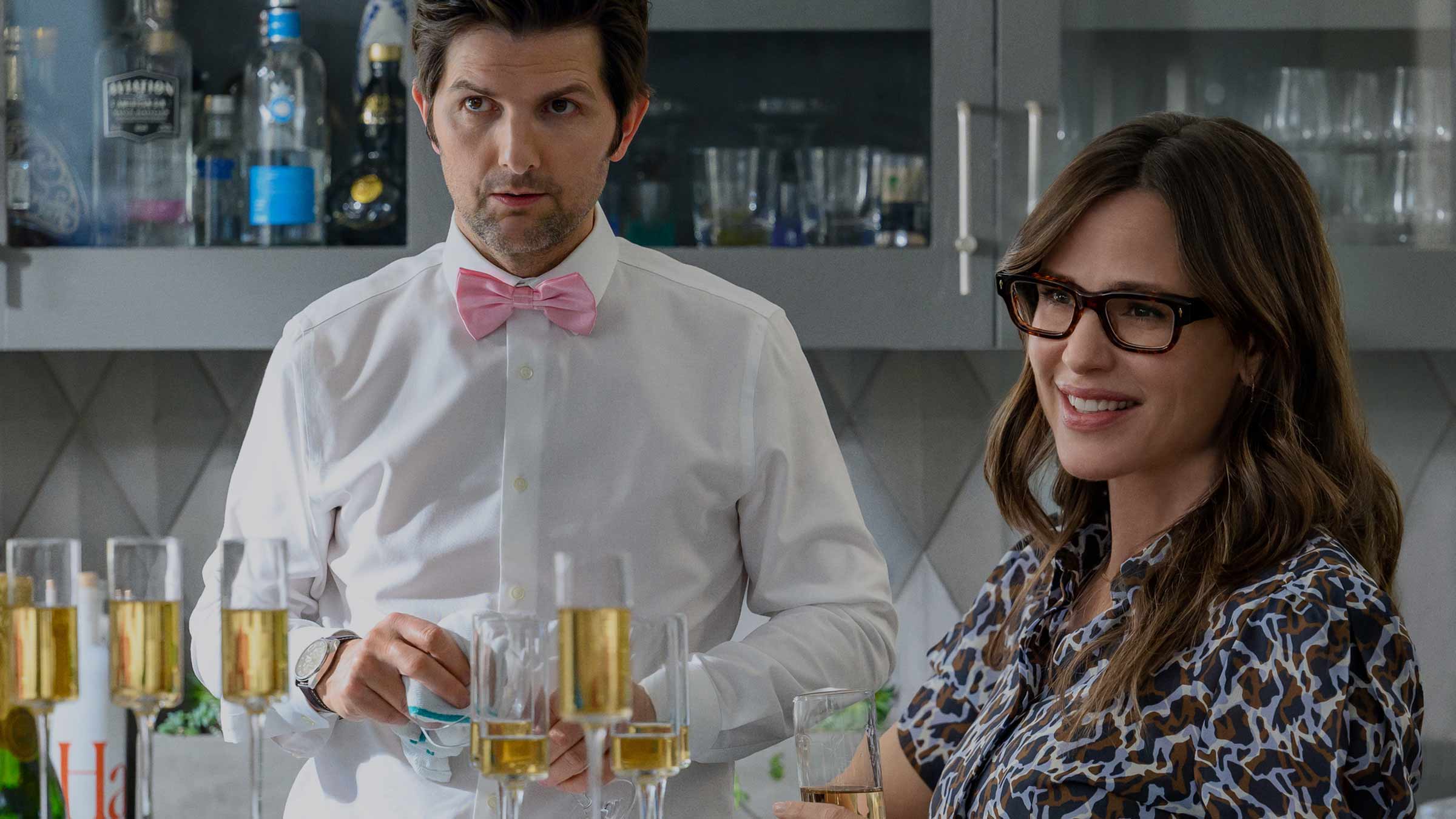 Adam Scott, star of Parks & Recreation and Severance, talks to Virgin TV Edit about cult catering comedy Party Down, which has been revived for a new season on LIONSGATE+
By Chris Miller, Feature Writer
When Adam Scott won the role of Ben Wyatt in hit sitcom Parks & Recreation, he soon became part of TV's most adorable couple alongside Amy Poehler's Leslie Knope. He had some superb comic moments along the way too, from admitting to his shameful past as a teenage mayor ("Ice town costs ice clown his town crown") to the time he attempted to treat himself (treat yo' self!) and ended up dressed as a sad Batman.
More recently he's starred in prestige dramas Big Little Lies and Severance, getting his first Emmy nomination for the latter – a groundbreaking, unsettling series about people separating their consciousness into work and non-work personas. But before all that, there was Party Down.
A sitcom set in a sort of shadow world of catering, where aspiring actors serve food and drinks to the great and the good (and the frankly awful) of Los Angeles, it ran for just two seasons thanks to low ratings – but those who discovered it loved it. And now it's back for a third season, 13 years after it originally ended.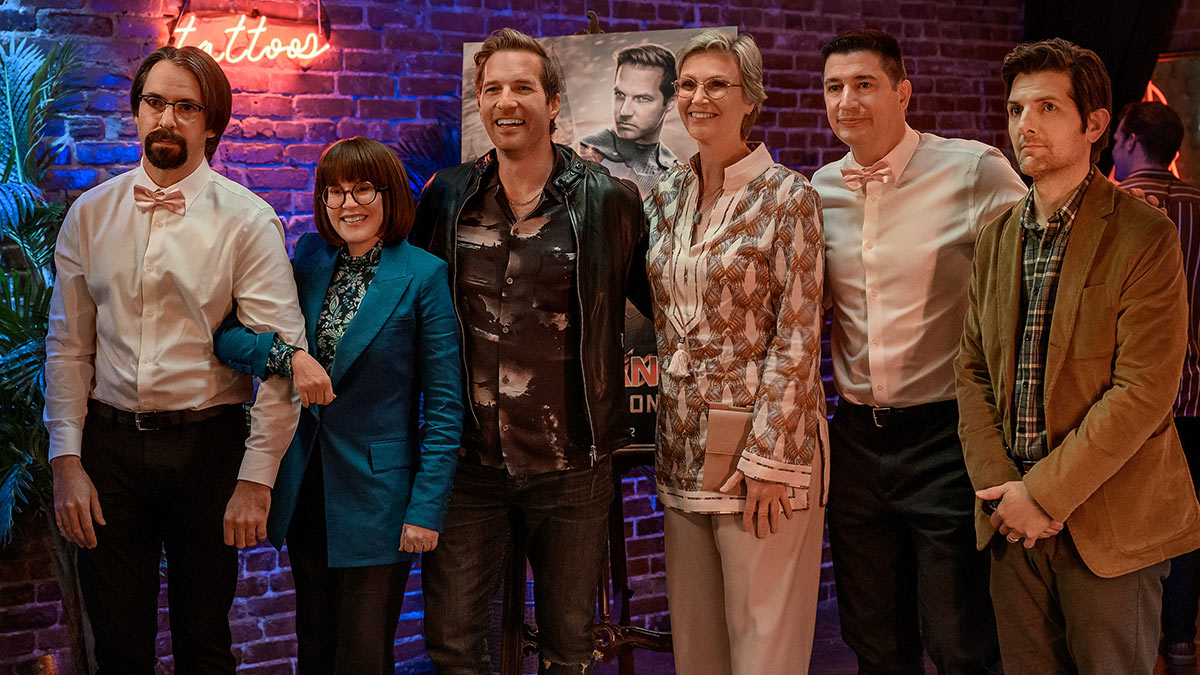 Scott is Henry Pollard, an actor/bartender haunted by the catchphrase he uttered in a beer commercial, "Are we having fun yet?!" – which is yelled at him by guests at every event. At Party Down catering, he works alongside a bunch of deluded wannabes and never-weres – including himbo Kyle (Ryan Hansen, 2 Broke Girls), loopy acting mentor Constance (Jane Lynch, Glee), sci-fi zealot Roman (Martin Starr, Spider-Man: Far From Home) and ambitious momager Lydia (Megan Mulally, Will & Grace) – as they complain, break rules, slack off, and steal food and booze at every opportunity.
Trying to maintain control is boss Ron Donald (Ken Marino, The Other Two), an enterprising hard worker who is nonetheless one of life's undoubted losers. Anything that can go wrong for Ron will go wrong, and his ambitions are thwarted at every turn – often with physically painful consequences. Although Henry recognises Ron's innate ludicrousness, he also sympathises, and the interplay between the two is one of the show's great pleasures.
As the new season begins, things are looking up: Henry is happy, Kyle has landed a big role in a superhero movie, and Ron looks like he's finally going to own the business. He's convinced it's going to be a great year for parties and for Party Down catering. Yeah… it's March 2020.
With the new season coming to LIONSGATE+, and many of the cast returning alongside new faces such as Jennifer Garner (Yes Day) and James Marsden (Dead To Me), we spoke to Scott about reviving the show, his bartending skills, the upcoming second season of Severance and more…
The new season starts out with a lockdown theme. Was the revival a product of lockdown?
I don't think so. Ever since the show ended in 2010 we've been talking about getting back together. At one point there was a movie we were talking about and then eventually, some more episodes. So it's really taken 13 years to figure out and get everyone back together.
When you did get back together, did it feel like the original seasons were a thousand years ago or was it just like the old days?
It's a cliché now because there's so many reboots and stuff but we really did fall right back into where we were. I mean, we're all older and we as people have settled into our skin a little bit but so have the characters. So there's change that's occurred, but it's all happy, healthy change.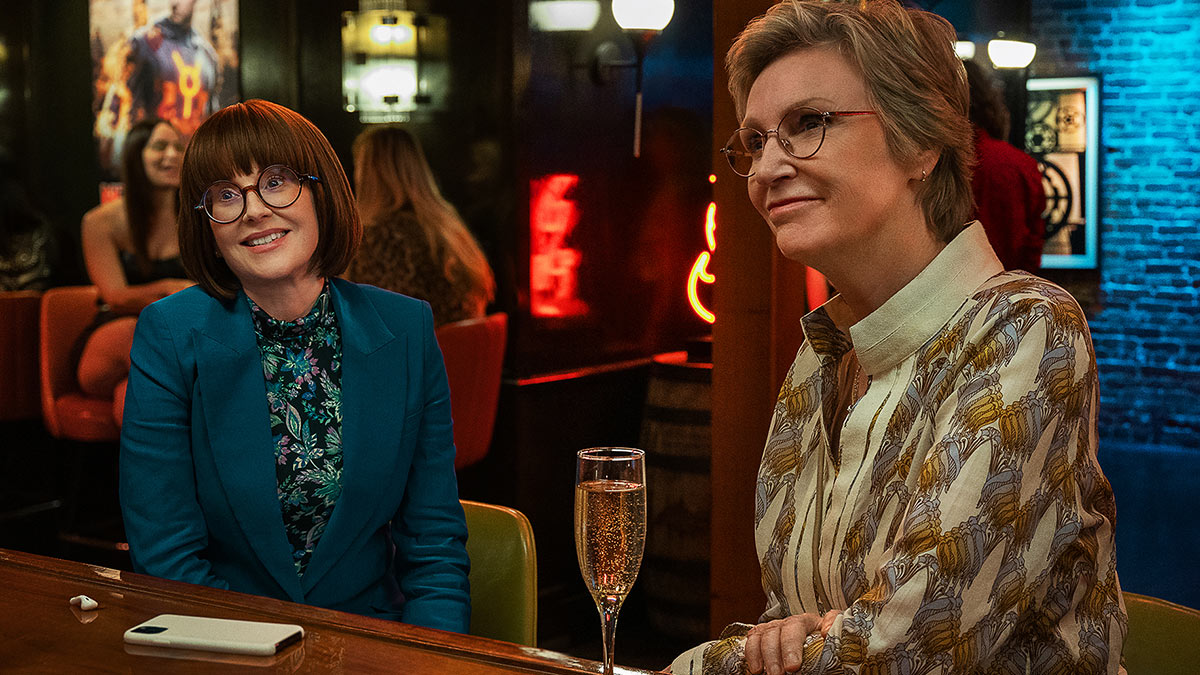 Yes, Henry seems more at ease with doing the job now, even if he's not OK with the reasons he's back at Party Down – and actually, he's a good bartender!
Yeah, not bad, you know. Never gonna win a trophy, but he'll make your vodka tonic and you won't complain.
Henry is followed around by a catchphrase he can't escape. Has that broken out into real life? Do people say it to you?
Yeah, sometimes I get people asking me to say it into their phones and stuff but I like that it's been used so sparingly on the show. I think if I started doing it all over the place into anyone's phone it would also get annoying and not be a special, stupid thing, which is what it is. It's extremely stupid but it should remain special.
Did you do any terrible jobs when you were trying to make it as an actor?
I was pretty lucky. My grandmother supported me through acting school, so I didn't have to work, and soon after that I started doing background work and then doing guest spots on TV shows. So pretty quickly I started being able to scrape by.
So if you've ever learned anything about catering, it was from the show?
It was from Party Down. And it was fake.
So you don't have a signature dish or drink that you picked up while playing Henry?
I do not. And I still would not be able to make you a drink. You know what I did – I watched a lot of Cheers, and watched Ted Danson and stole from him. A bar is a great place to act a scene in, because you can just always be doing something: cutting up limes, wiping down the bar, putting straws in… there's always something to do, and that's what I got from watching Cheers. Danson was never standing still, he was always doing something… He's the best.
I guess we're all trying to emulate Ted Danson in some way.
I should be so lucky.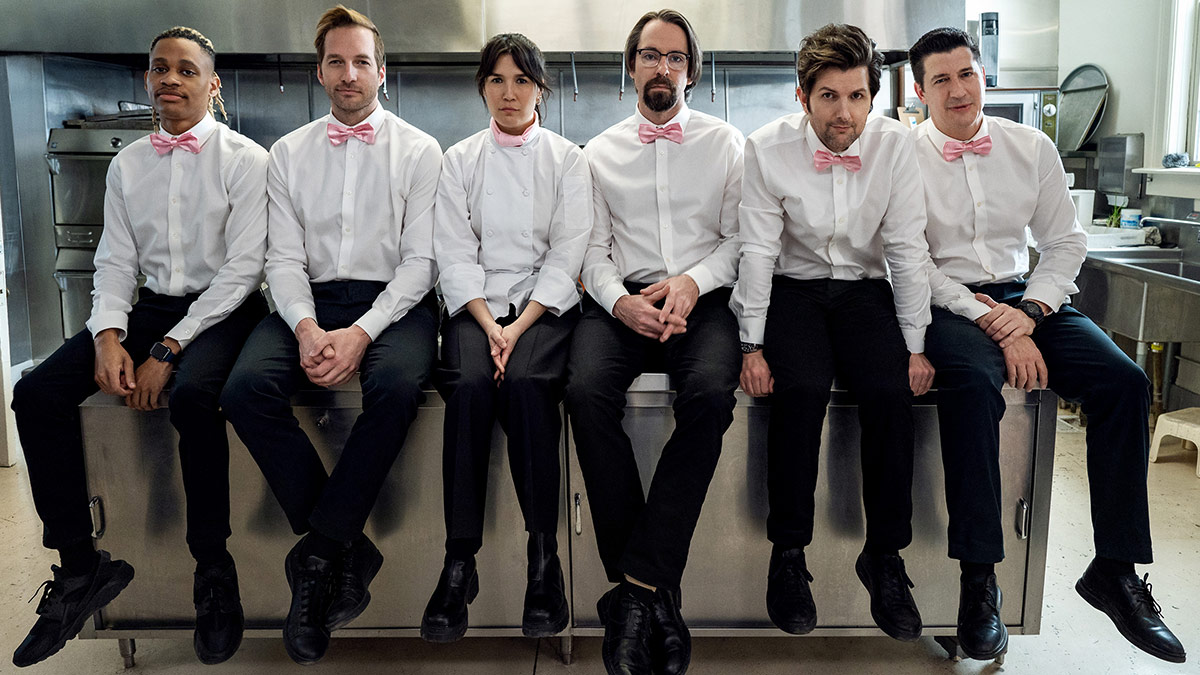 So what does an Adam Scott party look like? After your experience of Party Down, would you have it catered?
Yeah, probably. I think it takes a lot of worry out of the party if you have someone else dealing with food and drinks… catering serves a really good purpose, I think, as far as parties go.
In the new season, Evie (Jennifer Garner) has karaoke at her party even though she hates it. Would you have karaoke?
Sure. I'm not a big karaoke person, but at a party there's going to be a bunch of people that are into karaoke and you can keep them busy over there. While I can go find a room to sit by myself in… Just kidding!
Ron Donald is such a great creation – have you ever worked with anyone as committed to a character as Ken Marino is to Ron?
Ken's ridiculous, and maybe the funniest person alive. I love Ken so much and even walking around with him, I get home and my belly hurts because I've been laughing. He's just one of those people who really just makes me so happy, he's such a great guy. Ken calls Ron Donald a "duh-de-do", he says "yeah, he's a duh-de-do". I'm like, "What is that?!" He's like, "It's just, you know, the guy, he's a duh-de-do!" And that's perfect, that is who he is, he's a duh-de-do. He means well, but he just doesn't get it, and he never will. He's Ron Donald. And Ken is just a master.
Congrats on the Best Actor Emmy nomination for Severance. You're filming season 2 now, right?
Thanks. Yeah, we're in the middle of it right now.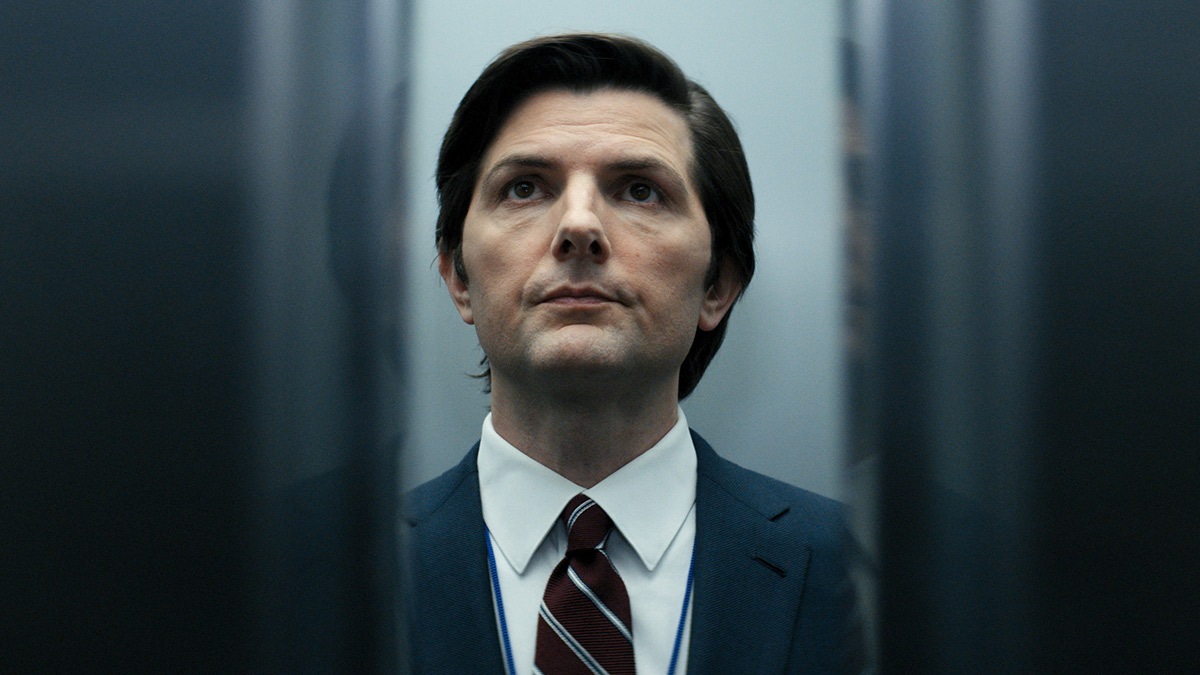 Have you heard any wild fan theories about what's really going on, or what might happen in season 2?
I know there are a lot of them and it's incredible – and not just those but the artwork I've seen on Instagram, people with their drawings and paintings and animation that they've made, inspired by Severance. I've actually purchased a couple of pieces online. It's been great to see that's inspired this creativity out there – it's really cool.
Can you tell us anything about the upcoming season?
I wish I could. If I started saying anything, a tranquiliser dart would hit me in the side of the neck and you would never hear from me again.
When is LIONSGATE+'s Party Down season 3 on TV?
Party Down season 3 starts on Friday 24 February on LIONSGATE+. Go to Box Sets > LIONSGATE+. You'll also find seasons 1 and 2 there if you want to catch up – or discover them for the first time! Here's a look ahead at the new season…
Interviews: Any opinions expressed in interviews are those of the interview subject and not those of Virgin Media.
TV channels: Channels, content and features available depend on your chosen package. Channel line-ups and content are subject to change at any time and to regional variations.
HD: HD TV set, V HD Box, TiVo box or Virgin TV V6 connected with HDMI cables required for HD channels. Number of inclusive HD channels depends on package.
On Demand: Content available to view depends on TV package. Time limits apply for viewing chargeable On Demand content – see virginmedia.com. Once purchased, all chargeable On Demand content must be viewed within 48 hours. Premium channels and upgrades must be kept for at least 30 days.
LIONSGATE+: LIONSGATE+ is a premium On Demand service available on Virgin Media. LIONSGATE+ shows a wide range of movies and TV Box Sets, including a number of Original series, many of which premiere the same day as the US. It costs £5.99 a month to subscribe to the service.
STARZPLAY rebranded to LIONSGATE+ in September 2022. Apart from the change to the name, there is no other change to the service for customers. STARZPLAY subscribers should go to Box Sets > LIONSGATE+ to find shows ready to enjoy.
For any Virgin TV customers who currently don't have access to LIONSGATE+, use the Upgrade App on your Virgin TV to upgrade through your Virgin set-top box.
Please note LIONSGATE+ is not an app. Content is available to view in the On Demand area. All customers can search and click on the content, but as with other premiums, they can only view once they have subscribed.
Image credits: Party Down © 2022 Starz Entertainment, LLC