Skip to main content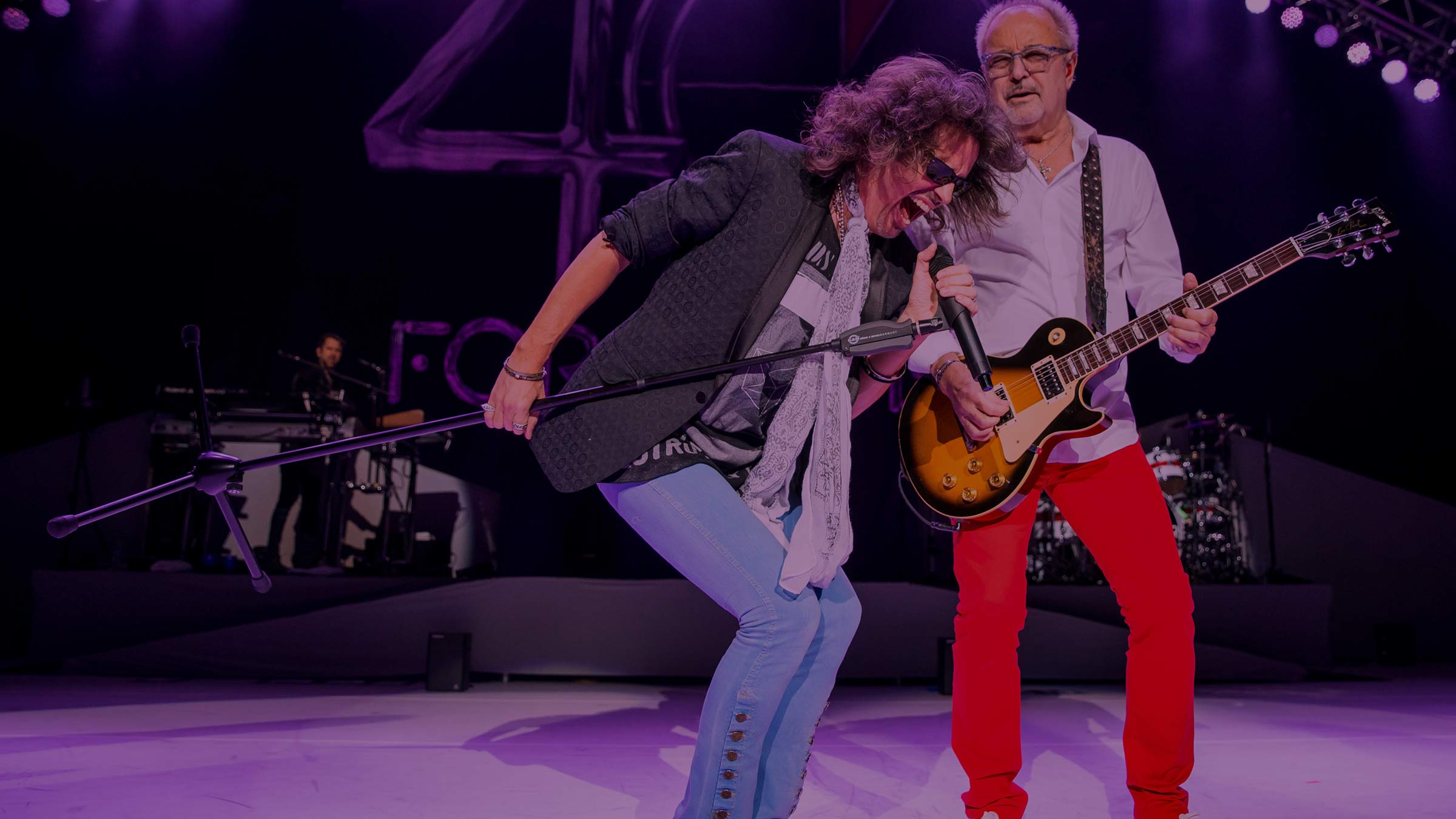 There's no shortage of power in these ballads; the topic of our latest Team Talk
Foreigner: Double Vision 40th Anniversary, Saturday 6 July, 11pm, Virgin TV Ultra HD (CH 999)
As a member of the Virgin TV Edit team passionately pointed out, a power ballad only qualifies as such if it makes you want to pump your fist in the air, whip out your finest air guitar and sing along with enough force to power a small village. Another team member (we're naming no names) couldn't quite get the concept down, and was duly told, "A power ballad isn't just any song that you like, or know". The debate raged on, with suggestions including Toto's "Africa," 10cc's "I'm Not in Love" and a-ha's "Take On Me" met with many a sigh and eye roll. They're great songs, but they're just not power ballads.
Thank goodness then, that someone suggested Foreigner's "I Want to Know What Love Is". What better song to fit the criteria of "emotional rock song, generally focused on love, delivered with powerful vocals?" It's just one of the many power ballads the rock group has gifted us over the years, and now, to celebrate the 40th anniversary of their album Double Vision, you can take a front-row seat to witness Foreigner's unmistakable display of power on stage in this special concert – and all in glorious Ultra High Definition!

Here at Virgin TV Edit, we're no foreigner to power ballads. We play them non-stop in the office. And for every mass singalong there's almost always a debate, disagreement or toss-up between our most beloved choices.
But we've managed to whittle them down to a select few, and now, we can truly say that we know what love is – it's the playlist below, compiled from our team's personal picks. And don't worry, our aforementioned colleague is still busy getting to grips with what a power ballad is and is not featured on this list. (Note: He was banned after genuinely considering Kanye West.)
Heart – "What About Love" (1985)

Chosen by: Lucy Barrick, production editor
"Cornering the market in female sibling-fronted soft rock combos, Heart triumphed with not one, but two of the most epic power ballads of the 80s. "Alone" (chorus: "How do I get you alone") was a number one hit all around the world, but is just edged out as the most sing-along, fist-punching, MTV-friendly killer tune by "What About Love". Classic power ballad formula (quiet, LOUD, quiet), a bombastic chorus, swelling power chords and guitar heroics – it's got the lot."
Favourite lyric:
"You got it down and you're well on the way to the top, but there's something that you forgot… What about love?"
Mötley Crüe – "Home Sweet Home" (1985)

Chosen by: Jack Prescott, senior staff writer
"When they weren't busy terrorising 1980s America, umlaut enthusiasts Mötley Crüe penned this epic hit about the rigours of touring, and how nothing beats the emotional solace of home. Whether it's the schmaltzy piano opening, immense power chords, singer Vince Neil's plangent wail or Mick Mars' sizzling guitar solo, "Home Sweet Home" proved these depraved outlaws actually had hearts."
Favourite lyric:
"Take me to your heart, feel me in your bones, just one more night and I'm comin' off this long and winding road."
Meat Loaf and Marion Raven – "It's All Coming Back To Me Now" (2006)

Chosen by: Laura Rutkowski, staff writer
"Lyricist Jim Steinman said this song was his attempt to write the "most passionate, romantic song" ever and described it as an "erotic motorcycle". It was first recorded by Pandora's Box, then popularised by Celine Dion, before Meat Loaf and Marion Raven lent their powerhouse vocals to this soaring cover. The guitar solo halfway through this version is just *mwah* perfection.
It's a tie between this song and that other classic from the Loaf, "I'd Do Anything for Love (But I Won't Do That)", but his entire back catalogue is pure rock opera genius, the kind that makes you want to hop on the back of a motorcycle – or get a massive tattoo of a bat. But this song is just a belter of a ballad, and proves that the Steinman/Meat Loaf songwriting partnership, however tumultuous, is one for the ages. And let's be honest, this song was made for Meat Loaf. God, it's good."
Favourite lyric:
"If you forgive me all this, if I forgive you all that, we forgive and forget, and it's all coming back to me."
Bonnie Tyler – "Total Eclipse Of The Heart" (1983)

Chosen by: Toyin Rodwell, project coordinator
"This epic story of love and pain is the epitome of a power ballad and the perfect break-up song. They don't make songs like this anymore. It starts off all moody and introspective as Bonnie questions the love she once had. But it ends on a triumphant high, where she belts out, "FOREVER'S GONNA START TONIGHT!" You feel like you've been on a journey with her. Also, it has an AMAZING music video – pure 80s excess."
Favourite lyric:
"Once upon a time I was falling in love, but now I'm only falling apart."
Journey – "Don't Stop Believin'" (1981)

Chosen by: Simon Ward, editor
"If you haven't drunkenly stood in a circle with your mates, clutching your fist while screaming every lyric of this song at their sweaty faces, can you really say you've lived? Sure, the cast of Glee tried to ruin it with a god-awful autotuned version that sounded like a robot sent back in time to make us hate music, but then, they've done that with basically every song (I'll take the wretched memory of that "Halo/Walking On Sunshine" mashup to my grave!). The original's best bit? Finally being able to belt out the "Don't stop belieeeeeevin'" bit at the end of the song."
Favourite lyric:
"Don't stop believin', hold on to the feelin'."
Guns N' Roses – "November Rain" (1991)

Chosen by: Ailsa Bannerman, picture editor
"I've always been a big Guns N' Roses fan. When I was younger, this was my favourite because my birthday is in November. But with time, a more studied appreciation for the genius of this ballad grew. It's got piano, drums and guitar with a full orchestral accompaniment. It's got Slash doing a solo, backing singers and Axl Rose's gravelly voice. It's not a typical power ballad about broken hearts, it's actually quite a hopeful song – although it hints at something darker.
It has a vast scope for air guitar on the dancefloor and headbanging – essential power ballad stuff. And just when you think the song is over, no! There's more! It's almost a two-for-one deal. The second half is very different – almost a different song entirely with even more scope for air guitar."
Favourite lyric:
"Cause nothin' lasts forever, even cold November rain."
Prince – "Purple Rain" (1984)

Chosen by: Tessa Cowan, account executive
"Purely because Prince is the absolute G, and because I've loved him since I first heard his sweet falsetto tones playing from my dad's car speakers aged seven (and, following that, was recounted his whole life story, from his alleged dalliances with cults to his many name changes).
He's one of the few people who could pull off a guitar solo without it being cheesy, and equally, one of the few people to combine ruffles and a leather jacket without it looking like he'd raided a lost property cupboard. I've seen him live and he lived up to it all, and he's just an undeniable ICON/BABE. Only Prince could write a power ballad with a little bit of funk in it."
Favourite lyric:
"You say you want a leader, but you can't seem to make up your mind."
Want to see more in Ultra High Definition?
Find the latest on all the stellar drama, incredible documentaries and thrilling music concerts available in 4K exclusively on Virgin TV Ultra HD.
TV channels: Channels, content and features available depend on your chosen package. Channel line-ups and content are subject to change at any time and to regional variations.
HD: HD TV set, V HD Box, TiVo box or Virgin TV V6 connected with HDMI cables required for HD channels. Number of inclusive HD channels depends on package.
Virgin TV UHD channel: Available to Full House TV customers only. Primetime only – see channel for programming schedule each day. 4K enabled TV/device and V6 box required to watch content in UHD. Quality assumes your equipment is working at optimum standard.