Skip to main content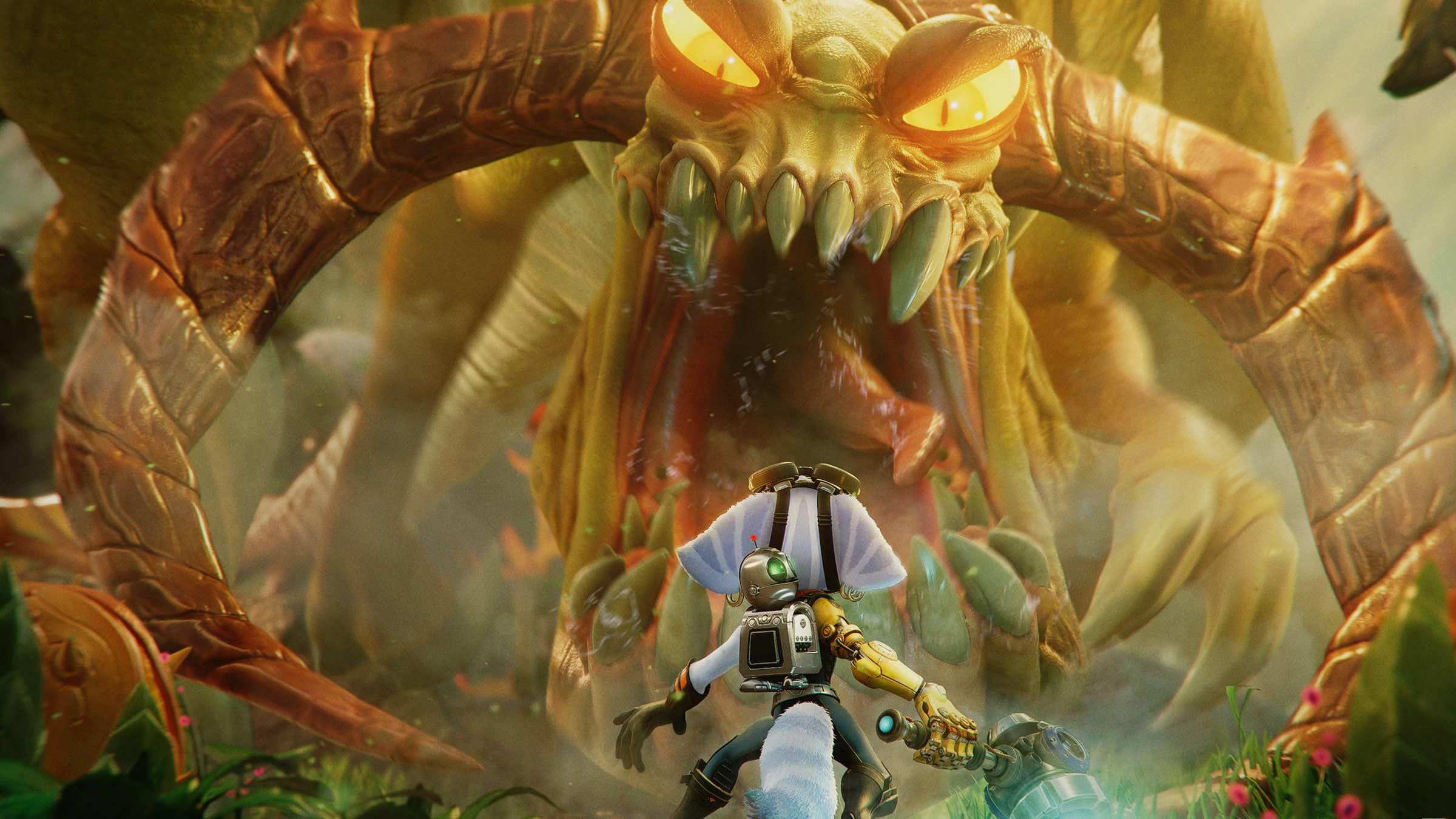 OMG, they're back again. And it only took eight clanking years. But we ain't mad, especially since this latest outing looks to be their best yet...

By Jon Billinge, Writer
Bangers and mash, strawberries and cream, pineapple on pizza (shhh). Dream pairings are the stuff of life, and there's none more delectable in the world of gaming than wily mechanic Ratchet and his metal mate Clank.
We say that with absolute confidence, seeing as the rollicking Rift Apart is the sixteenth instalment in the series. And despite being the first original game in the series in eight years, the franchise has lost none of its lustre. Just check out this epic, dimension-hopping trailer:
Guns to cry for, gags aplenty and more rail-grinding than Tony Hawk's Pro Skater, it's got it all! And we're following suit, with everything you need to know before you get your rift on. We've even included the time it takes to download the game with Virgin Media at the bottom of the page, 'cause we're nerdy like that.
Is Rift Apart a sequel?
It is indeed, though not to the 2016 reboot. The story instead follows on from 2013's Ratchet & Clank: Into The Nexus, which was the final entry in the franchise's "Future" series.
What's the story?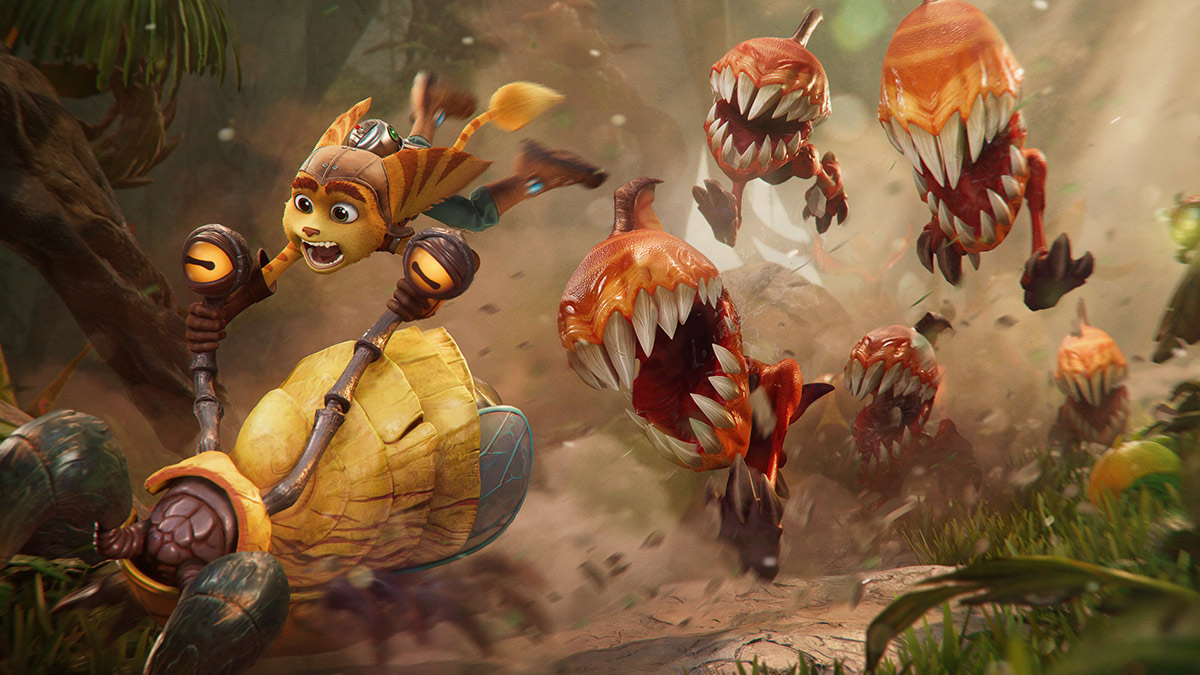 The cryptically named Doctor Nefarious is up to his overly elaborate tricks once again; hellbent on ridding the universe of all organic life. Our titular heroes manage to thwart his efforts, but become separated across space and time in the process. With no AA to call, the duo must best their enemies and form new alliances to defeat the Doctor's more dastardly doppelganger, Emperor Nefarious.
What sort of gameplay can I expect?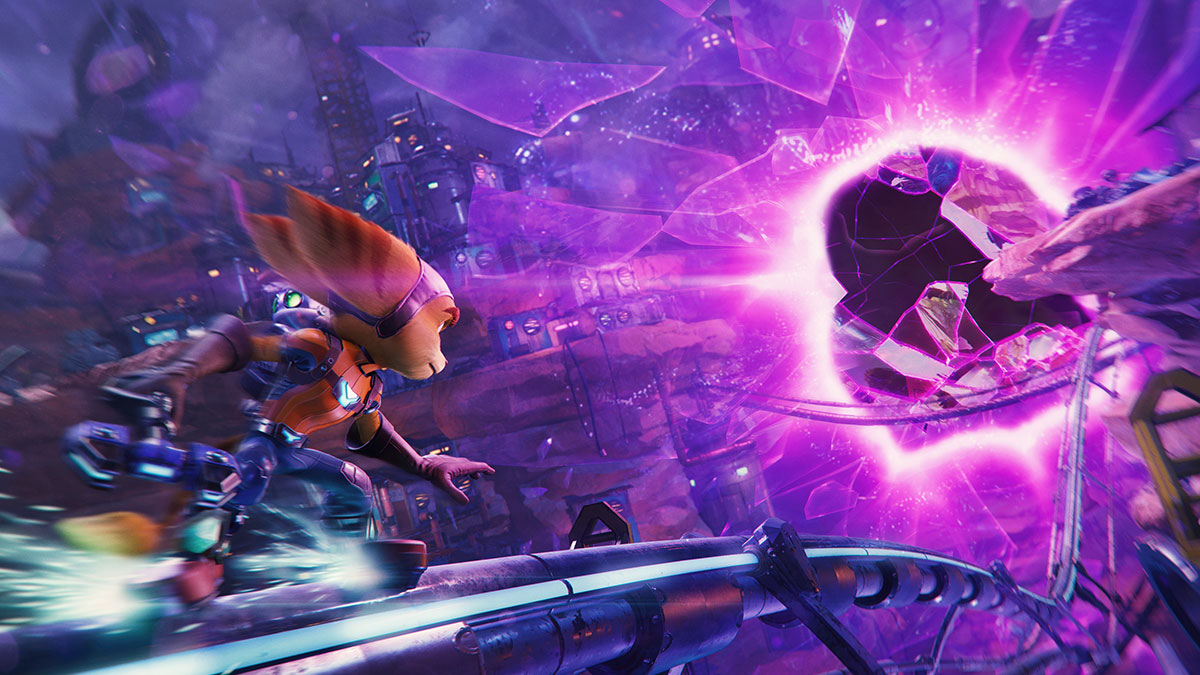 If you've played any of the previous games, you know what's in store – precise platforming, sumptuous graphics and big, big explosions. Developers Insomniac are at the helm, who have an enviable pedigree of classic adventures, including the Spyro The Dragon series and Spider-Man (2018), so you're in safe hands.
Any special abilities I should know about?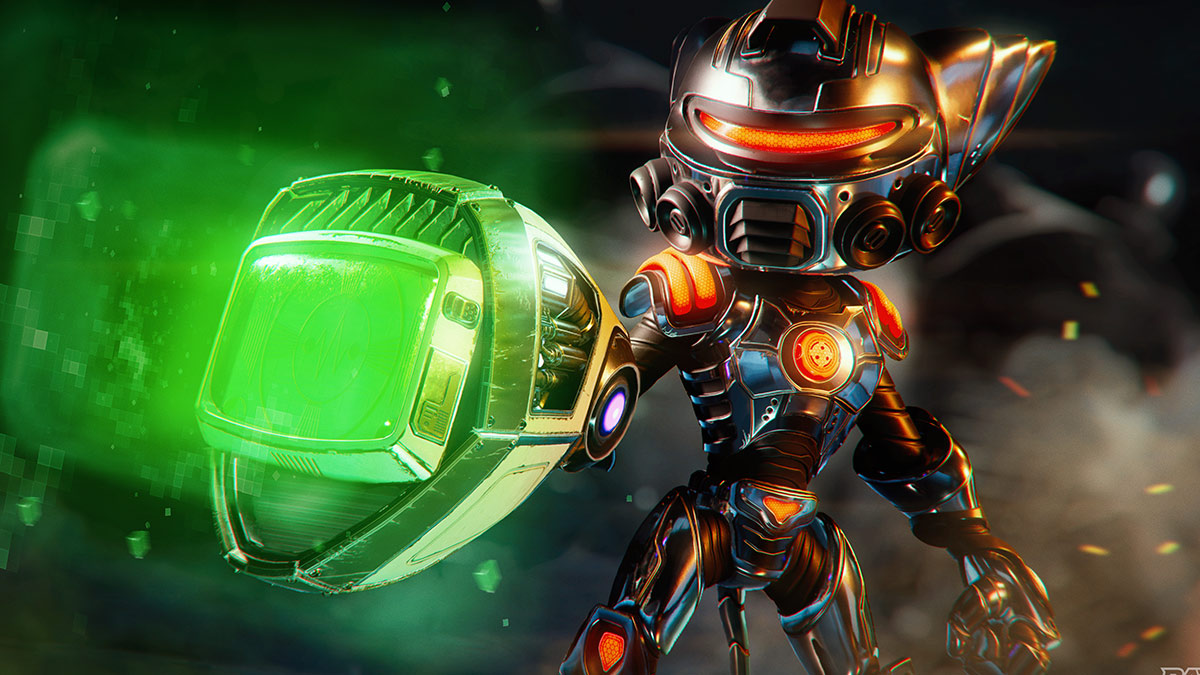 The series is famed for its multitude of powers, special abilities and of course, ridiculous, hulking weaponry, and Rift Apart certainly doesn't disappoint. From a new dash move to wall-running, you'll be ambushing foes like the best of them, while the host of new weapons and returning favourites will have your eyes watering and misting up in equal measure.
Will there be multiplayer?
Sadly not. With its zany weaponry, tight controls and emphasis on fun, fans had everything crossed in the hopes of a co-op offering. But according to developers Insomniac, Rift Apart was "built from the ground up for PS5 as a single-player experience", with "no plans for a multiplayer component". Boo. Just stick to telling whoever's playing where to go and what to do for now. That's always appreciated…
Who exactly is Rivet?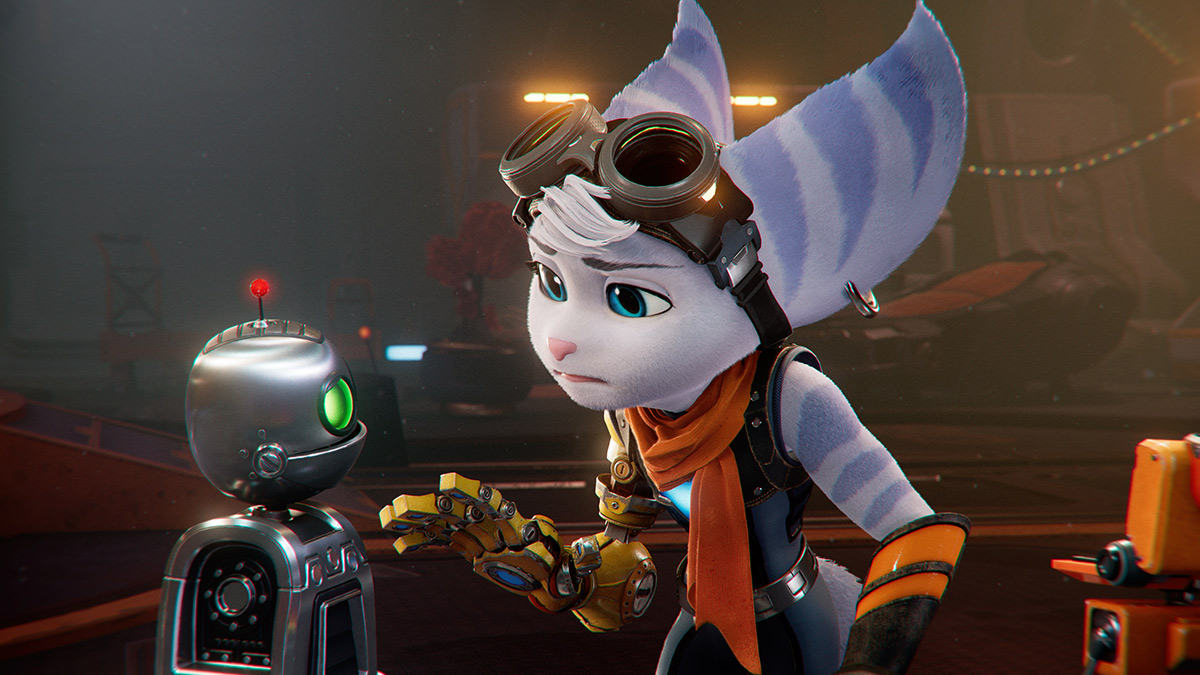 Like Ratchet, series newcomer Rivet is a fellow lombax, albeit from another dimension. When Clank becomes separated from Ratchet, she takes a shine to the crafty chromehead and becomes key to their fight. Oh, and she too is partial to oversized weaponry and wanton destruction, which is nice.
Will it be available on Xbox, PC or Nintendo Switch?
Unfortunately not. It's a PS5 exclusive. In fact, the whole series is exclusively available on PlayStation consoles. However, all is not lost, as there's a whole host of great platformers available on other platforms, including Crash Bandicoot N. Sane Trilogy, Crash Bandicoot 4: It's About Time, Yooka-Laylee And The Impossible Lair and Insomniac's own Spyro Reignited Trilogy, all of which are available on Nintendo Switch, Xbox One and PC.
What other Ratchet & Clank games can I play right now?
Hoo boy, how much time do you have? The PS3 games Ratchet & Clank All 4 One, Ratchet & Clank Nexus, Ratchet & Clank Q-Force, Ratchet & Clank: A Crack In Time and Ratchet & Clank: Quest For Booty are all available on the PlayStation Now service. The PS4 reimagining of the first game in the series, Ratchet & Clank, is available for free to PS4 and PS5 players with a PS Plus subscription, and the PS4 disc version will also work on the PS5.
How big is Ratchet & Clank: Rift Apart?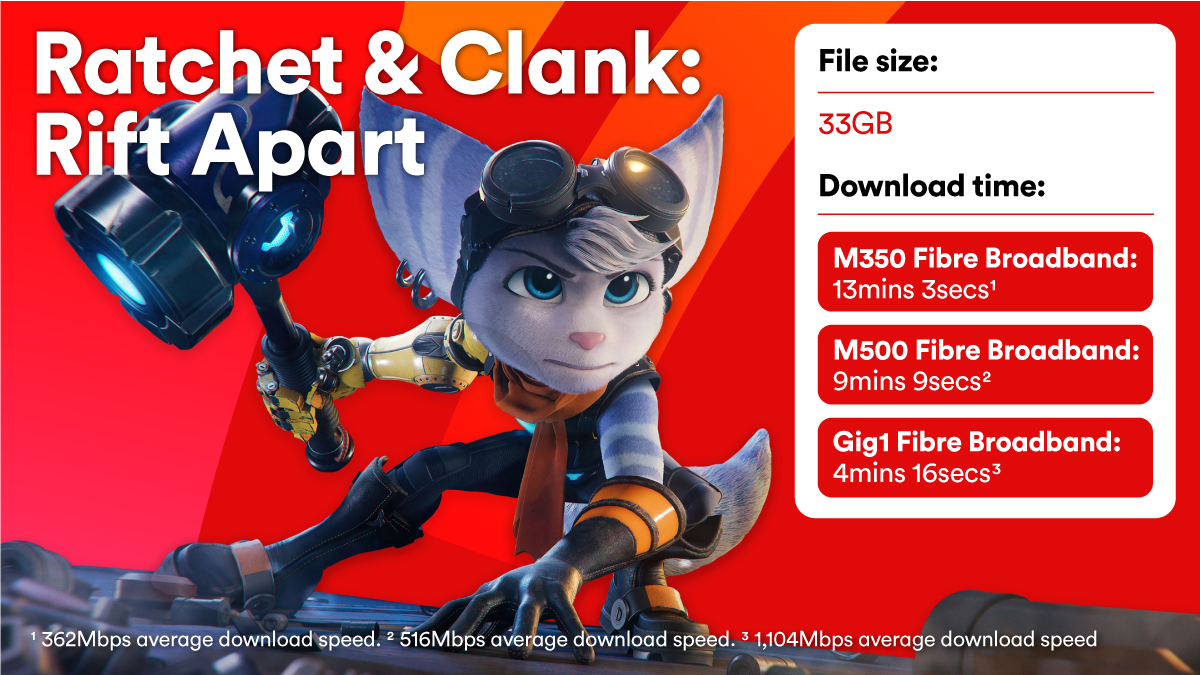 When can I play Ratchet & Clank: Rift Apart?
Ratchet & Clank: Rift Apart is available to play on PS5 from Friday 11 June.