Skip to main content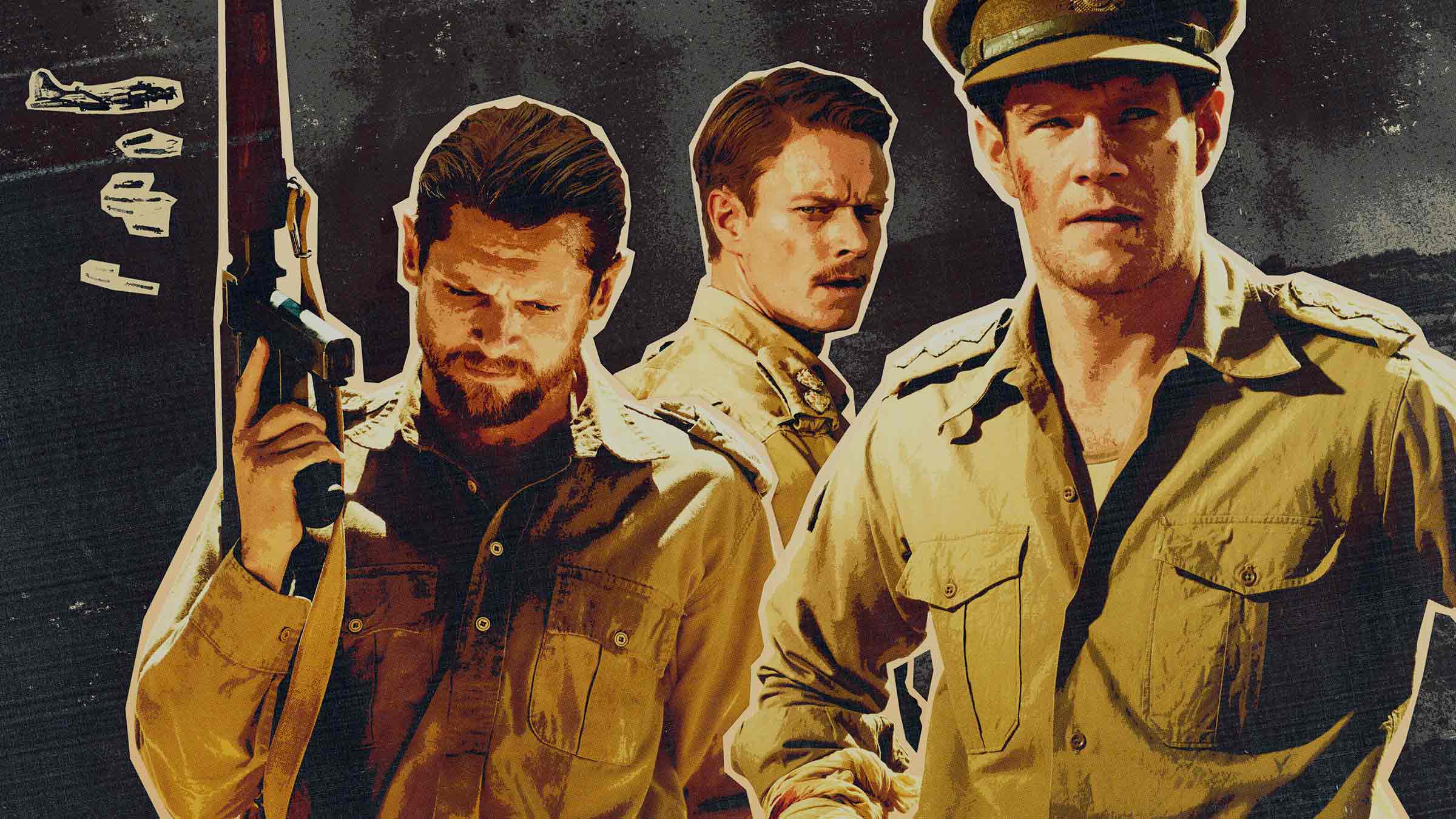 Here's all you need to know about BBC One's searing Second World War drama SAS: Rogue Heroes as we ask the big questions

By Virgin TV Edit
Steven Knight knows how to bring sharpness and verve to period dramas. He's the man behind Peaky Blinders, the crime drama set in 1920s and 30s Birmingham that became one of the BBC's most successful shows ever (the sixth and final series clocked up a staggering 30 million streams on BBC iPlayer earlier this year).
He also wrote and served as executive producer on Spencer, last year's critically acclaimed arthouse biopic starring Kristen Stewart as an early-1990s Princess Diana, and the BBC's dark 2019 adaptation of Charles Dickens' A Christmas Carol. Take a historical setting and make it feel modern, edgy and energetic – that's textbook Knight.

Now the screenwriter and director is back with a new six-part series set in north Africa during the Second World War. Starting on BBC One and BBC iPlayer on Sunday, SAS: Rogue Heroes is based on the bestselling non-fiction book of the same name by the English author, historian and journalist Ben Macintyre.
The BBC has billed the action-packed drama as an "exhilarating story of renegade men taking monumental risks in extraordinary circumstances", with the corporation's director of drama Piers Wenger saying it combines "a fascinating, little-known story with all the intelligence and swagger that Steven Knight's writing is known for".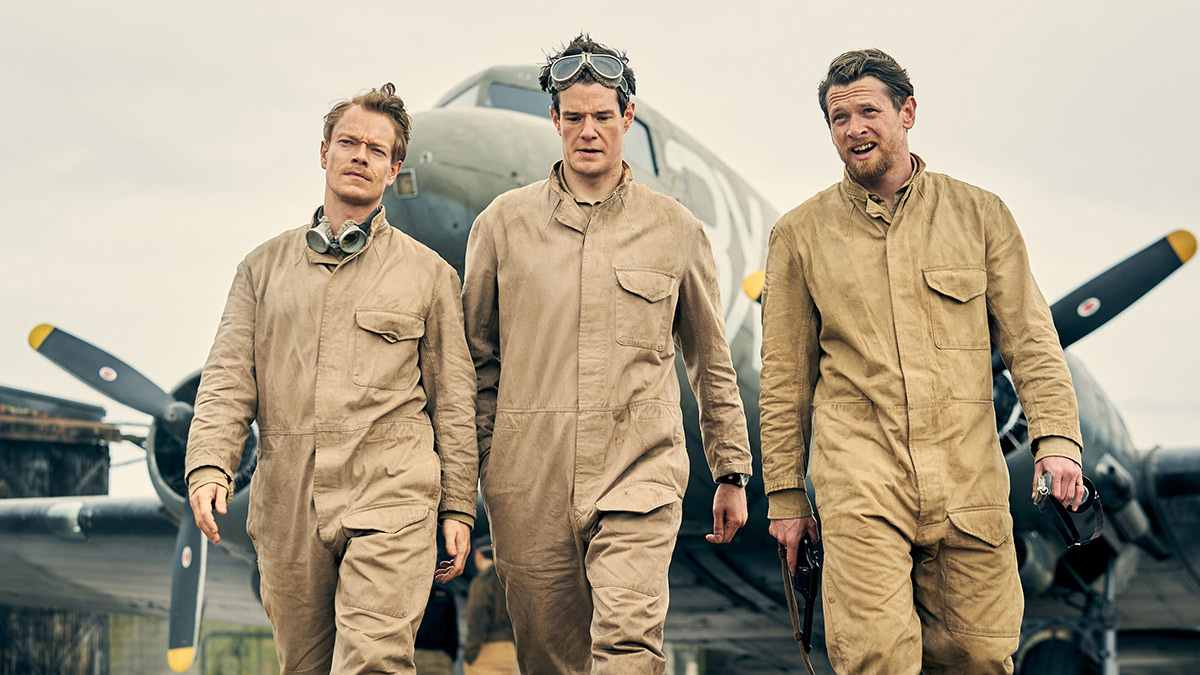 Left to right: Alfie Allen, Connor Swindells and Jack O'Connell are brothers in arms in SAS: Rogue Heroes

The latest trailer for SAS: Rogue Heroes is soundtracked by a cover of The Stranglers' punk classic "No More Heroes" performed by Skin, frontwoman of 90s rock band Skunk Anansie. That musical choice alone indicates that the series will crackle with all the anarchic spirit we've come to expect from Knight. But what else can we anticipate from the show?
Here's what we know so far…
What is SAS: Rogue Heroes about?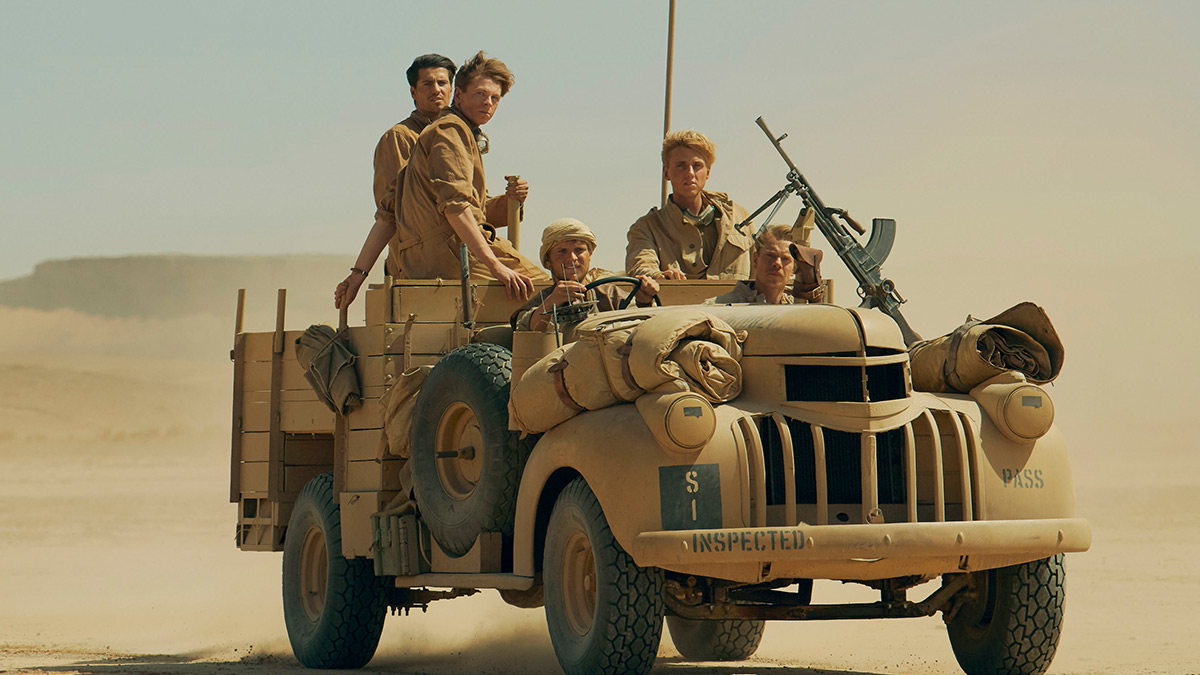 For the book, published in 2016, Ben Macintryre was granted access to previously secret SAS archives

Set in north Africa during the Second World War II, it's a dramatised account of the formation of the Special Air Service (SAS) – one of the most secretive units of the British military. At the centre of the story is David Stirling (Connor Swindells), an eccentric young military officer who becomes convinced that traditional commando units don't work while hospitalised in Cairo in 1941.
"The Germans keep advancing while we fold our arms," Stirling proclaims in one of the trailers for SAS: Rogue Heroes. "I have an idea that might move the war in our favour." His plan is to create a new kind of undercover parachute regiment, one that can drop behind enemy lines in the north Africa campaign.
Stirling's unorthodox scheme risks upsetting top brass but, undaunted, he fights to recruit the toughest, boldest and brightest soldiers to join his unit. In the series he brings together what's he describes as a "band of oddities, gentlemen and pirates", and we follow this group of flawed but heroic young men as they do everything they can to help win the war.
Is SAS: Rogue Heroes based on a true story?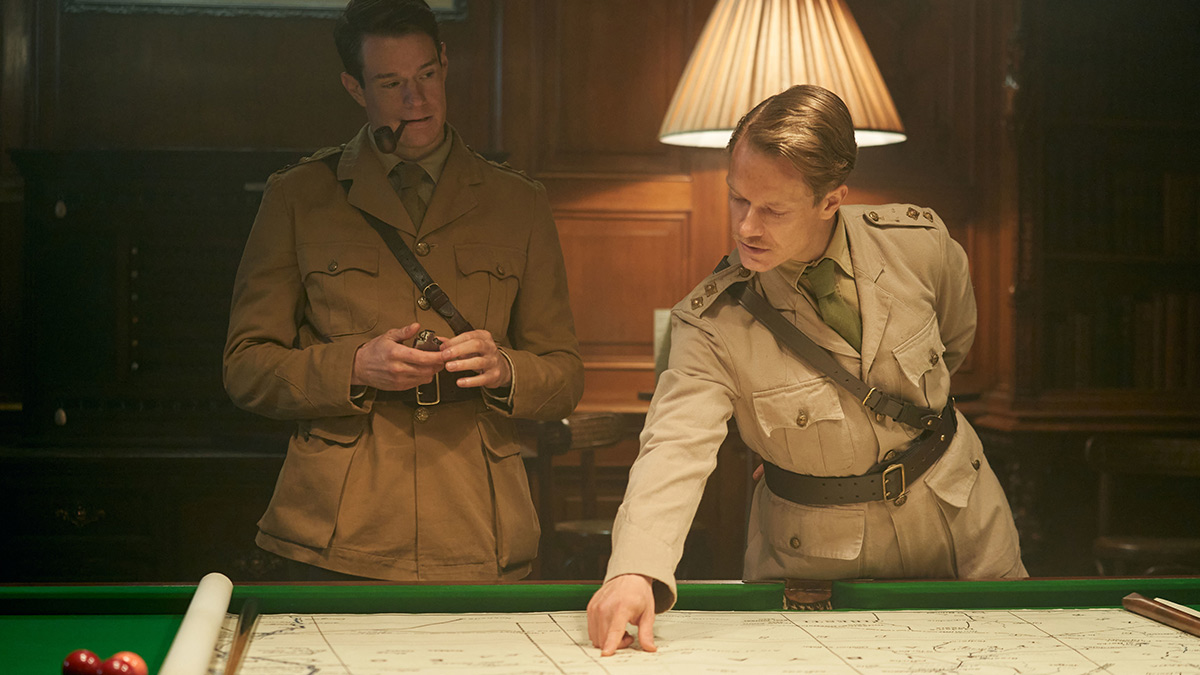 The series, like the SAS recruits, has "intelligence and swagger"

It is indeed. The SAS really was formed against the backdrop of the north African campaign during the Second World War, as battles were fought between Allied and Axis forces across Libya, Egypt, Morocco, Algeria and Tunisia.
While researching the book on which this series is based, Ben Macintyre had unprecedented access to the SAS secret files, unseen footage and exclusive interviews with its founder members – giving Knight a wealth of real stories to draw on for his drama. The screenwriter has said his TV adaptation of Macintyre's book "will shine a light on remarkable true events informed by the people who shaped them".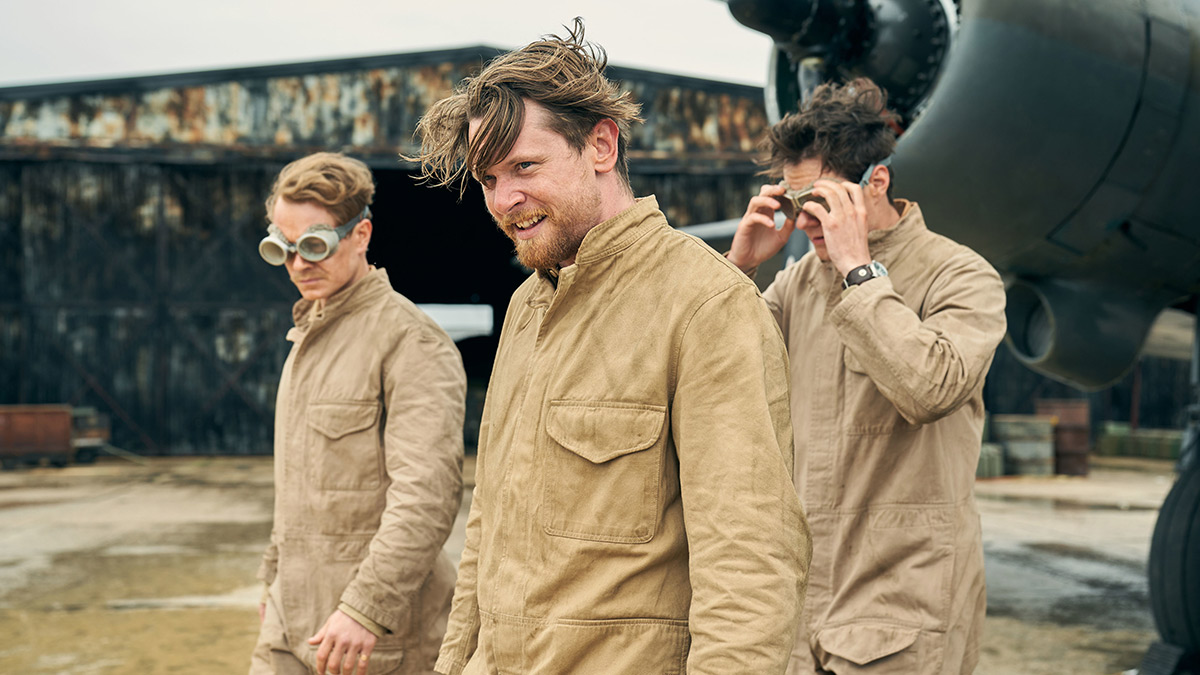 There are various fictional elements and characters but Jock Lewes (Allen), Paddy Mayne (O'Connell) and David Stirling (Swindells) are the real founders of the SAS

Many of the central characters in SAS: Rogue Heroes are based on real people – including Stirling, the SAS's founder, who realised that small groups of highly trained commandos could sabotage aircraft, runways and fuel depots behind German lines. Stirling was given permission by Winston Churchill himself to recruit the best of the best for his unit, according to Macintyre's book, despite the opposition of many in British High Command.
The renegade nature of the SAS soldiers depicted in the BBC series is also true to life. "Recruits tended to be unusual to the point of eccentricity," Macintyre wrote. "People who did not fit easily into the ranks of the regular army, rogues and reprobates with an instinct for covert war and little time for convention, part soldiers and part spies; rogue warriors."
However, there are lots of fictionalised elements in the series, including several characters of Knight's creation. The writer has said himself that his script is "inspired by the facts and true to the spirit of this legendary brigade of misfits and adventurers" – a poetic way of saying that not everything you'll see on screen really happened.
Who's behind SAS: Rogue Heroes?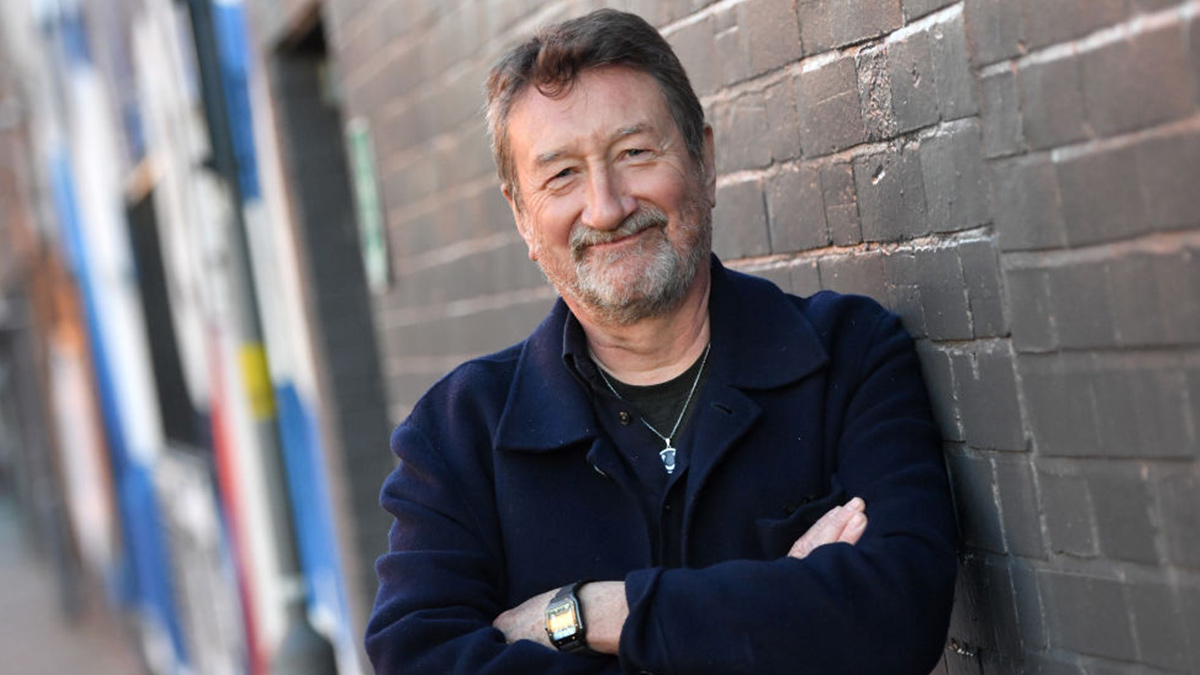 Steven Knight (Peaky Blinders) is the man behind the TV adaptation of SAS: Rogue Heroes

The entire series is written by Knight, who's also the executive producer. As well as Peaky Blinders and Spencer, he wrote the screenplays for big-screen hits such as Locke, Allied and The Girl In The Spider's Web, and with Tom Hardy co-created the BBC drama Taboo, in which Hardy starred.
The series is directed by Tom Shankland (The Serpent, The Missing) and Stephen Smallwood (The Serpent, Patrick Melrose) serves as producer. SAS: Rogue Heroes was filmed on location in Morocco and London.
Who is in the SAS: Rogue Heroes cast?


You'll know Swindells from: Sex Education and Vigil

His character is: An eccentric young officer from aristocratic stock, who comes up with the idea for the SAS while hospitalised in Egypt after an ill-fated training exercise. The real Stirling was an awkward and rebellious soldier, but also charismatic, witty and fond of a good time – from the SAS: Rogue Heroes trailers, it looks as though Swindells will channel this energy.


You'll know O'Connell from: Skins, The North Water, This Is England

His character is: A devoted, intellectual and energetic officer from County Down, prone to outbursts of unbridled rage and violence. The real Paddy Mayne was a key figure in the SAS's achievements in north Africa and became one of the British Army's most highly decorated soldiers during the Second World War, but was also tempestuous and could terrify his own men as well as his opponents. O'Connell is well-versed in playing bad boys and brawlers, which makes him perfect casting.


You'll know Allen from: Game of Thrones and Jojo Rabbit

His character is: The polar opposite to Stirling. Lewes is portrayed as an austere and disciplined soldier who believes in following the rules as much as Stirling believes in tearing them up. The real Lewes designed and built a powerful new bomb specifically to destroy vehicles, and the trailer for SAS: Rogue Heroes suggests the series will depict him as an inventor figure, with Allen pronouncing: "We will destroy more enemy aeroplanes on the ground than the RAF will destroy in the air."


You'll know Boutella from: Atomic Blonde, Kingsman: The Secret Service and Modern Love

Her character is: Still pretty mysterious at this point, apart from a couple of shots of Boutella sauntering across the desert in white sunglasses. We suspect the Algerian actress is playing some sort of spy; at one point in a trailer, she says: "The British are losing the war, and I intend to do something about it." She's probably a fictional creation or an amalgam, instead of being based entirely on a real woman.


You'll know West from: The Wire, Appropriate Adult and Brassic

His character is: A senior British Army officer and specialist in military deception operations who was instrumental in the founding of the SAS. Older than the young commandos parachuting behind enemy lines, he's a central figure thanks to his deep knowledge of how to confuse, deceive and wrong-foot your enemy.


When is BBC One's SAS: Rogue Heroes on TV?
The six-part series starts on Sunday 30 October at 9pm on BBC One HD (CH 101). All episodes will then be available in Apps & Games > BBC iPlayer, so you can binge-watch or stretch out the series as desired.
TV channels: Channels, content and features available depend on your chosen package. Channel line-ups and content are subject to change at any time and to regional variations.
HD: HD TV set, V HD Box, TiVo box or Virgin TV V6 connected with HDMI cables required for HD channels. Number of inclusive HD channels depends on package.
Catch Up TV: Catch Up TV content available for up to 7 days or up to 30 days after broadcast, depending on content.
Interviews: Any opinions expressed in interviews are those of the interview subject and not those of Virgin Media.
Image credits: SAS: Rogue Heroes © BBC / Kudos / Rory Mulvey