Skip to main content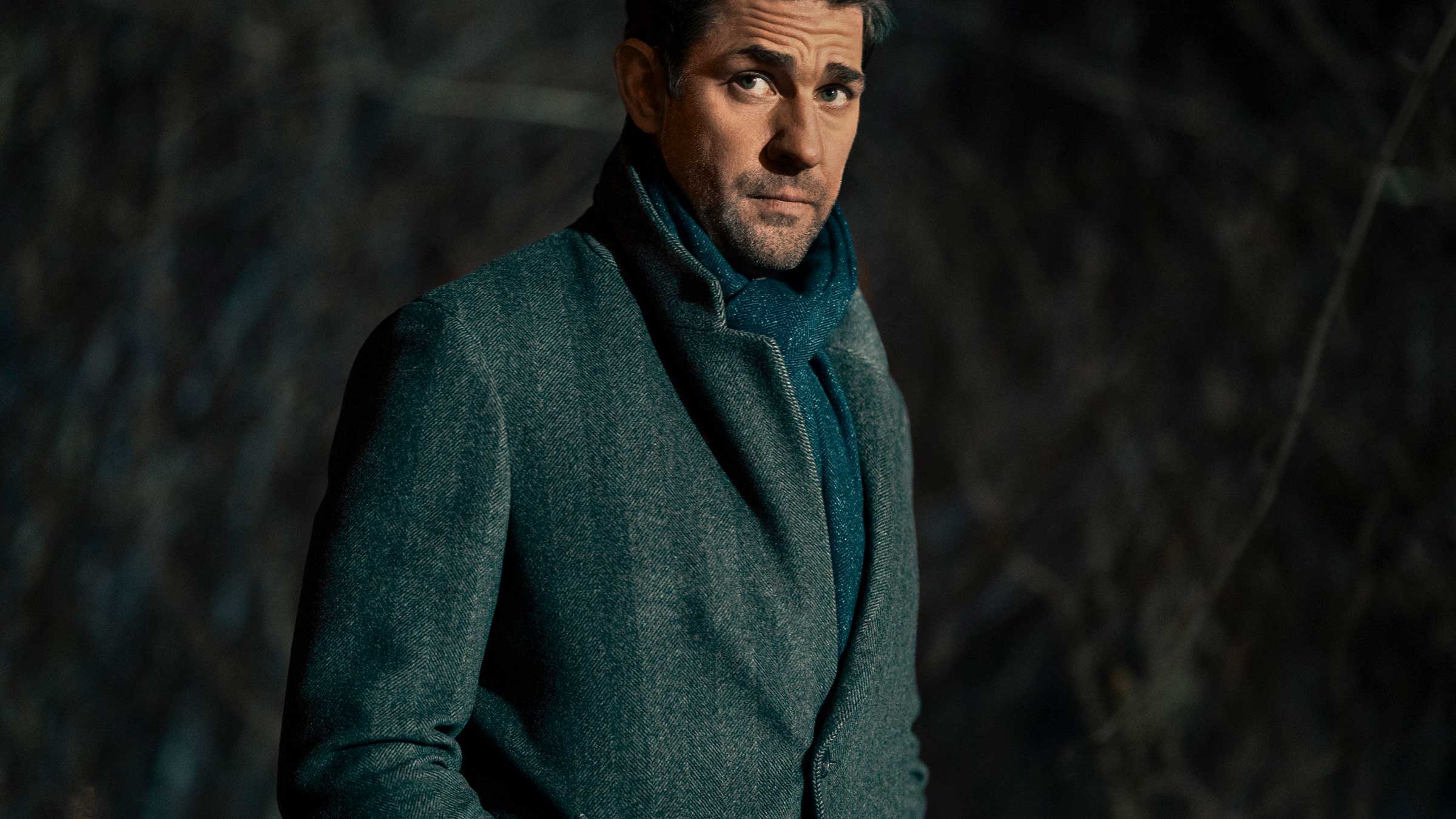 It may be farewell to John Krasinski as Jack Ryan, but thankfully, he's not going quietly. See what's in store for the analyst turned action hero, plus more thrilling series on our must-watch list
By Torri Mundell, Features Writer
We first met the character of former marine Jack Ryan via Tom Clancy's bestselling series of novels. Smart and principled, Ryan is an agent who wears his physical prowess lightly.
It's no surprise that Hollywood heavyweights such as Harrison Ford and Ben Affleck lined up to play him on the big screen. But our longest – and most meaningful – relationship has been with the portrayal of Jack Ryan delivered by John Krasinski (The Office US). That's all thanks to Tom Clancy's Jack Ryan, the suspenseful, tightly plotted series from Prime that's just about to kick off its fourth season.
Krasinkski's Ryan is a dreamboat: thoughtful, morally upstanding and clever. Though, when he's pushed, he'll crack heads as efficiently as he crunched numbers as a CIA reseacher. Since the show's debut, we've watched him rise through the agency's ranks to become the deputy director, dodge bullets and the Ebola virus, bring down a dictatorship, get framed for a political assassination and confront his troubled past.
If you haven't caught up with the first three seasons, consider this your cue to book the weekend off and revel in all the action, as well as the good-natured rivalry between Ryan, his former boss James Greer (Wendell Pierce, The Wire) and sly, funny CIA veteran Mike November (Michael Kelly, House Of Cards).
All you need to know about season 4
Short of time? You can also skip the backstory and leap straight into the fray. In season 4, there's lots of turbulence ahead for our favourite agent, with the looming threat of "unlimited resources combined with undying hatred" as a powerful drug cartel joins forces with a terrorist group.
There's also the small matter of unravelling a conspiracy within his own agency, leading Ryan to recruit a deadly ex-CIA operative named Domingo Chavez (Michael Peña, American Hustle). And if you're already mourning the final chapter of the series, there's a silver lining for you: Peña will be reprising the same role in a Jack Ryan spin-off that's currently in development.
Also joining the cast for the finale of Tom Clancy's Jack Ryan is Ryan's love interest Abbie Cornish (Bright Star). She played Cathy Mueller in season 1, a doctor with a specialism in infectious diseases – and stirring our hero's heartstrings.
You can catch the first two episodes of Tom Clancy's Jack Ryan season 4 from Friday 30 June on Apps & Games > Prime, with two episodes dropping every Friday thereafter.
And if you're already on the hunt for your next adrenaline fix, there are tons of action series adapted from thrilling, bestselling novels to watch. We've rounded up eight of our favourites below.
Reacher
Find season 1 in Apps & Games > Prime Video
The slick, fast-paced TV series Reacher, starring actor and man mountain Alan Ritchson (Fast X), met with a rapturous response when it launched on Prime last year (and yes, a season 2 is on the cards). Thanks to the 26 books penned by Lee Childs and two films featuring Tom Cruise, the fictional character of Jack Reacher – a score-settling, lone wolf hero – has already garnered a legion of fans.
The Prime series was adapted from Childs' first Reacher novel, Killing Floor, introducing us to the ex-military policeman at the moment he wanders into a small town and is suddenly arrested on suspicion of murder. Take it from us: the 10 episodes in which Reacher proves his innocence and punishes the bad guys using little more more than very few words, his Sherlock-style powers of deduction and his fists are a whole lot of fun.
The Night Manager
Find series 1 in Apps & Games > BBC iPlayer
John le Carré's espionage novels, intricately plotted and full of suspense, translate well to both the big and small screen. The Night Manager is a particularly juicy rendering of one of his books, with Tom Hiddleston (Loki) and his megawatt grin working overtime in his role as the suave manager of a Cairo hotel. He's soon recruited by Olivia Colman (The Favourite) to infiltrate an arms dealer's inner circle, played with creepy relish by Hugh Laurie (House).
The Terminal List
Find season 1 in Apps & Games > Prime Video
This crowd-pleaser is based on a series of books written by former military man Jack Carr, and stars Chris Pratt (Guardians Of The Galaxy) as an embittered Navy SEAL on a mission to avenge the murder of his family. Cue twists and turns, plenty of heart-thumping combat and a bloodbath of a finale. There's also a second season and a prequel series starring True Detective star Taylor Kitsch's character, Ben Edwards, on the horizon.
Strike Back
Find it in On Demand

Chris Ryan's six Strike Back novels were the genesis for this long-running and very entertaining action series based around a fictional, "off the books" branch of British Defence Intelligence. Over eight seasons, elite soldiers Damien Scott (Sullivan Stapleton, Animal Kingdom) and Michael Stonebridge (Philip Winchester, A Week In Paradise) dispatch terrorists in far-flung locations, with plenty of gunfire, fist fights, love affairs and wisecracking along the way. Fun fact: the show recruited five different Game Of Thrones actors to take up roles of villains on the show, including Charles Dance and Alexander Siddig.
Killing Eve
Find series 1-4 in Apps & Games > BBC iPlayer
Codename Villanelle, a compilation of Luke Jennings' novellas about a deadly, designer-clad female assassin and her pursuer, tore up the action thriller playbook, inspiring writer and producer Phoebe Waller-Bridge (Fleabag) to spin his story into the witty and mischevious first season of Killing Eve. If you haven't already seen the show, what are you waiting for? Jodie Comer (Free Guy) is never less than incandescent as the psychopath Villanelle, locked in a complicated cat-and-mouse game with a slowly unravelling FBI researcher named Eve (Sandra Oh, Grey's Anatomy).
Alex Rider
Find season 1-2 in Apps & Games > Prime Video
Snappy dialogue, intriguing characters and clever, multi-layered storylines are the hallmarks of an Anthony Horowitz novel – so we're always delighted to see an adaptation on our screens. The first two seasons of Alex Rider, based on his YA books Point Blanc and Eagle Strike, are available now on Prime (a third is scheduled to drop later this year) and they're pacey, full of action, spy gadgetry and fun. Otto Farrant (Mrs Wilson) plays the titular character, a super-smart London teen recruited as an MI6 spy to infiltrate the places grown-ups aren't allowed.
Sharpe
Find series 1-5 in Apps & Games > ITVX
If you prefer your action with a side order of history, a whole world of musket-blasting, sword fighting and bicorne hats awaits you with Sharpe, based on Bernard Cornwall's book series. Set during the Napoleonic Wars, the show first aired in 1993 and stars a youthful Sean Bean as a cunning working-class British soldier promoted through the ranks of the military despite the sneering prejudice of his aristocratic superiors. With over five seasons and TV specials to watch, it's the perfect way to immerse yourself in military strategy and battle action, with a soupçon of romance.
Shooter
Find series 1-3 on Apps & Games > Netflix
The book Point Of Impact by Stephen Hunter provided the source material for this nail-biting action thriller series. Shooter is the story of a gifted Marines sniper named Bob Lee Swagger (Ryan Phillipe, Crash), who's wrenched from retirement and his family by dark political forces, blackmail and an assassination plot. Over three seasons and amid plenty of gunfire, Swagger has to evade capture, untangle the conspiracy that surrounds him and clear his name.
When is season 4 of Jack Ryan on TV?
You can catch the first two episodes of Tom Clancy's Jack Ryan season 4 from Friday 30 June on Apps & Games > Prime Video, with two episodes dropping every Friday thereafter. Season 1-3 are available to stream now.

TV channels: Channels, content and features available depend on your chosen package. Channel line-ups and content are subject to change at any time and to regional variations.
HD: HD TV set, V HD Box, TiVo box or Virgin TV V6 connected with HDMI cables required for HD channels. Number of inclusive HD channels depends on package.
Catch Up TV: Catch Up TV content available for up to 7 days or up to 30 days after broadcast, depending on content.
On Demand: Content available to view depends on TV package. Time limits apply for viewing chargeable On Demand content – see virginmedia.com. Once purchased, all chargeable On Demand content must be viewed within 48 hours. Premium channels and upgrades must be kept for at least 30 days.
Amazon Prime Video: Amazon Prime subscription required at extra cost. 18+. Click here for T&Cs.
Netflix: Netflix subscription required at extra cost.