Skip to main content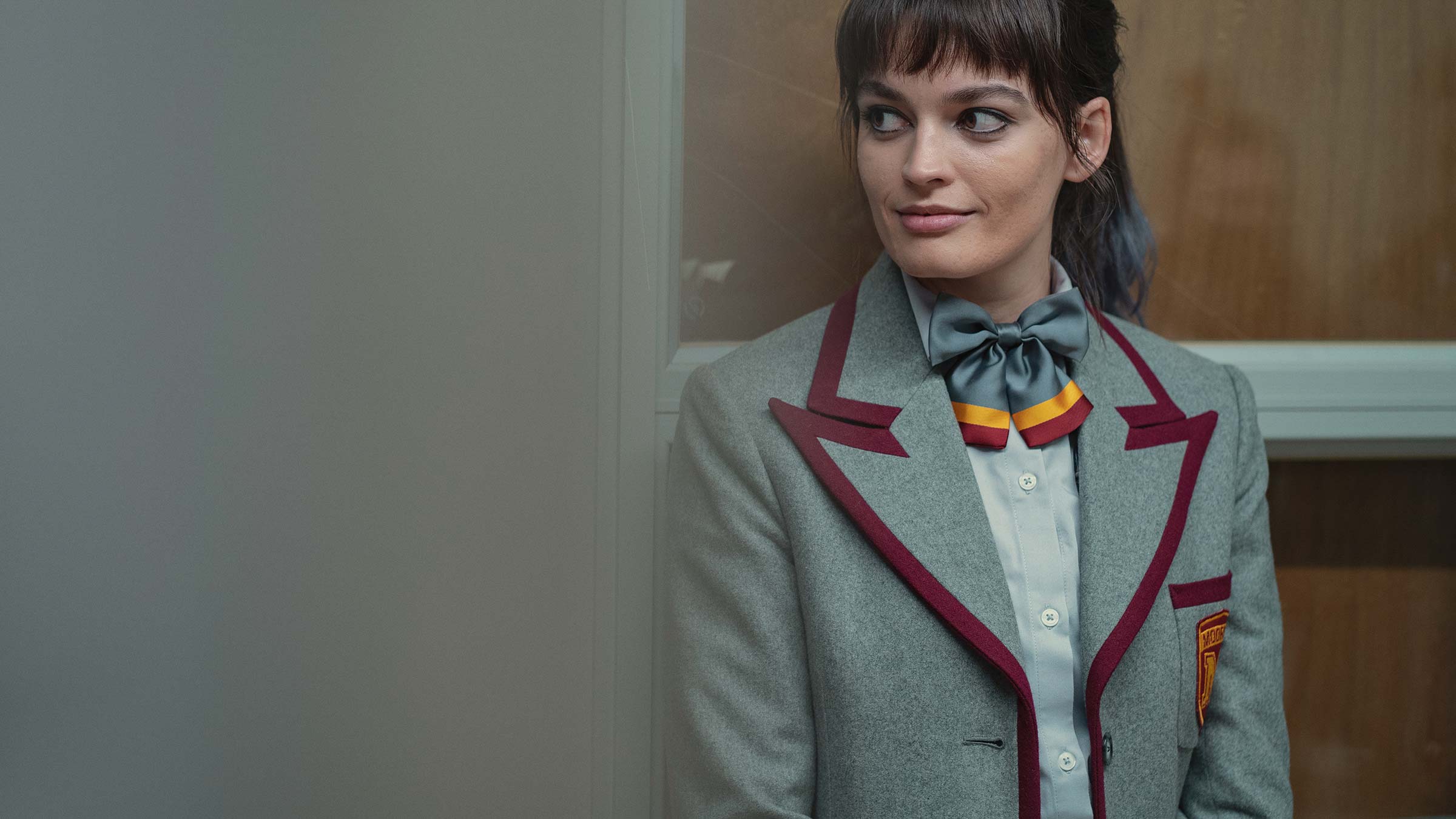 School is back in session at Moordale Secondary, with love and lust still very hot topics on the curriculum
By Laura Rutkowski, Senior Staff Writer
The series that feels like a 1980s American teen show, yet is set in Britain and filmed in Wales (we love it all the more for these reasons) has returned for a third instalment.
If it was a category on RuPaul's Drag Race, this show would be called John Hughes-retro-colourful-red-hot-realness, and that's exactly what creator Laura Nunn continues to serve. That's right, Sex Education is back, baby!

Headmistress Miss Hope Haddon (Jemima Kirke, Girls) takes the reins in series 3 now that Headmaster Michael Groff is on administrative leave, and she means business! She introduces a "new uniform" and a "new attitude" to Moordale.
She clashes with a nonbinary student named Cal Bowman, a new character played by recording artist Dua Saleh. Jason Isaacs (the Harry Potter series) also joins the cast as Peter Groff, Michael's "more successful" brother.
In series 1, we first met Otis Milburn (Asa Butterfield, Miss Peregrine's Home For Peculiar Children), who set up a sex advice business with Maeve Wiley (Emma Mackey) to help their fellow students in the downstairs department. Otis' mum is sex therapist Dr Jean Milburn (Gillian Anderson, The Fall), who returns (pregnant, with Otis' ex Ola Nyman's father Jakob's baby – awkward) in series 3, alongside the aforementioned characters and the rest of the outstanding cast.


They include Otis' best friend Eric Effiong (Ncuti Gatwa); Michael's son Adam Groff (Connor Swindells), head boy Jackson Marchetti (Kedar Williams-Stirling), Maeve's best friend Aimee Gibbs (Aimee Lou Wood), band-geek Lily Iglehart (Tanya Reynolds) and The Untouchables, a popular group made up of Ruby Matthews (Mimi Keene), Olivia Hanan (Simone Ashley) and Anwar (Chaneil Kular).
The end of series 2 left us on a mobile mishap, with Otis recording Maeve a voicemail confessing his love. "It's you," he said. "It's always been you. I love you." Before she's able to listen to it, Maeve's neighbour Isaac, who has a crush on her, deletes it.
It seems our love and sex guru has a lesson or two to learn himself, but textbooks can't teach you life experience. Sex Education has taught us some lessons though... here's just a few.



Two minor characters, Liam and Lizzie, are introduced during the school dance episode. Liam asks Lizzie to the dance in increasingly outrageous and attention-grabbing ways, despite the fact she's already turned down his offer several times. Although she tells him to stop, he persists.
Otis makes Liam realise that although it's not the answer he wants to hear, Lizzie's response must be respected. Consent is not just vital in sexual situations, but in all situations, which this episode brilliantly demonstrates.




Although it might seem like everyone is sexually active during high school, that doesn't mean they are. Lily tries and fails to lose her virginity several times. She wants to get it out of the way so she won't appear inexperienced once she graduates. Otis advises her to take it slow and go at her own pace, not the one that society (or her schoolmates) dictate.

It's important to remember that what's right for one person might not be right for another – there's no one-size-fits-all (ahem) approach to sexuality. Otis also decides to wait until he's ready, which will only make the experience, physically and mentally, altogether a better one.



Sex Education excels at representing different experiences, identities, disabilities and sexualities through its characters, depicting homosexuality, pansexuality, bisexuality and asexuality.
Florence, who is cast in Moordale's Romeo & Juliet: The Musical, struggles to find chemistry with her partner. She visits Jean, admitting she doesn't want to have sex with anyone. "I think I might be broken," she says. Jean tells her about asexuality, the lack of sexual attraction to others or low desire for sexual activity. "Sex doesn't make us whole," Jean says. "And so how could you ever be broken?"



Eric easily could have fallen into the "gay best friend" box-ticking category, but thankfully he doesn't. Throughout the series, he contends with being gay and following his religious faith. He's not just there for token representation, he's a well-rounded character whose personality shines through to make him a fan favourite.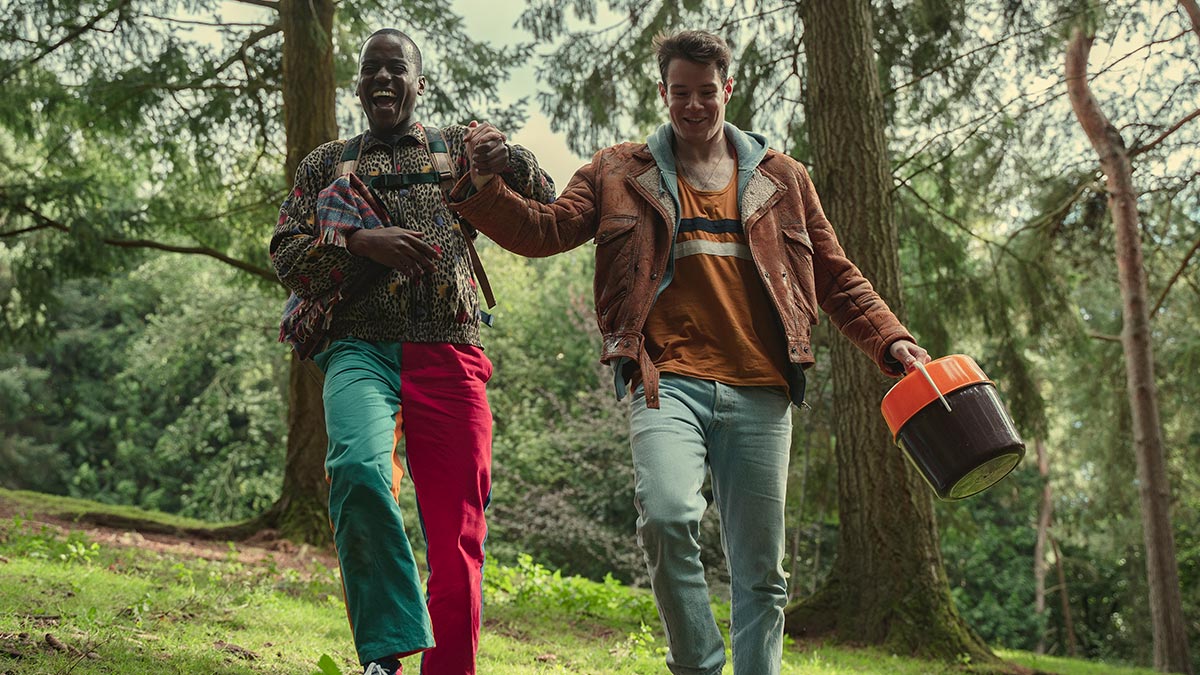 Will series 3 deliver a happy ending for Eric (Ncuti Gatwa, left) and Adam (Connor Swindells, right)?

Other storylines explore Adam dealing with his feelings for Eric, which he represses and deals with by bullying Eric. All-star athlete Jackson has two mums who are in a lesbian couple, but that's not the main focus, they're individuals in their own right who go through ups and downs like any other couple.
Sex Education creator Laurie Nunn told Digital Spy, "Audiences are looking to see themselves reflected in the characters, as well as watch content from different perspectives, so inclusive storytelling is really important to our show," she said.



When Aimee is sexually harassed on the bus to school, the incident leaves her walking to school every morning. She's too afraid to ride the bus again and she doesn't want her boyfriend to touch her.
Aimee's story is based on Nunn's personal experience. What helped her was posting about the assault in a feminist women's Facebook group, where other women provided support and solidarity as they shared their own stories.
Ola, Maeve, Lily, Olivia and Viv similarly rally around Aimee when she admits she can't take the bus anymore. "I always felt safe before and now I don't. It probably sounds stupid," Aimee says. "It doesn't sound stupid," Olivia responds. "I was groped at the train station last year."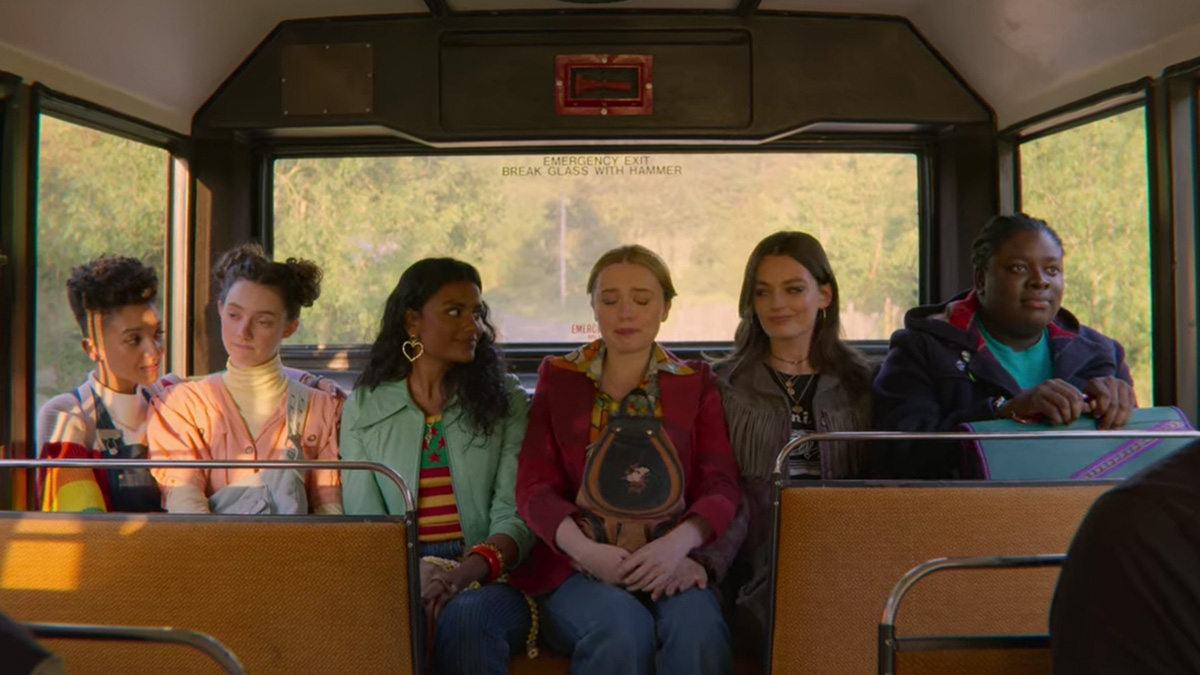 Next stop: The power of sisterhood

They confide in one another about when they were harassed or assaulted, and the episode ends with one of the most powerful scenes of the series – with the girls accompanying Aimee on the bus to school.
Watch our interview with Wood after she won the gong for Female Performance In A Comedy Programme at the 2021 Virgin Media British Academy Television Awards for her role as Aimee in Sex Education. She told us her favourite moment of the series was "getting on the bus with all the girls".
When is Sex Education on Netflix?
Find all eight episodes of Sex Education series 3 in Apps & Games > Netflix from Friday 17 September. Series 1 & 2 available now.
TV channels: Channels, content and features available depend on your chosen package. Channel line-ups and content are subject to change at any time and to regional variations.
HD: HD TV set, V HD Box, TiVo box or Virgin TV V6 connected with HDMI cables required for HD channels. Number of inclusive HD channels depends on package.
Netflix: Netflix subscription required at extra cost.