Skip to main content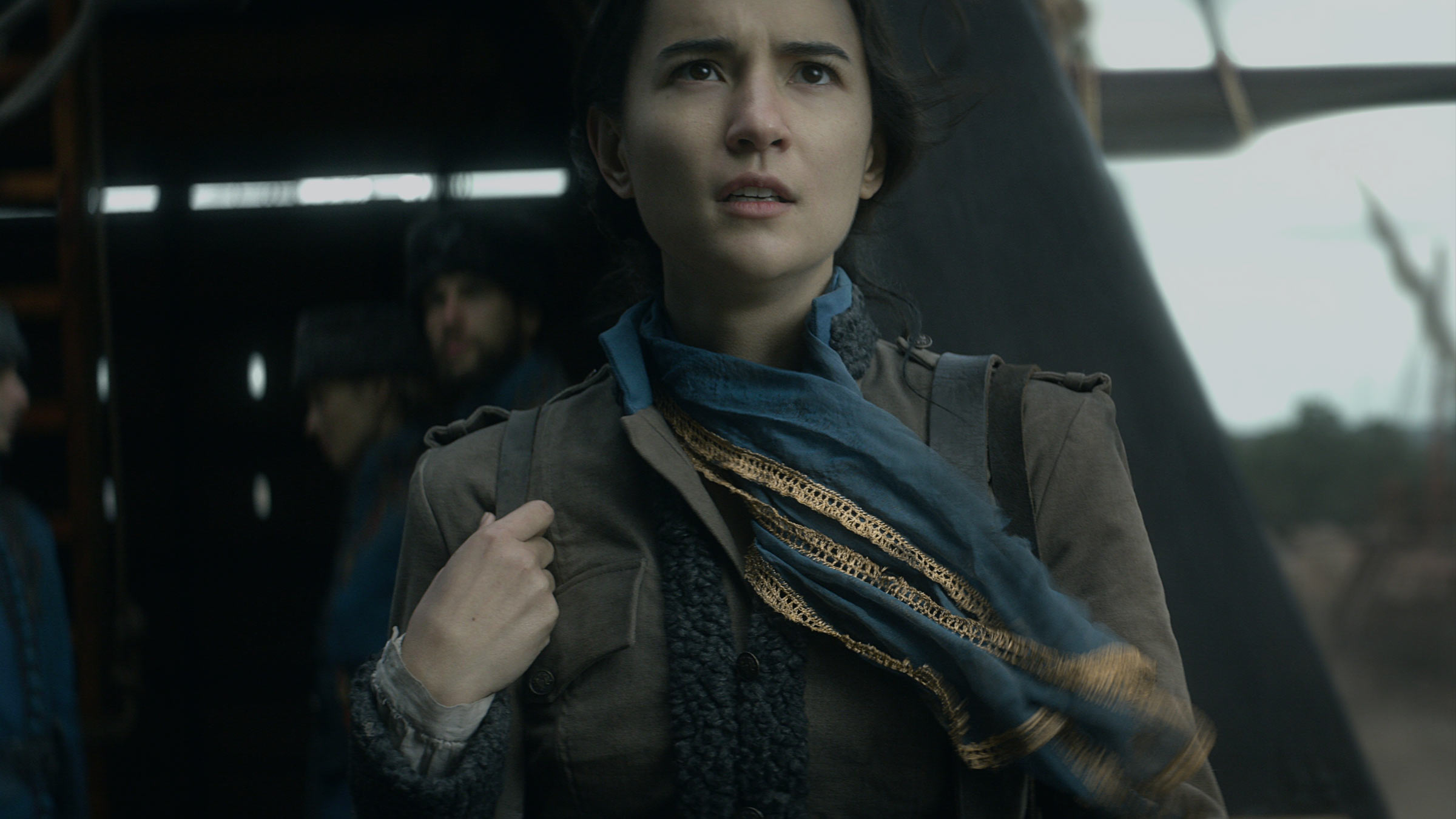 Is this the real life? Is this just fantasy? Caught up in Netflix, no escape from reality… as these magical shows put a spell on you
By Laura Rutkowski, Staff Writer
Leigh Bardugo's Grishaverse novels Shadow And Bone and Six Of Crows are brought to life in this new eight-part series. In a war-torn world, a dark barrier known as the Shadow Fold exists, where bloodthirsty creatures lie in wait.
Orphan and cartographer Alina Starkov (Jessie Mei Li) discovers she has a power that could help save her country, but General Kirigan, AKA The Darkling (Ben Barnes, Westworld), seems to be the only one willing to listen.

Alina is a "Sun Summoner" who can control light, something that is desperately needed in her dark surroundings. And what's a good fantasy without a love triangle thrown in? Alina grapples with her feelings for the much older Darkling and her childhood friend Malyen Oretsev (Archie Renaux, who starred alongside Barnes in Gold Digger).
"I wanted to write fantasy worlds that reflected the world around me, which is not very straight, and not very white," Bardugo told Total Film. "And it was important to me to create a world that was inclusive, and I really hate the idea that romance and adventure and magic can only belong to one kind of person. So I have tried very hard to make sure that that is not how my books feel."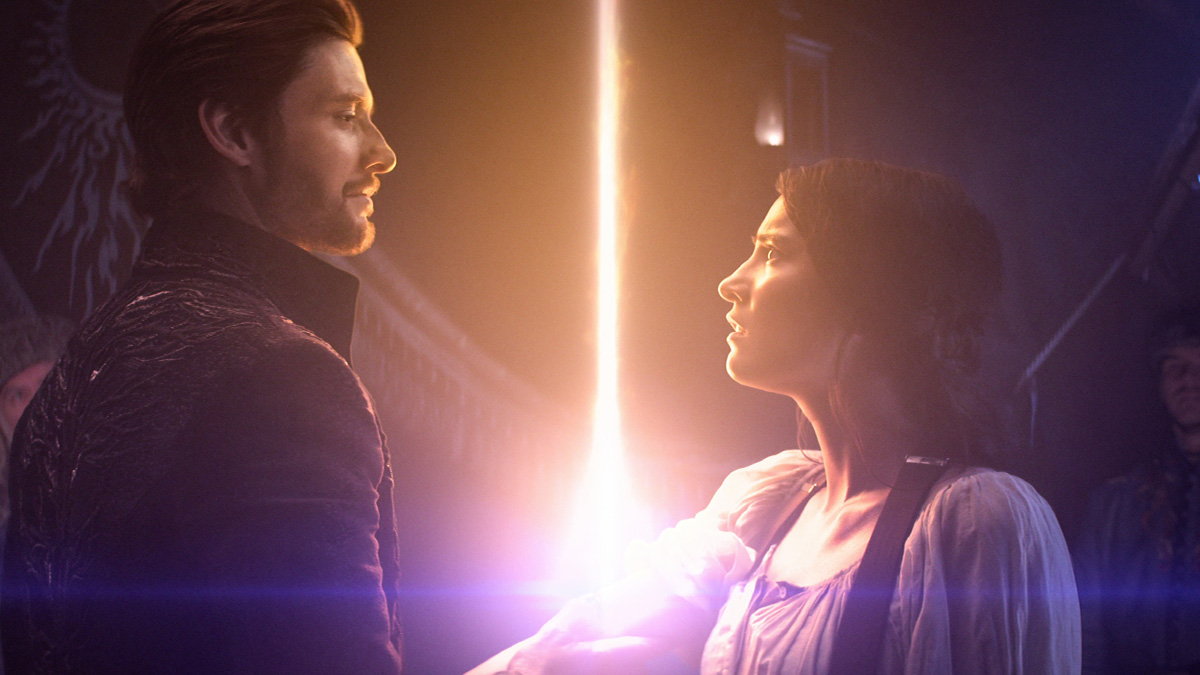 The sexual tension between Alina Starkov (Jessie Mei Li) and General Kirigan (Ben Barnes) is palpable

In the books, Alina's ancestry is tied to the country of Ravka, but in the show, she has mixed Ravkan and Shu Han heritage. Meanwhile, Kaz Brekker (Freddy Carter), who runs a gambling den called the Crow Club, needs to walk using a cane, of which Carter said, "It became clear very quickly that [Bardugo] wanted the cane to be something that's made Kaz stronger. It was something he was proud of, not something that he ever tried to hide or, kind of, shy away from..."
Jesper Fahey (Kit Young) is a mixed-race, bisexual man and "these are just facts of life", he told Total Film. In the series, "A large number of people are accepted for who they are, and who is oppressed might be surprising."
David J Peterson, who created the fictional languages heard in Game Of Thrones and The Witcher, has been brought on board to craft the unique languages spoken in Shadow And Bone.
Before stepping into this inclusive, fantastical world, here are the other magical shows on Netflix you need to know about – and we don't mean the kind where a bunny is pulled out of a hat.
Locke & Key
Find season 1 in Apps & Games > Netflix
When Rendell Locke is murdered, his widow Nina (Darby Stanchfield, Scandal) moves with their three children, Tyler (Connor Jessup, American Crime), Kinsey (Emilia Jones, Doctor Who) and Bode (Jackson Robert Scott, It), from Seattle to Massachusetts. There, they make themselves at home in Rendell's childhood residence, Keyhouse. Based on the comics by Joe Hill and Gabriel Rodriguez, this series revolves around lots of magical keys that can be used to unlock mysterious doors… but a demonic force is also looking for those keys.

Luna Nera
Find season 1 in Apps & Games > Netflix
This Italian-language series, which translates to Black Moon in English, takes places in 17th-century Italy, where women are accused of being witches. When their grandmother is executed for this very reason, Ade (Nina Fotaras) and her ill younger brother Valente (Giada Gagliardi) are forced to find somewhere where they'll be safe. There's an added bonus tale of star-crossed lovers with Pietro (Giorgio Belli) and Ade – him the son of a witch-hunter and her a witch.
The Witcher
Find season 1 in Apps & Games > Netflix
Henry Cavill with long, white-blonde hair and golden eyes, anyone? Based on Polish writer Andrzej Sapkowski's book series, The Witcher is set for season 2 so make sure you catch up with Geralt of Rivia (Cavill) before then. He's a magically enhanced monster hunter known as a witcher, but it's not the monsters he needs to be most wary of.

Merlin
Find series 1-5 in Apps & Games > Netflix
We've seen many iterations of the legendary wizard in popular culture, including as a reclusive old hack, who's more than a little rusty with his powers, in Shrek The Third. Played here by Colin Morgan, Merlin arrives in Camelot, where magic is outlawed. It's his destiny to protect Arthur (Bradley James), who fate has deemed will return magic to Camelot, but the mismatched pair don't get off to the best start.

Fate: The Winx Saga
Find series 1 in Apps & Games > Netflix
Fairies go live action in this series based on the animated show Winx Club, where they attend a magical boarding school called Alfea College in the Otherworld. As if being a teenager wasn't difficult enough, as well as navigating love and frenemies, they also have to master magic and fend off monsters. Watch girl gang Bloom (fire fairy), Stella (light fairy), Aisha (water fairy), Terra (earth fairy) and Musa (mind fairy) take flight… and fight.

The Shannara Chronicles
Find seasons 1 & 2 in Apps & Games > Netflix
This adaptation of Terry Brooks' book series tells the story of elven princess Amberle (Poppy Drayton, Charmed), human Eretria (Ivana Baquero, Pan's Labyrinth) and half-elf Wil (Austin Butler, Once Upon A Time... In Hollywood). Taking place thousands of years after the near-complete annihilation of humankind, the trio must prevent a demonic army from destroying the universe.

Cursed
Find season 1 in Apps & Games > Netflix
In what you could call a King Arthur prequel, based on Frank Miller and Tom Wheeler's graphic novel, Cursed follows heroine Nimue (Katherine Langford, 13 Reasons Why), or the Lady of the Lake. Although in literature she usually meets a tragic end, she's given the power to tell her own story in this series. After her mother's death, she goes on a journey to deliver the Sword of Power to Merlin (Gustaf Skarsgård, Vikings) and makes a friend in Arthur (Devon Terrell, Barry) along the way.

Shadowhunters: The Mortal Instruments
Find seasons 1-4 in Apps & Games > Netflix
On her 18th birthday, Clary Fray (Katherine McNamara, Arrow) finds out she's a Shadowhunter. When her mother is kidnapped, Clary must stretch her human-angel wings as she's thrown headfirst into demon hunting. Check out Cassandra Clare's book series before watching to get a real feel for this mystical world.

When is Shadow And Bone on Netflix?
Find season 1 in Apps & Games > Netflix from Friday 23 April.
How to watch Netflix with Virgin TV
If you have a TiVo® box or Virgin TV V6 box, powered by TiVo®:
Press home on your remote
Select Apps & Games
Select All Apps
Select Netflix
If you're already a Netflix subscriber, you can also access the app through Search & Discover or by pressing Red on channel 204. Just sign in with your existing login and start watching. And you'll only have to log in the first time you use it.
If you're new to Netflix, then you'll need to subscribe to use the app. The easiest way to do this is by going to netflix.com/virginmedia. You can also subscribe using the Netflix app in Apps & Games.
TV channels: Channels, content and features available depend on your chosen package. Channel line-ups and content are subject to change at any time and to regional variations.
HD: HD TV set, V HD Box, TiVo box or Virgin TV V6 connected with HDMI cables required for HD channels. Number of inclusive HD channels depends on package.
Netflix: Netflix subscription required at extra cost.