Skip to main content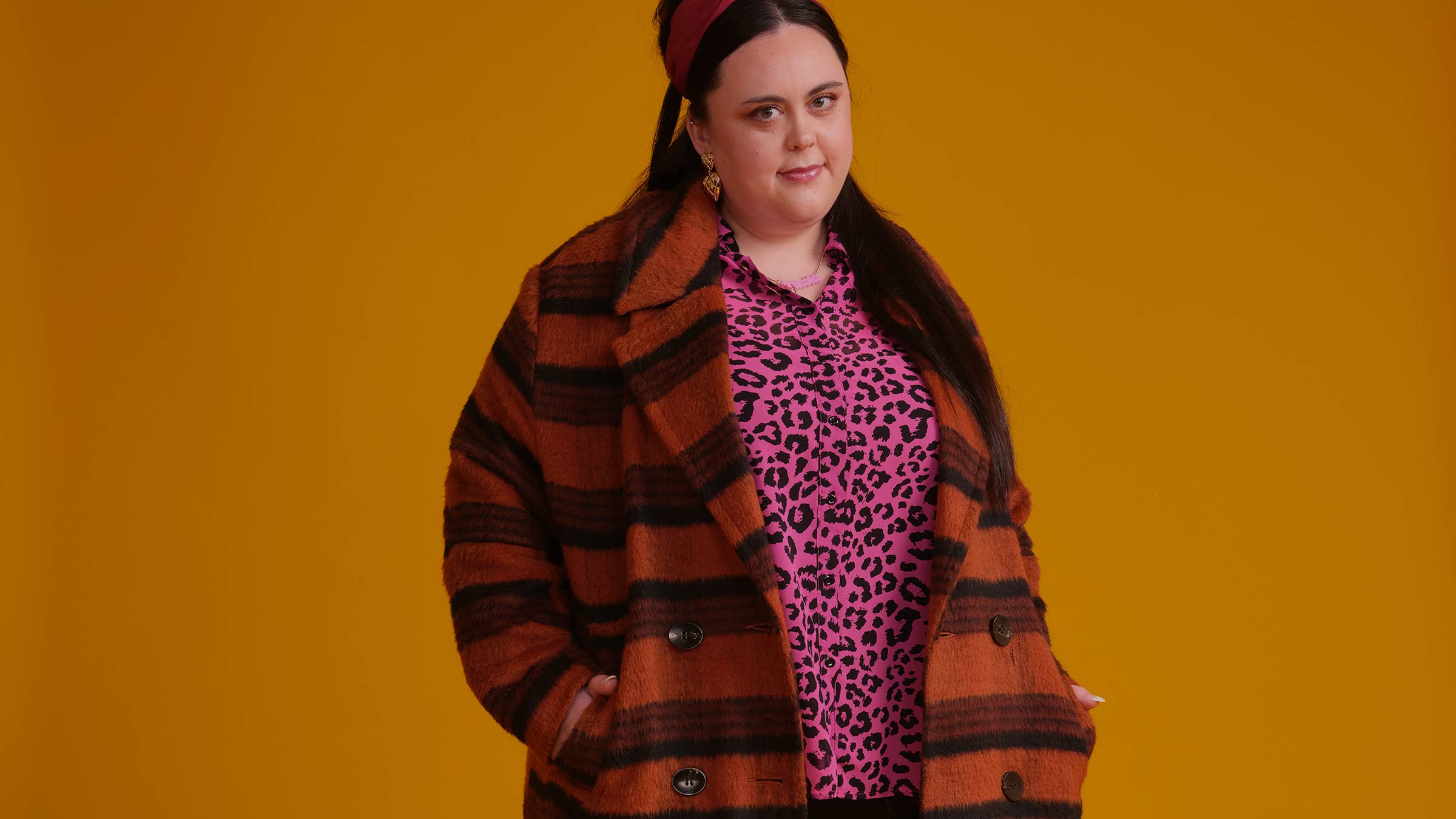 As new series Finding Alice airs on ITV, Sharon Rooney talks about checking on your strong friends, building mansions on The Sims and falling down a YouTube rabbit hole on the daily
By Laura Rutkowski, Staff Writer
"Make a will," Sharon Rooney urges us. "It's so boring and so stressful and sad, but just take an afternoon out and get it done." The Glaswegian actor, best known for her lead role in My Mad Fat Diary, is surprisingly upbeat and matter-of-fact as she discusses our mortality. Her latest project, Finding Alice, which deals with death and grief head-on, has rubbed off on her – small talk be damned! "It made me realise how important those conversations are that no one wants to have, because it's inevitable – no one's getting out of this alive."
Finding Alice, created by The Durrells' director Roger Goldby, writer Simon Nye and star Keeley Hawes (who plays Alice), almost immediately opens with a death. Alice's husband Harry (Jason Merrells, Agatha Raisin) falls down the stairs in the dream home he's built for her and their teen daughter Charlotte (Isabella Pappas, Paranoid). It's clear he hasn't planned for this eventuality (nor did he plan for a bannister) and Alice is left to deal with the fallout, which includes the secrets Harry leaves in his wake.

Sharon plays Nicola, who copes with the death of her older brother by attempting to stay positive for everyone, as well as acting and dressing loudly ("I'm the sassy one!," she proclaims at Harry's inquest) – something Sharon had a say in. "I said, "What about headbands?" There were about eight different ones. And I said she's got to have a necklace with her name on. That's Nicola's armour," Sharon says.
"The brighter the clothes get, the worse she's feeling. Everything is to compensate. It's so important to check on your loud friends just as much as your quiet friends. With Nicola, I think, "Who is checking on you?" It's made me send a few texts that I hadn't [previously], because I thought, "Oh, they'll be fine.""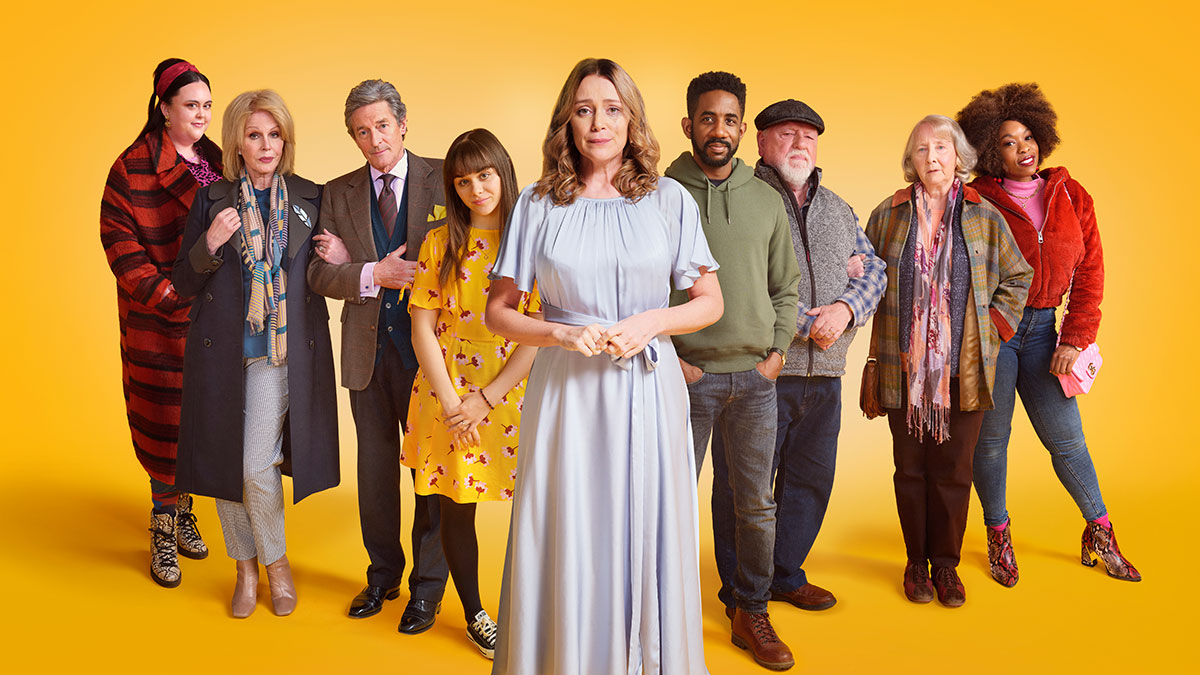 One big (not so) happy family: Keeley Hawes (front) leads the drama as recently widowed Alice

Despite the difficult topics the show covers, you'll laugh a lot as the darkly comic humour shines through – Finding Alice screams, "Let's talk about death, baby!" in a relatable and honest, yet funny and amusing way.
For example, Alice can't figure out where the fridge is in the house (it's a complicated smart home) and wonders why a "compare the coffin" website doesn't exist, eventually opting to buy Harry's from Amazon. "We all experience grief at some point," Sharon says. "It's not all awful, you do learn to laugh again."
Joanna Lumley (Absolutely Fabulous) plays Alice's stand-offish and judgemental mum, with Nigel Havers (Coronation Street) as her quiet but well-meaning dad. Gemma Jones (Bridget Jones's Diary) and Kenneth Cranham (Layer Cake) also join the cast as Harry's parents, and Rhashan Stone (Strike Back) is a mortuary worker who becomes Alice's "death guru."
Before you tune in for the show, which Sharon describes as a "wee bit of TV soup for the soul", here's one of everything from the entertainment world that she's loving right now…

TV show: I'm A Celebrity... Get Me Out of Here!

I really love Giovanna [Fletcher, from series 20], I think she is a super mum. I also really like Beverly [Callard]. I'd love to live in a castle. I'm slightly jealous of them, although not that jealous, because my couch is much comfier.

Box Set: The Royle Family
Find series 1-3 in Apps & Games > BBC iPlayer
This is my third time re-watching The Royle Family during lockdown. I can quote the whole thing from start to finish.

Film: Stepmom
Find it in Apps & Games > Netflix
I watched it when it first came out many moons ago and I enjoyed it, so it's a film I always go back to. I'm a really bad re-watcher, I'll re-watch the same things over and over. I love a film that makes me cry!

App: Instagram
I spend hours on it. You know when you go into the search bar and they put videos you think you'll like? Before I know it, I'm like, "Oh, that's 40 minutes gone."

Friend you always call: Best friend Anna

We met at college when we were 16 and I speak to her pretty much all day every day. She's got the pink sparkly love heart emoji next to her name in my phone.

Video game: The Sims

I don't play with the actual Sims, I just enjoy building houses. It's really relaxing, because there's a clear end goal. Don't tell my agent that's what I do – they think I'm doing very serious actor work, but I'm actually just building a giant mansion.


YouTube: Vlogs
I like Disney vlogs, family vlogs, people going about their day vlogs, and haul videos, where people buy stuff and show you. I do watch people building Sims houses – I wasn't gonna tell you that…

Podcast: Janey Godley
I've been listening to her podcast for years and years – it first came out in 2010. She does it with her daughter.

Documentary: American Murder: The Family Next Door
Find it in Apps & Games > Netflix
I love all the crime documentaries. I also really like 60 Days In, where they put normal civilians in prisons to find out what's going on inside. I also like watching YouTube videos on real crime – and then I wonder why I have weird dreams.

Guilty pleasure: YouTube videos
It's all of the ones I've just told you! I'll watch anything and everything. It's probably YouTube videos. The other night, I went into a Dance Moms dark hole. I clicked on a recap video by accident, and before I knew it, I'd watched all of them. Or, those Facebook videos where they do funniest babies, funniest dogs, funniest cats. I'm usually watching them in my trailer.

When is ITV's Finding Alice on TV?
Finding Alice airs on ITV HD (CH 113) on Sundays at 9pm, with the first episode screening on 17 January. The six-part series will subsequently air every week until Sunday 21 February.
After the first episode airs, all six episodes will be available in Apps & Games > ITV Hub.
TV channels: Channels, content and features available depend on your chosen package. Channel line-ups and content are subject to change at any time and to regional variations.
HD: HD TV set, V HD Box, TiVo box or Virgin TV V6 connected with HDMI cables required for HD channels. Number of inclusive HD channels depends on package.
ITV HD is subject to regional variation. ITV HD is not available where STV HD or UTV HD is available.
Catch Up TV: Catch Up TV content available for up to 7 days or up to 30 days after broadcast, depending on content.
Interviews: Any opinions expressed in interviews are those of the interview subject and not those of Virgin Media.