Skip to main content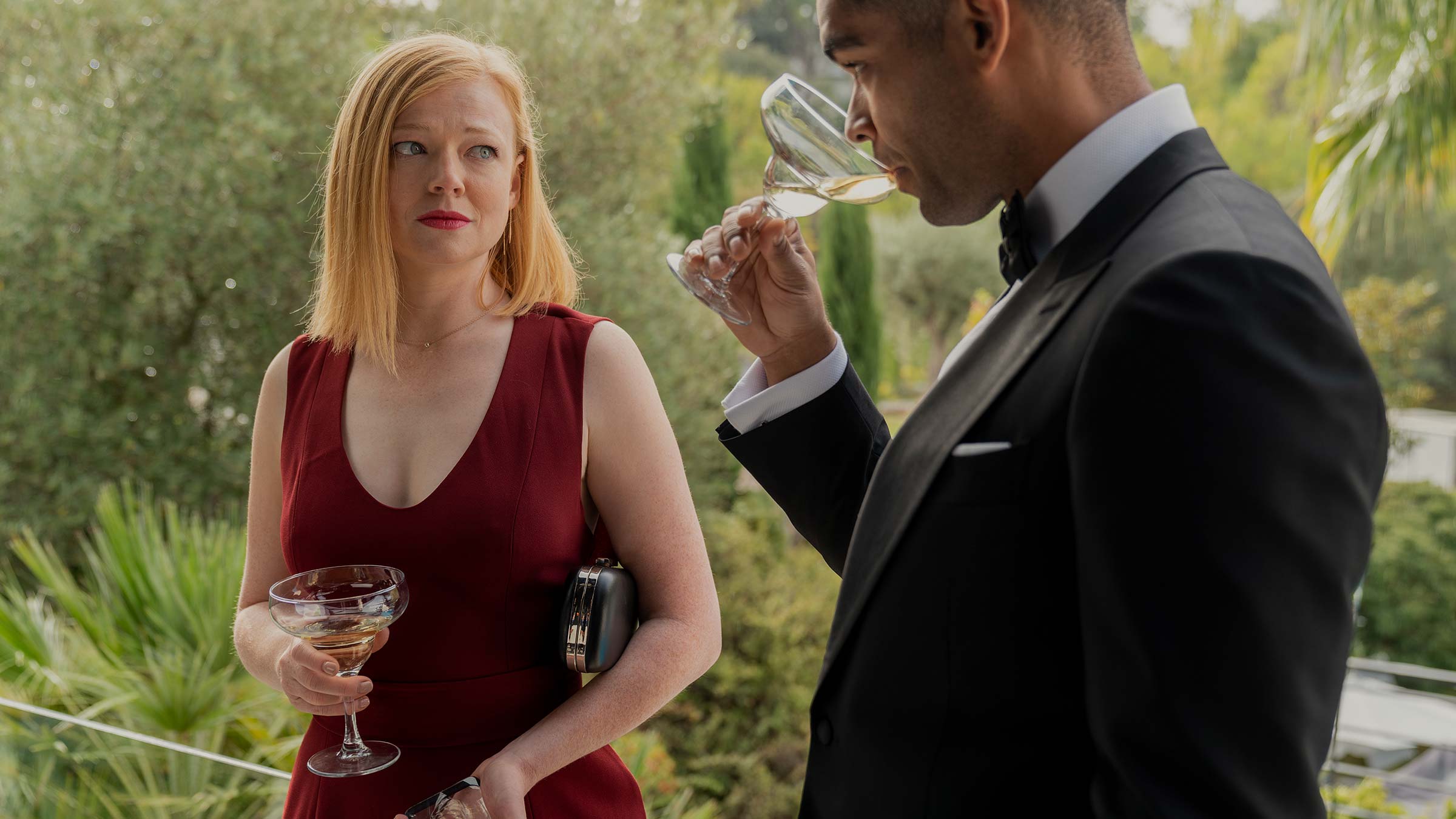 Nothing is certain in life except for death, taxes and now love in this new anthology series, where everybody can find "the one"
By Laura Rutkowski, Staff Writer
Almost a year ago, Charlie Brooker told the Radio Times he wasn't working on series 6 of Black Mirror, because "At the moment, I don't know what stomach there would be for stories about societies falling apart".
But if, like us, you do have an appetite for dystopian technology, even when the world is on fire, you will gobble up new series Soulmates. It's written by Black Mirror's Will Bridges and Ted Lasso's Brett Goldstein and essentially takes the concept from series 4, episode 4 of Black Mirror, "Hang the DJ", and expands it.

Here's everything you need to know about the world where when "you have a match", it's not some hottie from Tinder hitting you up, it's your actual soulmate…

The tech is seriously cool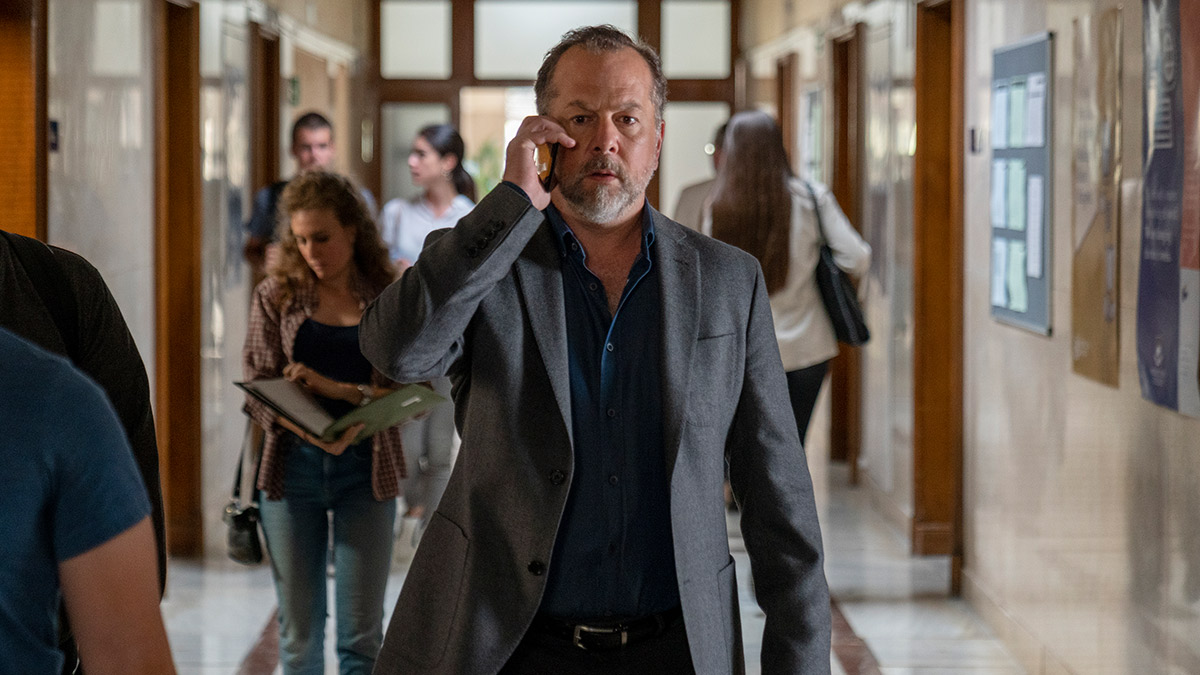 Just wait until you see the phones of the future. David Costabile as university professor David Maddox

"Hang the DJ" features a dating programme that puts an expiration date on all relationships and aims to find your "ultimate compatible other". In Soulmates, which is set 15 years in the future, a company called Soul Connex (their motto: "Matching your soulmate. Science fact.") has developed a test that can tell you who you are most meant to love, with 100% accuracy. All you have to do is sit in a clinic and let the machine do the rest!
If your soulmate hasn't taken the test yet, there could be some waiting time. It's not location-specific either, so you could be matched with someone who lives on the other side of the world. You're said to feel "the pull" when your soulmate has taken the test.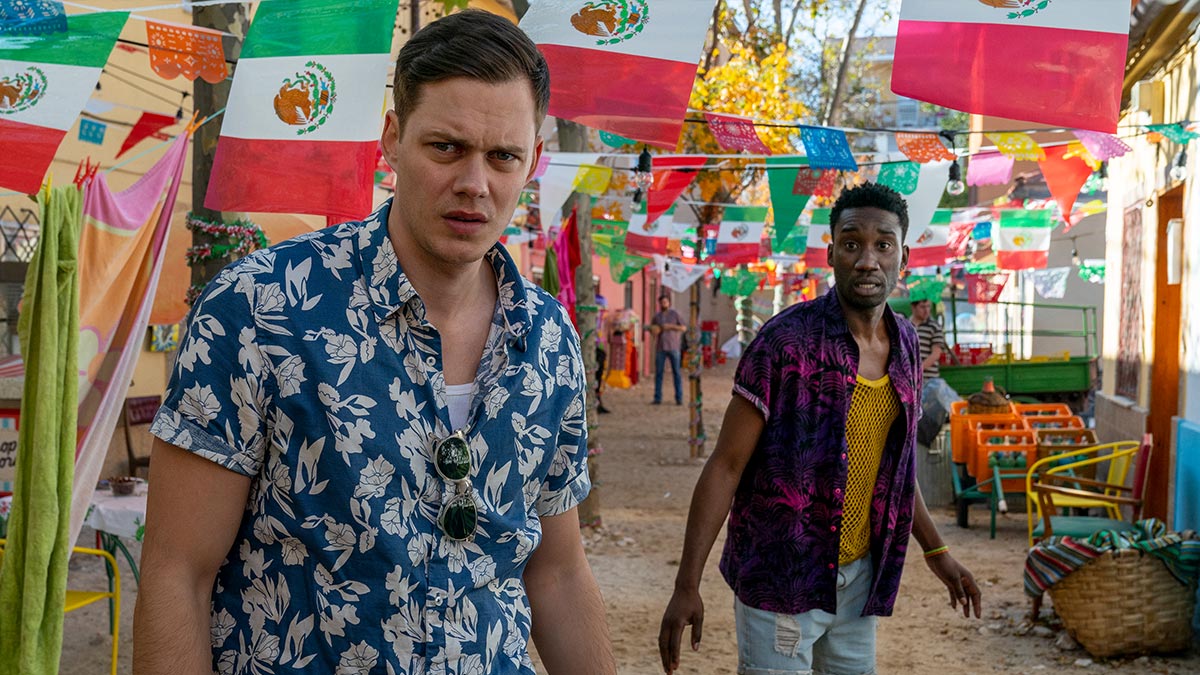 Could your soulmate be in Mexico? From left: Bill Skarsgård and Nathan Stewart-Jarrett as Mateo and Jonah, who meet not because of the test, but at a bar

This is just where the far-out technology begins. The phones, tablets and computer monitors have screens that are practically see-through. You can "grab" links from your phone and "throw" them on to the big screen. Forget presentation clickers – with a swipe of your hand, you can move through slides effortlessly. And if there's someone at the door, their face will pop up and all you need to say is "open front door" to let them in.

The casting is flawless
Across six episodes, Sarah Snook (Succession), Kingsley Ben-Adir (Peaky Blinders), Charlie Heaton (Stranger Things), Malin Åkerman (27 Dresses), Bill Skarsgård (It), David Costabile (Breaking Bad), Nathan Stewart-Jarrett (Misfits), Darren Boyd (Killing Eve), Betsy Brandt (Breaking Bad) and more star in six different stories. Each relationship tale is related to Soul Connex in some way, with themes ranging from revenge and boredom to passionate love and polyamory.

Amy (Georgina Campbell) and Frank (Joe Cole) wonder if their relationship is a ticking time bomb in Black Mirror episode "Hang the DJ"

Georgina Campbell, who starred in "Hang the DJ", shows up in episode three of Soulmates, and Sandra Teles, from Black Mirror: Bandersnatch, also features in the series. The Black Mirror-verse is definitely a thing.
Snook and Ben-Adir kick off episode 1 as Nicola and Franklin. They met in college, have been married for 15 years and have two children together. As people around them increasingly find their soulmate by taking the test, including Nicola's brother (Boyd), Nicola asks Franklin, "When did we stop being the normal ones?" But in a future where a radio station called Soulmate Stories is just one form of insidious peer pressure, Nicola eventually starts to have doubts.


Being soulmates does not equal a perfect relationship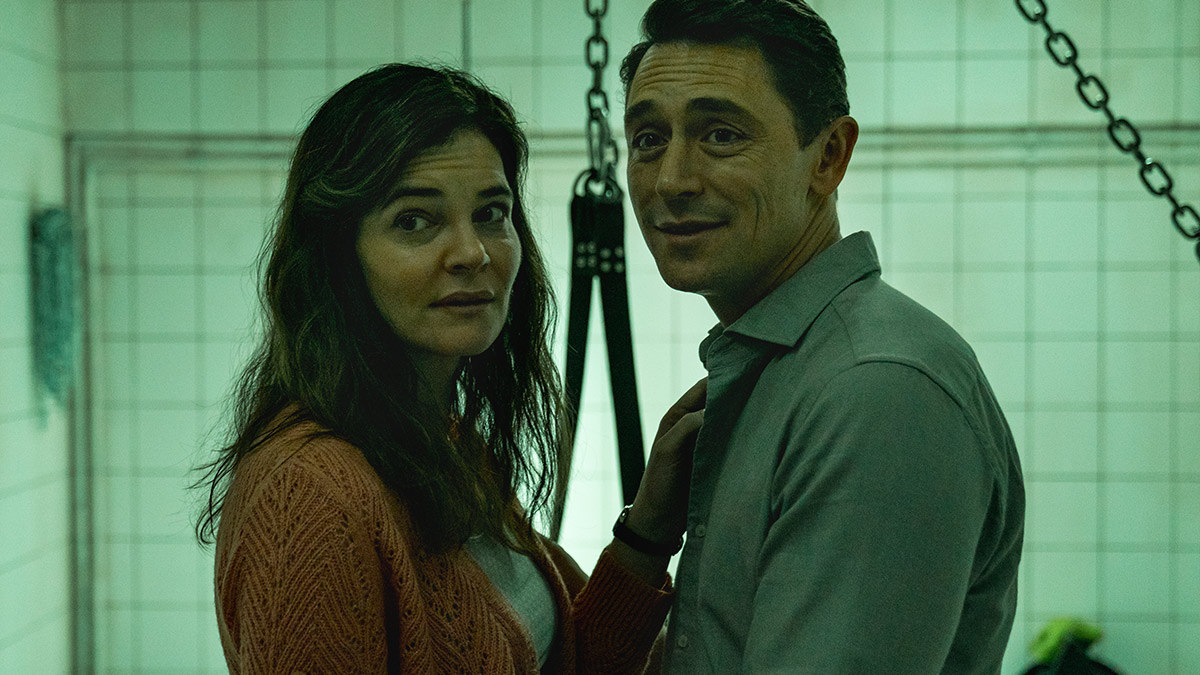 No one is buying those fake smiles. Betsy Brandt and JJ Feild as soulmates Caitlin and Nathan

That age-old desire to find your "soulmate" doesn't come without its consequences. If you're single and just waiting around for this person who's tailor-made for you, it's great, but what if you're already married and have kids? What if you find out the wife or husband you actively chose and fell in love with isn't your scientifically proven soulmate?
Couples in the series have to have "the talk" about whether they should take the test. It's human nature for us to be curious, but it's true what they say: you should be careful what you wish for.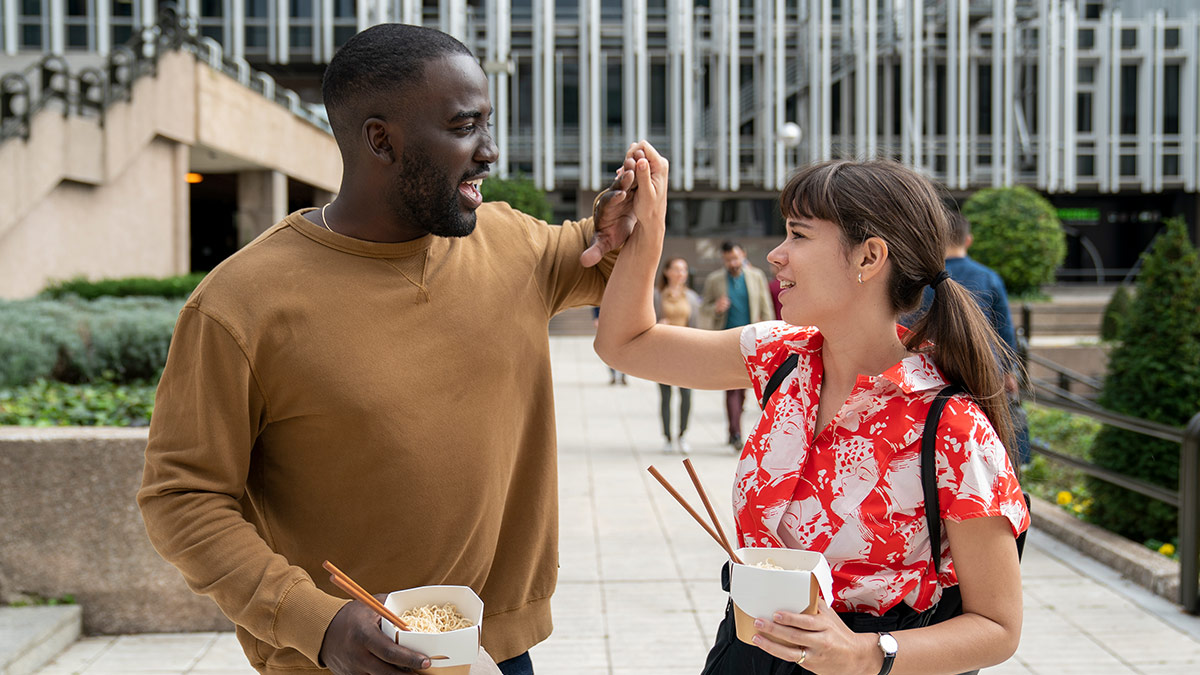 Those who eat ramen together stay together – or do they? Shamier Anderson and Laia Costa as the happily married Adam and Libby

Sometimes one person takes the test without telling the other, and just like that, a relationship is broken and the person has moved on with someone new. The catch of the whole thing is that it doesn't mean your memories of your previous partner are erased, like in Eternal Sunshine of the Spotless Mind.
You'll still miss them, you'll still argue with your soulmate like all couples do, there's still laundry to do and bins to take out. And there will be times where you wonder why this person has been chosen for you. It's a bit like when the participants of Married At First Sight ask the experts, "So why exactly did you put us together?" Heaven forbid your new lover snores when your ex didn't…
It provides more questions than answers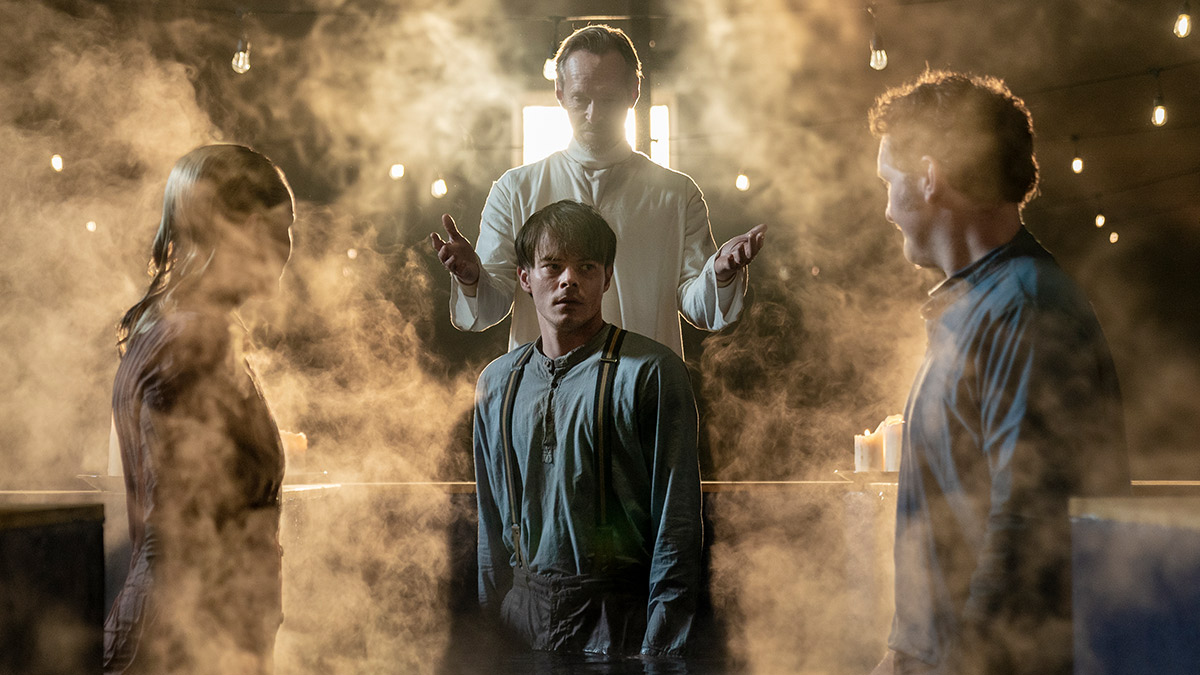 It looks like more Stranger Things await Charlie Heaton as Kurt, whose soulmate match died before they could meet

We absolutely recommend watching this series with someone, whether that's someone you live with or through Prime Video Watch Party, because this one is a thinker.
It's going to open up a lot of deep conversations and hypothetical questions. Can your soulmate be a platonic best friend? What should you do if you're content in your current relationship? Can one person be your everything? Ultimately, it will boil down to you asking your friend/partner/parent/sibling/yourself the inevitable: "Would you take the test?"
Brooker might have been right that at the moment we don't have the stomach for stories about societies falling apart, but relationships falling apart? Well, that's great TV.


When is Soulmates on Amazon Prime Video?
Find the six-episode series in Apps & Games > Prime Video from Monday 8 February.


How to watch Amazon Prime Video with Virgin TV
Prime Video is available to all Virgin TV customers with a V6 box, powered by TiVo®. Simply sign up to Amazon Prime Video via their website, and you can log in on the box. And because Prime Video is fully integrated into TiVo®, you can search without even going into the app. Just select Search & Discover from the Home menu and type in the name of the show or movie you're after.
TV channels: Channels, content and features available depend on your chosen package. Channel line-ups and content are subject to change at any time and to regional variations.
HD: HD TV set, V HD Box, TiVo box or Virgin TV V6 connected with HDMI cables required for HD channels. Number of inclusive HD channels depends on package.
Catch Up TV: Catch Up TV content available for up to 7 days or up to 30 days after broadcast, depending on content.
Amazon Prime Video: Amazon Prime subscription required at extra cost. 18+. Click here for T&Cs.