Skip to main content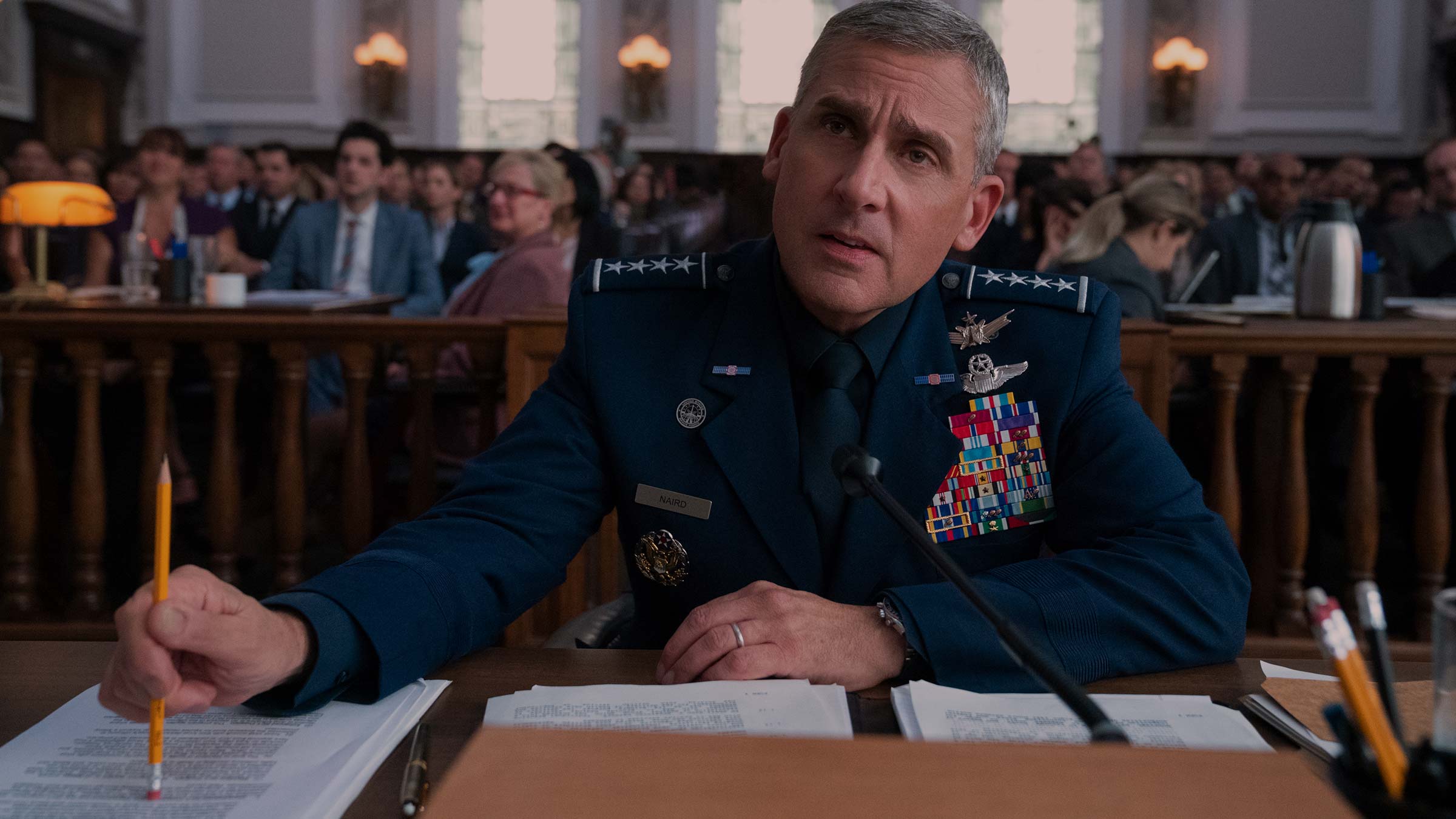 Everyone's favourite funnyman returns to a workplace comedy 15 years after The Office (US)
By Laura Rutkowski, Staff Writer
Although Lisa Kudrow, John Malkovich, Ben Schwartz and the late, great Fred Willard are part of Space Force's (inter)stellar cast, there's one man we really want to home in on, and that's Steve Carell. He's most well-known for his role in The Office (US) as Michael Scott, regional manager of Dunder Mifflin Paper Company (the "people person's paper people").
For Space Force, he's once again joined forces with The Office's Greg Daniels (Parks And Recreation, Upload). A reunion of The Office has been off the cards for a long time, so Carell's return to a sitcom is HUGE – make sure you plot the air date, 29 May, into your lunar calendar.

Carell plays four-star general Mark R Naird, who is tasked with leading the Space Force, with the government's ultimate goal to colonise space. Despite the show having real-world parallels to the sixth and youngest branch of the US Armed Forces, Carell has said Space Force is not political or grounded in reality, but the title just instantly offers a good laugh.
He said, "Netflix pitched the show to me, and then I pitched the show to Greg, and we all had the same reaction to it. There was no show, there was no idea, aside from the title. Netflix asked, "Do you want to do a show called Space Force?" And I pretty much immediately said, "Well yeah, sure. That sounds great.""
It does sound great, so prepare for lift off by revisiting some of Carell's best on-screen moments before he inevitably creates some more in Space Force.
"Where are the turtles?!?!"

We could dedicate this whole list to moments from The Office, so that's where we'll start. Michael, feeling threatened by new technology, sets out to prove that the personal, human touch is still best when it comes to doing business. Along with his right-hand man Dwight (Rainn Wilson), he delivers gift baskets to clients Dunder Mifflin lost in the last year. Then, after some more unfortunate circumstances involving technology (if you know, you know), they go back to retrieve one of the gift baskets, to find that the chocolate turtles have already been eaten…

Michael falling into the koi pond

If you haven't already seen this extended scene of Michael falling into the koi pond, you're going to love this gem – just skip to the end of the video. As Jim (John Krasinski) says when he and Michael return to Dunder Mifflin after their meeting, "Truthfully, it wasn't the way he fell in, it was... how long it took him to get out." He's not wrong.

"No, god, please no. NOOOOO!"

Can you even call yourself a fan of The Office if you don't get this reference? No list would be complete without this iconic entry. The quote to end all quotes from The Office (maybe with the exception of "That's what she said"), Michael screams this after realising Toby (Paul Lieberstein), the much-loathed HR representative, has returned to work. There are probably a few times you've wanted to shout this yourself…

The 40-Year-Old Virgin waxing scene

Surprisingly, Carell actually wrote the chest-waxing scene in the film for himself, and then proceeded to actually get his chest waxed on screen! Miki Mia, who plays the waxing technician, lied to get the part, claiming she was "proficient" in waxing… but she'd only experimented on her boyfriend's back. Her reaction, as well as Steve, Paul Rudd, Seth Rogen and Romany Malco's is 100% real – with each painful and hilarious rrrrrippp caught on camera.

The Dan In Real Life shower scene

Dan In Real Life is quite possibly one of the most underrated films Carell has been in, but it is one of his best. The unconventional love story between widower and single father Dan (Carell) and free-spirited Marie (Juliette Binoche) is sweet and subtle with a large heaping of silly humour, as this clip demonstrates.

Showing his serious side in Foxcatcher

We already knew that Carell could take on serious roles, with his turn in Little Miss Sunshine jumping out as one of the most obvious examples, but in Foxcatcher, he took it to a whole other level. He pulled something off that we thought was impossible: he made himself downright scary. Altering his appearance with a prosthetic nose and adopting a leering, creepy demeanour, he played John du Pont in this film that tells the true story of a wrestling tragedy.

"Loud noises!"

Can we all just agree that weatherman Brick Tamland is the best asset to the news team in Anchorman: The Legend of Ron Burgundy? Don't even get us started on his relationship with Chani (Kristen Wiig) in Anchorman 2: The Legend Continues. Match. Made. In. Heaven.

Dressing up as Gru

As well as this incredible video of Carell reciting his other characters' lines in Gru's voice, he actually dressed up as his Despicable Me character on The Ellen DeGeneres Show – live action Gru is truly a sight for sore eyes.

His Crazy, Stupid, Love makeover

The pairing of Carell and Ryan Gosling was quite frankly the bromance we never knew we needed. When suave ladies' man Jacob (Gosling) takes Cal (Carell) under his wing to show him how to up his game, the resulting mall montage gives all other movie montages a run for their money. Cal transforms from "dad" to "not bad," and we love Carell as both.

Any time Steve Carell is dancing, like in Little Miss Sunshine…

He's also a really good singer

If Carell's rendition of "Let My Love Open the Door" with Dane Cook in Dan In Real Life doesn't choke you up, you have a heart made of stone. Carell used to sing in the choir and he can also play the fife! A man of many talents.

Reuniting with John Krasinski for The Office's 15-year anniversary

On Krasinski's web series Some Good News, he's welcomed some of his famous friends – none more welcomed than Carell. This interview, where the pair reminisce about their favourite moments on The Office, 15 years on, is the wholesome content we deserve right now. Also make sure you check out this episode, with a digital reunion for the whole cast of The Office, who recreate the dance scene from Pam and Jim's wedding for real-life couple John and Susan.
When is Space Force available on Netflix?
Find Space Force on Netflix from Friday 29 May.
A Space Force podcast called Inside Joke will also premiere on Friday 29 May. Star Jimmy O Yang (Silicon Valley) hosts the 10-part podcast, with new episodes on Mondays and Thursdays. Guests including Steve Carell, Greg Daniels, John Malkovich, Ben Schwartz, Tawny Newsome, Diana Silvers and more discuss the stories behind the show.




How to watch Netflix with Virgin TV
If you have a TiVo® box or Virgin TV V6 box, powered by TiVo®:
Press home on your remote
Select Apps & Games
Select All Apps
Select Netflix
If you're already a Netflix subscriber, you can also access the app through Search & Discover or by pressing Red on channel 204. Just sign in with your existing login and start watching. And you'll only have to log in the first time you use it.
If you're new to Netflix, then you'll need to subscribe to use the app. The easiest way to do this is by going to netflix.com/virginmedia. You can also subscribe using the Netflix app in Apps & Games.
Netflix: Netflix subscription required at extra cost.