Skip to main content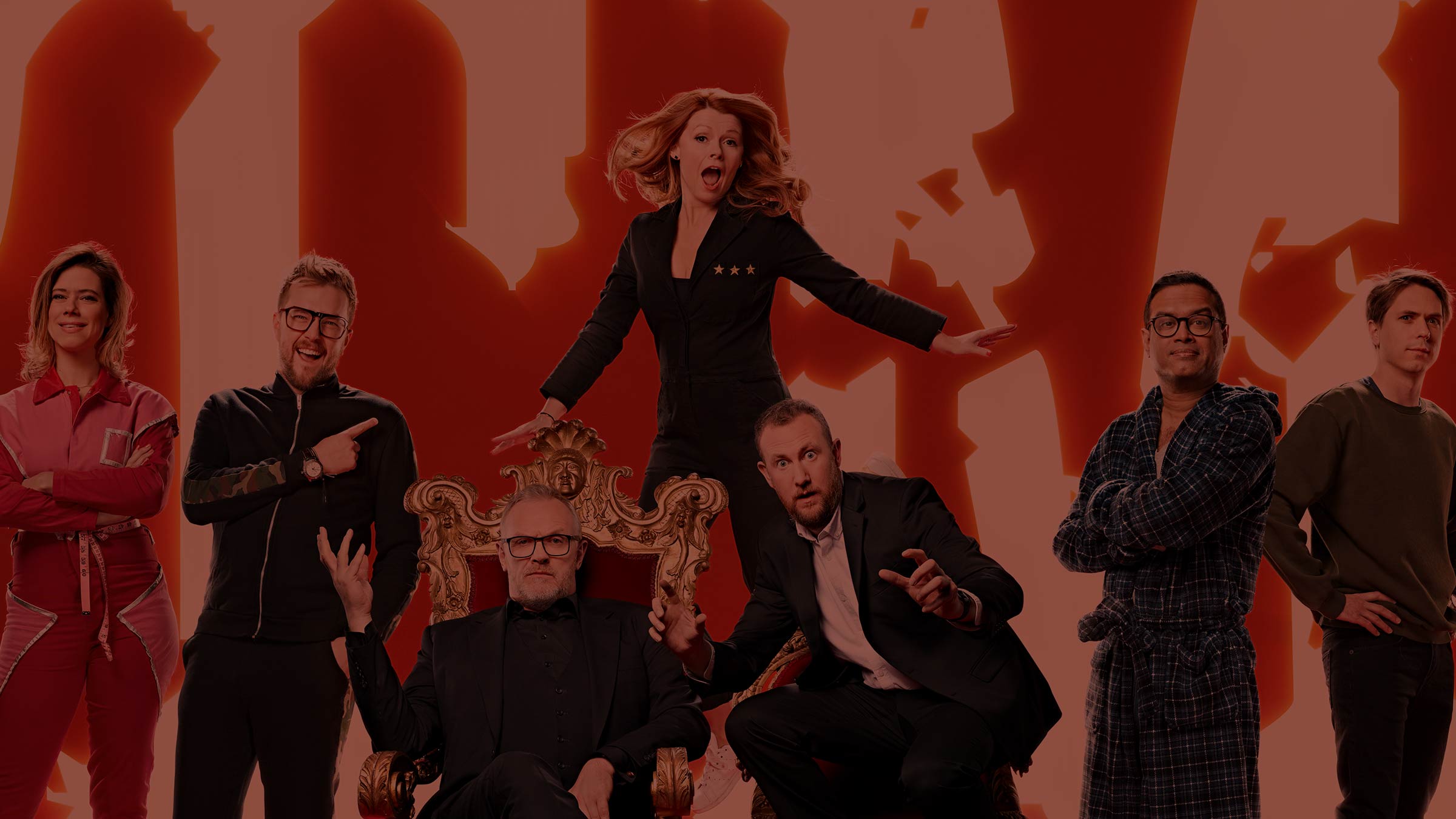 Taskmaster smashes it out of the park every series. The newest one features the disembodied voice of Love Island, a Car Sharer and an Inbetweener. Game on…
Taskmaster, Wednesday 8 May, 9pm, Dave/HD (CH 127/227). Also available for 7 days in Catch Up > Channels > Dave
Like so many things in Britain, who can really remember the exact moment when certain things became vital aspects of our national identity. Like, when did Brits begin forming eerily silent and orderly queues? Or start apologising when somebody else stepped on the back of their shoes? And what historian or so-called expert can explain why some of us still say thank you to a cashpoint?
Taskmaster is like that. One minute it had a small yet passionate fanbase, and now it's quite rightly one of the biggest (and best) shows on TV. But no matter how we got there, it makes perfect sense. After all, what other programme would dedicate precious airtime to watching five comedians persuade three dogs to stand on a red mat? (If you can't even answer that simple question midway into this article, you'd be rubbish on this show.)
In case you hadn't guessed by now, Greg Davies is back as the titular taskmaster, ably assisted by little Alex Horne, for series 8. That means more tasks ranging from the ludicrous to the inane, more prizes of varying quality and – of course – five more comedians entering the fray.
Keen to find who's in it this time? Click/hover on the below, and then read on for our five favourite tasks of all-time…
The 5 greatest Taskmaster tasks
1. Throw a potato into a golf hole, without touching the red green

We love the tasks you could theoretically try at home when you're kicking your heels on a Sunday. But despite the simplicity of this task, it is devilishly difficult (trust us – we know, based on one such Sunday!). Jon Richardson won this round of golf – something that has never been uttered before (or since).
2. Impress the mayor of Chesham

An absolute stone-cold classic, and a task you've probably already seen, even if you've never laid eyes on an episode of Taskmaster. But it's worth stating because it's great. Joe Wilkinson presenting a very game mayor of Chesham with 42 Callipos and eight cans of strong lager is beautiful TV.
3. Film something that will look impressive in reverse

Tree wizard. Do we need to say more?
4. Don't blink. Your time starts in ten seconds

If you thought dying on stage was the most painful thing a comedian could do, this took it to the next level. It's basically like that episode of Doctor Who as a form of torture. Rhod Gilbert emerged as the task winner in this series 7 episode. But was it worth it? You decide…
5. Buy a gift for the Taskmaster with £20

This was episode 3 in the first series. It still ranks as not only one of the best but also most surprising tasks, and it memorably ended with Josh Widdicombe getting a real tattoo with Greg's name. If you've ever doubted how seriously the contestants take this show, may we present exhibit A, m'lord!
Honourable mentions:
Score 11 points in "Taskmaster Squash"
Eat as much watermelon as possible in one minute
Make a mask that tastes delicious and looks great. The mask must be entirely edible and entirely wearable. Wear your mask so that Alex can taste it
Place three exercise balls on a yoga mat, on top of a hill
Order a pizza without using specific words
Find out the most remarkable thing you have in common with a woman called Carol
Taskmaster, Wednesday 8 May, 9pm, Dave/HD (CH 127/227). Also available for 7 days in Catch Up > Channels > Dave
TV channels: Channels, content and features available depend on your chosen package. Channel line-ups and content are subject to change at any time and to regional variations.
HD: HD TV required to view HD channels. Number of inclusive HD channels depends on package.
Catch Up TV: Catch Up TV content available for up to 7 days or up to the 30 days after broadcast, depending on content.
Image credits: Taskmaster © UKTV