Skip to main content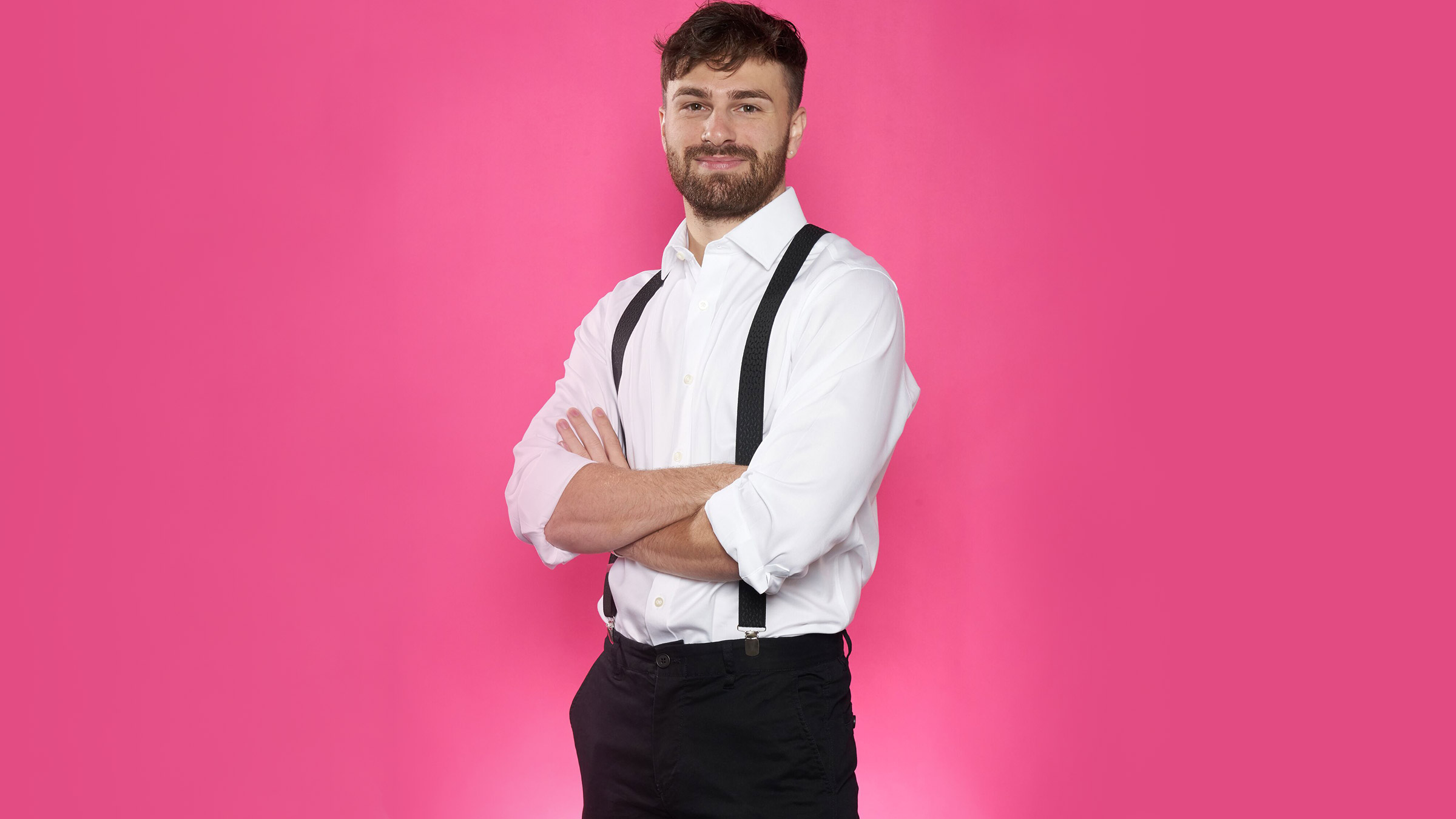 As Teen First Dates makes a reservation with E4, waiter Grant Urquhart talks Valentine's Day, why you shouldn't go to the cinema on a first date and his love of Married At First Sight Australia
By Laura Rutkowski, Staff Writer
The latest series of First Dates served up a new location, moving the wholesome dating show from London's Paternoster Chop House to Manchester's The Refinery. And now there's a new offering on the menu: Teen First Dates.
Daters aged 16-19 step away from swiping for one night as they're set up on blind dates at the cocktail bar and restaurant. Joining maître d'hôtel Fred Sirieix, bartender and mixologist Merlin Griffiths and waiting staff CiCi Coleman and Grant Urquhart are new cast members Daniella, David and Fiona, who are on hand to help keep those first-date nerves at bay and the conversation flowing.

Grant, who joined First Dates as a waiter in series 10, is from York, so he was right at home up North and ready to offer words of wisdom to the singletons, many of whom had never been on a date before. "A lot of them haven't even been to a restaurant without their mum and dad," he says.
Grant, now in his mid-20s, remembers favouring the cinema as a first date spot when he was a teenager. "You soon realise that is the worst place for a date. You sit there and you don't talk," he says. Whereas, in Teen First Dates, the pairs have nothing but time to talk – and not through their phones. That's precisely why they're an interesting age group to watch, because many of them favour dating apps over face-to-face flirtations.
"With the adult one, we're trying to get people to open up, but with this one, we're trying to drop in bits of advice, like "Have you guys been chatting? Have you asked the lady about her? Are you being nice?"," says Grant.
Teen First Dates is less about finding "the one" and more about enjoying the experience of dipping a toe into the world of dating, all while we're melting at home from the sheer sweetness and innocence of it all, reminiscing about our own first dates (or trying to forget them).
Grant recalls serving a table where two girls were both having their first same-sex date. "It was just the cutest thing. They couldn't have gotten on better," he says. "I can't wait for the audience to see heart-warming bits like that."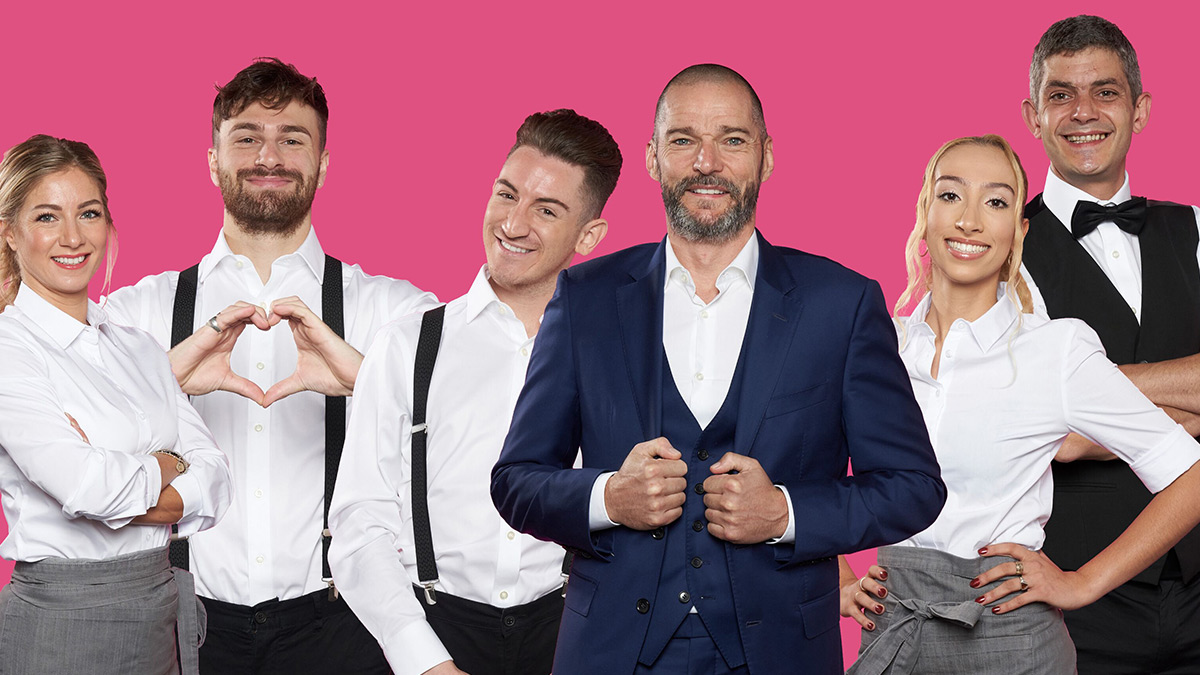 The First Dates staff play cupid as teens enter the restaurant. From left: CiCi, Grant, David, Fred, Daniella and Merlin

As well as cuteness, there are also loads of cringeworthy moments and awkward silences, but those are rites of passage when dating as a teen! The show brings some normalcy to their lives, which was made possible through rigorous COVID-19 testing, self-isolation and a bubble system for the daters and staff.
With people's love lives being hit particularly hard right now, Grant says, "People need to know there is still that opportunity for love, no matter what." That's where Teen First Dates comes in to give you those butterflies in your stomach!
Grant, who recently celebrated his three-year anniversary with his girlfriend, has also been getting creative for their date nights. For Valentine's Day they ordered a pottery kit, inspired by their love of The Great Pottery Throw Down. "We've become obsessed with it. It's like Bake Off, but with pottery," he says.
"It was fun, it was something we'd never usually try, but with everything going on, you have to improvise."
Before you tune in for the show and live vicariously through the teens on actual dates eating at an actual restaurant ("People will probably get a bit jealous!" Grant says), here's one of everything from the entertainment world that Grant's loving right now…
TV show: Married At First Sight Australia
Find series 4-6 in Apps & Games > All 4
I don't usually watch reality shows, but one episode of this, and I was hooked. It's mental, but it's great TV.

Box Set: Cougar Town
It's a standard American sitcom that my girlfriend started watching and I just loved it. I binged all six seasons in about a week. There's also Community and The Mandalorian.


Film: Once Upon A Time… In Hollywood

I've been on a Tarantino hype this past week. I started with the newest one, Once Upon A Time… In Hollywood – classic Tarantino twisting an already real story into madness. I'm working my way back, so I just finished both Kill Bill films and I'm now into Reservoir Dogs territory.

App: Down Dog
It's a yoga app, but I'm not flexible at all! At the beginning of lockdown when my head was going mental, it was nice to do something different and zone out for a bit. I would have never tried it otherwise.

Friend you always call: Dylan

He's my friend who I work with in a bar when I'm not doing First Dates. He's been keeping me sane. We did a show together three years ago. I played a leopard and he played a jaguar and we've been really good friends ever since. When you're living in Cirencester together for three months in a lodge, you're gonna be close, because there was nothing to do there.

Video game: FIFA
I'm addicted to it. I was playing it before you called. I support Leeds, but there's a game mode called Ultimate Team where you build your own team out of players. The worst thing is I'm actually terrible at it, and now I've gotten my other two best mates hooked on it as well.
YouTube: TheTimTracker
My girlfriend and I are addicted to Disney. We went to Disneyland three years ago. We had a trip planned last year that didn't happen and we've got a trip planned this year, which I don't think is gonna happen either. We follow TheTimTracker. He focuses on all things Disney, so we keep up with our Disney news and it kind of feels like we're still there.

Podcast: Sh**ged Married Annoyed
That Peter Crouch Podcast has just returned, which I'm loving, because it's been about a year since the last one, but my go-to is Sh**ged Married Annoyed. It's Rosie and Chris Ramsey, who are great, and it's weekly, so every Friday on my walk to the shops, I put my headphones in [and listen].

Documentary: Unsolved Mysteries
Find seasons 1 & 2 in Apps & Games > Netflix
It blew my mind in the first lockdown. There's a series 2 out, but I can't have too many programmes to focus on at one time. I'm waiting to watch it – I'm gonna binge it all.


Guilty pleasure: Musicals

I miss going to the theatre. That's what my girlfriend does as a career, so I was at the theatre all the time, and I went to drama school. What's happened at the moment with the industry is awful. I watched Hamilton two weeks ago. My favourite Disney musical is Coco – such an emotional film!


When is Teen First Dates on E4?
Teen First Dates airs on E4/HD (CH 106/145) on Mondays at 10pm, with the first episode screening on 22 February. It is also available in Apps & Games > All 4.
The six-part series will subsequently air every week until Monday 29 March.
TV channels: Channels, content and features available depend on your chosen package. Channel line-ups and content are subject to change at any time and to regional variations.
HD: HD TV set, V HD Box, TiVo box or Virgin TV V6 connected with HDMI cables required for HD channels. Number of inclusive HD channels depends on package.
Catch Up TV: Catch Up TV content available for up to 7 days or up to 30 days after broadcast, depending on content.
Interviews: Any opinions expressed in interviews are those of the interview subject and not those of Virgin Media.
Netflix: Netflix subscription required at extra cost.