Skip to main content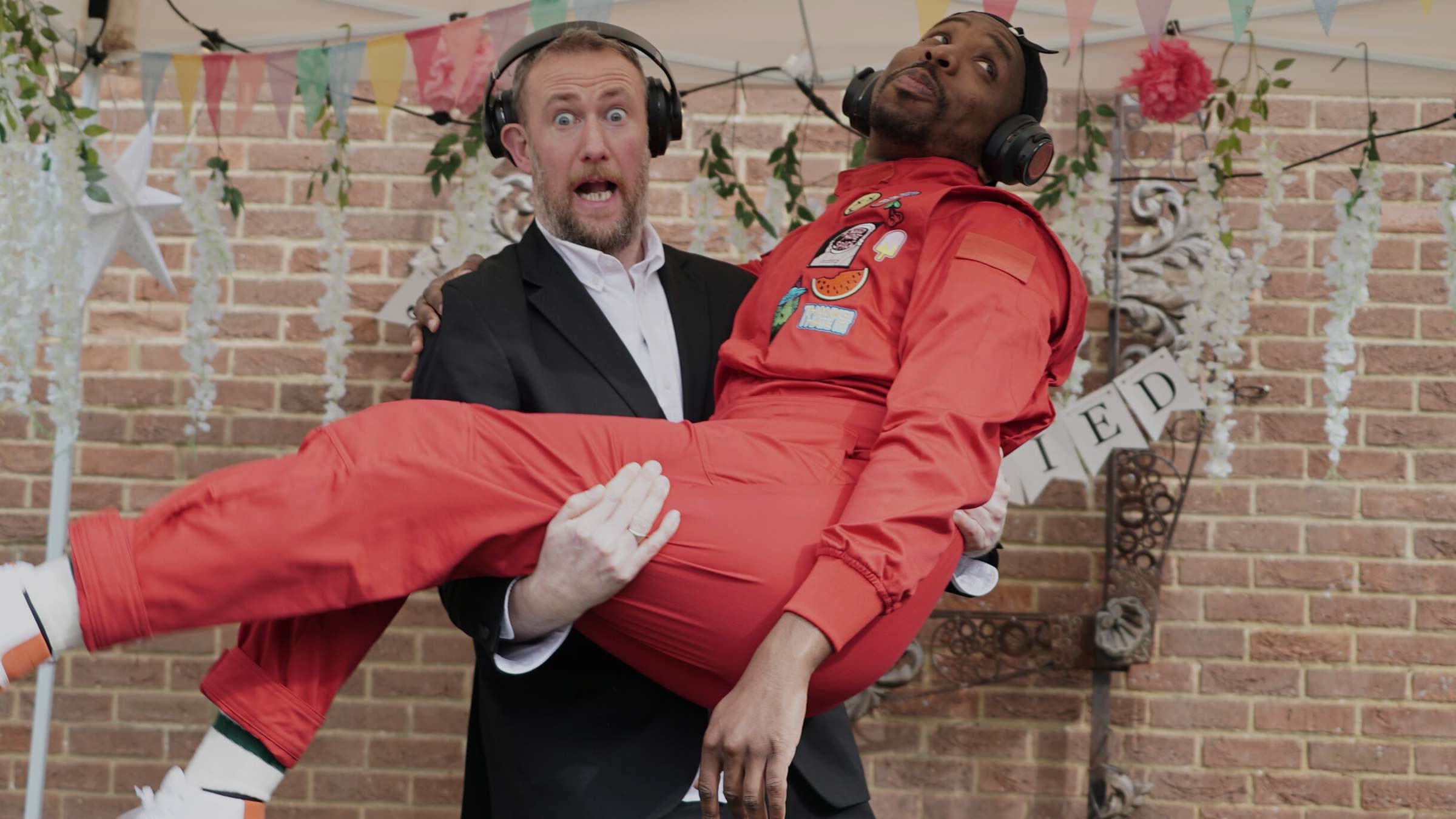 The greatest and silliest show in the world is back! We run down the comedians taking part in series 15, plus a look back at the 50 greatest tasks of all time
By Simon Ward, Content Editor
It's hard to pick the greatest show on television because it's so subjective. For many people, The West Wing, The Wire or The Sopranos stand head and shoulders above everything else. But we ask you: did any of those Peak TV shows feature a comedian vindictively making another comedian sit bare-bottomed on top of a cake for your entertainment? No, they didn't. Tony Soprano definitely missed a trick there.
Yes, we're talking about Taskmaster. (The comedian was Liza Tarbuck and the victim was Alex Horne, just in case you needed that case closed.) And now it's back for its 15th series with another stonking line-up of comedians. They are…
Frankie Boyle (Frankie Boyle's New World Order)
Ivo Graham (British As Folk)
Jenny Eclair (Grumpy Old Women)
Kiell Smith-Bynoe (Ghosts)

Mae Martin (Feel Good)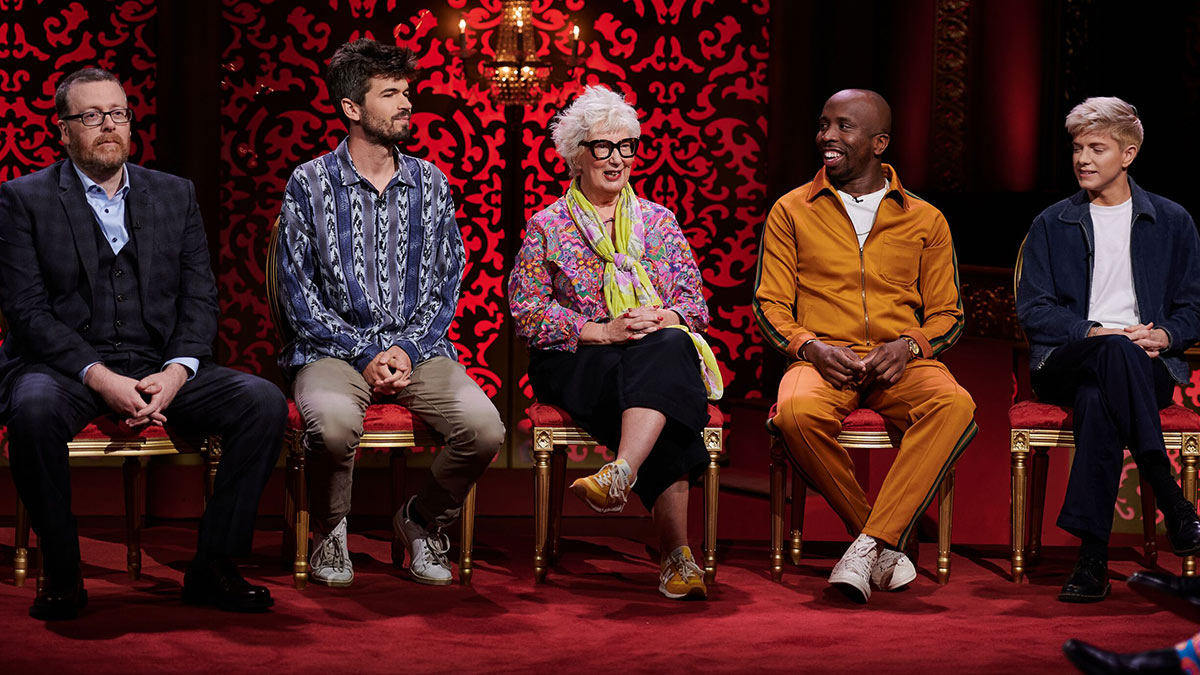 Amazing the people you see in a doctor's waiting room

Each week for 10 weeks, the comics will compete against each other (and occasionally as a team) in a series of tasks judged by the titular Taskmaster Greg Davies (The Cleaner). Each episode has a winner who takes home a collection of rubbish prizes from the initial "Prize task", while the comedian with the most points across the series takes home a golden statue in the shape of Greg's head.
Making sure all the tasks are followed to the letter is the much-maligned Taskmaster's assistant/punching bag, "Little" Alex Horne (who, in reality, is actually quite tall; he also created the entire show, comes up with the fiendish tasks, and probably does the catering and make-up).
Why the show has remained so fresh is a testament to the creativity applied to the tasks. But there's something more. Taskmaster gets the contestants to reveal themselves over the 10 weeks like nothing else on TV could: their foibles, their pettiness, their annoyances and how their brains work. It all comes out in the wash. You root for some, you sympathise for others (hello, Nish Kumar!). It's also without doubt one of the funniest things on TV.
And who could have predicted that series would feature Frankie Boyle, a funny man who seems deadly serious? "I think that's a perfectly reasonable thing to be surprised about," says Greg. "He's on it because his children like it." And like all Taskmaster contestants before him, he didn't hold back.
"I make a lot of jokes in this series about him not caring whether he wins or not but he really entered into the spirit of it," Greg says. "It's not that he was sitting there going, "Who cares?" He tried, and was often bad. It's nice to see someone like Frankie being incompetent."
Over the 14 series so far, there have been a lot of incredible tasks. So ahead of Taskmaster series 15 starting on Channel 4 HD (CH 104/108) on Thursday 30 March at 9pm, we've picked out the 50 best ever tasks (in series order).
Your task is to read the whole thing translated into a language that isn't your own (or you could just read it normally, we guess). Your time starts… now.
1. Reverse, reverse
Series 1, Episode 2
Film tasks are always a highlight. In the OG one, contestants had to film something that looked impressive in reverse. Romesh Ranganathan made the immediately iconic music video for "Tree Wizard", the story of a Tree Wizard who magicked balloons into existence.
2. The present
Series 1, Episode 3
This task to buy the Taskmaster the best present for £20 featured in the opening three series, but it was never bettered than in series 1 when Josh Widdicombe got a real tattoo of Greg Davies's name on his foot. Greg has still never looked so shocked. Five sweet points.
3. Counting conundrum
Series 1, Episode 4
Occasionally, contestants get individual tasks for the sheer hell of it. Ahead of an ad break, Greg wondered aloud how many baked beans were in a tin. It then cut to a filmed segment of Josh Widdicombe answering that very question in a task he did alone. Then for ad break two, Greg speculated the same about spaghetti hoops in a tin. The same happened, and again, just Josh. But the cruellest was yet to come as he finally questioned the number of grains of rice in a bag. Cruel, yes. Funny? Very.
4. Hole in one (almost)
Series 2, Episode 1
Get the potato into the golf hole. You may not touch the red green. Joe Wilkinson stepped forward and flung that spud into the hole on his first attempt. No camera trickery. He really did it. The audience lost their minds. Joe called it the "best thing [he'd] ever done." It was so good, that we just had to see it again. Then came a replay that showed… Joe's foot had been touching the red green. It led to a crushing disqualification. It was, to quote Greg, "genuinely harrowing".
5. Nursey crime
Series 2, Episode 2
In which Jon Richardson in the task to make the best music video for a nursery rhyme showed the bloody aftermath of "Three Blind Mice" with accompanying horror film-style instrumental. Were the discarded walking canes and glasses too much? You decide…
6. Mayoral race
Series 2, Episode 3
How many Mayors have had a rap and a poem written about them (Katherine Ryan and Richard Osman) and have been serenaded by the country's best comedians (Jon Richardson and Doc Brown)? Despite Katherine winning this task to impress the Mayor of Chesham ("That's Peter Hudson, you know that you can trust him"), it was Joe Wilkinson's effort to impress that sticks in the mind: 42 Calippos, 8 cans of lager and £15 in cash.
7. Spread your clothes
Series 3, Episode 4
Lateral thinking goes a long way in Taskmaster. Here, contestants had to spread their clothes as far as possible at their own expense. Al Murray spent £340 on two taxis to send his clothes across 6.2 square miles. Paul Chowdhry, meanwhile, put his socks on a tree in the Taskmaster Garden. He might have received only one point, but he also saved £340, so…
8. Destroy this cake
Series 4, Episode 1
If you've ever wanted to know what Bake Off hosts really feel about baking, in this task to destroy a cake, just watch the glee on Mel Giedroyc's face as she violently squashed a cake into a table with her bare hands or Noel Fielding's joy at putting his cake in a washing machine. You wouldn't get a "Hollywood Handshake" for that!
9. Long-distance painting
Series 4, Episode 2
Joe Lycett was a revelation on Taskmaster, and one of his highlights came when he had to paint a picture of the Taskmaster at a distance from the canvas. Joe had an extra task: to smile at the camera with increasing enthusiasm every 30 seconds and, well, the results were incredible.
10. Fishbowl fails
Series 4, Episode 3
Two reasons why the task to move water from one fishbowl to the other without moving the bowls was an all-time great. The first is any task that has the contestant reading the rules and then immediately breaking them (Lolly Adefope, who instantly moved the fishbowls). The second is when there's a hidden rule they miss. Random objects were left out to help them move the water, including a bar of chocolate. The secret rule on the back of the envelope said that any contestant who ate the chocolate would be deducted five points. Guess what Joe Lycett and Mel Giedroyc did…
11. Special cuddles
Series 5, Episode 1
Bob Mortimer was the Taskmaster G.O.A.T. When the task called for him to give Alex a special cuddle, he opted to do it in his closed car boot – largely because, he confessed, he'd been looking for an excuse to get into his car boot. Quite amazing.
12. Hoop dreams
Series 5, Episode 1
Nish Kumar was brilliant, although more through lack of accomplishment than anything else. But in episode 1, we all thought he was a Michael Jordan-like God in the task to get a basketball through a hoop without using his hands. First go, he kicked the ball straight into the hoop. The audience went wild. That was until it was revealed there had been more than 50 previous attempts over half an hour. It set a precedent for Nish.
13. Coconut businessman
Series 5, Episode 3
The task to make a coconut look like a businessman involved Bob Mortimer drawing a face on a coconut. That's it. But boy, was it funny.
14. Eat, throw, balance
Series 5, Episode 3
Contestants were offered a jelly, a Weetabix and a Twiglet. They had to balance one item, throw an item into a bucket at a distance and eat the remaining item, all in the fastest time. Sally Phillips was bing (threw the jelly), bang (ate the Twiglet), bosh (balanced the Weetabix). It was very impressive.
15. Cheeky texts
Series 5, Episode 5
Oh, Mark Watson! Has an individual task ever been this cruel? Mark had to send the Taskmaster an anonymous "cheeky" text message every day for five months. Yes, you read that right – five months! Which he dutifully did. 148 texts, in fact. The only issue was that the task required 150, so he failed. Never have you seen a man so utterly broken.
16. Birthing footage
Series 5, Episode 6
Sally Phillips should (arguably) have won series 5. Her finest moment was when she had to record the most incredible footage with a camera strapped to her head, which she interpreted as showing the very vivid, graphic, horribly realistic birth of Alex as a 183lb baby. Other notables in this task were Aisling Bea's parody of Taken called Took and Bob Mortimer discovering his own head in a box of Wotsits.
17. Taskonbury
Series 5, Episode 8
Arguably Peak Taskmaster is a team task to write and perform a song about a woman named Rosalind. In front of Rosalind. Aisling Bea, Bob Mortimer and Sally Phillips wrote an unhinged ballad called "Quite Good Considering" about her being "a nightmare" and "an average cellist", while Mark Watson and Nish Kumar – in their finest hour on the show – did a lovely, heartwarming, really-quite-excellent song called "I'm Always Seeing You (Do Cool Stuff)". Taskmaster has had a lot of song tasks, but this was a cut above them all.
18. Extraordinary journey
Series 6, Episode 2
The comedians were presented with a little wind-up man and instructed to make him go on the most extraordinary journey. So, Liza Tuckbuck made the little man cross the road where he was quickly hit by a car. To complete the journey, she stamped on him. Well, death is the final journey, which is extraordinary in its way…
19. Bedtime story
Series 6, Episode 3
Contestants had to write, illustrate and read out a bedtime story for grown-ups. Liza Tarbuck wrote a story about a scatterbrained man who ate an old prawn sandwich and pooed himself. It was a moment.
20. 100 times
Series 6, Episode 5
This team task wasn't so great because of the task per se. It was because of how it played out. Asim Chaudhry, Liza Tarbuck and Tim Vine were presented with a series of clues connected by string that spelt out the word "hop". Once you'd worked that bit out, you had to do it 100 times. Liza worked out the link in under a minute, while Asim and Tim ignored her and continued trying to work it out. So, Liza did the 100 hops herself and won the task for her team.
21. Cake love
Series 6, Episode 10
Liza Tarbuck is a national treasure, and much of that national treasure status was formed in her 10 weeks on Taskmaster. She proved herself inventive, quick-thinking and some kind of evil genius. In the task to tell the Taskmaster you love him in the most meaningful way, she leaned into that inventiveness and turned full-blown Bond villain as she made Alex put his bare backside on a cake inside the shed. The funniest part was watching her run away giggling to herself. She later admitted she felt dirty, as did we all.
22. Fast story
Series 7, Episode 2
Two very important parts of this task to write a 10-word story before you reach the finish line: you must be running while writing, and the fastest across the finish line wins. Rhod Gilbert took 10 minutes and 12 seconds (his accurate one-point claiming effort: "The man ran for exactly 10 minutes 12 seconds, losing"). James Acaster, meanwhile, gave us this legend in just 20 seconds: "The boy ran to France, and I loved that boy."
23. Excite Alex
Series 7, Episode 3
The most notable thing about Phil Wang in Taskmaster wasn't necessarily his task performance. Rather, it was his Kill Bill outfit that showed – well – everything. But the task to excite Alex so his heart rate would increase, as measured on a blood-pressure monitor, was his high point. No, it didn't involve his revealing outfit. Rather, he gave Alex a sugary coffee, did martial arts in front of him and then showed him videos of near misses. Alex was so relaxed that it decreased his heart rate.
24. Soap opera cliff-hanger
Series 7, Episode 6
More Peak Taskmaster with Jessica Knappett and Kerry Godliman teaming up to write and perform the most suspenseful soap opera cliff-hanger. Their one took place in soap opera Cul de Sac, as Donna (Kerry) fights with Donna (Jessica) who was about to sleep with Alex. It's then revealed Alex is the son of Donna (Kerry), who then promptly throws up. No notes.
25. Don't blink
Series 7, Episode 7
Genuinely distressing as the contestants had to not blink for the longest time with Rhod Gilbert taping his eyelids and tipping the tears out of his eyes for 7 minutes and 10 seconds. It has scarred us for life. Very much a "don't try this at home" moment.
26. Hula oops
Series 7, Episode 9
This two-part task nearly broke James Acaster. First, you had to hula for a minute with a hula hoop. Then, whatever time you got, you had to improve on it live in the studio. Poor Acaster. He had really practised to improve on his time of 6 seconds. But when it came to showtime, he only managed 5 seconds. He then begged for a second attempt and showed everyone how good he had got. But the task clearly stated he had only one attempt…
27. Extension detention
Series 7, Episode 7
Seeing James Acaster lose his mind is always a quality watch. During the task to build the best extension to the Taskmaster House, Acaster had a full-blown rant at Rhod Gilbert for ignoring the garage, which was filled with building materials. Classic.
28. Video games
Series 7, Episode 10
One of those tasks where everyone does well. Here, contestants had to physically recreate a classic computer game. Jessica Knappett did a brilliant Mario Kart, Phil Wang did a clever GoldenEye, Rhod Gilbert seemed to want to get some frustration out by throwing tennis balls at a crowd of people to mimic Space Invaders, while Kerry recreated a very accurate Tetris. But it was James Acaster's perfect impression of the movements in Grand Theft Auto – including the funny jump and runs – that won the sweet points.
29. Hiding in plain sight
Series 8, Episode 1
As much for Joe Thomas' awkwardness as anything else. Alex was stationed on a railway bridge and contestants had to get close to him without Alex noticing them. He would duck down for 10 seconds and then pop up again for 10 seconds. Stealthy Joe won the task and got within a metre of Alex, but was then so awkward, it was a joy to watch.
30. Distant moustache
Series 8, Episode 2
If you've never seen Taskmaster, you've probably stumbled across this clip where comics had to make a moustache that looked different from a distance from how it did close up. Lou Sanders (fake flies and real mealworms) and Paul Sinha (caviar) were great, but what sticks in the mind is how (probably unjustifiably) annoyed Greg was with Iain Stirling's map of the village of Liphook.
31. Who's a pretty boy?
Series 8, Episode 3
In which the comedians had to guess what costume Alex was wearing by asking him questions, and Alex could only communicate with a horn. Great for the parrot costume alone. Even better for Joe Thomas's animal breakdown.
32. Card counting
Series 8, Episode 6
Basically: Paul Sinha managed to (almost) memorise the order of an entire deck of cards in five minutes. Ladies and gentlemen, "The Sinnerman".
33. Aubergine hiding
Series 9, Episode 1
The task was simple. Hide three aubergines in the room for Alex to find. The longest time it takes for Alex to find all three, wins. David Baddiel, an exceptionally clever man, taped one to the Taskmaster portrait (that immediately fell off the wall and alerted Alex), placed another in a fruit bowl and put the other down his trousers but forgot to do his flies up. It took Alex two minutes, and it's amazing it took that long.
34. Taskmaster lyrics
Series 9, Episode 8
The task: write the best lyrics to the Taskmaster theme tune, and perform them in the most memorable way. David Baddiel, co-writer of the greatest England football song of all time, put in quite a poor effort, while Rose Matafeo's Western-themed rap was properly brilliant. But it's Ed Gamble's attempt we'll remember, as he was dressed as a baby crying about missing his mum (Alex). Weird, surreal, brilliant.
35. Chickpea romance
Series 9, Episode 10
In the task to do the most preposterous thing with a chickpea, everyone stepped up. David Baddiel staged a modern telling of the nativity ("chickpea-tivity") and Ed Gamble went on a date with it, saw it die in a car accident and then… probably best if you watch it yourself. Meanwhile, Rose Matafeo hosted a funeral for her chickpea, "Chick Pataki". Stunning.
36. Into the frying pan
Series 10, Episode 1
The first series on Channel 4, but also a scaled-back, Covid-safe series. Did it mean there would be any less craziness or competitiveness? No, quite the opposite. Here, comics had to land the most eggs in a frying pan while standing on a balcony. Every contestant had a breakdown, Johnny Vegas was genuinely broken. Only one point was given (to Daisy May Cooper). It was the perfect start to a new era.
37. Shoe won't believe it
Series 10, Episode 3
Here, comedians had to fling a shoe into the bath using a homemade catapult contraption. Johnny Vegas tried to catapult the shoe with a rake on a ladder. He joked about falling off the ladder. You can probably guess what came next…
38. Most watermelon
Series 10, Episode 5
This team task involved eating the most watermelon, but you couldn't feed yourself. It descended into something akin to the last days of Rome as Daisy May Cooper and Richard Herring gorged – and we really underline the word "gorged" – on melon in a sight that will probably put your off that fruit (or indeed all fruit) for life.
39. Silent cocktails
Series 10, Episode 6
The comedians had to make tasty, attractive cocktails as quietly as possible. If they made a noise over 60db, they had to scream a phrase and start again. Daisy May Cooper's was "I love this" and it almost ended her. And, to look into her eyes, she almost ended Alex.
40. Spider feet
Series 10, Episode 10
Actually, the task to put wellies (attached with string that wasn't allowed to break) on a giant fake spider's feet was simple. The spider was outside, and all the comics found it very quickly… except for Katherine Parkinson. She didn't realise she could leave the room, so ended up building her own spider out of table legs. Taskmaster does strange things to people, and this task left Parkinson – at one point – uttering the legend: "Am I the spider?" Wild.
41. Plate delivery
Series 11, Episode 1
So many highlights in this task to deliver unbroken plates to Alex by either scooter, bike or hoverboard. Mike Wozniak on a hoverboard, for a start. Sarah Kendall shouting, "life's for living". Lee Mack delivering all the plates in one go on a tiny bike dressed as Evel Knievel. Jamali Maddix leaving a total trail of destruction. And Charlotte Ritchie laughing the whole way through. Brilliant.
42. Loo roll
Series 11, Episode 4
One of those great tasks where if you work it out with lateral thinking, then it becomes a lot simpler – but if you don't, oh boy. The task was to get a sheet of loo roll as far from the starting point as possible. Only that sheet could touch the ground. The loo roll couldn't break. And it had to be always in the loo roll holder. However, it didn't say you couldn't remove the loo roll holder from the wall – something only Jamali Maddix and Lee Mack worked out.
43. Difficult sounds
Series 11, Episode 6
The individual task for Mike Wozniak was thus: fart. After quite some effort, out came a tiny squelching noise, the sound of which you can't unhear. But then there was more. He revealed that the effort had also dislodged a haemorrhoid that was still hanging loose, an area he vividly described as an "absolute casserole". We'll let that notion dangle, so to speak.
44. Net balls
Series 12, Episode 5
Here because of the quite terrible effort in this team task to get the most balls in the net. It featured a series of intricate rules so complicated that both teams scored negative points (Alan Davies and Victoria Coren Mitchell, with Alex Horne helping, scored -128 points). It meant everyone finished the task with no points, a rare Taskmaster occurrence.
45. More cake sitting
Series 12, Episode 5
Sit on a cake. Fastest wins. It was here we learned Victoria Coren Mitchell always carries flapjacks with her, which she sat on in 25 seconds for five sweet points. Morgana Robinson, meanwhile, baked a cake from scratch and took 1 hour 45 minutes. So, what we've learned is always carry flapjack, because you never know when it'll come in handy.
46. Dog toy
Series 12, Episode 6
The task was to make a cute dog toy for a cute dog, with the most engaging toy (from the dog's POV) winning. The highlight – apart from Marco the dog, who was very cute – was Victoria Coren Mitchell being so excited about the prospect of a real dog, and her devastation that she wouldn't get to meet him. "Whhhyyyyy!"
47. Bite the duck
Series 13, Episode 3
This series was a bit of a classic. Chris Ramsey was very, very good at tasks. But occasionally, he just went for chaotic evil, such as in the task where you had to get a duck into Alex's mouth by getting him the least wet (the duck was in a bucket you couldn't reach). After a noble attempt that didn't pan out, he gave up and just power-hosed Alex.
48. Tongue tasting
Series 13, Episode 8
If there's one word for the task where comedians had to keep their tongues out and lick a lemon, sherbet and ice lolly and then stand in front of a fan over and over again, it's this: ick. The tongue out for the longest time would win, so Sophie Duker did it for more than 26 minutes, almost twice as long as Chris Ramsey. Up there with the disturbing likes of Rhod Gilbert's taped eyes and Daisy May Cooper and Richard Herring's watermelon orgy.
49. House Queens
Series 13, Episode 10
Another brilliant music task, this time where the comedians had to record six separate tracks and could only use their mouths or body parts as the instruments. Ardal O'Hanlon and Chris Ramsey created a truly bonkers song about trying to please Greg that felt and sounded like a fever dream, while Bridget Christie, Judi Love and Sophie Duker birthed "The House Queens", which was instantly iconic and involved Bridget doing unnecessary whistling and a weird dance.
50. Duck basket
Series 13, Episode 10
Some people on Taskmaster don't think outside the box. Some do the easiest possible version of the task. Some don't try. Then there was Judi Love, a glorious booking who phoned it in at every opportunity – and we mean that as a compliment. Pick of the bunch was a task to get the most ducks in Alex's basket while he rode around on a bicycle. Sensing this meant exercise, Judi just cornered him, broke his bike and was at one point on the bike with Alex. Even after all that, she still got disqualified as she failed to follow the rule of not carrying more than one duck. Bob Mortimer levels of greatness!
When is Taskmaster series 15 on TV?
Taskmaster begins on Channel 4 HD (CH 104/108) at 9pm on Thursday 30 March. You can also catch up via Apps & Games > All 4.
The series will continue for 10 weeks and will conclude on Thursday 1 June.
What contestants have won Taskmaster?
Series 1 – Josh Widdecombe
Series 2 – Katherine Ryan
Series 3 – Rob Beckett
Series 4 – Noel Fielding
Series 5 – Bob Mortimer
Series 6 – Liza Tarbuck
Series 7 – Kerry Godliman
Series 8 – Lou Sanders
Series 9 – Ed Gamble
Series 10 – Richard Herring
Series 11 – Sarah Kendall
Series 12 – Morgana Robinson
Series 13 – Sophie Duker
Series 14 – Dara Ó Briain
TV channels: Channels, content and features available depend on your chosen package. Channel line-ups and content are subject to change at any time and to regional variations.
HD: HD TV set, V HD Box, TiVo box, Virgin TV V6 box or Virgin TV 360 box connected with HDMI cables required for HD channels. Number of inclusive HD channels depends on package.
Catch Up TV: Catch Up TV content available for up to 7 days or up to 30 days after broadcast, depending on content.