Skip to main content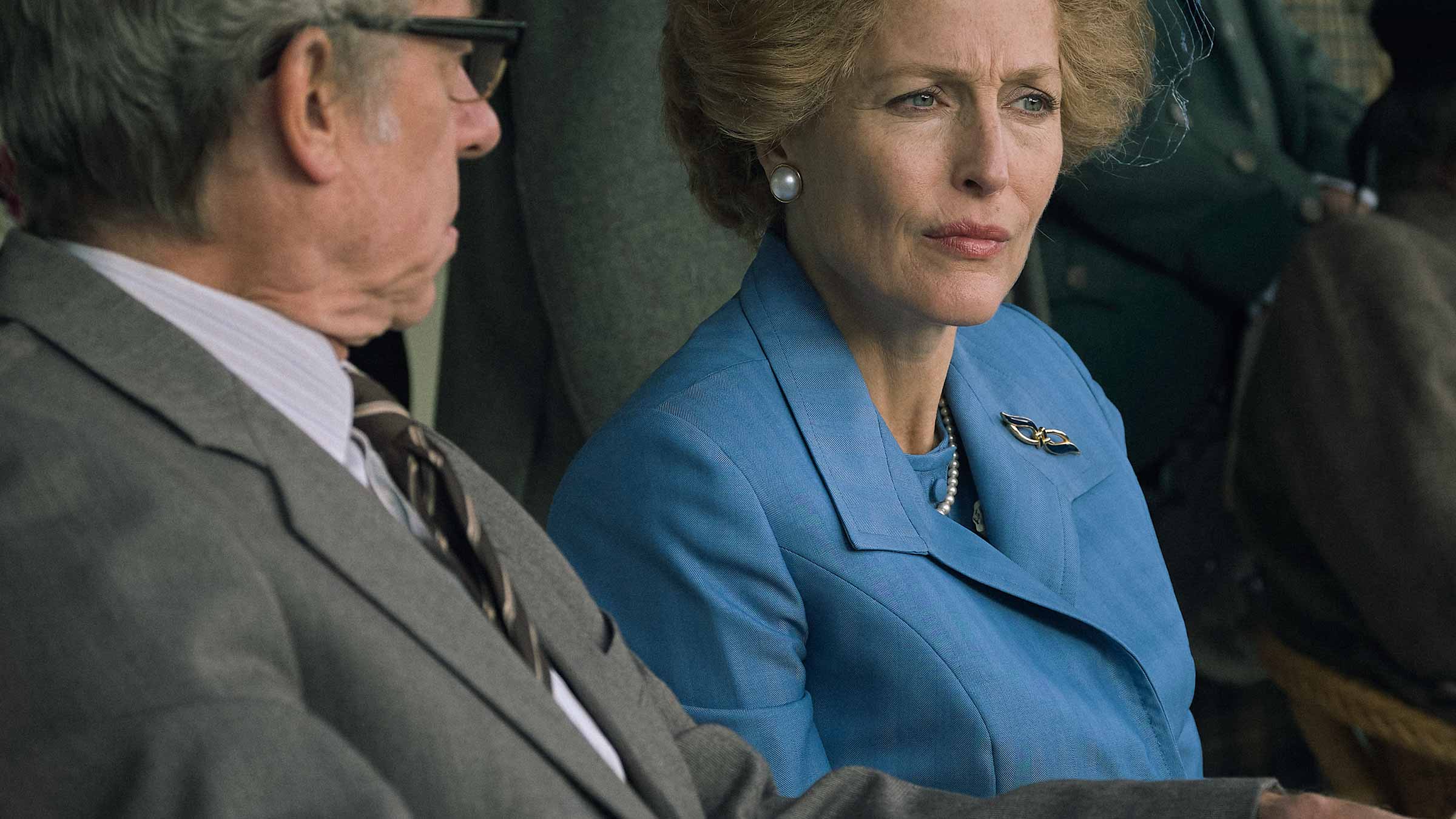 As the drama continues to reign for season 4, we breakdown all the royal-tea in our season-by-season recap…
By Laura Rutkowski, Staff Writer
Are you in the mood for the monarchy? Well, The Crown has been… um… crowned one of the best shows to depict the Royal Family. A year after season 3, season 4 is landing on Netflix with more corgis, curtsies and cutting lines than you can shake a sceptre at.
Following the life and reign of Queen Elizabeth II, The Crown was inspired by showrunner Peter Morgan's hit play The Audience. It was about weekly meetings, or "audiences," between Queen Elizabeth II and the prime ministers during her time on the throne.

Changes in the cast are all the buzz for the show, so much so that we received the official announcements for seasons 5 and 6 before season 4 had even aired!
Every two seasons, new actors take on the main parts, which is a very deliberate decision made by Morgan. "The choice is simple," he said. "You can put lines on someone's face or maybe digitally age them, but you can't breathe the fatigue and bruises of life into a face. It's like a relay race and you pass the baton."
Before we give a royal wave to Imelda Staunton (Queen Elizabeth II), Lesley Manville (Princess Margaret), Jonathan Pryce (Prince Philip) and Elizabeth Debicki (Princess Diana) in season 5, the brilliant Olivia Colman continues to reign supreme in season 4.
Before you watch, here's a reminder of everything that's gone down in seasons 1 to 3 and what you can expect from season 4...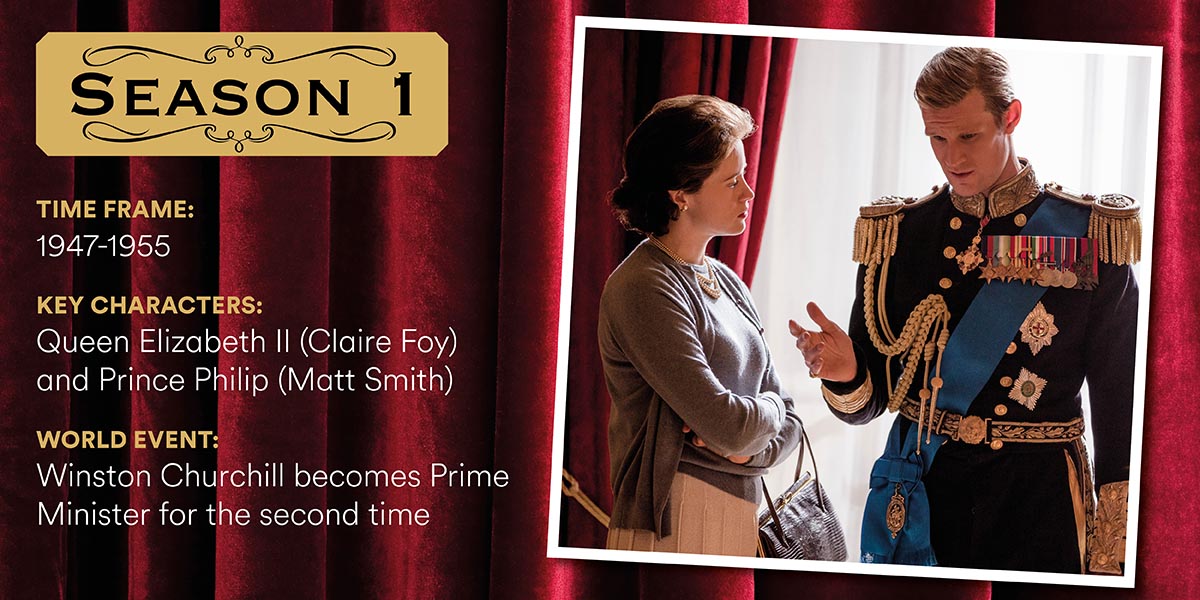 We begin with the marriage of Princess Elizabeth (Claire Foy) and Philip, Duke of Edinburgh (Matt Smith), in 1947. The couple lives in Malta, where Philip is posted as a Royal Navy officer, and they have two children, Charles and Anne. When Elizabeth's father George VI (Jared Harris) is diagnosed with lung cancer, he doesn't have long left to live, and when he dies, Elizabeth becomes Queen Elizabeth II at the age of 25. This creates tension between her and Philip, as he has to give up his naval career.
The Queen's sister, Princess Margaret (Vanessa Kirby), has an affair with Peter Townsend (Ben Miles), a captain in the Royal Air Force. If they were to marry, Margaret would be stripped of her royal titles and privileges, so she decides to end the relationship. Winston Churchill (John Lithgow) becomes Prime Minister for the second time, but as his health deteriorates, he agrees to step down, with Anthony Eden (Jeremy Northam) taking on the position.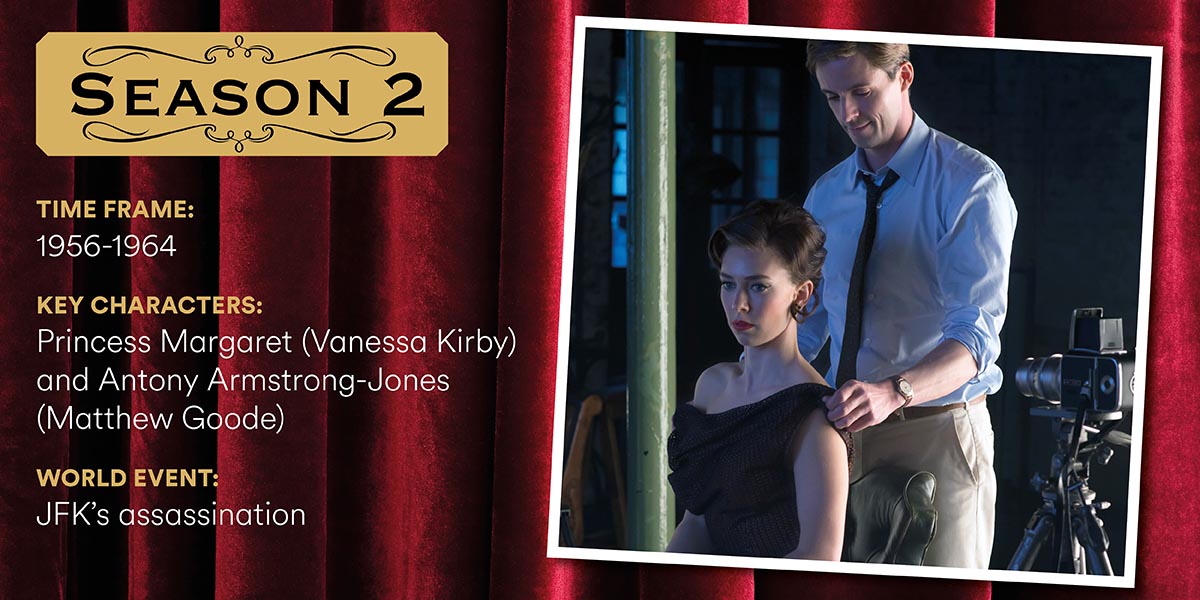 The Queen and Prince Philip's relationship continues to be strained after his months-long tour of the Commonwealth. George VI's brother, the Duke of Windsor (Alex Jennings), is outed as a friend of Adolf Hitler and other members of the Nazi Party. The Queen has met Jackie Kennedy (Jodi Balfour) several times and the pair hit it off, making it all the more devastating when Jackie's husband, John F Kennedy (Michael C Hall) is assassinated in 1963.
Princess Margaret marries photographer Antony Armstrong-Jones (Matthew Goode), leaving her romance with Peter, who has also gotten married, behind. The end of the season deals with the Profumo Scandal, where married Secretary of State for War, John Profumo, has an affair with model Christine Keeler. Keeler is also linked to Yevgeni Ivanov, the senior naval attaché at the Soviet Embassy, which is seen as a threat to national security.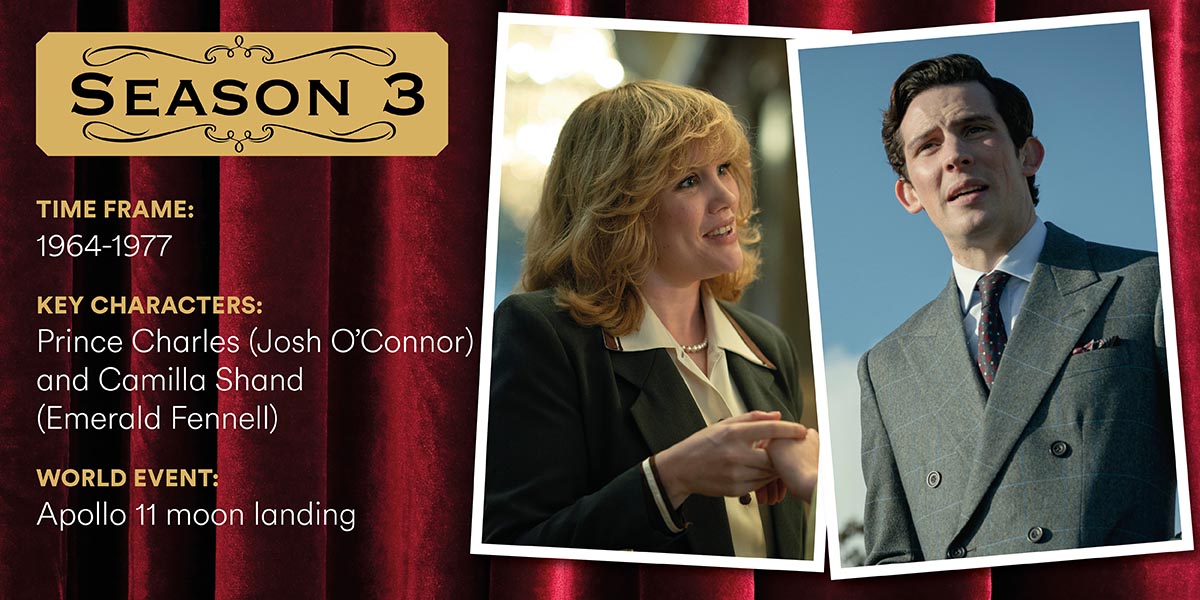 For season 3, we have the first character switch, with Olivia Colman replacing Foy as the Queen and Tobias Menzies replacing Smith as Prince Philip. Helena Bonham Carter is a delightfully disruptive Princess Margaret and Josh O'Connor bears an uncanny resemblance to Prince Charles.
Harold Wilson (Jason Watkins), leader of the Labour party, is elected as prime minister, and there are rumours that he's a KGB spy. However, the Queen's art advisor, Sir Anthony Blunt (Samuel West), is in fact part of the Cambridge Five, a group of spies that worked for the Soviet Union from the 1930s to 1950s.
The Aberfan disaster, the Apollo 11 moon landing (which Philip is particularly invested in), the death of the Duke of Windsor (Derek Jacobi) and Winston Churchill's death and funeral are all covered. Edward Heath (Michael Maloney) becomes the new prime minister, but the biggest drama is between Prince Charles and Camilla Shand.
Charles believes Camilla is "The One." She recently fell out with her boyfriend Andrew Parker Bowles (Andrew Buchan) when she learnt that he had been seeing Princess Anne (Erin Doherty). Lord Mountbatten, Prince Philip's uncle, meddles so that Charles and Camilla won't be together, and Camilla goes on to marry Andrew.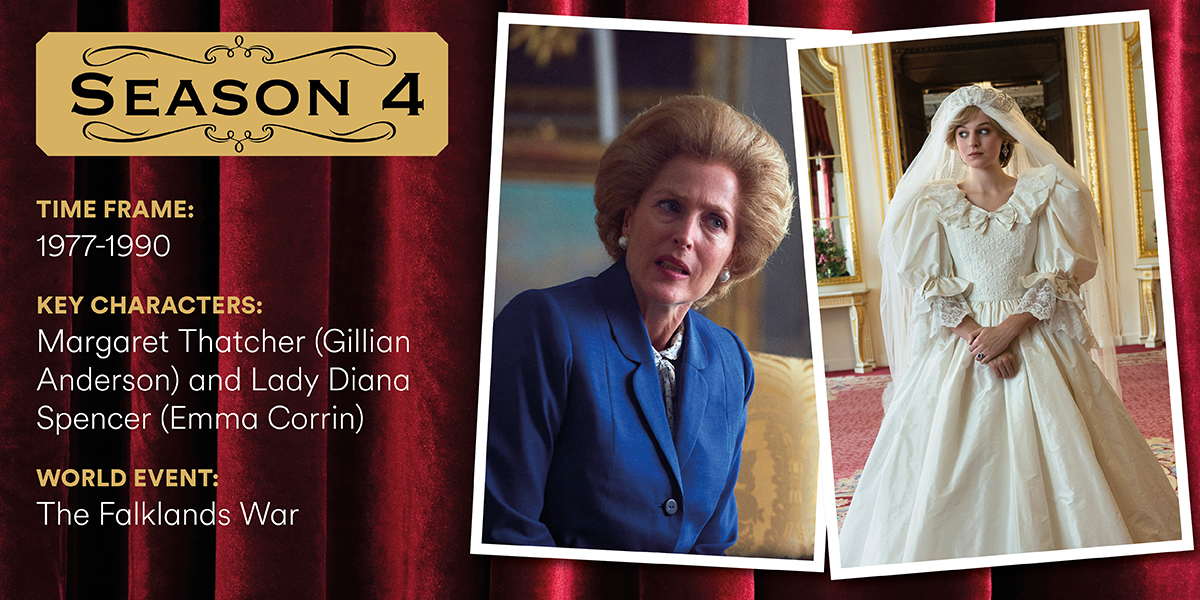 Lady Diana Spencer (Emma Corrin), Prime Minister Margaret Thatcher (Gillian Anderson) and Prince Andrew (Tom Byrne) are introduced in the latest season. New actors have been cast for seasons 5 and 6, which will conclude The Crown, but Colman returns in season 4 to play the Queen. Menzies, O'Connor, Bonham Carter and Doherty also continue to star.
Season 4 focuses on Prince Charles' tumultuous marriage to Lady Diana Spencer, as well as the tension between the Queen and Thatcher over her "divisive policies", according to Netflix, as she leads the country into the Falklands War. Prince William and Prince Harry will also appear for the first time.
When is The Crown on Netflix?
Find The Crown season 4 in Apps & Games > Netflix from Sunday 15 November. Seasons 1-3 available to watch now.
How to watch Netflix with Virgin TV
If you have a TiVo® box or Virgin TV V6 box, powered by TiVo®:
Press home on your remote
Select Apps & Games
Select All Apps
Select Netflix
If you're already a Netflix subscriber, you can also access the app through Search & Discover or by pressing Red on channel 204. Just sign in with your existing login and start watching. And you'll only have to log in the first time you use it.
If you're new to Netflix, then you'll need to subscribe to use the app. The easiest way to do this is by going to netflix.com/virginmedia. You can also subscribe using the Netflix app in Apps & Games.
TV channels: Channels, content and features available depend on your chosen package. Channel line-ups and content are subject to change at any time and to regional variations.
HD: HD TV set, V HD Box, TiVo box or Virgin TV V6 connected with HDMI cables required for HD channels. Number of inclusive HD channels depends on package.
Netflix: Netflix subscription required at extra cost.