Skip to main content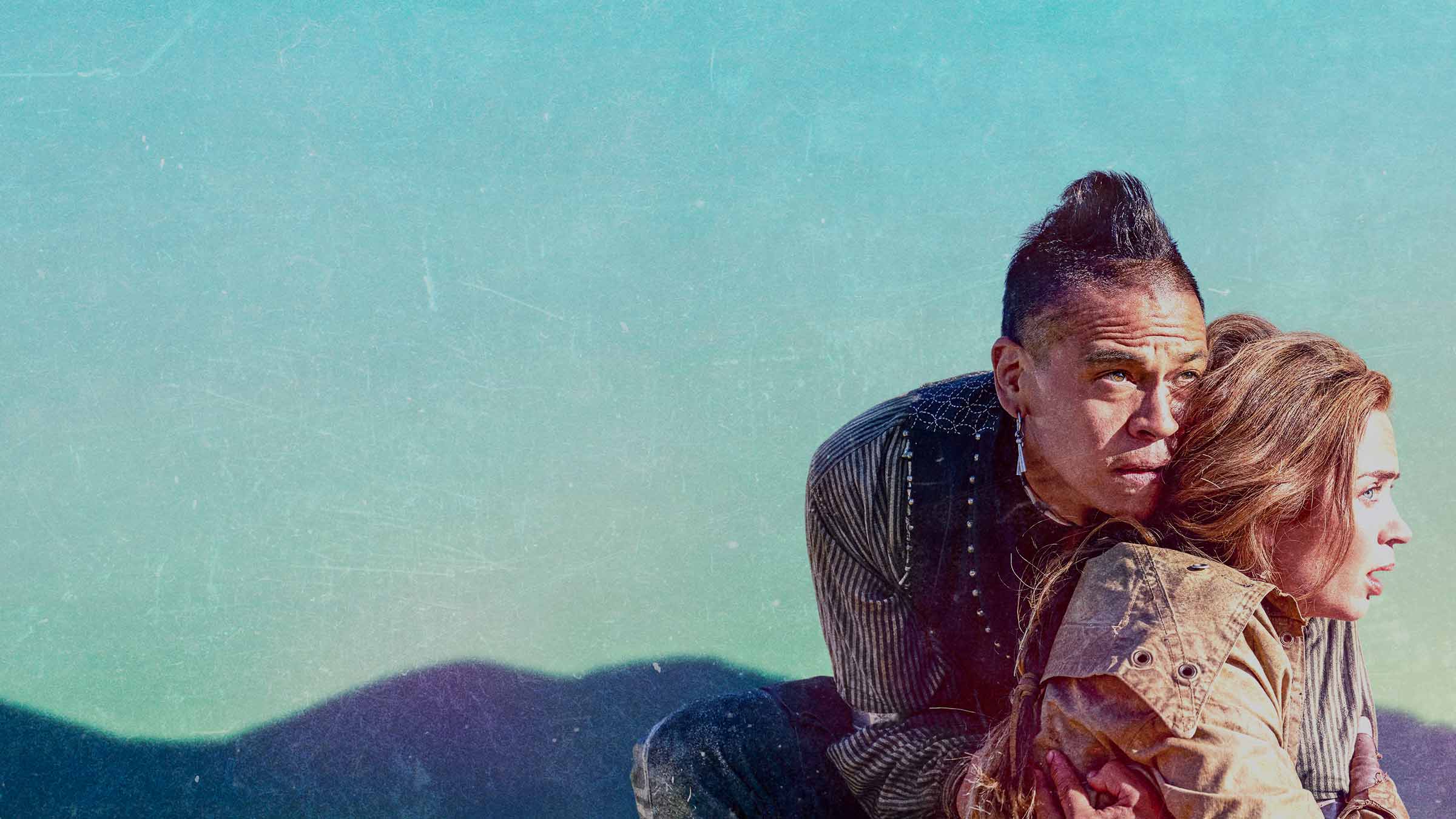 Whether you're gripped by World Cup fever or not, you're probably going to need a break from football sometime in the next few weeks
By Virgin TV Edit
For millions of people in the UK, the World Cup is a quadrennial source of TV joy: something that takes priority over all other forms of entertainment for as long as it's on telly. And don't get us wrong, we enjoy a four-week festival of football all over our tellybox. But we don't necessarily want to devote our entire lives to it for a month.
And one knock-on effect of the tournament is that many broadcasters are holding off on launching big new series for the duration (they're even moving Strictly to a Friday at one point!). So whether you're avoiding football altogether or just need a break now and then, we recommend making a list of series you've been meaning to get stuck into and start working your way through them. To help you out, we've made one of our own.
Top of our list is BBC Two's Western drama The English, which stars Emily Blunt (A Quiet Place, Mary Poppins Returns, Sicario) as aristocratic Englishwoman Lady Cornelia Locke. In 1890, Cornelia is on a mission to find the man who killed her son, who she believes is living in a new town in Wyoming. She joins forces with Eli Whipp (Chaske Spencer, Banshee), an ex-cavalry scout from the Pawnee Nation, to cross mid-America.
As they traverse remote, violent and dangerous landscapes, the duo realise they have more in common than anyone else expects or believes – not least their shared thirst for revenge. But arriving at their destination doesn't mean reaching safety, and once they get to Wyoming, Cornelia and Eli learn their histories are more intertwined than they could ever have imagined.

Part atmospheric Western, part epic romance and part murder mystery, The English is "a uniquely compelling parable on race, love and power", per the BBC's official synopsis. The six-part miniseries is written and directed by multi-award-winning Hugo Blick (The Honourable Woman, Black Earth Rising, The Shadow Line), with a stellar ensemble cast including Stephen Rea, Valerie Pachner, Rafe Spall, Tom Hughes, Toby Jones and Ciarán Hinds.
And it's produced by the team behind past BBC hits Doctor Foster and Us – plus Blunt, who also serves as executive producer. Essentially, its credentials couldn't be any shinier, which makes us extremely excited to get stuck in.
When is BBC Two's The English on TV?
The series begins at 9pm on Thursday 10 November on BBC Two HD (CH 102). All episodes of The English will be available in Apps & Games > BBC iPlayer, so you can binge it all straight away if you want – but if you can hold off until the World Cup begins 10 days later, it'll provide a winning distraction.
If you need more of the same, catch up on these dramas on BBC iPlayer that you might have missed.
The Pact
Stream it in Apps & Games > BBC iPlayer
What's it about? Each series of Welsh drama The Pact follows a different group of people grappling with divided loyalties as a secret puts their relationships to the test. Series 1 involves a group of work friends bound together by their role in their boss's shocking death. Series 2, which began streaming on BBC iPlayer earlier this autumn, revolves around grieving social worker Christine, who is contacted by a suspicious stranger claiming to have a connection to her family. Is she hiding something from her children?
Who's in it? Laura Fraser (Better Call Saul), Julie Hesmondhalgh (Broadchurch), Eiry Thomas (Torchwood) and Heledd Gwynn (Enid A Lucy) star in series 1. Series 2 stars Rakie Ayola (Noughts And Crosses), Lloyd Everitt (The Sandman), Aaron Anthony (Behind Her Eyes) and Mali Ann Rees (Hidden).
How many episodes? 12 one-hour episodes – six in each series.
Why should I watch it? It's a crime drama with a real difference, an edge-of-the-seat domestic thriller that asks compelling questions about the impact of secrets and how far people will go to protect their friends and family.
Inside Man
Stream it in Apps & Games > BBC iPlayer
What's it about? In England, a journalist is looking for a story, while a vicar is picking up his son's maths tutor from the station. Their lives become entangled with that of a prisoner on death row in the US – and all four face a dilemma that could lead one of them to murder. "There are moments that make murderers of us all," observes the prisoner. "All it takes is a good reason and a bad day."
Who's in it? David Tennant (Good Omens), Stanley Tucci (The Devil Wears Prada), Dolly Wells (The Pursuit Of Love) and Lydia West (It's A Sin).
How many episodes? Four one-hour episodes.
Why should I watch it? It's written by the brilliant Steven Moffat, and created with the team he worked with on Sherlock and Dracula. Plus you get to see the lovable Tucci play against type as a prisoner convicted of murdering his wife.
Showtrial
Stream it in Apps & Game > BBC iPlayer
What's it about? In Bristol, a female student goes missing after a party. When her body is found in the harbour, fellow student Talitha – the privileged and thoroughly unlikeable daughter of an arrogant entrepreneur – is arrested for murder. Talitha's lawyer Cleo knows that the jury will hate her, but that doesn't mean she's guilty. Meanwhile, Detective Inspector Paula Cassidy is determined to bring Talitha and her possible accomplice down.
Who's in it? Tracy Ifeachor (Treadstone), Céline Buckens (The Ex-Wife), Sinéad Keenan (Three Families), Lolita Chakrabarti (Vigil) and Joseph Payne (The Witcher).
How many episodes? Five one-hour episodes.
Why should I watch it? It's a fresh and gripping courtroom drama from the makers of Vigil that interrogates class privilege and how social media shapes modern court cases.
The Capture
Stream it in Apps & Games > BBC iPlayer
What's it about? The damage that deepfake technology can cause to society. As an ambitious young DCI tries to uncover the truth about a former soldier and a rising politician, she has to reckon with terrifying technology that makes it almost impossible to believe your own eyes.
Who's in it? Holliday Grainger (Strike), Callum Turner (War & Peace) and, in the second series, Paapa Essiedu (I May Destroy You).
How many episodes? Twelve one-hour episodes, spread across two series. Series 1 is only available on iPlayer until the end of November, so don't hang about.
Why should I watch it? It's a tense and clever mystery thriller with something incisive to say about how tech bleeds into crime and politics.
Taboo
Stream it in Apps & Games > BBC iPlayer
What's it about? In 1814, a haunted Englishman arrives in London, having been presumed dead in Africa many years before. His father is dead, his country is at war with France and the US, and his sudden reappearance looks set to scupper the plans of his sister and her husband, who had been expecting to inherit the family shipping empire.
Who's in it? Tom Hardy (The Revenant), Oona Chaplin (Made For Love), Jessie Buckley (I'm Thinking Of Ending Things) and Stephen Graham (The North Water).
How many episodes? Eight episodes, all around an hour long.
Why should I watch it? For Hardy's brooding performance, but also because it was created by Steven Knight (the man behind Peaky Blinders and more recently SAS: Rogue Heroes). It's a dark, gritty and mesmerising period drama with plenty of mystery and nefariousness.
The Terror: Infamy
Stream it in Apps & Games > BBC iPlayer
What's it about? In southern California in the early 1940s, disturbing incidents are plaguing an insular fishing community. Younger Japanese-Americans scorn their elders' superstitions – but something evil has crossed the ocean. And when a vengeful spirit starts preying on Japanese-Americans imprisoned in internment camps, there is no escape.
Who's in it? Derek Mio (Grey's Anatomy), Kiki Sukezane (Westworld), Cristina Rodlo (Halo) and George Takei (Star Trek).
How many episodes? Ten episodes, all around 45 minutes long.
Why should I watch it? Executive-produced by Ridley Scott, this is some seriously high-end horror. But there's an important historical and political message, too, as it highlights the real terror of how Japanese-Americans were treated during the Second World War.
A Suitable Boy
Stream it in Apps & Games > BBC iPlayer
What's it about? Rupa Mehra has successfully arranged the marriage of her eldest daughter Savita and is determined that her spirited younger daughter Lata should be next. But it's 1951, India is newly independent and Lata – a passionate student of literature – wants to make her own way in the world and isn't interested in romance. Her resolve is challenged, however, when she starts to fall for a mysterious fellow student, Kabir Durrani.
Who's in it? Mahira Kakkar (Manifest) plays Rupa, with Tanya Maniktala as Lata, Rasika Dugal as Savita and Danesh Razvi as Kabir.
How many episodes? Six episodes, each an hour long.
Why should I watch it? It's based on the award-winning novel by Vikram Seth, and British viewers haven't been exposed to many stories from Partition-era India – which is fertile ground for powerful tales of family, romance, discovery and loss.
Rules Of The Game
Stream it in Apps & Games > BBC iPlayer
What's it about? When HR director Maya begins a new job at a family-run business, she's determined to dismantle its old-fashioned practices – in the face of opposition from a boss who doesn't believe there's anything wrong. But a shocking discovery rocks the company to its core.
Who's in it? Maxine Peake (Silk), Rakhee Thakrar (Sex Education), Susan Wokoma (Enola Holmes), Zoë Tapper (Liar) and Alison Steadman (Gavin & Stacey).
How many episodes? Four one-hour episodes.
Why should I watch it? It's both a suspenseful, ultra-modern mystery and an eye-opening glimpse into social behaviours many of us like to think have been left behind in the 20th century – although they're drawn from the real experiences of writer Ruth Fowler and other women.
Ralph & Katie
Stream it in Apps & Games > BBC iPlayer
What's it about? In this spin-off from family drama The A Word, newlyweds Katie and Ralph navigate their new life together, taking in domesticity, illness, Christmas and, of course, annoying relatives. The one thing they're sure about is that having Down's syndrome won't prevent them from being happy – or independent.
Who's in it? Leon Harrop and Sarah Gordy reprise their roles from The A Word as the title characters, while Pooky Quesnel and Tom Greenwood also return. Craig Cash (The Royle Family), Dylan Brady (Coronation Street) and Jamie Marie Leary (River City) join the cast.
How many episodes? Six 30-minute episodes.
Why should I watch it? It's a rare insight into the lives of people who aren't often front and centre in TV dramas – plus the cast are great, particularly the central couple.
Snowfall
Stream it in Apps & Games > BBC iPlayer
What's it about? When crack cocaine hits 1980s Los Angeles, young dealer Franklin Saint spies an opportunity to achieve riches beyond his wildest dreams – particularly since the authorities seem more concerned with combating communism than keeping dangerous drugs off the streets.
Who's in it? British actor Damson Idris (Outside The Wire) plays Franklin, alongside Emily Rios (Breaking Bad), Michael Hyatt (The Wire), Sergio Peris-Mencheta (Resident Evil: Afterlife) and Carter Hudson (The Wilds).
How many episodes? Fifty episodes across five seasons, all around 45 minutes long. The first season is only available for a few more weeks so we'd recommend you get going on Snowfall soon.
Why should I watch it? For the note-perfect recreation of 1980s southern California, as well as a searing excoriation of US government priorities at the time. It was created by award-winning, groundbreaking writer/director John Singleton, who executive-produced the first three seasons before his death in 2019.
Versailles
Stream it in Apps & Games > BBC iPlayer
What's it about? Concerned by mutinous feelings among the French nobility, King Louis XIV moves his court to a luxurious rural hunting lodge. As he proceeds to expand the site into what will become the magnificent Palace of Versailles, he manipulates those closest to the throne, moving them in and out of the palace – and his favours – to maintain his grip on power.
Who's in it? George Blagden (Vikings) as Louis and Alexander Vlahos (Sanditon) as his brother Philippe, with Anna Brewster (Anne Boleyn) and Noémie Schmidt (Paris Is Us) among the multinational cast.
How many episodes? Thirty episodes, all around 55 minutes long, across three series.
Why should I watch it? With incredible costumes and sets – it was filmed in a number of awe-inspiring châteaux across France, including Versailles itself – this is the most expensive French TV drama ever made. And those not keen on subtitles can relax: it's in English.
A Very British Scandal
Stream it in Apps & Games > BBC iPlayer
What's it about? When socialite Margaret Whigham meets the Duke of Argyll, they embark on a thrilling romance that leads to marriage. But both have too much baggage to remain happy and when the relationship begins to break down, the sordid details are played out in public – with the Duchess portrayed as the villain.
Who's in it? Claire Foy (The Crown) and Paul Bettany (Marvel's Avengers: Endgame) are the doomed couple, while the cast also features Julia Davis (Sally4Ever), Richard McCabe (Harlots) and Sophia Myles (A Discovery Of Witches).
How many episodes? Three one-hour episodes.
Why should I watch it? The chance to watch two supremely talented, charismatic and let's face it, super-hot actors at the top of their game, playing hugely flawed yet compelling characters with crackling dialogue by Sarah Phelps, one of British TV's very best writers. The divorce case and the media frenzy it created also helped usher in the age of celebrity culture we're now living in.
State Of Happiness
Stream it in Apps & Games > BBC iPlayer
What's it about? The discovery of oil led to an economic boom in 1970s Norway – but was it good for everyone? This series follows the residents of a small fishing village transformed by the old "black gold" as the international energy companies wrangle over the area that has traditionally provided their livelihoods.
Who's in it? Pia Tjelta (Norsemen), Mads Sjøgård Pettersen (Home For Christmas), Bart Edwards (Young Wallander) and superb newcomer Anna Regine Ellingsæter.
How many episodes? Sixteen, each 45 minutes long.
Why should I watch it? It's certainly refreshing to watch a Scandinavian drama that doesn't revolve around murder and grumpy detectives. It also makes you wonder what modern life would be like if we didn't depend quite so heavily on oil.
The Newsreader
Stream it in Apps & Games > BBC iPlayer
What's it about? Star news anchor Helen Neville and young reporter Dale Jennings try to fulfil their creative and personal ambitions in the cut-throat world of TV journalism in Melbourne in 1986.
Who's in it? Anna Torv (Mindhunter) and Sam Reid (Prime Suspect 1973), alongside a cast packed with other talented Australian actors.
How many episodes? Six 50-minute episodes.
Why should I watch it? It's a stark reminder of a time not so long ago when women and people from minority communities could be prevented from progressing in their careers and lives – quite legally. Torv and Reid are terrific, and the 80s fashions are really something.
TV channels: Channels, content and features available depend on your chosen package. Channel line-ups and content are subject to change at any time and to regional variations.
HD: HD TV set, V HD Box, TiVo box or Virgin TV V6 connected with HDMI cables required for HD channels. Number of inclusive HD channels depends on package.
Catch Up TV: Catch Up TV content available for up to 7 days or up to 30 days after broadcast, depending on content.
Image credit: The English © Drama Republic/BBC/Amazon Studios