Skip to main content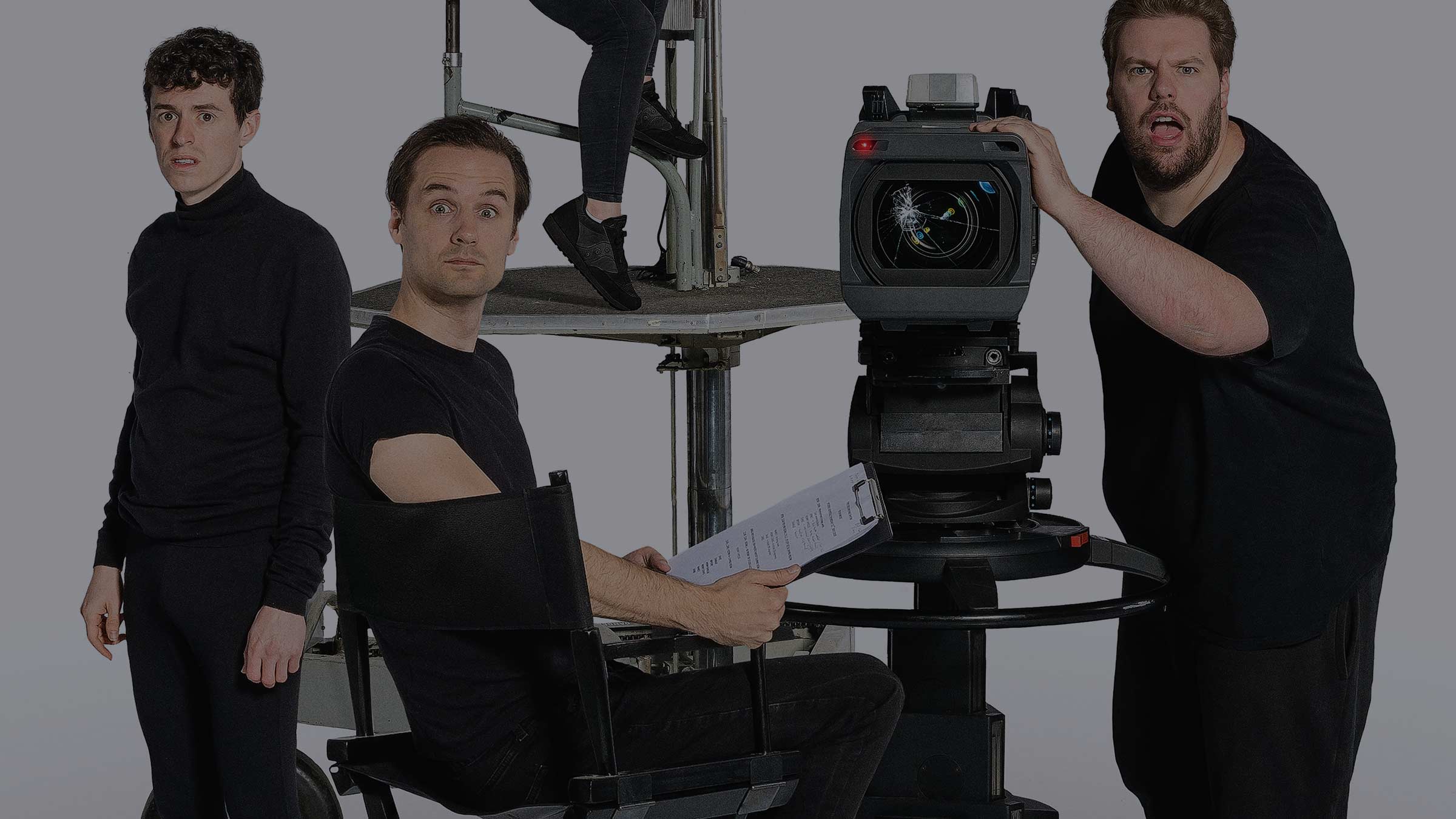 Find out why the show that goes wrong is the right one to see…
The Goes Wrong Show, final episode, Friday 31 January, 8.30pm, BBC One HD (CH 101). Also available for 30 days in Catch Up > Channels > BBC iPlayer
When writers Henry Lewis, Jonathan Sayer and Henry Shields debuted The Murder Before Christmas at the Old Red Lion Theatre in Islington in 2012, the audience had no idea it was meant to go wrong. Now it's the reason why people watch their theatre shows. "People were baffled and couldn't quite believe it had been such a disaster. They shuffled out into the world just believing that we were insane. In a way, I'm glad that they're still out there and I hope to bump into them," says Lewis.
That production became The Play That Goes Wrong, which is now a massive West End and Broadway hit. And now, the Mischief Theatre Company has brought its antics and formula of organised chaos to television in The Goes Wrong Show.

Across six episodes, the fictional Cornley Polytechnic Drama Society acts out plays in various genres, including a horror, a legal drama and a period piece, in front of a live audience. The results are disastrous and hilarious: think forgotten lines, missing props, destroyed sets and minor (and major) injuries. But, the show must go on!
Find out everything you need to know about the series that Sayer, Mischief's company director, says was "incredibly fun, but brutal, to create"…
There are nine main Cornley characters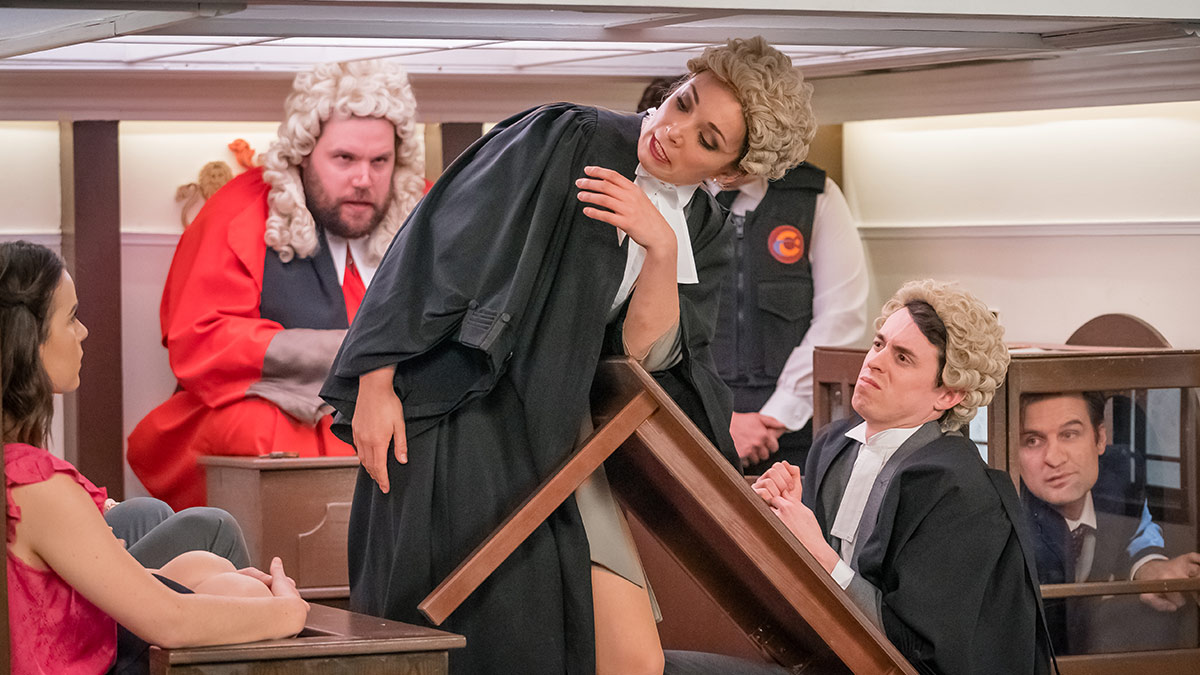 From left: Henry Lewis, Bryony Corrigan, Jonathan Sayer and Henry Shields manoeuvre a "snug" courtroom set in "A Trial To Watch".

"Jonathan (Greg Tannahill) always has an integral role but can never get in or reveal himself in some way; Sandra (Charlie Russell) is always trying to check in with the camera; there's Annie's (Nancy Zamit) wildness; Vanessa (Bryony Corrigan) adheres to the script no matter what; Trevor (Chris Leask) is always getting caught out as the stage manager; Max (Dave Hearn) just wants to join in with the crowd, like a child waving in a Nativity play," says Sayer. His own character, Dennis, is "more low status than the furniture. He sits on a chair and feels unworthy of the chair, like he's destroying the chair just by being around it."
Shields describes his Chris Bean, president of Cornley Polytechnic Drama Society and director of the plays, as "uptight and arrogant". Meanwhile, Mischief's artistic director Lewis says his Robert Grove "believes himself to be quite grand, and actually his life is not very grand at all, but I think that's why he loves theatre. It legitimises him in some way and he really likes the sound of his own voice."
They're inspired by some iconic TV characters
Many of the characters' personality traits are inspired by the cast's own flaws and acting habits, but they do also channel some comedy greats. Hearn thinks Max is very similar to Father's Ted's Father Dougal (played by Ardal O'Hanlon), while Russell took note from Celia Imrie as Miss Babs in Acorn Antiques.
Corrigan loves Susannah Fielding's performance in This Time With Alan Partridge as Jennie Gresham and Shields gets asked a lot if he's channelling Basil Fawlty (John Cleese). "That's never been intentional," he says. "It's just if you make me a bit posher and angrier, you get Basil Fawlty apparently."
The actors do most of their own stunts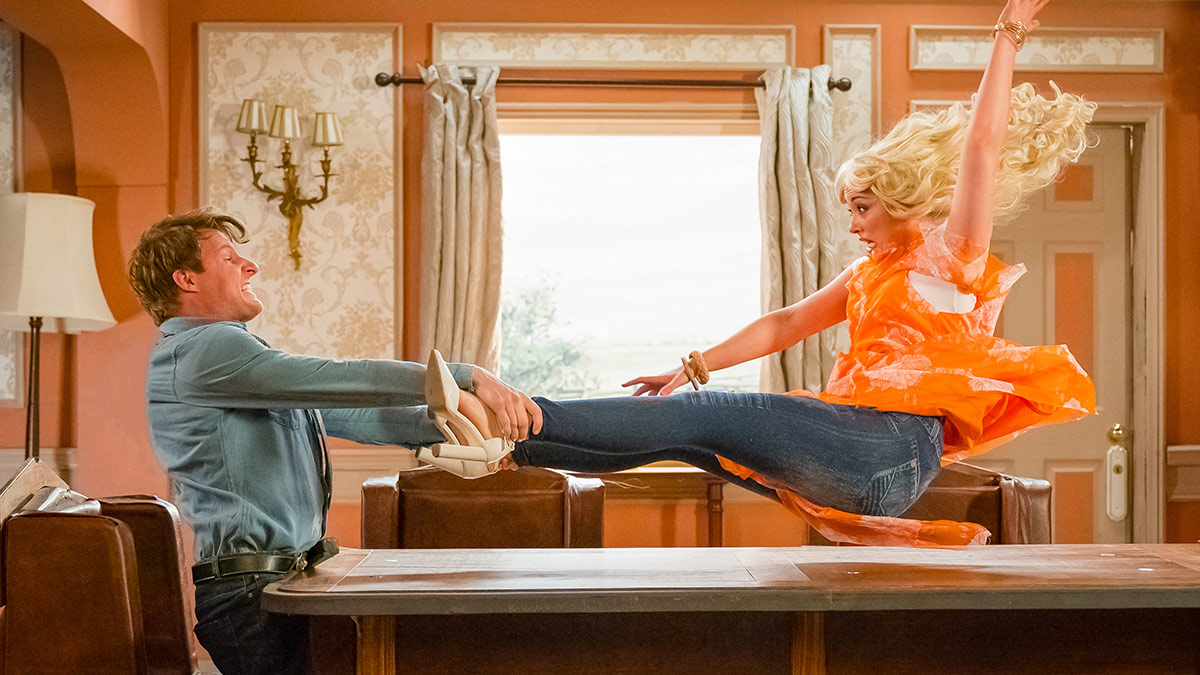 "Do you trust me?" Dave Hearn asks his co-star Corrigan in "90 Degrees". "Ye-nooooooooooo!"

"The audience knows when you've not done it – that's why whenever possible we didn't use stunt doubles," says Sayer. In the final episode, "90 Degrees", the set was built at a 90-degree angle. The cast had to all hang upside down for increasing amounts of time to get used to the sensation of blood rushing to their head and they underwent blood pressure and heartrate tests. Under the circumstances, they also had to set a limit on how long they could film for – just 90 seconds at a time!
They got their laughs out during rehearsals (mostly)
There was a two-week rehearsal period before filming with a test audience "to see where the laughs were", says Sayer. When it came to filming with the real audience, the team tried to keep the maximum amount of takes to three.
Corrigan says that in "Harper's Locket", "Chris Leask (as Trevor) falls onto the table and his bum comes out. We had to ask him to just lie on the table with his bum out for ages before we shot. We couldn't stop laughing."

Stage manager Trevor (Chris Leask) doesn't quite remember where these cables are supposed to go, but they're probably not too important…

Leask adds, "There's a bit where they have to grind pepper into my bum, and when we went for a second take, one of the make-up girls comes up to me and goes, "I've just got to reset for the next scene", because of continuity. She went round with a brush and… cleaned me. It was the weirdest experience.
"Jonathan loves a bum gag. For Peter Pan Goes Wrong, a gentleman came in who was teaching us to fly. He got in the harness, went up in the air and hung upside down. He started slowly falling out of his harness and his trousers were stuck, so he was upside down with his bum slowly coming out. Ever since then Jono has become obsessed… because he found it the funniest thing, and I don't think he's wrong."
Twelve different hat stands were created for "The Pilot (Not The Pilot)"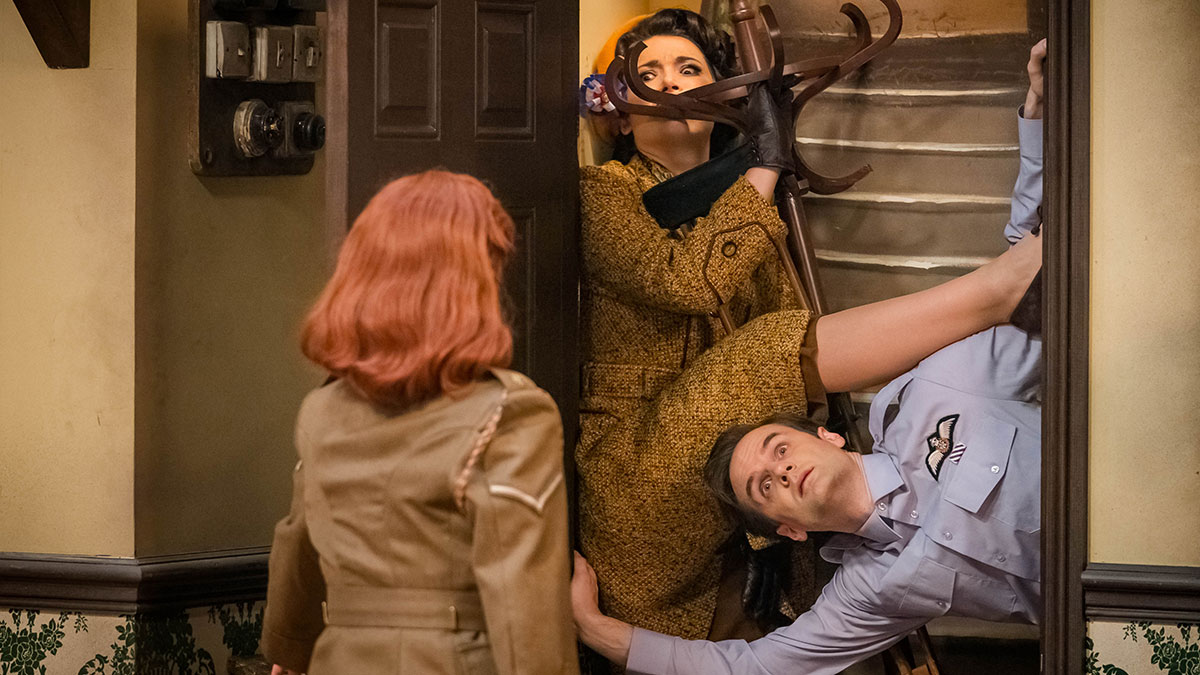 "Look mum, I made it! I'm on TV!" – the 12th hat stand screams in triumph. Corrigan and Shields are less pleased with the hat stand's scene-stealing.

Production designer Dennis De Groot explains why: "It's always small things that you think are straightforward that turn into absolute nightmares. The hat stand had to do several jobs – it had to be a hat stand, Henry [Shields] had to be able to put his crutch into it so it wouldn't fall apart, it had to be big enough to fit inside the door with Henry and Bryony. It also had to be robust enough and easy enough to move around. There's no such thing as an insignificant detail in the art department."
The series intentionally keeps the live feel of the stage shows
Sayer says, "If you're watching it on screen you know that no one was hurt and that it all went fine ultimately, so how do you make sure it feels incredibly dangerous and live? That's an ongoing journey. Even that initial shot, a lot of discussion has gone into that, making sure we see the audience. If you see the set, do you see where it ends or do we want to just pretend it goes on forever? Stuff like that is really important and has been really fun to dig into."
When is The Goes Wrong Show on TV?
Watch the final episode of The Goes Wrong Show, Friday 31 January, 8.30pm, BBC One HD (CH 101). Also available for 30 days in Catch Up > Channels > BBC iPlayer
TV channels: Channels, content and features available depend on your chosen package. Channel line-ups and content are subject to change at any time and to regional variations.
HD: HD TV set, V HD Box, TiVo box or Virgin TV V6 connected with HDMI cables required for HD channels. Number of inclusive HD channels depends on package.
Catch Up TV: Catch Up TV content available for up to 7 days or up to 30 days after broadcast, depending on content.
Interviews: Any opinions expressed in interviews are those of the interview subject and not those of Virgin Media.
Image credits: The Goes Wrong Show © Mischief Screen Limited 2019 – Photographer: Ben Blackall