Skip to main content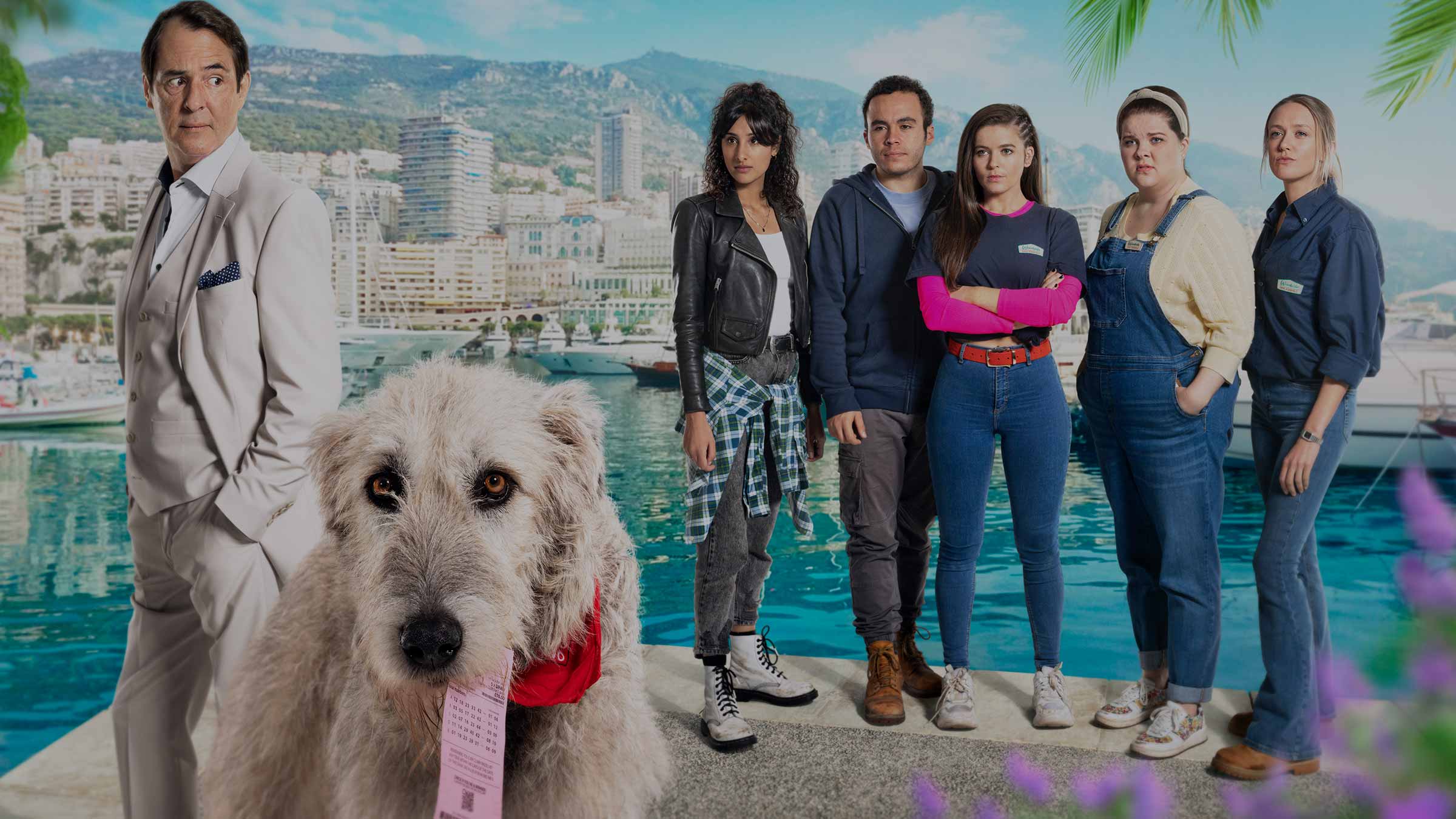 The Syndicate usually starts with a group of people winning the lottery, followed by how it changes their lives, but there's a big twist in series 4. Star Katherine Rose Morley tells us why the gamble pays off…
By Laura Rutkowski, Staff Writer
Did Katherine Rose Morley take on her role in The Syndicate for the chance to work with Neil Morrissey ("he's the most amazing storyteller")? Or because part of the series was filmed in Monaco ("it's so stunning")? No, she did it for the dogs.
When she first received the email about the audition, there was a note at the end that said "must be comfortable with dogs". "I circled it, sent it back to my agent and said please, please, please tell them how much I love dogs," Katherine tells us on Zoom.

Writer Kay Mellor's fourth series focuses on five employees at Woodvale Kennels who are strapped for cash, but involved in a fun betting syndicate. They haven't won big yet, but their luck is about to change when newsagent Frank (Neil Morrissey, The Good Karma Hospital) reveals they've won £500 on their latest ticket!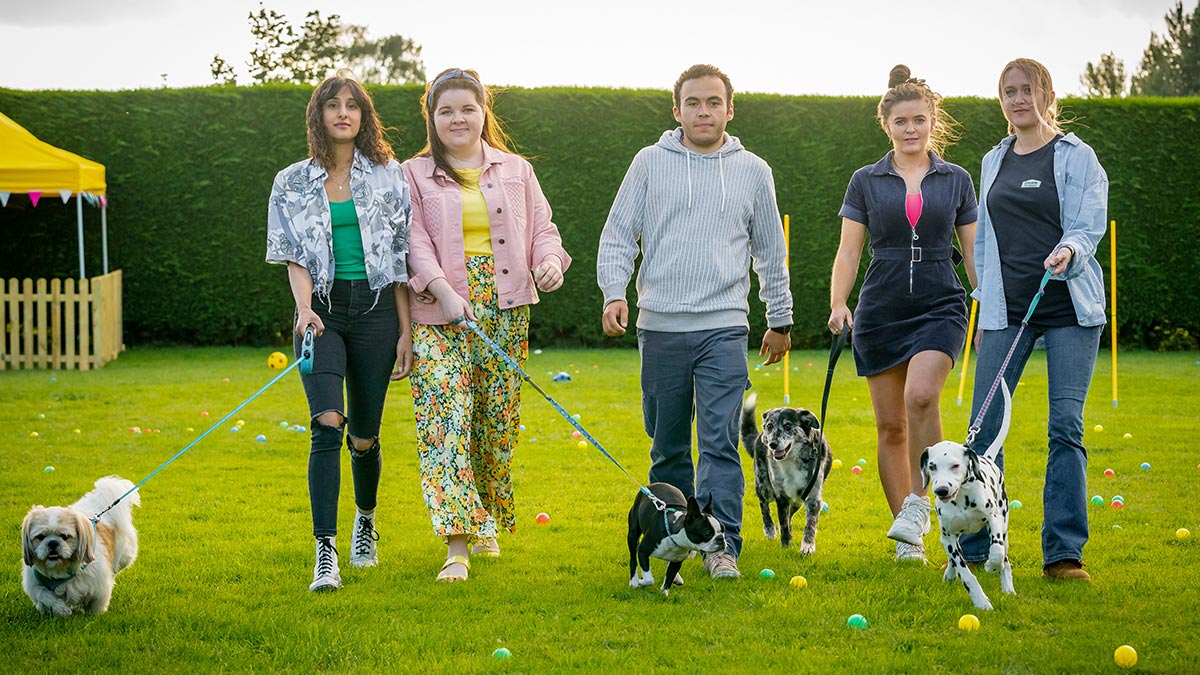 Kay Mellor's dog Happy is featured far left with kennel workers (from left) Roxy, Gemma, Jake, Keeley and Colette

Keeley (played by Katherine, Thirteen), Jake (Kieran Urquhart, Vera), Roxy (Taj Atwal, Line Of Duty), Gemma (Liberty Hobbs, Grey's Anatomy) and Colette (Emily Head, The Inbetweeners) are delighted, but it doesn't last long.
At work, they're told Woodvale Kennels is being sold to a large chain, which might leave them without a job, and they also have a sneaking suspicion that Frank made a mistake with their ticket. Could the £27 million jackpot, rather than a measly £500, have been just within their grasp?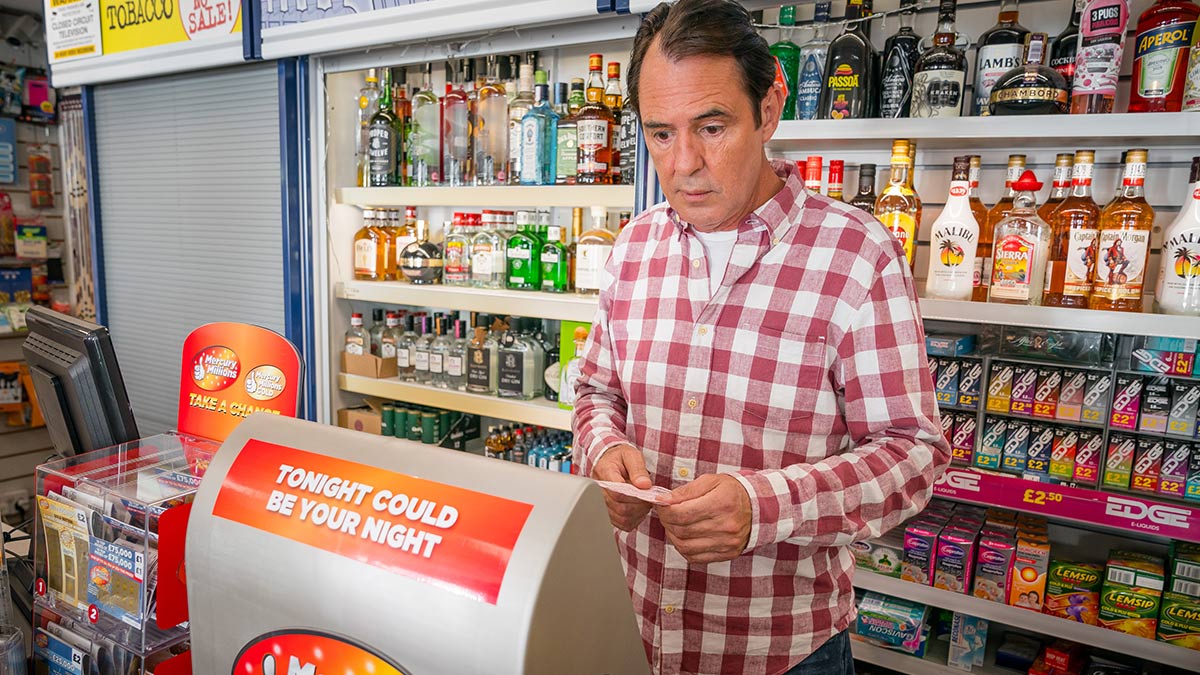 "Could tonight be my night?" Frank (Neil Morrissey) ponders

With The Syndicate returning after a six-year hiatus, Katherine feels that it's coming at just the right time. "Everyone is a little bit fed up now, aren't they?" she says. "We are turning to programmes, films and music to get us out of this rut. The Syndicate is such a joy.
"At some point, everyone's fantasised or been asked the question, "What would you do if you won the lottery?"" Katherine's answer is that once she'd helped out her family and finished decorating her house, her biggest impulse buy would be a ski-in, ski-out chalet.
Series 4 features the youngest betting syndicate to date, which makes for an interesting commentary on how readily available gambling is for this generation. "There's an ability to gamble 24/7 on your phone. You're always getting reminders, so it almost feels like going on Instagram or checking Facebook. That's how simply Keeley sees it," Katherine says.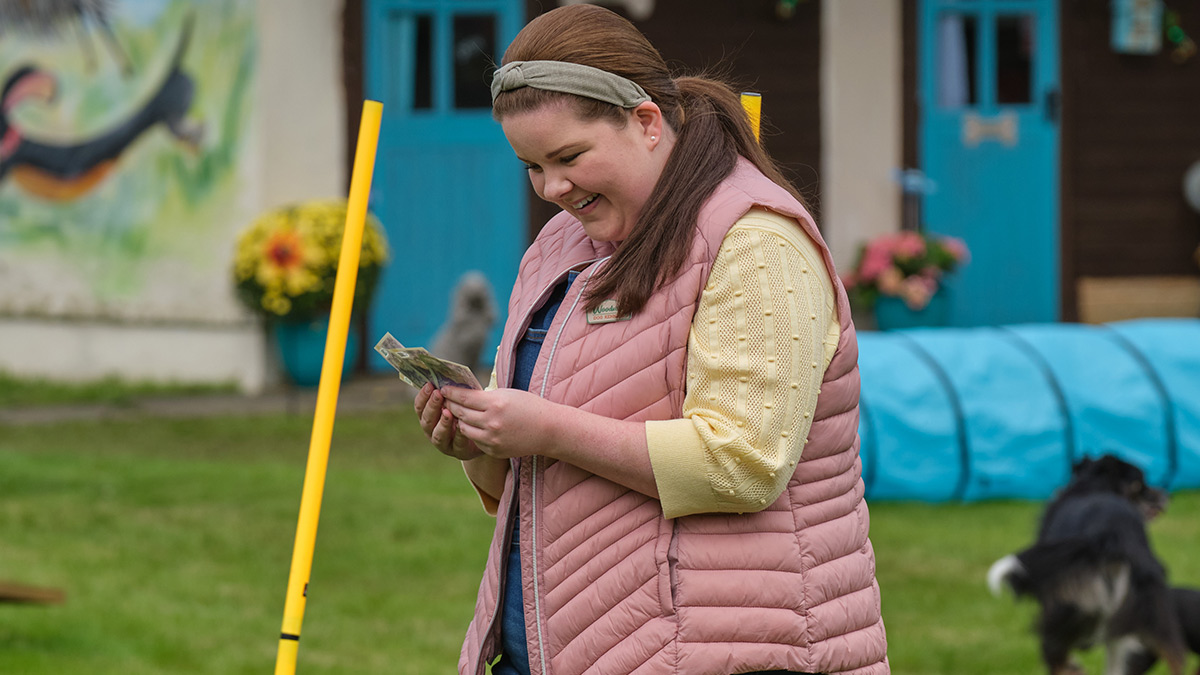 Gemma (Liberty Hobbs) was excited about the £500 win, until she remembered they only get £100 each

Katherine researched gambling addiction for the role, where she discovered, "The companies know exactly when your money is coming in, or when you've got a tiny bit left in your account. They'll then give you ten free spins, or £10 credit. It reels you in."
A debt collector is at Keeley's door, she's selling her own stuff (and her mum's) to make fast cash and she would never say no to just one more virtual spin.
But would Katherine classify Keeley as a gambling addict? "Yes, I would, but she's in complete denial about it." It's only until much later, the final episode in fact, where "it really hits home how bad it is", she teases.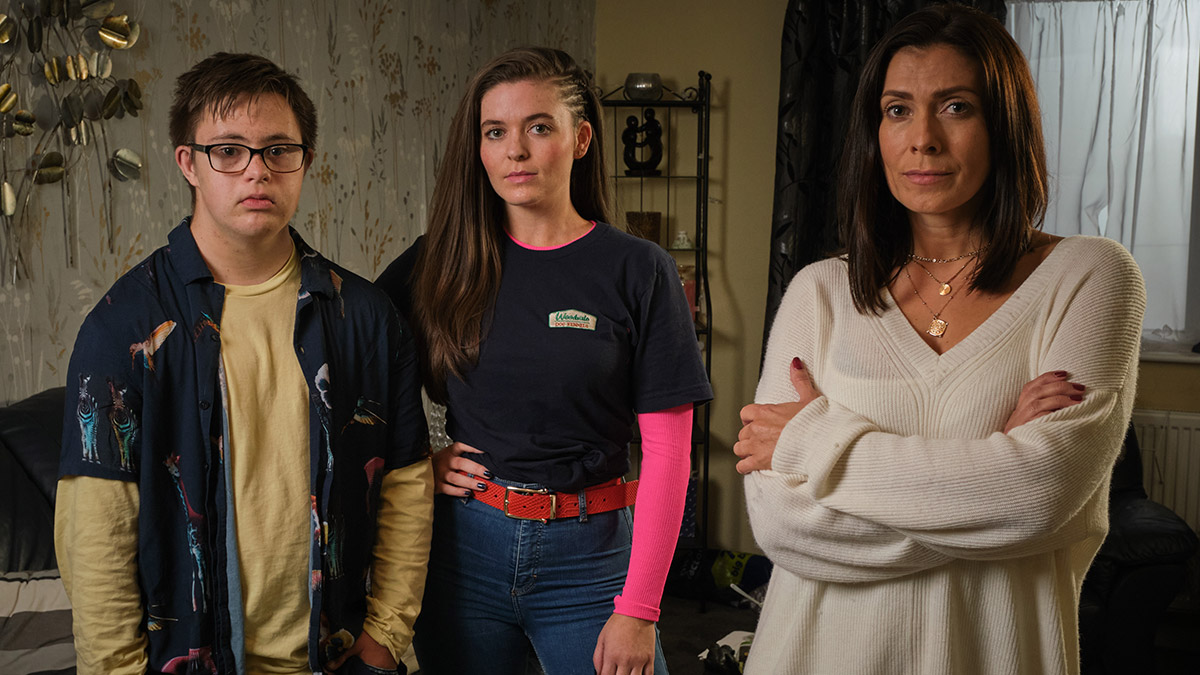 Keeley's brother Shane (Ruben Reuter, The Dumping Ground) and mum Donna (Kym Marsh, Coronation Street) are worried when a debt collector comes to call

As well as working with Kay for The Syndicate, Katherine has also collaborated with celebrated Northern talent Sally Wainwright for Last Tango In Halifax, where she played Ellie Wallace. With upcoming second series for All Creatures Great And Small and Gentleman Jack (penned by Sally), Northern-set dramas, incorporating Northern accents, are thriving. "I'm very adamant that there's room for us all. We shouldn't limit ourselves to just one narrative," Katherine says as she mentions always looking up to actors like Stephen Graham.
The Syndicate was filmed in Leeds and Otley, and stars a number of great Northern cast members, including Northern Light's Mark Benton, Corrie's Katie McGlynn and Liverpudlian Katherine of course! Non-Yorkshire man Joe Sugg also makes his TV acting debut.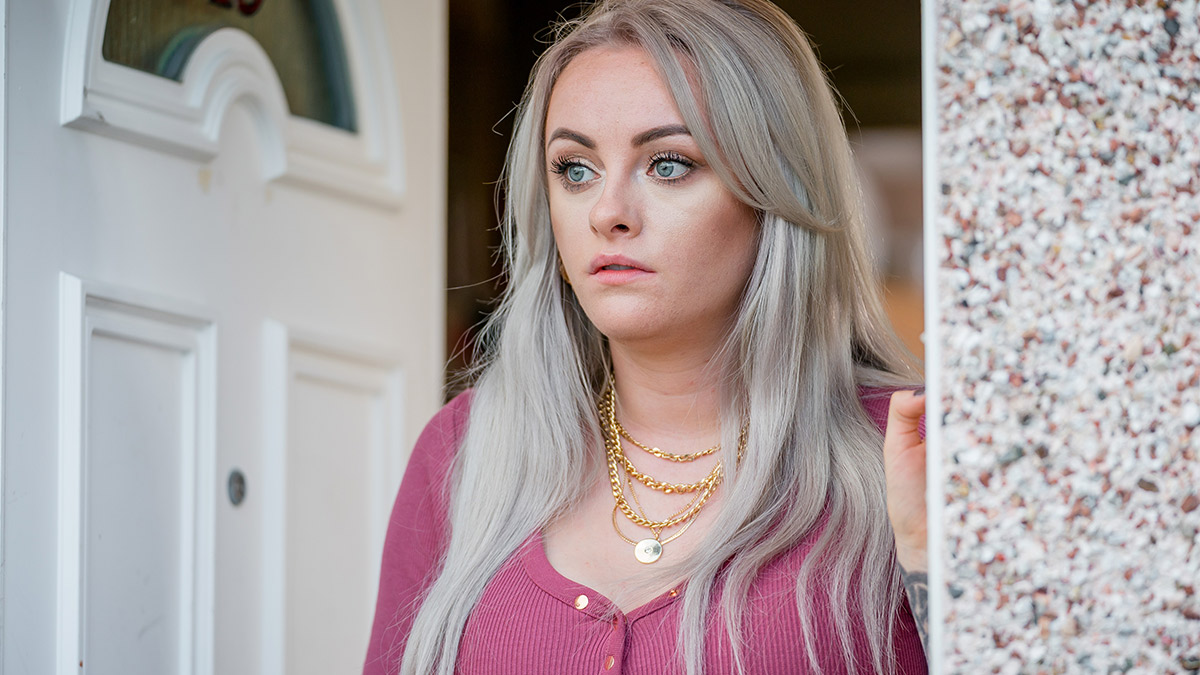 Rochdale-born Katie McGlynn, who played Sinead Osbourne in Coronation Street, stars as the mother of Jake's child

Katherine comes from a "big Irish Catholic family" (her dad is the youngest of 11 and her grandad is one of 14) and says her relatives, especially her aunts, are all so excited for her to appear on the show, but it's not just a show for the "oldies". "It transcends age," the 31-year-old says. "I've loved The Syndicate since it started, I'm such a fan."
Friends her age are also looking forward to it, including her best friend Cara Theobold, who appeared in series 3, and Sharon Rooney (Finding Alice), who tweeted:
As well as filming in Yorkshire, the show was meant to be partly set in Las Vegas, but COVID prompted a change of plan. They instead filmed in Monaco for a month, shooting at the Casino de Monte-Carlo (often associated with James Bond) and the Hotel de Paris Monte-Carlo. "This isn't what people expect from The Syndicate. This is a very new take," Katherine says.
Another experience to come out of the situation was that the TV syndicate created their own real-life syndicate, except their shared interest was not gambling, but spending time together, cooking dinner, socialising and going on walks around the beautiful countryside, like the "absolutely gorgeous" Ilkley Moor. "It's a funny thing, that something great can come out of something not so great," Katherine says.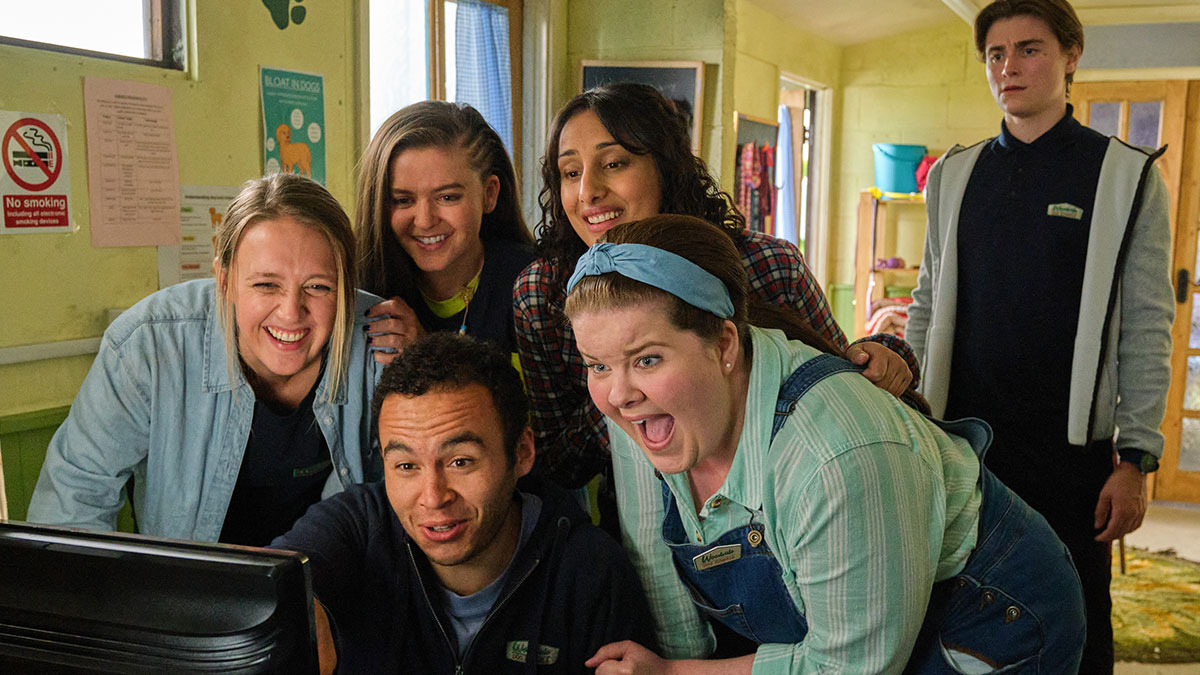 Theo (Oliver Anthony) desperately wants to be in on the joke, but he just doesn't get TikTok

Once filming had finished for The Syndicate, the cast bought each other a lottery ticket as a wrap present, and Taj won £8. It's not £27 million, but it's better than nothing…
So what were Katherine's other co-stars like to work with? The dogs, which included Kay's own Shih Tzu, Happy, were quite a handful! Katherine mentions a scene where Ava, the Irish Wolfhound playing Frank's dog Duke, has to lick Keeley's face – easier said than done.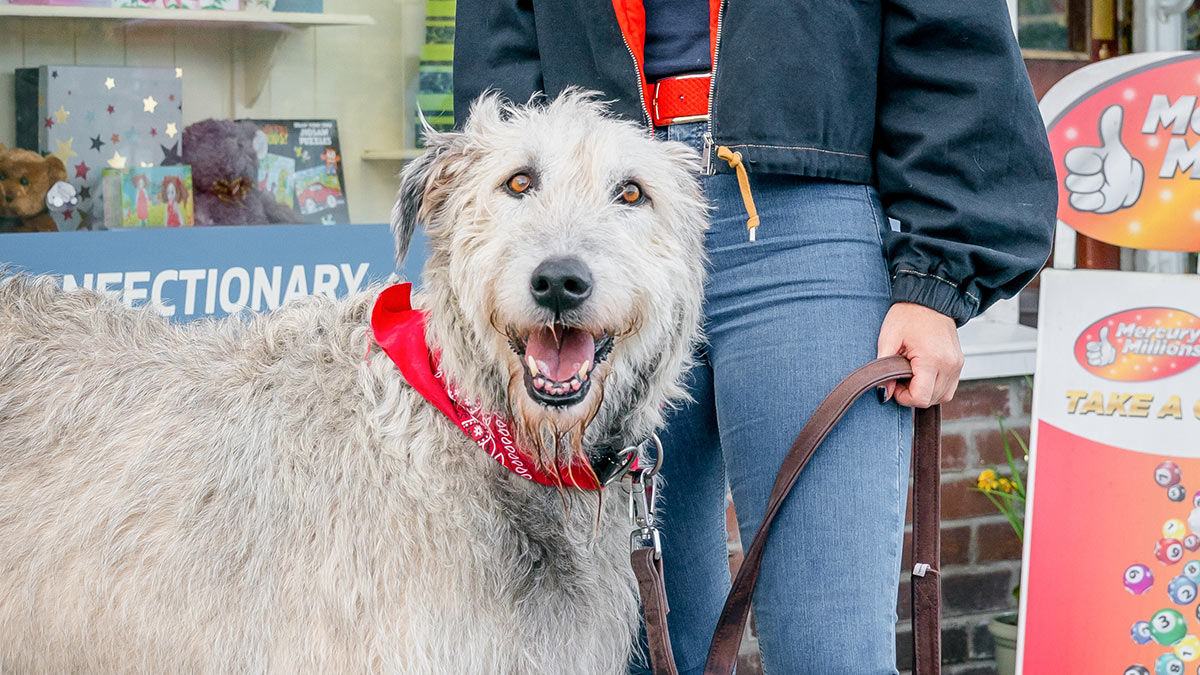 Katherine Rose Morley says the dogs are the "stars of the show", as the lovable Ava, who plays Duke, proves. Look at that face!

Ava's owner was on set and suggested dog-friendly peanut butter. "I started rubbing that behind my ears, but that didn't work," Katherine says. Next up? Squirty cheese in a tube. "It's all under my ears, all under my chin." How about cocktail sausages? "I split one in half and I rubbed it all over my face. It was getting to the point where we had to get the shot and thank God we did manage to get it.
"I remember leaving and being like, "Did I just do all those things? Did that just happen?""
Well, she did say she loved dogs.
When is the BBC's The Syndicate on TV?
The Syndicate airs on BBC One HD (CH 101/108) on Tuesdays at 9pm, with the first episode screening on 30 March. It is also available in Apps & Games > BBC iPlayer.
The six-part series will subsequently air every week until Tuesday 4 May.
TV channels: Channels, content and features available depend on your chosen package. Channel line-ups and content are subject to change at any time and to regional variations.
HD: HD TV set, V HD Box, TiVo box or Virgin TV V6 connected with HDMI cables required for HD channels. Number of inclusive HD channels depends on package.
Catch Up TV: Catch Up TV content available for up to 7 days or up to 30 days after broadcast, depending on content.
Interviews: Any opinions expressed in interviews are those of the interview subject and not those of Virgin Media.
Image credits: The Syndicate © Rollem Productions – Photographer: Ben Blackall